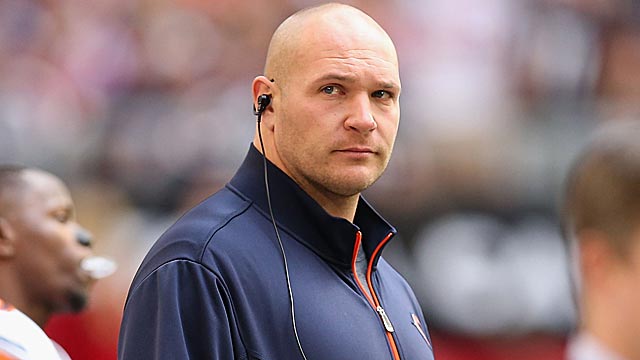 Turns out, Ray Lewis had this market figured out before the 2012 season even began.
The Hall of Famer, whose timing always seemed so perfect during his playing career, also knew exactly when it was time to say goodbye, sparing himself the kind of offseason misery and disappointment that is gripping many of his contemporaries.
His decision to retire after the 2012 season looks even more prescient now as the list of aging and battered NFL star free agents linger on the market into a third week now, with little money ahead for them, and their futures still in limbo. Sure, we'll all remember how great it was for Lewis to go out on top, as a Super Bowl champ, but keep in mind that Lewis made his decision before the season began, and had he not opted to discontinue his playing career just imagine how awkward things might have become between him and the Ravens, who have purged their roster of high-priced vets.
More on NFL
Columns

Related content
You think it's a little dicey right now between two other older linebackers and their former teams -- Brian Urlacher and the Bears and James Harrison and the Steelers. Well, few have defined a franchise as Lewis has the Ravens, and, trust me, Baltimore would not have been paying Lewis the $5.5 million he was set to earn in 2013 had he wanted to continue earning an NFL paycheck. He would have been playing at a much reduced rate in Baltimore, if at all. Legend or not.
Agents, take note. As long as this salary cap stays relatively flat, this market is no place for the old and injured. And should your old or injured veteran play a position that has been systematically devalued in this modern passing game -- like linebacker or running back, or one saturated with cap casualties like cornerback -- forget about it. There's no money out there for you. The risk will outweigh the reward. Thus, as April beckons, and teams turn their attention to the draft, players like Dwight Freeney, Nnamdi Asomugha, Richard Seymour, Osi Umenyiora, Andre Smith, Charles Woodson, John Abraham, Antoine Winfield, Brent Grimes, Harrison and Urlacher, to name a few, remain awaiting an employer for the 2013 season.
Unless you had the Dolphins, Colts or Titans chasing you this March, you weren't getting overpaid. Unless you had one of these three teams driving up the price for others in pursuit of you, chances are you weren't getting a mega-deal anywhere else, either. Otherwise, welcome to the world of fiscal restraint, with so many of the best franchises shedding overpaid players rather than adding them, and the cruel realities of the new CBA, making top draft picks cheaper than ever and creating another financial barrier for older players whose veteran minimum salaries alone require teams to spend at least $1 million for their services.
"The cap has been pretty stagnant since 2009, and the fixed cost for draft picks -- who should be your best, young players -- is decidedly in the team's favor," said one NFL contract negotiator. "If you're a second-round pick, we have you for four years, and, it's really six, if you consider the franchise tag.
"So if the cap is staying flat, and if I'm paying my star players near the top of the league at their positions, and we're hitting on our draft picks, the incentive in this system is to reward them. If you're a player looking for this third contract, or fourth contract in free agency, am I better off drafting and developing a linebacker or a corner or a running back, or spending $2-$4 million on a player who hasn't played in our system, who might not be a fit, who might only have a year left in his body?"
As one might expect, under these circumstances, the chorus of agents bemoaning the new CBA has only grown larger as the days have drawn on and the money has dried up.
"The owners must be loving this," one agent told me. "They're crushing it at the entry-level (draft pick compensation) and the guys over 30 are like forced to beg for one-year contracts."
Seems, finally, teams have learned from years of gross overspending on older free agents, and there is less sentimentality in this business than ever before. If you are nearing 30, or over 30, and you play for a winning team in a system that suits you, by and large you are better served by taking the reduced deal on the table rather than risk it in the market (Elvis Dumervil smartly went this route before a fax snafu derailed that process, and A.J. Hawk was smart to take what the Packers had on the table, rather than be yet another linebacker on a flooded, and soft, market).
If you don't get paid within the first 72 hours of free agency, chances are you aren't getting paid, period, so the extension of time isn't likely to bring you any more money. Jake Long waited and waited and waited, but that wasn't going to make his medicals any better, or improve his 2012 game film, and in the end the "top" tackle on the market got in essence $16 million for two years, and fared worse than Will Beatty did in re-signing with the Giants before the market even opened.
"You can wait, but the longer it gets from that initial frenzy (when the market opens), the worse it's going to get," said one prominent agent. "There may be an exception or two, but it's only going to get worse, because once these teams spend to their budgets, by and large, they're done with free agency. After the first few days it's all prove-it contracts and vet minimum stuff.
"There wasn't anything out there this year for most of these guys. Sometimes it's ego -- you want to see what else is out there; you don't want to take what your team is willing to pay -- so veterans might cringe at taking a pay cut. But if that ends up being more money than what's out there on the market ..."
Several agents have said that teams are pretty much dangling a certain salary out there for multiple players at the same position group, with the thinking there isn't much separating these guys, and they are just waiting for someone to take it. It's more of a hard-line financial stance, and, it's probably not a coincidence that some of the most successful franchises in recent history -- New England, Baltimore, Green Bay, Pittsburgh, the New York Giants -- have either been bargain shoppers, or not really shopping at all.
"The teams are just waiting," said one agent who represents a prominent free agent still on the market. "They're trying the old see-who-cracks-first routine. The same teams are in on the same players, but the money isn't going up."
The agent also pointed out that many of the star free agents still on the market have made so much money already in their careers, that they're willing to play the game of chicken to see if injuries or failed draft picks eventually create the kind of demand that meets their asking price.
"Who out of these guys really needs the money?" he pointed out.
One top veteran still on the market put it to me this way, via text:
"I've saved well, so the money will have to be right in order for me to move ... There are lots of calls and some legitimate (interest), but a lot of teams are bottom fishing as well. I'm not a fish, I'm a shark! Lol"
I guess that pretty much sums it up.
In time, I suppose we shall see what the right price is for these free agents, and how many may have already played their last game without them yet quite knowing it. With guys like Seymour and Asomugha and Freeney coming off contracts where they were making $15 million or so a year, the need for instant cash is remote. And the rigors and dangers that come with playing this collision sport remain very real.
It's a young man's game, now more than ever. And while not everyone can walk away from football as Lewis did directly into a lucrative new job in broadcasting, it makes perfect sense why for many aging stars: Leaving now still might be the smartest move of all.