His numbers say Carson Palmer had a solid season in 2012 for the Oakland Raiders.
His tape backs it up.
Despite the notion that the Arizona Cardinals, who traded essentially a tuna sandwich (no cheese) to get Palmer, are getting a washed-up, over-the-hill quarterback who isn't good enough anymore, the tape kicks that idea in the groin.
I am not going to sit here and say Palmer is in the same class as the four elite quarterbacks (Tom Brady, Aaron Rodgers, Drew Brees and Peyton Manning). But he is still plenty good enough to lead a team to the playoffs -- and even beyond.
In 2012, Palmer threw for more than 4,000 yards and 22 touchdown passes -- the same number of TD passes as Super Bowl-winning quarterback Joe Flacco. Palmer put those numbers up really playing in only 14 games, since he was knocked out early in the Week 16 game at Carolina.
Here's the hit that did it by the way.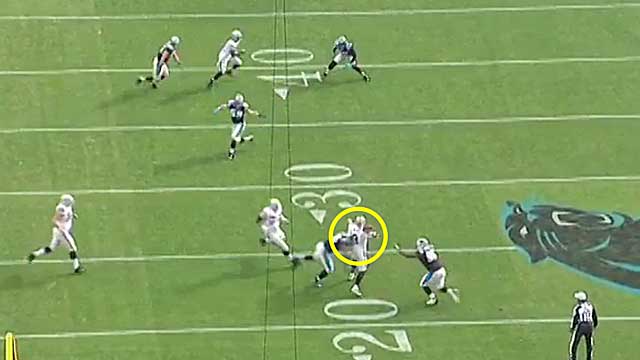 In his 14 games, Palmer had to deal with a revolving door at right tackle in two ways: Different guys manned the position and they played it like a revolving door -- allowing pass rushers to swing on by with ease.
In addition, Palmer had to deal with a ton of injuries to his receiving corps, throwing to a so-so group at best for most of the season. Those receivers at times ran lazy routes, dropped easy throws and didn't do a lot to help make Palmer's numbers better.
I studied two of Palmers games from 2011, and four from 2012, over the past two days. In doing so, I saw a quarterback who was still capable of making all the throws, contrary to what some might say, and he still had a command of where to go with the football.
I also saw a quarterback who seemed to have trust issues at times with his receivers, and maybe rightfully so.
Here's a breakdown with pictures of Palmer in several categories.
Arm strength
Palmer had elbow issues when he was with the Bengals, and that has led to this idea that he can't make the deep throw anymore.
I didn't see that.
Were there times his passes floated? Yes. Did he try to touch one too many into a deep receiver? Yes.
But when he had to crank it up, he could. And did.
The deep out is a throw that scouts use to grade arm strength and I saw Palmer make that throw with ease several times. One of those throws turned into a long touchdown pass last season against Denver. Here's a look.
You can see Darrius Heyward-Bey (yellow circle) running the deep out against man coverage. Palmer throws a rocket to him on the sideline and Heyward-Bey turns it up inside and makes Rahim Moore miss and takes it to the end zone for a score. What makes the throw even more impressive is seeing Von Miller in Palmer's face, which you can see from the second picture.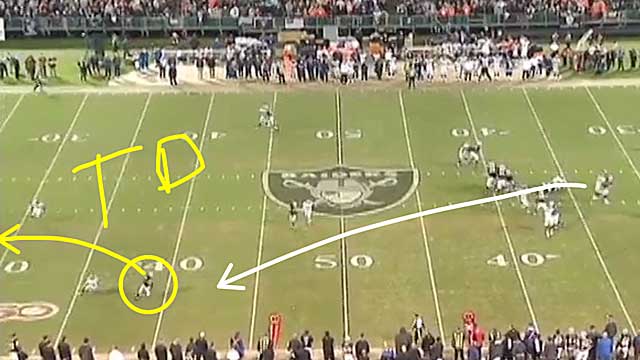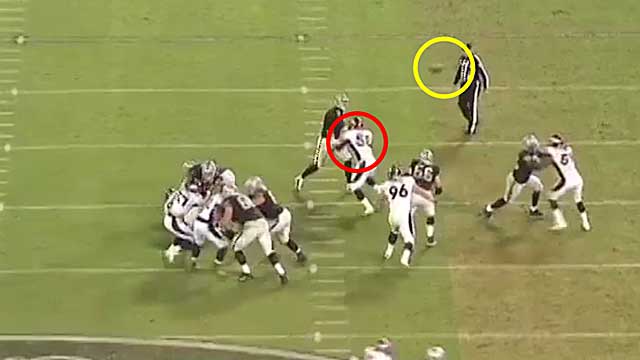 Here's another throw against the Falcons that shows off his arm. Receiver Derek Hagan (yellow circle) runs a go route and Falcons corner Asante Samuel hesitates for a second as Palmer looks inside to tight end Brandon Myers. That leaves a window between Samuel and safety William Moore for Hagan to get into, and Palmer fires a shot for a big play to help lead to the tying touchdown late.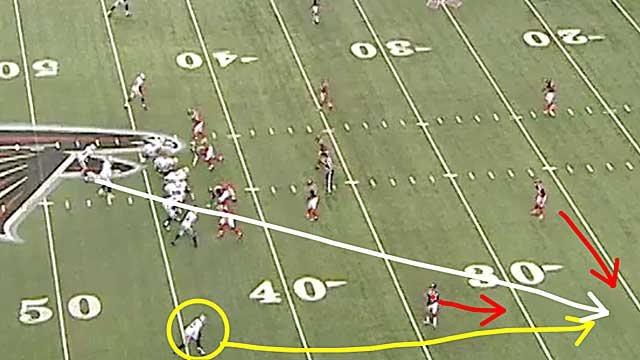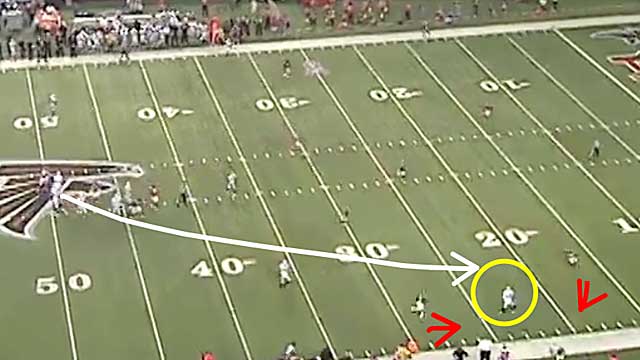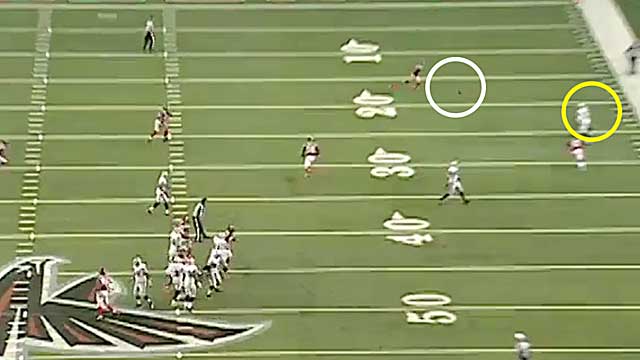 There is nothing wrong with Palmer's arm, other than he sometimes tries to get too cute with the deep throws, rather than just firing a shot for a big play.
Command
One thing you do notice from Palmer in all the games is his ability to spin his head. He is still good at coming off the primary receiver to find a secondary receiver, and he can reset to make an accurate throw.
I saw several instances where Palmer did this in impressive fashion, turning it into a big play.
That tells you he knows what's happening in front of him and can anticipate where the coverage will go.
Here's an example of one such play. It came against Atlanta. Palmer takes the snap and opens to his right. He looks to the two receivers on that side, but as you can see from the pictures below, both are covered. But Denarius Moore (yellow circle) runs across the field in man coverage. Palmer simply turns his body to the left and fires a shot to Moore, who has beaten Samuel for a 17-yard gain. That takes smarts, but also the ability to reload and fire a shot.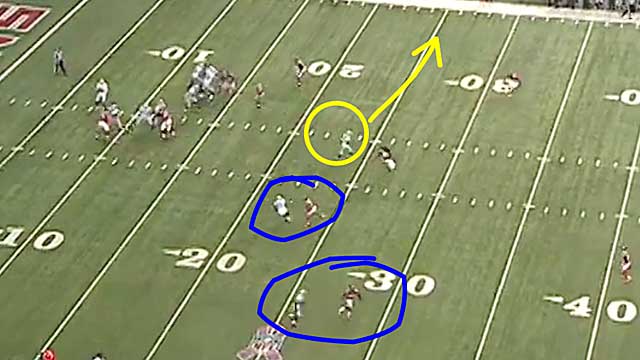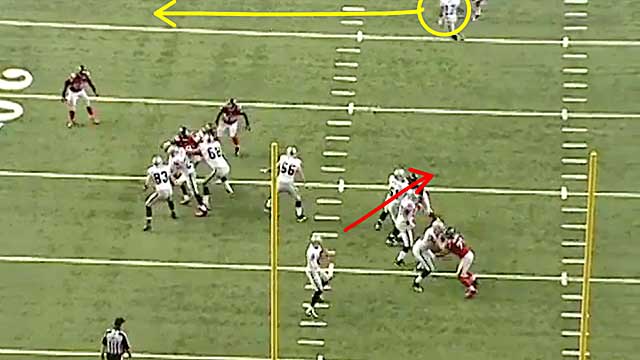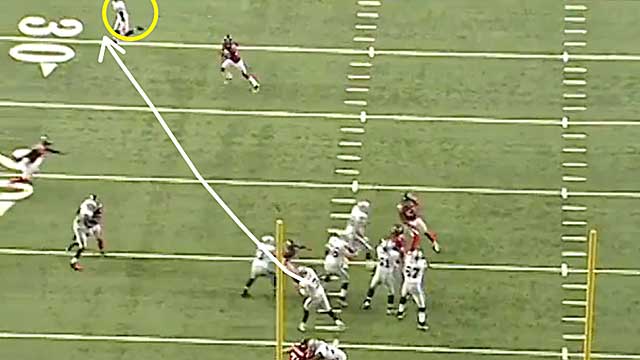 Palmer also does a nice job of anticipating receivers coming open. Even with an average group, he would make throws before they were out of their breaks. That takes confidence by the quarterback, something Palmer has never lacked.
Here's a look at a completion to Heyward-Bey against the Chargers. Heyward-Bey (red circle) hasn't even made his cut yet, but Palmer is already throwing the ball as you can see in the yellow circle. It turns into a nice throw and catch, but that kind of throw speaks volumes about Palmer.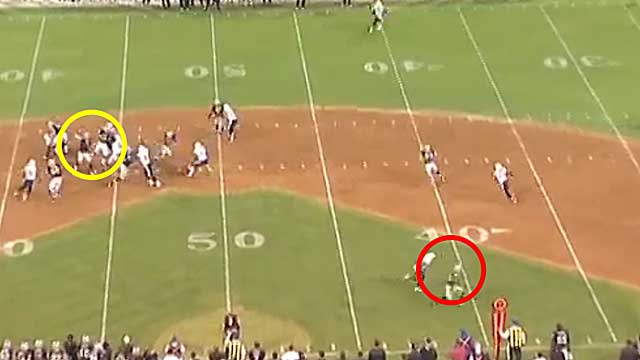 Mobility
There is this idea that Palmer is a statue in the pocket. That's not true. Even when the right side of the line had major problems, he had the ability and smarts to move away from pressure.
Palmer was sacked just 26 times last season. By comparison, Flacco was sacked 36 times.
Palmer isn't usually going to run for first downs, but he can scramble away from pressure to make plays. Here's a look at one against the Chargers.
Palmer opens to the right trying to throw to his receiver, who is covered. As he comes off that receiver, he feels pressure from his left side, so he steps up as you can see from the second picture. But instead of running for a short gain, he keeps his head up and Myers works his way open against safety Atari Bigby. Palmer fires a strike for a first down and a positive play.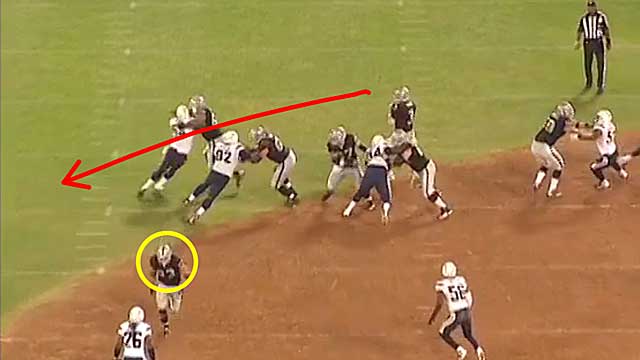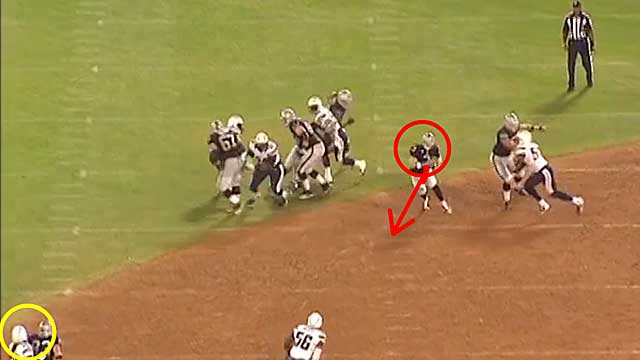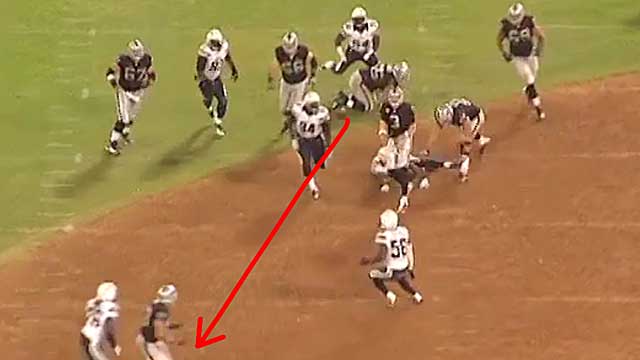 Flaws
Palmer does try and force the ball at times. There are moments when he should just eat it and take the sack. That's why he threw some of his 14 interceptions last season. One of the worst came against the Falcons.
With Oakland driving to take the lead in the fourth quarter, Palmer's out pass is picked off by Samuel and returned for a touchdown. It's a lazy throw that seems to float. But it also appears that Moore doesn't run a sharp route, rounds it off, and that enables Samuel, always the gambler, to step in front of the pass and take it to the house. But to credit Palmer, he did lead the Raiders back to tie the game after that pick.
Here's a look at that play and the pick-six by Samuel.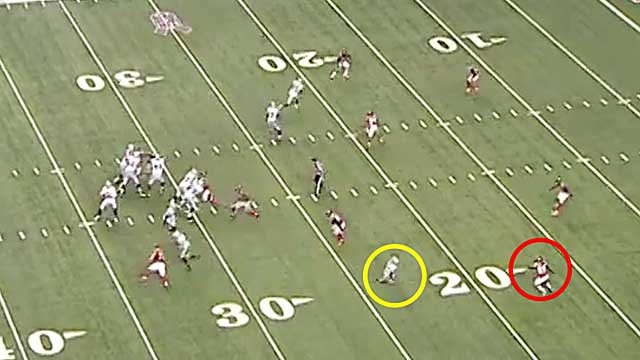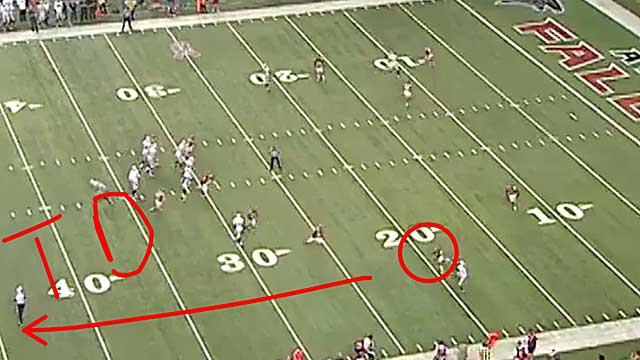 Summary
The Cardinals are getting a quarterback who can still do everything needed to win in this league. He is smart. His arm is still good enough -- even if it isn't what it used to be. Palmer can still make all the throws, and Larry Fitzgerald will come to love his ability to do so. The stats said he did some good things last year. The tape backed it up. Arizona has a legitimate starter for the first time since Kurt Warner.