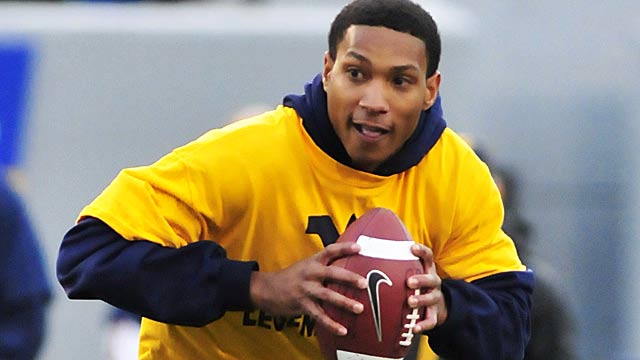 The voice on the other end of the line is not as expected.
These are the words and inflections of an old soul -- measured, thoughtful, introspective responses to questions bracketed by pronounced and poignant pauses. He considers each query carefully, and, as Pat White explains his circuitous journey of self rediscovery through football, you get deeper to the core of what originally drove him away from the game he has loved since he was 4, and what led him back to the sport now, at 27, about to embark on a most improbable comeback with the Washington Redskins.
You are listening to him, at times, baring that old soul, as he reveals his conflicted feelings that led him out of Miami after only one season (2009), despite having been taken 44th overall in the draft one year earlier. He makes no excuses, blames no one but himself -- self-doubt and a sense of entitlement toppling a bright career. White's maturity -- how deeply he plunged into his own psyche to determine what once led him astray -- is striking at times, and you can't help but come away from the conversation rooting for the young man to make good on his promise in this second, and likely last, shot at the NFL.
Redskins offseason coverage
| | |
| --- | --- |
| | Quarterbacks galore |
White, a former record-setting quarterback at West Virginia who has kept a decidedly low profile in recent years, understands why some might look at him and scoff. A potential two sport star, in football and baseball, he has yet to make his mark in either now four years out of college (the Angels took him in the fourth-round of the MLB draft in 2004). And that's OK. He isn't looking for sympathy, is very comfortable outside the limelight and frankly, for much of his two years out of football, didn't think another opportunity ever would materialize.
But he also won't allow himself to be held hostage by his missteps, to let his brief tenure with the Dolphins or dalliances with minor league baseball define him forevermore. He's already overcome the odds just by securing a contract with the Redskins after so much time away, and I would point out, White is hardly the only talented kid to meander through his 20s (anyone knocking his age should note White is nearly three years younger than Browns quarterback Brandon Weeden, who was taken in the first round last April). White seems emboldened and empowered by his growth, and after spending this winter chasing a dream by training in hopes of returning to athletics in some capacity, he's vowing to not to waste this chance with the Redskins.
"It's been two long years, I'm more than excited," White said. "I'm just ready to get in the office and go to work. I'm ready to learn from the coaching staff, and also from the other players and just to be in the locker room and the atmosphere of the Washington Redskins. More than anything, I'm just happy to have a second chance to live my life.
"For a long time, I was trying and doing everything possible to run from who I am -- trying not to be the Patrick White that I really am. Everything I was attempting to do was to take me away from that, and by trying to make that happen, it took me full circle and brought me back to where I need to be. It's been a humbling experience. Not to say I wasn't humble before, but I definitely wasn't humble enough."
For White, the past few years have been a struggle, more mental than physical.
He was always a tremendous athlete, a coveted recruit, who turned down baseball offers to play college football and perhaps entered the NFL a bit before his time. The Dolphins were dabbling with Wildcat concepts when he was drafted and thought of him as someone who could compete to be their starter, but this was still well before the current craze with read-option football in the pro game. That style mirrors much of what he did at West Virginia (and what the Redskins ran last season under Robert Griffin III, making Washington a natural fit).
White appeared in 13 games as a rookie, usually in a spot role, attempting five passes and rushing 21 times for 81 yards. His season ended with a concussion from a heavy hit from Steelers corner Ike Taylor (White was eventually pressured into joining the class-action concussion lawsuit against the NFL, according to sources, but his lawyer removed him from that before signing with Washington; White said he's been symptom-free for quite some time).
He did not make it through final cuts in 2010, released by Miami that September and ended up signing with the Kansas City Royals and playing fall instructional ball for them shortly after his release.
Then, White more or less disappeared. He had a brief stint with the Virginia Destroyers of the United Football League in 2011, but was cut after a few months. As he talks about those lost years you get the impression he was grappling to find himself and his true calling.
"I don't think I ever stopped loving the game of football; I was trying to make myself not love it," White said. "I was trying my hardest to make myself fall in love with something else, but my heart brought me back to the game. My passion for it is undeniable ... It's something that burns inside and has since the first day I stepped on a field at the age of 4."
White sought solace in baseball, which he says he loves, too, but not in the way he derives joy from playing quarterback. He immersed himself in music, jazz and classical and instrumental. He took acting classes and went on a few auditions and considered preparing himself for broadcasting work.
"There were a million different things I tried to get myself to fall in love with," White said, but those other interests never filled the void.
For much of 2010 and 2011, he stayed away from football, couldn't bring himself to watch a game. He stayed away from television in general. "For the first few years I was out of the game it was hard for me to turn on anything," he said.
Some have suggested that his concussion in some way sapped his will to play the game, at least temporarily. Some have pointed to the more rigid thinking in the NFL at the time, not as willing to sculpt spread and option principles into offenses for non-traditional college quarterbacks. White will have none of that. He takes ownership for why his career fizzled.
"I know the concussion got a lot of attention, but it played a very small role," White said. "It was mostly me just not believing in myself. In order to be successful in this world it has to come from within, and I allowed outside influences to affect me as a human being and a person.
"Over the past three years I've learned that anything in life you want, if you're going to be successful doing it, it has to come from within and be displayed outwardly. In my heart I believe that's the only way for us as individual human beings to be successful."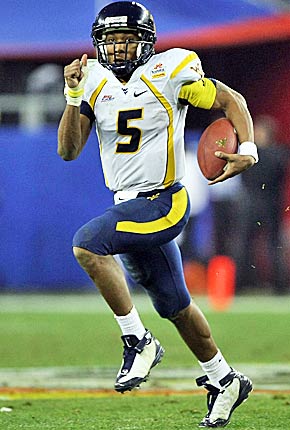 White had to, in time, come to grips with why guys who were freshmen when he was a senior, who had far less natural talent, were now starring in the NFL. He had to revisit his past and determine why he perhaps wasn't as motivated and dedicated as he should have been, and why it didn't work out.
"More than anything for me it was me realizing that at a young age I was selfish," White said. "I wasn't patient enough for my time to come around, and just having this second opportunity is more than a blessing, and I'm more than gracious to have it. A lot of people say, 'Maybe the NFL wasn't ready for you?' Or, 'You were ahead of your time.' No, I just wasn't patient enough, simple as that. And it took me to realize that to start preparing for a second opportunity.
"Before, I made excuses and pointed the finger at everybody else but myself. But at the end of the day if you want something bad enough you have to pursue it and go after it. No one can make it happen for you. That's something I had to learn, and thankfully I'm still young enough to get another chance. I disrespected the blessings God gave me, so for him to allow me another opportunity to use my gifts is an eye-opener for me, and it's definitely brought my relationship with him and my faith stronger."
This comeback began most humbly.
White's first goal was simple: "Just get active," he said.
It began by getting off the couch and working out around the house. He finally flipped on a few football games, saw hybrid, young quarterbacks like Griffin, Russell Wilson and Colin Kaepernick shocking the old-school cynics, and instead of turning off the set, he started playing couch quarterback alongside them.
"For them to go in and do what they did definitely allowed me this opportunity," White said.
The Miami Marlins offered an invite to spring training, which further stoked White's desire to not give up on pro sports, so he hired a speed and conditioning coach and started to hone his baseball techniques. White knows former baseball star Gary Sheffield and asked him for help in finding a hitting instructor. Sheffield put him in touch with Lenny Harris, MLB's record-holder for career pinch hits.
Like many others, Harris had forgotten about White ("The West Virginia quarterback," Sheffield reminded Harris). Harris agreed to work him out but wasn't interested in wasting his time if the pupil wasn't ready to be intense. Soon enough, White was driving from Fort Lauderdale to Miami and back, five days a week, putting in long hours with Harris, who played 18 years in the majors and was a former hitting coach with the Nationals.
"I just saw the determination in his eyes, that he wanted to get back whether it was baseball or football," Harris said. "The determination he was giving me, the hard work he was putting in, I was very impressed. He's a hell of an athlete and he was making real improvement. He put in the work every day. He never let me down."
But as they were immersed in baseball, Harris kept reminding White of his true love. One day he sat White down and urged him not to forget about football.
"That's the game you love to play -- don't ever give up on it," Harris told White.
"You think I could get another shot?" White responded.
Harris said: "I told him, 'Yeah, I've got a feeling you've got another chance left in the game. Don't give up on football.' He said no one ever really told him that before."
A few days later White reported for duty with Harris with some news. He got a call from the Edmonton Eskimos of the Canadian Football League, who were interested in signing him. Now, what White long figured was impossible seemed more real than at any time since his release by the Dolphins.
"Just being active again brought me full circle, back to where I needed to be, instead of just hoping and wishing and praying for something to happen," White said. "The call from the Eskimos sort of opened my eyes. I wanted to believe I could still play, but I didn't know if the chance would come."
With a CFL team at least interested in seeing what he could do, White wondered if any NFL teams might consider letting him work out for them. The Alabama native figured making the rounds at the Senior Bowl in January in Mobile might be a good idea. "I introduced myself to as many coaches and scouts as I could," he said, "and told them I was interested in doing whatever it took to get me back into the league."
At the time, it may have done White a disservice -- with him looking so scrawny, according to some who saw him in Mobile, and nowhere close to NFL ready ("He didn't look the part," as one put it). White also had been without representation for some time and asked confidants for recommendations on a new agent. A meeting with Fletcher Smith, who has had a distinguished career representing Donovan McNabb, among others, took place in Mobile.
It had been so long since White had played, Smith wasn't sure what to expect, and with measured expectations told White he would contact the Eskimos and ascertain if there was even a modicum of NFL interest.
"I needed to ask around and find out if anyone thought he could still play at that level," Smith said. "I didn't have an answer right away, but I told him I'd see what I could find out."
There was some "remote" interest at the time, as Smith puts it, and to gauge just how serious White was, he suggested the quarterback go to San Diego for a few weeks to work with noted quarterback guru George Whitfield, whose disciples include Carolina star Cam Newton. White needed to get his weight up, and if he was going to get one last chance to audition for NFL scouts, he had to be as prepared as possible.
"I'm all in," White told his soon-to-be-agent. "I'll do whatever it takes."
"He wouldn't allow me to take care of him," Smith said, "so he paid his own way out there and got his own food and transportation, just to show his commitment to wanting to return."
Smith waited a few weeks before visiting them in San Diego, and "was blown away," by the weight, strength and muscle tone White was putting on, and the throws he was making. At that point, White hired Smith and Smith told Edmonton his client was going to be pursuing NFL options.
Whitfield was a bit wary at first, too. He already had his normal full contingent of impressionable upcoming draft picks to train -- Landry Jones (Oklahoma), Matt Scott (Arizona), Johnny McEntee (UConn) -- and didn't want to do anything to disrupt their development.
"You've got these youngsters, 21, 22, getting ready for the draft," Whitfield said, "and then you get a call about a guy who was already in the league before -- even one as dynamic and show-stopping as Pat White -- and you wonder to yourself, since you've never met him, what the dynamic is going to be like with these kids who haven't been there and haven't seen it. Is it going to be beneficial? Will it slide things one way or another?
"And Pat was totally magnanimous. He just wanted to aid them and push them and they asked him a lot of questions. For them it was like a cautionary tale. They were all ears and the message he gave them couldn't be matched."
White ended up staying in San Diego about seven weeks, becoming one of the guys ("I owe those young guys so much," White said. "They allowed me to take away from some of their time, and they graciously treated me like I was one of their own."). Whitfield taped every single one of White's throws from multiple angles, and they would go over it in real time. He focused on improving White's accuracy, getting him thinking like a quarterback again, having him concentrate on his throws even after releasing the ball, all the way until the catch is completed.
"Let's face it, God has given Pat an escape parachute that he's only given a few people in football," Whitfield said of White athleticism and agility. "Once he gets outside the pocket he's going to be fine. It's incumbent on him now to develop everything he needs to succeed inside the pocket and increase his quality of life inside the pocket, because we know what can do outside of it."
White said: "Helping my accuracy is the biggest part of what I took away from George. Some things as quarterback you know, but don't think about constantly. But the great ones do. He got me thinking more that way."
Whitfield believes White is ready to be a backup now and worked with him on the full route tree, to complete all types of passes in various systems. Convincing the NFL would take more work, however, and White began to create some buzz when he threw at West Virginia's pro day, and then again at Virginia Tech, with the Hokies lacking a suitable quarterback on their roster. Agent Joel Segal had receiver clients on the team who needed someone to help showcase their abilities, and White up to the task.
From there Smith lined up a workout with the 49ers, a natural given Kaepernick's sensational rookie year in a read-option friendly system, and though they didn't sign him, White left a good impression. The Giants scheduled the next visit, but before he could get to New York, the Redskins began serious conversations with Smith, and by the time the Giants visit was cancelled, White effectively was already a Redskin, with a contract agreement in place pending a physical.
Washington put him through a full battery of cognitive tests, given his concussion history, which were no issue ("I passed those with flying colors," White said). He had a great meeting with Coach Mike Shanahan, and sensed a real excitement from the Redskins about how he might fit into their offense, running the pistol and playing into the athleticism of their starter.
Griffin may be ahead of schedule in his recovery, but he is also the present and future of the franchise, incarnate, and the Redskins will be under heavy scrutiny not to rush him back. Even with four quarterbacks on the roster (prized backup Kirk Cousins, a more traditional passer, and journeyman Rex Grossman is back, too), White's skill set sets him apart, and with Griffin likely to do little during the preseason the opportunity to get preseason game time -- and film -- alone will be priceless.
Given Griffin's vulnerability one would expect Washington to carry three quarterbacks into the season, and White is the one person they have who could mimic the plays RG3 runs so well. So now, when players report to Redskins Park on Monday for the start of the offseason workout program, White will be with them, learning from Shanahan, a quarterback guru, and sharing a locker room with the reigning rookie of the year, focused entirely on football.
His winding voyage back to the sport of his youth sometimes makes White think of a quote he heard once from the rapper Jay-Z -- "You were who you were before you got here" -- and at this point White's task is to now make up for so much lost time, and let his passion fully manifest itself on a practice field and then, hopefully at some point, in a stadium once again.
"My goal is to go out and compete and dedicate my life to football and making this a lifestyle," White said. "And the outcomes are out of my control, but I'm going to give 110 percent, and that's every day. I can't give every hour to football, but most hours of my life will be dedicated to this game."