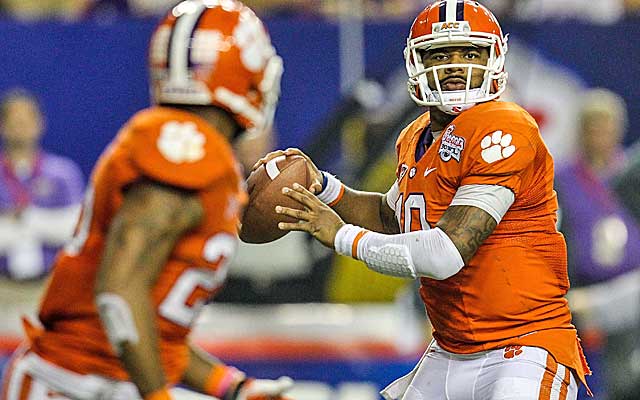 There was one quarterback drafted in the first round of this year's NFL Draft.  
The 2014 class might have had something to do with that.  
After a lean quarterback class this year, next year could be a major hit for the teams in need. I say "could be" because we have a lot of football and evaluation between now and then.  
Just ask Matt Barkley what that's like.  
More on NFL Draft
Columns

---

Related content
Barkley once was considered the potential overall top pick this year, and fell to the fourth round. I doubt that will happen to Louisville quarterback Teddy Bridgewater, the top player and quarterback on my early top-32 list for the 2014. He is too good for that to happen.  
Quarterback is obviously more valuable than any other position in the draft, which is why Bridgewater is ranked first over South Carolina defensive end Jadeveon Clowney.  
But he is not alone as a potential first-round quarterback next year. There is David Fales from San Jose State, Oregon's Marcus Mariotta, Alabama's AJ McCarron, Ohio State's Braxton Miller, Georgia's Aaron Murray, Fresno State's Derek Carr and Johnny Manziel, the Heisman Trophy winner from Texas A&M.  
One other thing about my top 32: It is filled with Alabama players. In addition to McCarron, there are four others for a total of five. No wonder Alabama has won back-to-back national titles.  
Nick Saban is a great coach, but an even better recruiter.  
So here's an early look at 2014. But a lot can change -- and will. All I have to do is look at my 2013 early look to see how much.  
1. Teddy Bridgewater, QB, Louisville (Jr.): He has a rocket for an arm, plays in a pro-style offense and has the size teams love. He will be the No. 1 pick next April.
2. Jadeveon Clowney, DE, South Carolina (Jr.): He is a pass-rush freak. He has explosive speed off the edge and plays with a nasty streak. What's not to like?
3. Cyrus Kouandjio, T, Alabama (Jr): He is a better pro prospect in my mind than former teammate D.J. Fluker, who went 12th to San Diego this year. Plus, he's a left tackle.
4. Marqise Lee, WR, USC (Jr.): He is big, long, fast and plays in a pro-style offense. He is special.
5. Tajh Boyd, QB, Clemson: He has the arm and the ability to spread the football around. And he's accurate. He can also run now that he has trimmed down. He is a dual-threat quarterback, but more of a passer than you think.
6. Adrian Hubbard, OLB, Alabama (Jr.): When studying the Alabama tape this year, my eyes were drawn to him. He can be a special edge rusher in a 3-4.
7. Jake Matthews, T, Texas A&M: The son of Hall of Fame guard Bruce Matthews, he is a force who will move to left tackle this season with Luke Joeckel gone to the Jaguars.
8. Sammy Watkins, WR, Clemson (Jr.): Can he fly or what? Speed, speed, and more speed. He was the Tigers' best receiver, not DeAndre Hopkins, who was a first-round pick by Houston last week.
9. Louis Nix III, DT, Notre Dame (Jr.): One of the big reasons Manti Te'o got to make a lot of plays was Nix in the middle of the line creating havoc. Nix is a power player who also has good quickness.
10. Taylor Lewan, T, Michigan: He did a much better job against Clowney than he got credit for in that bowl game. He has the feet you need to play left tackle on the next level.
11. Kyle Von Noy, OLB, BYU: When studying Ziggy Ansah, this kid showed up a ton on tape. I was shocked he went back to BYU. He reminds me of Brad Van Pelt, an old-time Giants linebacker.
12. Stephon Tuitt, DE, Notre Dame (Jr.): He is a 300-pound end who can run. He had 12 sacks last season for a good Irish defense.
13. Anthony Barr, OLB, UCLA: He is an edge rusher who is ideal for any 3-4 team. Those guys always have great value. He is a great athlete who can run at 6-5, 245.
14. Bradley Roby, CB, Ohio State (Jr.): He is a smooth cover corner who isn't tall at 5-11, but he can play man coverage and he's good at it.
15. C.J. Mosley, OLB, Alabama: From a talent standpoint, he might be the most talented of the Alabama players. But his position doesn't have the value of the others.
16. David Fales, QB, San Jose State: Most haven't seen him play. If you haven't, watch him this year. He is big, strong and has a good arm. He completed 72.4 percent of his passes last season.
17. Anthony Johnson, DT, LSU: He's the next in the line of big-time inside players to come out of LSU. They haven't all hit on the next level, but he has a real chance.
18. Aaron Colvin, CB, Oklahoma: He is a 6-foot corner who knows how to excel in man coverage and he's also a willing tackler.
19. Austin Seferian-Jenkins, TE, Washington: He has a DUI arrest that could hurt his stock, but is he ever talented. He is a big, strong, powerful pass-catching tight end.
20. David Yankey, T, Stanford (Jr.): He's a good pass protector who will need to get stronger on the next level. But those Stanford linemen come out NFL ready.
21. Ha'Sean Clinton-Dix, S, Alabama (Jr.): He has good size at 6-1, but he also has the speed and range teams now crave on the back end.  
22. Jackson Jeffcoat, DE, Texas: The son of former NFL defensive end Jim Jeffcoat might have been in this year's draft if he didn't get hurt last season. He has good speed and power off the edge.  
23. Gabe Jackson, G, Mississippi State: We saw two guards go in the top 10 this year, and this kid has a chance to go in the top half of the first round next year.  
24. Marcus Mariota, QB, Oregon (Jr.): Teams are now intrigued by dual-threat quarterbacks, and Mariota is that. He is big and fast and has a big arm.  
25. Timmy Jernigan, DT, Florida State (Jr.): He is short at 6-2, but he is a strong power player (295 pounds) in the middle of the Seminoles defense.  
26. Loucheiz Purifoy, CB, Florida (Jr.): At 6-1, he has good size and plays a lot of man coverage for the Gators. He has a chance to go even higher with a good season.
27. AJ McCarron, QB, Alabama: He isn't just a system quarterback playing on a good team. He's accurate and has a good arm. He also has good size.  
28. Jordan Matthews, WR, Vanderbilt: He has the size (6-3) you want in an outside receiver and he has put up big numbers at Vandy. His 40 times will be big.  
29. Aaron Murray, QB, Georgia: If he were an inch or two taller, he would be higher on the list. He has a rocket for an arm.  
30. Antonio Richardson, T, Tennessee (Jr.): -- He is a powerful left tackle who did a nice job against Clowney last year. He could move much higher up this list next year.  
31. Ryan Shazier, OLB, Ohio State (Jr.): He is a run-and-chase linebacker who can also rush the quarterback. His size at 225 pounds might be a concern.  
32. William Sutton, DT, Arizona State: Yes, he's undersized for the position. But he kid is special. He is strong and quick.  
Just missed: Braxton Miller, QB, Ohio State (Jr.); Aaron Lynch, DE, South Florida (Jr.); Zach Martin, T, Notre Dame; Cameron Erving, T, FSU (Jr.); Dominique Easley, DT, Florida; Eric Ebron, TE, North Carolina; Johnny Manziel, QB, Texas A&M (Jr.); Cyril Richardson, G, Baylor; Derek Carr, QB, Fresno State; Cody Hoffman, WR, BYU; Jason Verrett, CB, TCU; Craig Loston, S, LSU; Ed Reynolds, S, Stanford; Quandre Diggs, CB, Texas; Ra'shede Hageman, DT, Minnesota; Christian Jones, ILB, Florida State.