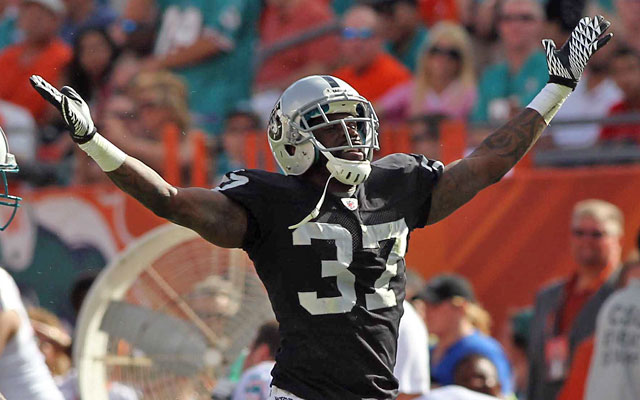 Baltimore Ravens defensive back Chris Johnson, as he has done before, recently spoke at a shelter for women victims of domestic violence. It was an interesting scene. Most speakers who share their inspirational stories are women. Johnson is a 6-foot-1, 200-pound professional football player. Yes, unusual, but so is Johnson's tale of horror, sadness, heroism and perseverance.
"You don't see a lot of men speaking to women who have suffered from domestic violence," Johnson said in an interview, "but my story is not so different from their story. I tell women to never give up because after what happened in my life, I've never given up."
Johnson has told his story to women's shelters, high schools and churches. Small groups, larger groups. He has done this for many months now, mostly unnoticed by the media or general public. He has done it without question. He has done it without a pat on the back.
His story begins not so long ago, in December 2011, when Johnson was with the Raiders. He was watching game film in the team facility when he got a text from his mother. It was three words:
"He shot her."
• • •
The person shot was Johnson's sister, Jennifer. She had been estranged from her boyfriend, Eugene Esters. Esters and Jennifer, police say, got into an argument in the parking lot of Jennifer's Fort Worth, Texas, apartment complex because he wanted to see the couple's 2½-year-old daughter. Esters shot Jennifer several times, according to police. She was transferred to a hospital and later pronounced dead.
Johnson's mother, Della Johnson, was also shot, but survived her wounds. Esters faced charges of capital murder and attempted murder.
The trial was scheduled to begin next week but a plea agreement -- reached with the approval of Chris and the family -- was made with Esters. Johnson would not give details of the agreement.
"We wanted to make sure there was no chance he didn't go to prison," Johnson said. "We didn't want to risk something crazy happening with a jury trial."
It is in those moments, when a sister is shot dead, and her children are without their mother, and their father is the alleged killer, that if Johnson wanted to crawl into a hole and disappear, no one would have questioned why.
Instead, something extraordinary happened. Johnson asked for his release from the Raiders. He then took in his sister's two children, 14-year-old Sidney and 3-year-old Solia. They joined Johnson's children Chris Jr., Bran and Krissy.
Instead of horror, a new future was created for Johnson and his children. All of them. A better future.
"It hasn't been easy," Johnson said. "There are times when [the older daughter] gets really sad and misses her mom. I tell her to let her emotions go. But we're a family."
"Raising [his sister's girls] reminds me of my sister every day and I love that," Johnson said. "By raising them, I honor her every day.
"The big thing I wanted to do was be strong for the kids. I wanted to be there for them."
In a sports world sometimes bloated with selfishness and greed, Johnson's story is one of self-sacrifice and singular generosity.
Johnson signed with the Ravens in November and then went on to win a Super Bowl with the team. He has shared his experience intimately with only a handful of teammates but he did speak in general terms about what happened to his sister when he addressed the Ravens following Jovan Belcher murdering his girlfriend and then committing suicide.
"I told them that if things get bad, talk about it," Johnson. "As men, sometimes we're afraid to ask for help. If [Belcher] had asked for help she would still be alive and maybe he would still be alive."
Johnson is blunt when he talks of men and domestic violence. "Men are the ones who mostly need to change," he said. "A lot of the domestic violence starts with us. We need to change."
Johnson is still with the Ravens and says the organization has been extremely supportive. Johnson says he doesn't know how much longer he'll play in the NFL -- 2013 will be his 11th season as a pro -- but he plans to play as long as his body allows.
He will also be raising his family and telling his story, one of the most inspirational in a sometimes troubled sports world.