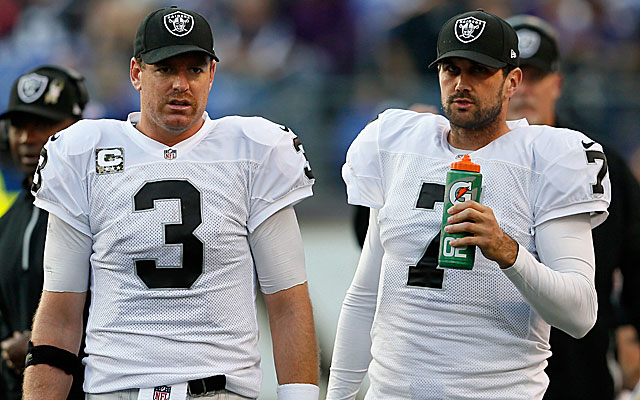 Pete Carroll was asked a simple question: What happened to Matt Leinart in the NFL? Why did his career crash and burn?
"Stupid question," Carroll said with a smile.
Carroll was at the Indianapolis scouting combine, in a corner of the RCA Dome, and launched into an impassioned defense of Leinart and, then, another USC quarterback, Matt Barkley, who would later fall in the draft at terminal velocity into the fourth round.
More on USC QBs
Columns

Related links
In some ways, what Carroll would say next wasn't just a defense of Leinart, it stands as a defense of the USC quarterback system, one that he coached to national championships but has since failed to replicate the collegiate excellence on the NFL level.
In fact, one of the great mysteries of both college and the NFL is that while other Pac-12 schools have historically generated Pro Bowlers and NFL Hall of Famers at quarterback -- make that other schools, period -- USC quarterbacks have mostly failed in the pros. Trojan quarterbacks have won 11 national titles, six during the Super Bowl era, but no USC quarterback has played in a Super Bowl.
Numerous schools have produced Super Bowl quarterbacks. Ten have produced multiple Super Bowl quarterbacks -- Delaware, California, Maryland, UCLA, Alabama, Notre Dame, BYU, Stanford, Purdue and Washington State.
USC? None.
USC's NFL quarterback struggles are relevant because they pertain to one of the most intriguing stories of this upcoming and future seasons. If the Philadelphia Eagles can crack the Da Trojan Code, then Barkley could break the streak of bad USC quarterbacking in the NFL. Barkley actually has a solid shot at playing time since Mike Vick is constantly injured and Barkley is playing for a coach with a quarterback friendly system.
"Without a doubt I have confidence I can come in right away and make an impact, or just help the team in whatever way I can," Barkley told 97.5 The Fanatic recently.
History says differently. Recently USC quarterbacks haven't just failed to make an immediate impact, they have failed to make almost any impact despite tremendous success in college.
But back to Carroll's passionate defense of Leinart and Barkley.
"I think [Leinart] is a very good quarterback and has just faced some tough circumstances," said Carroll. "He's still young. I wouldn't give up on him. He can still turn things around.
"I think Barkley is going to be very good. He's a smart guy and he's athletic. He's going to shock some people with how quickly he adapts to the NFL."
In the Super Bowl era, USC quarterbacks have won 22 outright or shared conference championships (for brevity these numbers don't include vacated wins or titles). That's the most of any school in the country. Then, those players go to the pros and, mostly, carry a clipboard.
Yet, with far less talent, historically other Pac-12 schools have produced massive quarterbacking talent in the NFL. Stanford has John Elway (Hall of Famer) and Jim Plunkett (almost Hall of Famer).
Washington produced Warren Moon and UCLA Troy Aikman (multiple Super Bowl winner and Hall of Famer). Drew Bledsoe and Mark Rypien both played at Washington State and both played in a Super Bowl with Rypien winning.
The great Dan Fouts went to Oregon. Steve Bartkowski played at Cal and was the 1975 NFL rookie of the year, a two-time Pro Bowler and is one of only nine players in NFL history to throw 30 touchdowns in a season consecutively at least once, joining Tom Brady, Peyton Manning and Dan Marino, among others.
In fact, among Cal's solid track record of NFL pros is Aaron Rodgers, a Super Bowl winner, and maybe the best quarterback in football today.
These are the USC quarterbacks who have played in the pros: Paul McDonald, Todd Marinovich, Rob Johnson, John David Booty, Carson Palmer, Mark Sanchez, Matt Leinart, Sean Salisbury, Rodney Peete, Pat Haden, Vince Evans, Bill Nelsen, Matt Cassel and Pete Beathard.
That is not exactly a list of NFL greats. On it is a player more known for what he did with his cell phone (Salisbury), a criminal (Marinovich), and a butt fumbler (Sanchez).
Haden was solid, Peete was reliable but mostly a backup and Palmer has at times been good and in other moments absolutely awful.
This statistic is one of the more damning for the Trojans. At least 15 times that group of USC quarterbacks won either a national championship (outright or share), a Heisman or made a Rose Bowl appearance. None won a Super Bowl and only a handful made the playoffs. There may be no other programs in history that had such dominance on the collegiate level only to watch those players get atomized in the pros.
Why have USC quarterbacks experienced almost unprecedented success in college while experiencing almost unprecedented futility in the NFL?
A variety of college and NFL sources including several NFL scouts, team executives and assistant coaches, provide four main theories.
The Spoiled Brat Theory
It goes like this. Recent USC quarterbacks in particular grow up with a silver football in their mouth. Not all. But many. They grow up pampered both at home and in their sport. They only time they experience adversity is when the CD player on their dad's BMW doesn't work.
This is part stereotype, part unfair but also part accurate, according to several NFL scouts. "The feeling is that some of them are coddled," said the scout, "and mentally soft."
Then when they get to the toughest of sports leagues, their minds crumble under the weight. At least, that's the theory.
The Weather Theory
"The sheer number of USC quarterbacks who have come to the NFL and struggled is alarming," said Rob Rang, NFLDraftScout.com senior analyst who also writes for CBSSports.com. "Because many of these quarterbacks possessed the physical traits to be successful, some scouts believe the warm weather and big man on campus mentality makes Southern Cal passers less prepared for the rigors of the NFL."
The warm weather. This is the most believed theory by scouts. It contributes to making the quarterbacks soft, the theory goes. There are holes in this theory, of course, especially since Troy Aikman played in the same weather at UCLA but still made it to the NFL Hall of Fame.
However, remember the list of schools that produced quarterbacks that appeared in multiple Super Bowls, maybe the toughest thing to do in sports -- the University of Delaware, California, Maryland, UCLA, Alabama, Notre Dame, BYU, Stanford, Purdue, and Washington State. Five of those schools -- Delaware, Maryland, Notre Dame, BYU, and Purdue -- play in cold weather. Some brutally so. Washington State, located in Pullman, has averages in December of 24 degrees for a low and almost eight inches of snow.
Not scientific but also far from insignificant.
The Great Coaches Theory
Two words: Norm Chow. He was an assistant at USC and throughout his college career helped to develop an army of quarterbacks, including Steve Young. He's one of the brightest offensive minds in college football history. At USC, over the decades, the Trojan coaching staff has been loaded with assistants and head coaches like Chow.
"USC has had so much coaching talent it's become a system school," said one NFL scout. "Then they have to leave that system."
The Uber-talent theory
This is one of the most palpable theories. While many college quarterbacks were surrounded with great talent throughout history, USC took that to a level surpassed by few. Rob Johnson played with Keyshawn Johnson and Tony Boselli. Leinart played with Reggie Bush. Every USC quarterback seems to have had a fast 6-foot-8 wide receiver and elite running back. USC quarterbacks played with Heisman winners Charles White and Marcus Allen.
The belief is that Trojan quarterbacks are surrounded by so many great players, and many times are drafted by the worst NFL teams, they don't know how to elevate the players around them because in college they were always the ones being elevated.
Now comes another USC quarterback to the NFL. Barkley went in the fourth round but the expectations aren't so lessened. People will be watching not just to see if he can replace Vick, but witness if he can break a nasty curse.