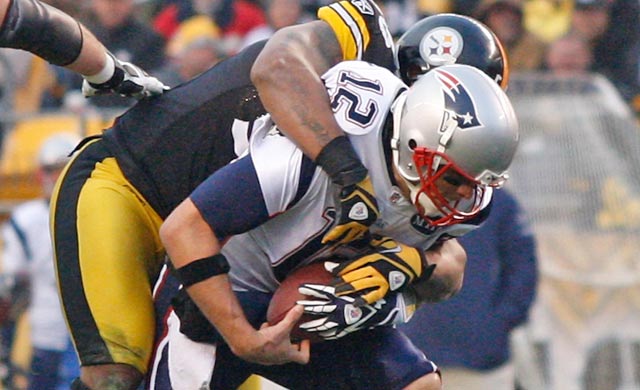 So Tom Brady sees "ghosts" under pressure. At least that's what Pittsburgh's Ryan Clark says. Well, then, maybe other quarterbacks should see what Brady does. Because if there's a gold standard for the position, it's Tom Brady.
Since taking over as New England's starter in 2001, he's been to five Super Bowls and seven conference championship contests and won the AFC East title every year he finished a season except for one.
That was 2002 when New England tied for first and lost the tiebreaker.
Nevertheless, Clark insists Brady's not the same and wilts under pressure. Maybe, except there are a couple of things to point out: Brady is 35, so, no, he's not the same. Plus, he absorbed a zillion hits over his career, so I'd hope he's sensitive to pressure by now.
But wilt? I don't think so. Since returning from a season-ending knee injury in 2008, Brady hasn't missed a start, hasn't lost a division title and is 49-15, with 137 touchdowns, 37 interceptions and one unanimous league MVP award.
Impressive? You bet. But pass the message to Clark. He said Brady will "duck" and "flinch" even when he's not about to be sacked, adding that he reacts when "his clock goes off in his head and the ball should be out." I don't know about that. What I do know is that too many quarterbacks don't listen to clocks in their head and commit stupid mistakes, get pulverized or both.
Meaning they should be more like Tom Brady.
Clark seems to suggest that Brady is morphing into a present-day Jim Everett, but that's not even close. Brady is tough, accurate and enormously successful, and if he has a shortcoming it's not enough support from teammates he's had to carry for too many years.
I think back to 2006 when his go-to receivers were Jabar Gaffney and Reche Caldwell, yet somehow Brady had the Patriots within a minute of advancing to Super Bowl XLI. That was the season Clark joined Pittsburgh, so he should remember. He should also remember that in three games vs. Pittsburgh since Clark's been there, Brady is 2-1, with nine touchdowns, no interceptions and a passer rating of 116.9.
I'll take that, ghosts or no ghosts.
Still, his critics tell us Brady's lost his mojo, pointing to a 3-5 record in his last eight playoff games and his failure to win a Super Bowl since the 2004 season. Fair enough. What they forget to mention is that Brady hasn't had a downfield threat since Randy Moss left, was forced to tough out the 2009 playoffs with broken ribs and had to carry the club in recent years -- with the New England defense ranked no higher than 25th the past three seasons, including 31st in 2011 when the Patriots reached the Super Bowl.
Oh, yeah, then there's this: Brady lost his last two Super Bowl games ... except he didn't. The New England defense did. In both defeats, the Patriots couldn't prevent the New York Giants from driving the length of the field on their last series. In Super Bowl XLII, it was an 83-yard drive punctuated by a touchdown with 35 seconds left. Five years later it was an 88-yard series, with the Giants scoring the go-ahead TD with 57 seconds remaining.
I don't argue that Tom Brady isn't the quarterback he was five years ago. The guy turns 36 in August, for crying out loud. Yet he continually is asked to do more with less.
In 2006, the Patriots shuttled Brady's favorite receiver, Super Bowl MVP Deion Branch, off to Seattle after he held out of training camp. In 2010, they got rid of Moss after he complained about a contract extension. Then, two months ago, they let Brady's favorite target, Wes Welker, walk to Denver after Brady called him "the heart and soul of what our team is all about."
Tom Brady's problem isn't ghosts. Playmakers are. He doesn't have enough of them. He never did. Yet somehow, some way, he wins where others could not, and listen up, Ryan Clark: It's that success -- not imaginary pass rushers -- that makes Ton Brady unique.