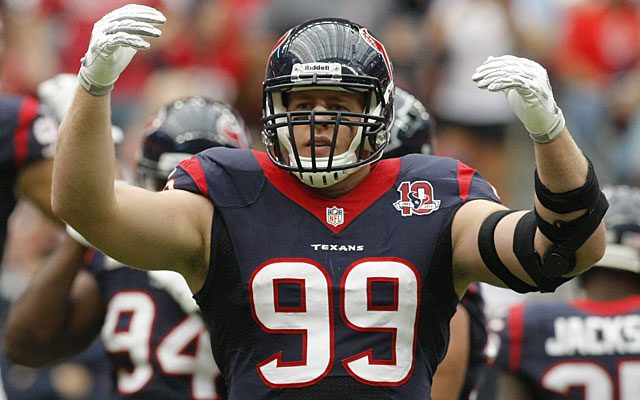 It's not enough to refer to defensive linemen as simply defensive linemen. In fact, it's not enough to call tackles just tackles and ends just ends. There is a lot more to the job description.
The NFL has 116 starting defensive linemen and many more situational players. There are unique characteristics to many of the defensive line positions when you consider the NFL is broken up into two schemes (4-3 and 3-4). Inside those two schemes, the defensive linemen are evaluated with seven different positions in mind. A 3-4 nose tackle is not the same as a 4-3 nose tackle. A 3-4 defensive end has traits that are unique to his role that don't always compare to a 4-3 left defensive end or a 4-3 right defensive end. A 4-3 three-technique tackle is a different kind of player than all the positions mentioned above.
Related links
Column

Related links
NFL coverage on the go
Some of the league's great players defy scheme and can play at a high level in any scheme. They will be listed in the top 10 as well as in their specific position group. There are players that didn't make the top five at their specific position after last season but are capable of bouncing back in 2013. They are on my "rebound" list. There are up-and-coming stars that are on the verge of breaking into the top five at their position and they are in an "on the rise" group. After those three breakdowns will be my top five players at each position.
Stats don't tell the whole story with defensive linemen. For example, there is no statistical category for the lineman who takes on a double team and frees a linebacker to make a tackle. There are no statistics for hustle and pursuit. I will take into consideration the combination of sacks, hurries and knockdowns when trying to sort out these players. The number right after the name is the combination of those three statistics. Keep in mind some players line up at multiple positions but have been listed at their predominant position.
Top 10: Grade -- A+
These players can play in any defense and many have already played in both 3-4 and 4-3 schemes as well as moving around inside a particular front.
1. J.J. Watt, Houston (69.5): The premier player at any position on the defensive line. No one can touch his 69.5. He can beat any single block in the NFL and he is still productive vs. double teams. His knack for blocking passes is almost as impressive as his ability to sack quarterbacks from a 3-4 scheme.
2. Haloti Ngata, Baltimore (24): One of the great power players in the NFL, Ngata has played on the nose and as a 3-4 defensive end. His quickness for a man his size (6-foot-4, 340 pounds) is rare and can force a double team in any front at any position. No offensive lineman can handle his bull rush for an entire game.
3. Vince Wilfork, New England (9): Wilfork has built up his stamina over the past few years and now plays in many pass situations that years ago he would have been subbed out for. Wilfork has outstanding range along the line of scrimmage and that's the reason New England plays him at DE more often than he lines up in his original NT position.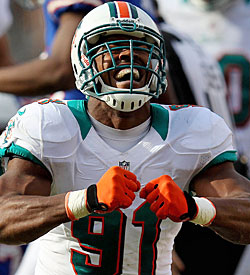 4. DeMarcus Ware, Dallas (43.5):
Ware is moving to right defensive end in a 4-3 scheme after spending his career as an OLB in a 3-4. New Cowboys defensive coordinator Monte Kiffin will scheme him the same way he used Simeon Rice in the great Tampa Bay defenses. Ware will still be a leading sacker in the NFL and will quickly adjust to coming out of a three-point stance after years in a two-point stance.
5. Cameron Wake, Miami (61): Wake is one of the few players to crack the 60 mark in the combination of sacks, QB hurries and knockdowns. It's hard to imagine how the entire NFL missed on this guy coming out of college and let him go to the CFL after leaving Penn State. He has already excelled in both the 3-4 and the 4-3.
6. Geno Atkins, Cincinnati (47.5): The Bengals found a gem in this three-technique defensive tackle who finds himself in opposing backfields and could be disruptive in any scheme, although he benefits from the Bengals' 4-3 front.
7. Chris Long, St. Louis (48.5): Long is a combination of power, speed and smarts. He is athletic enough to play standing up in a 3-4 defense but excels in the Rams' 4-3 as a left defensive end.
8. Ndamukong Suh, Detroit (41): Controversy trails Suh stemming from his fines for rough play, but there isn't a coach in the NFL who wouldn't want him on his team's defensive line. There are times when he dominates offensive guards with power and technique. At other times it appears he doesn't play up to his ability but some of that is because the expectations for him are so high.
9. Calais Campbell, Arizona (31): Campbell has a rare combination of size and athletic ability. He was overshadowed by teammate Darnell Dockett for years but has emerged as a dominating 3-4 DE. At 6-feet-7 he can play with leverage and get under the pads of shorter offensive linemen.
10. Mario Williams, Buffalo (37.5): Williams has played DE in a 4-3 defense, was trained to be an OLB in a 3-4 front and now will line up as a 3-4 DE. I do not expect his production to go down with the increase in two-gap calls he will get. Buffalo will turn him loose and when opponents fan the protection, putting the offensive tackle on the OLB, Williams will be a mismatch for guards.
Rebound group: Grade -- B
This group consists of formerly outstanding players who fell off in production last year, or are coming off injury that prevented them from having a big year. They are capable of rebounding and are on my radar in 2013.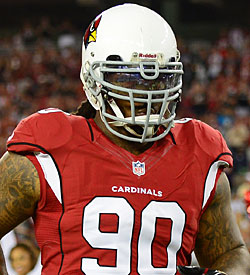 1. Darnell Dockett, Arizona, (14.5):
Dockett is complained about last year's defensive scheme as limiting. If he was right, then he will bounce right back this season with a score of 35-40. But if his age (32) is the issue, then we will see a repeat of 2012's 14.5.
2. Justin Tuck, NY Giants, (19.5): Tuck was the key to the Giants' famous pass-rush unit that led the team to two Super Bowl titles because he can rush as a tackle or end. He mentioned retirement heading into 2012 and it was followed by a mediocre season. He vows to return to his old form this season.
3. Kevin Williams, Minnesota, (14): Williams has played 4-3 three-technique at a high level for a decade. It appeared he lost a step. I can't count out Williams until he has another average season.
4. Osi Umenyiora, Atlanta, (30.5): The Falcons dropped John Abraham and replaced him with Umenyiora, who really didn't have better production but will get plenty of pass-rush opportunities with the Falcons' offense scoring and forcing opponents to throw more.
5. Jay Ratliff, Dallas, (7): Ratliff was a top 3-4 nose tackle now scheduled to play the three-technique in a 4-3 defense. Ratliff did have penetration skills as a nose tackle but at 32 years old he has to prove he can do it over a guard coming off an injury-riddled 2012.
On the rise: Grade -- A
The talent pool's waters are never still, as there is a constant push from young players working their way into the top five at every position. It wouldn't surprise me if the following players crack the top five at their position by midseason.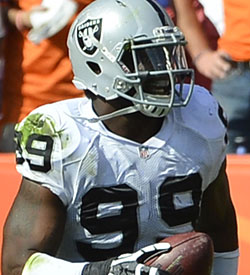 1. Lamarr Houston, Oakland (28):
Houston is a 4-3 left DE who doesn't have much of a supporting cast on the line. He'll find it difficult to rack up a big number this season, but coaches know he's an emerging player.
2. Nick Fairley, Detroit (25): Fairley is a 4-3 nose tackle. Fairley, who recently said the Lions are going to the Super Bowl this year, has definitely gotten stronger in the past year and is starting to dominate up front.
3. Derek Wolfe, Denver (17): Wolfe is a 4-3 LDE and was a surprise pick so early in the 2012 draft but proved the Broncos were correct in their evaluation. He plays end on run downs and is strong enough to move inside on pass downs.
4. Robert Quinn, St. Louis (35.5): Quinn, a 4-3 RDE, is under the radar because the Rams aren't winning enough games yet and Chris Long is on the opposite side. Make no mistake, Quinn is already producing at a high level and out-produced Jason Pierre-Paul last season. If he does it again he will replace JPP in the top five.
5. Chandler Jones, New England (29.5): Jones lined up at RDE in the Patriots' 4-3 defense as a rookie last year. Some thought it would take two years for Jones to be strong enough to play well in the NFL, but he demonstrated he was much further along than anticipated.
6. Fletcher Cox, Philadelphia (18): Cox was a 4-3 defensive tackle who will now switch to a 3-4 DE position. It remains to be seen whether his production improves.
7. Greg Hardy, Carolina (36): Hardy is a 4-3 LDE not well known on a national level, but should be after last season. He is already very close to the top five at his position and should crack that group this year. Hardy has the best production number of the players on the rise.
8. Bruce Irvin, Seattle (30.5): Irvin is a 4-3 RDE coming off a rookie season as a situational pass rusher. If he stays in that role, he will find himself back on this list next year, which isn't a bad thing.
9. Red Bryant, Seattle (6): Bryant will never have big numbers but he is a critical piece in Seattle's defense. He two-gaps a lot in a 4-3 front and anchors the run defense. To appreciate all the dirty work he does up front, look at what happens to the Seattle D when Bryant isn't on the field.
4-3 Right DEs: Grade -- A-
Players at this position are expected to get to the QB and must beat left tackles. Some RDE's are situational players but to make the top five they have to play the run, pursue plays that go the other way and hold the point of attack when the run comes their way. A player like Simeon Rice was a fantastic RDE.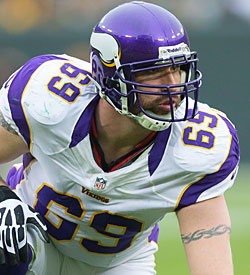 1. DeMarcus Ware, Dallas (43.5):
See Top 10 list.
2. Jared Allen, Minnesota (50): Allen never moves around in looking for weak offensive linemen to pad his stats. The guy lines up on the left tackle every play and his motor never quits. He is in a contract year and should produce close to 15 sacks this season.
3. Julius Peppers, Chicago (39.5): Peppers is one of the best athletes in the NFL and, at 33, still commands a double team some of the time. He gets moved around the front looking for good matchups.
4. Chris Clemons, Seattle (42.5): Clemons is coming off an ACL injury and may not be ready to go, which means Cliff Avril gets the call. Clemons is a perfect fit in the Seattle defense and if healthy will have a 40-plus season.
5. (Tie) Charles Johnson, Carolina (46.5); Jason Pierre-Paul, NY Giants (28.5): After his big contract, many felt Johnson was overpaid -- but he delivered, especially when you consider how poor the defensive tackle play was next to him. JPP had a disappointing season considering how he played in 2011. He needs to rebound for sure.
4-3 Left DEs: Grade -- B+
Players at this spot usually are bigger than their counterpart on the right side and typically confronted by 350-pound right tackles and chipping tight ends trying to establish a power running side. When passing situations arise they are expected to get after the QB.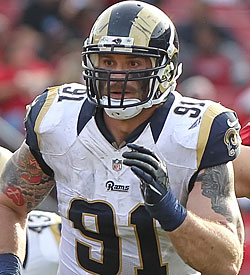 Typically they do not have the sack production of the RDE but must disrupt the passing game. This year the LDE production compares favorably with right defensive ends. Reggie White was the greatest LDE of all time.
1. Cameron Wake, Miami (61): See Top 10 list.
2. Chris Long, St. Louis (48.5): See Top 10 list.
3. Derrick Morgan, Tennessee (39.5): Some would be surprised Morgan made this list but his production shows he deserves the spot. As the offense improves for Tennessee, the defense will get more pass-rush opportunities and Morgan could hold off some of the guys from the on-the-rise list.
4. Michael Johnson, Cincinnati (38.5): Johnson got a franchise tag from the Bengals and is a rare athlete with height and long arms. At times he reminds me of Jason Taylor.
5. Michael Bennett, Seattle (44): I can't believe the Bucs let him go. Now he fortifies an already good Seattle defensive line. Bennett may not have the production he had last year and could struggle to match his numbers from 2012.
3-4 DEs: Grade -- A+
The prototypical 3-4 defensive end is tall (6-4 or bigger) with long arms to lock out against the offensive tackle and two-gap the blocker. He must be able to play the B or C gap in the run game and disengage from the OT if he reads the pass.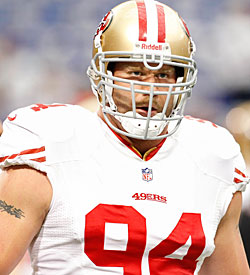 Usually 3-4 DEs don't have the sack production of those who play in a 4-3, but J.J. Watt defied that. There was a time when Richard Seymour was the top 3-4 DE, with the Patriots. This is one of the strongest D-line positions in the NFL.
1. J.J. Watt, Houston (69.5): See Top 10 list.
2. Haloti Ngata, Baltimore (24): See Top 10 list.
3. Justin Smith, San Francisco (19): Smith is a throwback player whose toughness sets the tone for the 49ers' defense. His numbers don't tell the whole story and he does a great job of setting up Aldon Smith.
4. Calais Campbell, Arizona (31): See Top 10 list.
5. Mario Williams, Buffalo (37.5): See Top 10 list.
4-3 three-technique DTs: Grade -- B
They must have cat-like quickness and can be successful at around 6-1, 295 pounds. Teams that employ a true three-technique guy expect him to penetrate the A or B gap, get in the backfield and be as disruptive as possible. In passing situations the great three-technique DTs get double-teamed or at least force the offense to slide protection toward them. Warren Sapp is a Hall of Fame three-technique.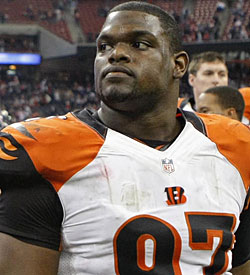 1. Geno Atkins, Cincinnati (47.5):
See Top 10 list.
2. Ndamukong Suh, Detroit (41): See Top 10 list.
3. Gerald McCoy, Tampa Bay (29): There were times last season McCoy was the best in the league. He is tall for the position but has demonstrated the ability to get under the pads of the offensive linemen. He was a Pro Bowl player last year but there are players closing in on him this year and he needs to keep improving.
4. Henry Melton, Chicago (19): Melton's numbers were down last year but the Bears know how valuable he is to their scheme. Ask the Bears' linebackers about Melton, a former college fullback, and they tell you it all starts with him being disruptive and in the backfield.
5. Randy Starks, Miami (23): Starks is solid, with good numbers, but not a flashy player. I would consider him underrated unless you are watching the coaches' tape.
4-3 nose tackle: Grade -- C+
He needs to be a lot quicker than the 3-4 nose. Often they are stunt players asked to loop all the way around a crashing defensive end and contain a QB from escaping the pocket. They are at their best on the move playing one gap.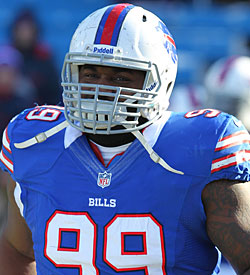 1. Vince Wilfork, New England (9):
See Top 10 list.
2. Marcell Dareus, Buffalo (17.5): Dareus is a good athlete with movement skills and power. He is just coming into his own and needs to be more consistent but the skills are there.
3. Domata Peko, Cincinnati (10): A great effort guy who chases runners down and can play sideline to sideline better than most nose tackles.
4. Michael Brockers, St. Louis (12): Brockers is one of the only rookies from 2012 to crack a top five. He got better as the season went on and should become a big force for the Rams this year.
5. Jason Hatcher, Dallas (22.5): Hatcher moves to a 4-3 nose after years at 3-4 DE. He has stunt skills and should play well in his new scheme but time will tell.
3-4 nose tackle: Grade -- C-
The best line up directly over the center and force a double team with the center and a guard working together to get some movement on the NT. They tend to be massive in size and do very little in pursuit and are asked to collapse a pocket but rarely sack the QB. A number of the former top 3-4 nose tackles have moved to 4-3 schemes (Wilfork, Ratliff) or have moved out to defensive end (Ngata) and the position is in flux.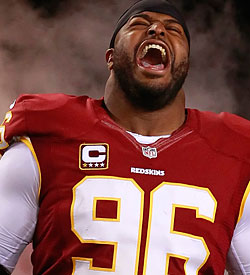 1. Barry Cofield, Washington (21.5):
Coefield's production is very impressive for a man in a 3-4 front as a NT.
2. Philip Taylor, Cleveland (3): Taylor will benefit from the Browns' move to a 3-4 defense. He's young and very powerful. He will command a double team and still get push.
3. Dan Williams, Arizona (3.5): The rest of the 3-4 nose tackles only prove how weak the list is this year. Casey Hampton would have made it if he was still on a roster. Williams has the talent but needs to play better.
4. Isaac Sopoaga, Philadelphia (4): The 49ers moved on from Sopoaga. The Eagles are moving to a 3-4 front and are lucky to get him.
5. Dontari Poe, Kansas City (4.5): I had to look long and hard for a fifth nose tackle worthy of the list. Poe got better as the year went on during his rookie season and had 20 tackles in his final six games.