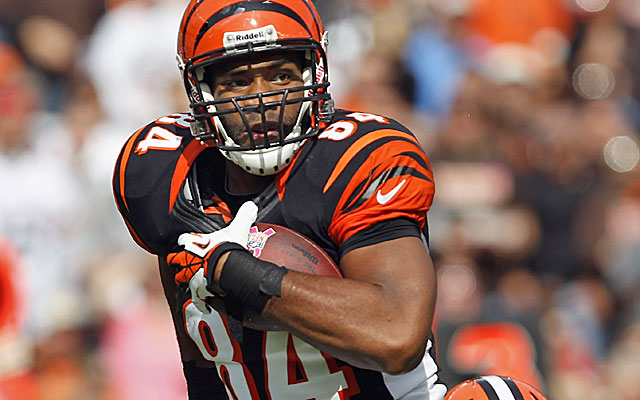 The rookie hype season is upon us. With NFL teams finally back on the field -- albeit largely with wildly-inexperienced rosters; kids running around in shorts and doing rudimentary drills -- get ready for a barrage of quasi-information about the latest potential breakout phenom who is coming out of nowhere to impress his team's coaching staff in the middle of May.
Excuse me while I yawn and take a nap on my laptop.
Look, I get the insatiable desire for NFL news and the need to cover it as a year-round entity, and I get the excitement that comes with spring football -- any semblance of the real thing means that we are creeping closer to the start of training camp. But way, way too much is made of rookie camp standouts and OTA superstars, which is one of the hazards of having to fill that 52-week demand for NFL product.
Listing NFL Bests and Worsts
Column

More Lists
NFL coverage on the go
It makes for some interesting topics on sports radio and fills the newspaper pages and will get some page clicks, but don't be deluded into reading too much into anything that is going on in these weekend minicamps, especially without the real arrival of veterans. There is far too much time for all of this to get sorted out between now and September and even the greatest of shorts-and-shells performances will get washed out when the workout wonder falters as the true competition begins under the heat of the August sun, in full pads. Great first impressions can vanish pretty quickly as the evaluation process plays out.
That's why, when trying to come up with a list of offensive players I think are primed for a breakout season, I generally tried to avoid rookies. I'm looking more for guys who have put in a few years -- nearing the end of the rookie deals by and large, or close to playing it out -- who I believe are on the cusp of big things. None of them are household names, but they certainly aren't unknowns either.
But, if they post the kind of production I think they are capable of, they stand to, in some cases, cash in big time, and in other cases, perhaps vindicate some of the investment that has already been made in them. No one will be hanging breathlessly on how many passes they catch or complete in a rookie camp, seven-on-seven drills, but they just might be primed to do much greater things on Sundays, when it really matters.
Dennis Pitta, TE, Baltimore Ravens: The Ravens took a lot of abuse about jettisoning stalwart -- but expensive and aged -- receiver Anquan Boldin in March, and well, with no obvious acquisition made to offset his trade to the 49ers, they still are hearing about it locally. Let's not get caught up on position designations anymore; in the era of spread offenses the terms are interchangeable and Pitta is ready to surpass what Boldin could do. Call him whatever you want. But he has the size and is much faster than Boldin and can separate more. And with Jim Caldwell calling the plays in Baltimore, the middle of the field is more fertile territory. Joe Flacco, Pitta's BFF, was throwing the hell out of those seam routes on their Super Bowl run and Pitta could easily hit double-digit touchdowns next season and push 1,000 yards receiving.
He's in a contract year, is very athletic, and with other tight ends/fullbacks on the roster to take on more blocking duties, Pitta should be freed up. Flacco is only getting better, he trusts Pitta, and the kid was drafted with the Gronkowski/Hernandez prototype in mind. In 2013, he starts putting up those kinds of numbers.
Chris Ivory, RB, New York Jets: It wasn't that long ago the Jets had one of the best running games in the NFL, and with their quarterback situation not being much better in the short term, they'll want to get back to the ground and pound as much as they can. Few run as hard as Ivory, and after being trapped in a deep New Orleans backfield, he is fired up to get to carry a normal load.
The limited duty with the Saints left plenty of tread on his tires even despite his violent running style, and with the Jets re-investing in their offensive line, I maintain there is enough talent still there to get the ground game going. Shonn Greene just didn't have what it takes to be an every-down back, and I expect New York's trade for Ivory to pay big dividends for new GM John Idzik, as well as fantasy owners who pick him up.
Ivory got a nice contract as part of the equation, Rex Ryan is going to fall in love with this kid, and Rex, with his job in the balance, won't let Marty Morninwheg get too carried away with pass-happy play-calling. Ivory, 25, has averaged more than 5 yards per carry in his career and has never carried the ball only 119 times the past two seasons, but won't be bottled up any longer.
Jared Cook, TE, St. Louis Rams: There is going to be a bit of a tight end theme here, which, again, is indicative of the way the modern game is going, getting multiple TEs involved in standard formations and looking to force challenging matchups for opposing defenses in the middle of the field.
Cook was handcuffed by some rough quarterbacking during his time in Tennessee, and didn't seem to find his way once coach Jeff Fisher moved on. He was clearly desperate for a move out (hence his stance that, if franchised, he would make the case it should be at the higher wide receiver number -- which ultimately scared the Titans off).
Their loss will be Fisher's gain, as he reunites with his former draft pick. The Rams finally have the semblance of a tenable offensive line, and the draft day trade to land dervish receiver Tavon Austin opens up the offense. Look for Cook to take over the role of departed receiver Danny Amendola as Sam Bradford's security blanket.
Bradford will feed Cook the ball in what should be a big breakout campaign for the quarterback as well. Cook, who just turned 26, is in his prime, and though he has never caught 50 balls for 800 yards or five TDs in a season, I look for him to easily eclipse all of the above in 2013, in line to be a featured weapon as he enters his fifth season.
Pierre Garcon, WR, Washington Redskins: Of all of the guys on this list, Garcon is probably the most accomplished, and he's certainly the most senior, having already played five seasons. But he's still not yet 27 and if he could ever stay healthy -- I know, that's a major if in this case -- he could truly soar.
In limited glimpses last season, his first as a Redskin, the offense took on a more robust dynamic with him present and he and young quarterback Robert Griffin III (himself a major injury question, too) had instant chemistry.
Injuries always seem to be nagging at Garcon but he seems dedicated to building up his body this offseason. He is explosive (Garcon has a touchdown catch of at least 57 yards in each of the past three seasons) and has the ability to average over 15 yards per catch, and catch upwards of 100 balls. The Redskins want to feature him, without a doubt, but he has started all 16 games only once in his career. If that can change, then 2013 could be very interesting for the Redskins and their top receiver.
Emmanuel Sanders, WR, Pittsburgh Steelers: Sanders made headlines this offseason when the Patriots signed him to an offer sheet as a restricted free agent, and then the cap-strapped Steelers matched.
Pittsburgh already lost its most dynamic wideout, Mike Wallace, to Miami in free agency and needs more cogs for coordinator Todd Haley to play with. They matched the one-year offer and could well extend Sanders' contract at some point as well; the 26-year-old receiver will have every motivation to take on a bigger role with Wallace gone and with tight end Heath Miller not getting any younger, I foresee plenty of action for Sanders.
The former third-round pick set career highs in 2012, his third season, with 44 receptions and 626 yards, but got in the end zone just once. Look for that to change, perhaps dramatically, as he has the ability to be an explosive player in space.
Haley, in his second year calling plays there, will have an even better feel for his personnel, and remember, this offense was rolling along quite well before Ben Roethlisberger got hurt. They will put up more yards and more points in 2013.
Eddie Lacy, RB, Green Bay Packers: I know I said I was avoiding rookies, by and large, but this fit just looks too good to be true. For Lacy to fall to the Packers, and given their obvious need at his position, and their equally-as-obvious dominance in the passing game, I just can't resist.
Yes, they drafted another rookie back in the talented Jonathan Franklin, but Lacy has a strong pedigree and I expect the concerns about any bumps and bruises, his Alabama workload and issues with his 40 time to be erased by what he does on the field.
He doesn't have to be a savior or a game breaker, just be effective and consistent and he will put up numbers. Coach Mike McCarthy will sprinkle him in well, he should see plenty of the ball down by the goal-line and the locker room already has plenty of leaders.
He just has to be a hard-working rookie, and the fact he fell as far as he did will only stoke his motivational fire. I like the potential of this fit, a lot, and unlike at positions like receiver, running back remains an area where rookies can and do contribute right away as long as they get a grasp on the protections. Nick Saban prepares his kids for what it takes to play at the next level, so I don't anticipate that being a problem here.
Jermaine Gresham, TE, Cincinnati Bengals: Much of the buzz with the Bengals is surrounding rookie tight end Tyler Eifert, their first-round pick. And to this point, Gresham certainly has not progressed as many had planned since he was drafted 21st overall in 2010.
You cannot deny Gresham's athleticism and ability, and sometimes it takes a little time for it to come together, and perhaps Eifert's arrival will be a kick in the pants as well. Coordinator Jay Gruden is already falling in love with his two-tight end sets, and I believe Gresham actually will benefit from Eifert's arrival.
A.J. Green already scares the hell out of every opponent on the outside and quarterback Andy Dalton knows he needs to take a step up this season. Gresham has two years left on his rookie deal and must realize if he's going to be primed for a possible exit in free agency, or through trade, the time to improve his stock is now.
He has shown enough flashes to merit further consideration and he was targeted nearly 100 times already in this offense a year ago. He has more experience in Gruden's system and years of practicing with Dalton, all of which should serve him well, and I believe the drafting of another player at his position so high, and so soon, will ultimately expedite Gresham's blossoming.