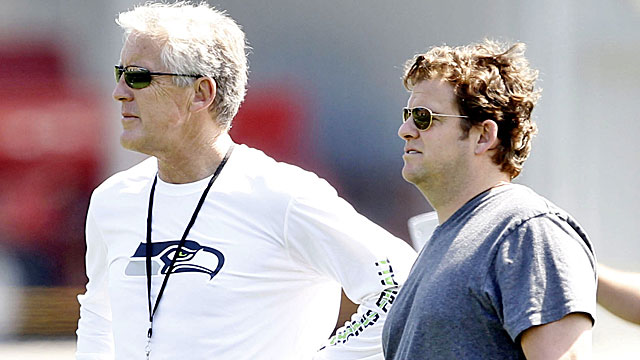 The dirty little secret of the NFL is that, at best, there is only about a third of the league that truly gets it. If you look back at the free-agency/salary cap era of the league, you find precious few teams that have been able to compete at the highest levels of the game, for any prolonged period of time, and even fewer who have been able to maintain that standard despite the inevitable departure of coaches, scouts and front office execs.
The grim realities of the cap, the CBA, the way the schedule is put together, revenue sharing, coupled with that brain drain, makes it so difficult to avoid big pitfalls. But you can also go through the standings over the past 20 years and see far too many teams that are grossly inefficient, that refuse to allow the system to work for them and that, repeatedly, end up as also-rans and cannot find a way to stay in the postseason with any regularity.
In a league of 32 teams, I'm going to take a look at the third that truly get it, and try to rank the front offices 1-11 (yes, 11 isn't quite a third of 32, but come on, it's close enough). I'm looking at a wide range of how the team has drafted and signed players, if they know when to cut the cord and when to stop overpaying their own veterans. Have they been able to win with different people at the helm and have they avoided any lengthy stays at the bottom?
Listing NFL Bests and Worsts
Column

More Lists
NFL coverage on the go
Of course, with the league flooded with first-time general managers, a lot of teams simply don't apply to this format and, then, there are others, who have turned over the reins several times in the past 10 years or so, but still they suffer -- generally because they can't identify prime coaching talent and/or they can't find a quarterback. So, as you might expect, you won't find too many teams in this list that aren't set at both head coach and quarterback -- it's incumbent and imperative for every owner and general manager to get it right there -- and you also won't find too many teams here when the coach is picking all the players (with a certain hoodie aficionado up in New England an obvious exception).
This is subjective, to say the least, and I am weighing things as well on the degree of success over the past 36 months, which is why a team that just might understand this whole management and ownership thing better than any other, the Pittsburgh Steelers, comes in a little lower than perhaps they deserve to be. It was a struggle to sort out, but here goes my best shot at it:
The reigning champs have a legend pulling the strings in Ozzie Newsome, and an owner, Steve Biscotti, who immediately grasped the delicate line he walks as decision maker and delegator. He knows when and where to stick his nose in, with the signing of Joe Flacco to a record deal the latest example.
They haven't always nailed the draft -- but no one bats 1.000, and they continue to find diamonds in the rough, like Dannell Ellerbe, and then know exactly when to let them walk for bloated contracts (like, say, Dannell Ellerbe).
They won a title with Brian Billick and identified the perfect upstart to take over in John Harbaugh and won again. Five straight years in the playoffs despite a transitioning roster, three recent AFC Championship appearances and a bright stable of young talent, most all of whom are locked up long-term. They aren't afraid to make tough choices, gutting a veteran core after the lockout and undertaking another veteran re-tooling this offseason, but had another killer draft, at least on paper, and this team is poised to be better than the unit that won the Super Bowl a year ago. Newsome's eventual successor, Eric DeCosta, is already in the building and the future should be bright for quite some time. That continuity is huge when you are trying to evaluate organizations and their ability to maintain.
Yes, they lucked into Tom Brady some, and luck does play a role in this, but it's what you do to capitalize on those little breaks that separates the best of the best. They won 11 games without Brady, they have won with defense and won with offense, and Bill Belichick is a football genius whether you want to admit it or not.
A slew of coaches and execs have left the building, only largely to fail elsewhere, and Belichick has a trusted lieutenant in personnel chief Nick Caserio, who is likely to break that trend of post-Patriot failure if he ever leaves the fold to run his own team.
Belichick makes shrewd trades, manipulates the draft board with ease (he fleeced the Vikings dealing out of the 29th pick this year, as he did in the Randy Moss deal a few years ago) and while it isn't always perfect, it works more often than not. Yes, they have failed to draft receivers, and the recent Rutgers fascination will baffle some, and some will still talk about Spygate, but this team was a dropped pass by Wes Welker away from a ring a year ago and continues to make bold, and usually correct, decisions on its roster (letting Welker go could be the latest example).
Getting Brady to sign that team-friendly extension was huge, they have turned former weaknesses (running game) into potential great strengths and it's hard to imagine another in the AFC East really challenging New England anytime soon. This is the closest we've seen to a dynasty in the modern era, and that must be recognized.
Ted Thompson is so low key and so patient that you sometimes forget he's even there, which is what he loves. But man, what a tremendous front office when you can lose a John Schnieder -- the best young GM in the game -- to Seattle and just keep on winning.
Mark Murphy and Russ Ball help man the ship and keep the cap and budgets humming along, and this ultimate small market team has Super Bowl or bust expectations every year, which is all you hope for. Getting Aaron Rodgers signed to a cap-and-cash friendly deal through the rest of this decade was another phenomenal move, as was waiting for potential impact running backs Eddie Lacy and Jonathan Franklin to fall to them in the draft. Remember, the Packers have had to deal with guys like Brett Favre and Mike Holmgren walking out the door not that long ago, and they have done nothing but thrive since.
Thompson won't get goaded into overpaying or drafting for need, and his keen eye has resulted in guys like Randall Cobb -- so huge now -- being picked where others might not have done so with so many receivers already in the fold.
Mike McCarthy was a sage hire as head coach. He is a perfect fit with this team and that city, and Rodgers isn't done winning Super Bowls by a long shot. When they do venture into free agency, they often find steals, like Charles Woodson, and this front office doesn't get nearly the credit it deserves.
I'm putting a premium on winning a Super Bowl recently, which this team has done twice. And they've done it despite a regime change with Jerry Reese expertly taking over for Ernie Accorsi, which I think gets overlooked and underappreciated. The strong hand of ownership, supporting coach Tom Coughlin through rough patches, has been vital as well.
This era all started with a ballsy trade for Eli Manning, if you recall, and landing and developing that franchise quarterback has allowed the team to save money by not having to pay, say, tight ends and receivers nearly as much, with Manning able to, in part, cultivate gems at those positions.
Their moves are often understated, but say, re-signing tackle Will Beatty just before the start of free agency was more significant than anything they could have done at that position on the open market, and they've also displayed at times you don't need a franchise left tackle if you have a franchise quarterback.
Trusting their evaluations helped land Jason Pierre-Paul even when they didn't "need" a pass rusher, and I bet it ends up in them flipping quarterback Ryan Nassib for something of significance down the road after taking him on the draft's third day last month.
This team isn't going anywhere, and I believe it will find a way to navigate through the Victor Cruz/Hakeem Nicks contract conundrum and be better for it. And it will certainly be interesting to see the direction the Giants go whenever Coughlin does in fact retire.
Try to knock what the tandem of John Schneider and Pete Carroll have accomplished since literally turning over the entire roster there and building it into a winner in a few short years. They have crushed on trades for guys like Marshawn Lynch and Chris Clemons and Leon Washington, and I believe, the Percy Harvin trade will be looked at as one that started their Super Bowl run. Schneider has the perfect temperament, learned from Thompson, to allow Carroll to be the man and get the spotlight, but trust me, this personnel department has been more key to the rise of the Seahawks than anything else.
They have absolutely killed the draft, landing tremendous value in Russell Wilson and Richard Sherman and Bruce Irvin and, hell, just go look at their last three drafts.
And they have locked up pretty much everyone up for a good, long time and at a smart price (Russell Okung will be among those next on the list). As for free agency, well, yeah, they've been pretty damn good, and the Cliff Avril signing, at that bargain price, was the latest indication of their acumen.
I love the calculated gambles they took in the draft, again, and this from a team that already appeared Super Bowl worthy in 2012. Only their failure, as close as they came, to hold off Atlanta and reach the NFC Championship is holding them back from being higher on this list.
Their arms race with the Seahawks has been something to behold. GM Trent Baalke has had a golden touch, himself, and hiring Jim Harbaugh as head coach has turned out to be the perfect fit. The Niners just had another tremendous draft, and Baalke was pretty fortunate to inherit a strong talent base to begin with -- smartly he has extended many of those players already. Colin Kaepernick should transform this franchise even further, and with a new sparkling stadium on the way, the future will be something to behold.
Marcus Lattimore could be just the guy to replace Frank Gore in a year or two, the roster is as deep as any in the NFL, and the Niners could not have done any better shipping spare part quarterback Alex Smith to Kansas City.
They are already loaded with draft picks for 2014, and one suspects they will be rising up this list for years to come. Young owner Jed York has infused new life throughout the entire organization and the Niners' enhanced revenue streams should be coming at just the right time to secure their quarterback long-term and a bunch of offensive linemen who are out-performing their contracts as well. It will be interesting to see if they lose a step at all with personnel guru Tom Gamble now in Philadelphia, but they'll just keep chugging along I'm sure.
I know they haven't won a Super Bowl in the past few years, but it wasn't all that long ago they won their sixth, the most of any franchise. GM Kevin Colbert is excellent, and his right-hand man, Omar Khan, is a contract guru who will soon be running his own team. No family business is run better than the Rooneys and the Steelers, who continue to know when to allow pricey veterans to walk, no matter how emotional the attachment.
They have had some salary cap gymnastics to navigate recently, which has held them back some, but it is incredible to think how good they have been for so long. And if not for Ben Roethlisberger's injury last year, I bet they would have been back in the postseason.
Hiring Mike Tomlin, still so young, was a master move, and they continue to overcome losing coaching and locker room talent. This team is in transition now, however, with Troy Polamalu likely in his final year and a host of veterans already departed, and more difficult decisions will loom.
GM Thomas Dimitroff doesn't get all of the awards and accolades he racks up just by being a really good dude with really good hair (though the show certainly fits in these departments). He gets them because he has earned them, and he is that rarest of recent Belichick disciples to actually blaze his own trail with significant accomplishments.
Dimitroff is coming off another strong offseason, highlighted by the return of Hall of Fame tight end Tony Gonzalez, and his brazen trade up to land Julio Jones in the draft, which might well end up being one of the signature moments in the history of this franchise. So was, clearly, the drafting of Matt Ryan (Atlanta will surely extend him by the start of the season).
Dimitroff found a gem in coach Mike Smith, as understated and selfless as they come, and they continue to be on the cusp of greatness. The beauty for them is they aren't up against some artificial window, or anything like that, though they must continue to find playmakers on defense.
People forget just how miserable this franchise was before Sean Payton hooked up with Mickey Loomis and turned them into an elite outfit. The Bountygate debacle certainly set them back, but you look at the various ways they have acquired talent, going back to nabbing quarterback Drew Brees, and you see a total transformation.
I mean, the Saints won a friggin' Super Bowl recently -- think about that statement in and of itself -- and you know their brain trust has been pretty damn good.
They must get a little more out of some recent drafts, but I fully expect some of their 2012 signings to prosper much more now with Payton back running the team and calling the plays. They remain loaded with options on offense -- and must extend tight end Jimmy Graham (an exceptional draft find) sooner rather than later -- but have a strong core. I expect 2012 to be a relative blip on the radar with Brees and Payton both tied to New Orleans for years to come. Payton will be back with a vengeance.
Bob McNair is one of the most astute, determined and bright owners no one ever talks about. He has exuded patience and calmness, and it has allowed his franchise to reach a point where it is in the Super Bowl conversation on a yearly basis. The Texans have made tremendous moves, like grabbing an undrafted Arian Foster, and they treat their players with respect.
GM Rick Smith has proven to know his own talent well -- letting guys like Dunta Robinson and Mario Williams walk for much greener pastures at the right time -- and the pipeline of young talent they have identified, like Duane Brown and Brooks Reed and Brian Cushing and J.J. Watt, continues to impress.
Of course, teams are defined by their quarterbacks, and if Matt Schaub doesn't take a step up then his contract extension will turn out to be more short-lived than it appeared at the time. But even then, tip your cap to Smith for allowing himself some wiggle room after rewarding Schaub with a new deal at the start of last season (the trade for Schaub, in the first place, however, was a masterstroke). This season will be critical for them, with pressure mounting to make more noise in the postseason, but this expansion team is no longer thought of in those terms.
John Elway gets a tremendous amount of credit and rightfully so, but much of that is predicated on landing Peyton Manning, and unless you get a ring for the $20 million a year you are renting him for, at this stage of his career, than that move won't be a true success. Manning landing in Denver had a lot to do with Elway, the Hall of Fame quarterback, and the reality is Denver had three tremendous drafts under former GM Brian Xanders while Elway was still figuring out what it meant to be an NFL exec.
Landing Wes Welker could be huge, but allowing Elvis Dumervil to walk by failing to manage time properly and through a fax snafu, just can't happen at this level. That's an $8 million mistake right there. It's hard to overlook that.
Paying Champ Bailey $10 million at this stage of his career raised a few eyebrows, and we'll see the longevity of this regime. Many believe Elway has aspirations of ownership himself and perhaps he eventually takes over for Pat Bowlen. Regardless, kudos to these guys for getting out of that Tebow debacle and repositioning the franchise after the failed Josh McDaniels experiment.