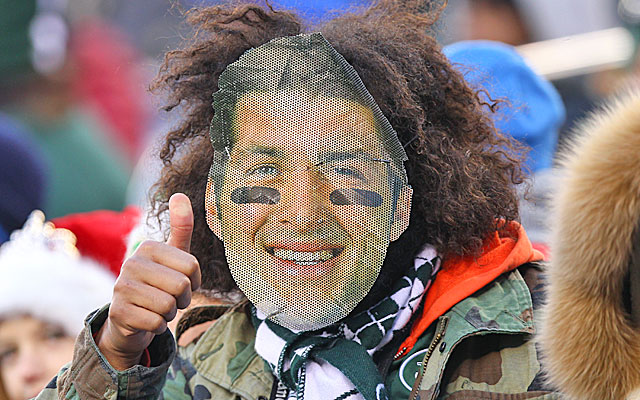 Thing is, Hate Mail started so well this week. One email in, and I'm a genius. It goes downhill fast from there.
And then it went off the damn cliff.
Who took it over the cliff? Tim Tebow's fans took it over the cliff. They ruin everything, you know that?
From: Kenneth Stangel
This is in response to your 2007 article about Tubby Smith and Minnesota. Everything you said would happen here, did. It was almost prophetic.
Predictions seem to be my thing.
From: Sean Thomas
Beat the Heat? You said it won't happen once in these playoffs. How does it feel to be so wrong? You are literally stealing from CBS with every word you write.
Oh, right. Predictions don't seem to be my thing.
From: Darren Werner
Tebow fans drove him out of the NFL? Ridiculous. Amazing that you can defend homosexual athletes, but can't defend a Christian athlete who is an actual role model.
Because a gay athlete could never be "an actual role model." Right, my homophobic friend?
From: James
Your column is about you, and your beliefs, and has nothing to do with truth or Tebow. I guess your next move is to come out of the closet, loser.
Another homophobic Tebow fan? No way.
From: Calvin Lee Burke
Get off Tebow's (deleted). You were the f--got sucking (deleted) in Hume Hall at Florida, right? F--- YOU, and your crack whore (relative), too. Let me know who you are. WE REALLY need to talk. UP CLOSE ...
Any idea how long Google will remember this homophobic tirade of yours, Calvin Lee Burke? Forever. Next time you get passed over for a job, this email will be why. The employer Googled you. Found this. Hired someone else. Well done, employer.
From: Hayes Rector
I read your Jason Collins story as well as the Hate Mail after it. Just because someone opposes homosexuality -- because it is scripturally wrong -- does not make them a bigot.
You've fooled yourself, but you don't fool me. You, and people like you, don't oppose homosexuality "because it is scripturally wrong." Don't pretend you guys were a blank slate on the topic -- but if the Bible says being gay is wrong, then by golly you'll say it's wrong too. Stop waving the Bible as a shield: "See! It's not me who hates gays! It's the Bible!" No, Hayes. It's you. Least you could do is admit it.
From: Robert Bartolini
It isn't what you say or even how you say it anymore. People just don't like you. You come off as a sanctimonious pr-ck. That means you think you're morally superior in case you weren't sure.
You forgot to mention my superior intellect, which is why I DON'T NEED TO BE TOLD WHAT THAT MEANS. Also, you forgot my humility. All of that together can be off-putting to dumber, less humble people.
From: Michael Walker
I like you a little more after reading your latest Hate Mail.
But I'm so sanctimonious (that means I think I'm morally superior, in case you weren't sure). And I'm such a pr-ck! And I include links to show off, like the fact that I was an all-state athlete (1987, '88) in high school! In two sports! (1986)
From: Snow Boots
If the travel office will bring the the versatile Andrew series nylon bag url=http www.lvbags2013forsale.com lv bagsurl and compact embossed mesh leather messenger bags, but also handy work.
You Spam-Bots are damn near illiterate. How'd you turn on the computer in the first place?
From: Bai du
Baidu -- world's largest Chinese search engine dedicated to Internet users more convenient access to information, find the demand. Baidu over billions of Chinese web database, you can instantly find relevant search results. www. Baidu. Com.
Now this is some quality spam. Maybe Chinese Spam-Bots are smarter than American Spam-Bots.
From: BamSherma
Does such a chair that I would love. URL= http: taskchairemporium.com task chairsURL Seat height, but I didn't loose you like. But, whatever, it may feel natural to bend it back together. Screw-drivers and pliers would be on sale for 30 off.
I tell you, the Spam-Bots in this country ...
From: Henry
I saw your incorrect piece on the Players Championship. Please offer a public apology to Tiger Woods. I studied journalism 40 years ago. You would not have made the cut. We used facts in those days. Don't know how you got your job as you're quite embarrassing.
Quite possibly the douchiest email ever.
From: Chris H.
I feel that I have to defend my name since I am the original Chris H. at Hate Mail: That "Chris H." guy in the last Hate Mail does not speak for me or my ideology. I am in support of Jason Collins and am glad he did what he did. That is all.
Noted, Chris. Noted. I thought, "That can't be the same Chris H., can it?" Glad to see, it cannot. Or could not. Or wasn't. Shaddup.
From: John Willis
Doyel, you are an IDIOT. It was writers and the media like yourself that followed Tebow around like a puppy dog. Waiting for him to say or do something wrong. So sick of articles like this. Follow a THUG around and report. It was Tebow fans, my ass ...
Responsibility isn't your thing -- but you killed his career, John. You did. You and every other brainwashed zombie. Embrace it, my man. For the first and maybe only time in your life, you made an impact.
From: Christine Cannon
You along with the rest of the Tebow-hating community need to get a grip! What is it that the media hates so much about Tim? His ability to tell the truth? Live an integrity-filled life? Must be hard for the media to see what a real man looks like.
You have it wrong, Ms. Cannon. We don't hate Tebow. We hate Tebow fans like you, telling us that Tebow's way is the only way to be a "real man." That idea is a pile of puke, and I vomited all over that idea right here.
From: Nate D. Wallace
Just wondering why you are so quick to defend Kansas and Bill Self over the recent controversy, when you were so quick to rush to judgment against Lance Thomas and Duke? Your persecution of Duke was based on a sketchy-as-hell hunch. Do you simply hate Duke?
This is what I wrote in September on Duke and Lance Thomas. If you think that was "persecuting" Duke, or if you think that was evidence that I "simply hate Duke," then you're not smart enough to go to Duke. Which is no surprise. Duke has more bandwagon fans than any team I've ever seen.
From: Andy Clapp
I'm the pastor at Mt. Zion Baptist Church in Liberty, N.C. We are trying to build a new fellowship hall for our church and for community events. We are organizing a sports auction for July 13, 2013 to help raise a portion of the money needed for this building. I would be very grateful if you could donate an item for the auction, such as an autographed copy of your book, Coach K: Building the Duke Dynasty.
But what about my "persecution" of Duke? What about the fact that I "hate" Duke? You must have the wrong guy, because someone who persecutes and hates Duke would never have written such a book. Actually, you know what? Never mind. We've already established that the last guy, Nate D. Wallace, is a moron.
P.S. Check your mail in a couple days, sir. Sent the book and another thing or two. Good luck with the auction.
From: Kevin Glass
Don't rush to judgment on Kansas -- yet you want to persecute Duke based on a hunch. Biased much?
Oh. I see. Some Duke message board somewhere used the words "Gregg Doyel" and "persecutes Duke" and "hunch" -- so of course you idiots came running here to tell me off. Pathetic. You know that, right? You're pathetic.
From: Roger Zell
Thank you for the article on Dick Kelley! I lost my father to this horrible disease 4 1/2 years ago, so it's comforting to see stories that bring awareness to this disease that very few people know about. Much like my father, Dick Kelley is doing exactly what my father did, going about his life like usual. ALS will be defeated, with the help of people that bring it to light like you have!
Thank you Roger. I'm sorry for what everyone there went through, starting of course with your dad.
From: Matthew Lee
Thank you for the article on Dick Kelley. To many of us who saw up close what ALS can do, it's good to see such national recognition to make people aware. I lost my father to ALS in 1991 when I was 15. Over five-plus years I saw the disease slowly tear down the man I looked up to as a kid. I can relate to many of the details of Kelley's situation. Stories like the one I hope will continue to push the message, the advancements and hopefully the research for a cure.
Thank you, Matthew. People like Dick Kelley -- and your dad, and that last guy's dad -- are stronger than people like me. And people like me know it.