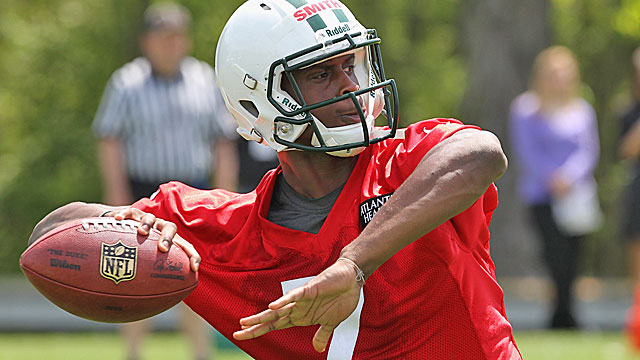 Free agency has come and gone, as has the draft.
There have been a lot of holes filled by the NFL teams and a lot of questions have been answered.
Listing NFL Bests and Worsts
Columns

---

More Lists
NFL coverage on the go
But that doesn't mean there aren't questions still out there for all 32 teams, some with more than others, the bad teams with many more than the good teams.
Here is a look at the pressing questions for all 32 teams heading into the summer months.
Have they done enough to make the offensive line capable of handling the tough defenses in the NFC West?
Getting back left tackle Levi Brown from injury and drafting guard Jonathan Cooper in the first round should really upgrade a line that needed it. Second-year right tackle Bobby Massie really came on in the second half of 2012. Carson Palmer should be much better protected than his predecessors.
Where do they get their pass rush from this season?
They signed Osi Umenyiora from the Giants as a free agent, but is he an upgrade over John Abraham? Kroy Biermann is more of a run player and not a pass rusher. They have to hope a young player, such as second-year players Jonathan Massaquoi or Cliff Matthews or rookie Stansly Maponga can provide some pass rush help.
Who replaces the leadership of Ed Reed and Ray Lewis?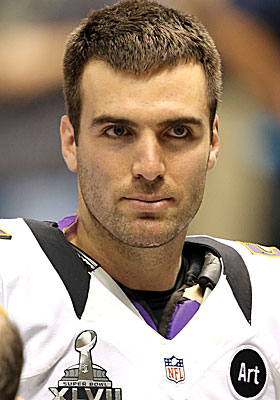 It's
Joe Flacco's
team now. And it has to be that way. He led the Ravens to a
Super Bowl
victory, and now it's his time to run the show. Flacco is a rah-rah kind of guy, but his ability to make plays in the clutch will help players lean on him. Just don't expect a pregame dance ritual.
Who starts at quarterback?
They drafted EJ Manuel in the first round, so you would think it would be him. That's what I would do. Get on with it. But what if he struggles? Kevin Kolb is there and Tarvaris Jackson is there as well. But the Bills need to play Manuel as quickly as possible.
What have they done to improve a secondary that needed help?
Not much. And that has to be concerning. Right now the starters would be Captain Munnerlyn and Josh Norman on the corners, with Charles Godfrey and Haruki Nakamura at safety. That's as poor a group as there is in the league. Veteran Drayton Florence is around at corner, and so is Mike Mitchell at safety. They better hope the pass rush is good.
What do they do at middle linebacker?
For years, it was Brian Urlacher in the middle. Now he's gone, released earlier this year. The Bears signed veteran D.J. Williams from Denver to take over in the middle. But they also drafted Florida's Jon Bostic in the second round of the draft. Whoever takes over has some big shoes to fill.
Who starts at center?
Both Trevor Robinson and veteran Kyle Cook started games last year. I actually thought the line played better when Robinson was on the field. He started weeks 9-15 but Cook came back from injury late to start in the playoffs. Those two should have a good camp battle to decide the starter.
Who wins the second corner job opposite Joe Haden?
The Browns drafted Leon McFadden in the third round, and I would imagine they expect him to be the starter. But Buster Skrine started some there last year and will be in the mix. Whoever it is, he has to give them more than what they got last season.
Who starts at safety?
The Cowboys have had big problems at safety the past couple of seasons, and have to hope some youngsters come on fast to avoid it again. One of those players will be J.J. Wilcox, a rookie from Georgia Southern. Barry Church, Matt Johnson, Danny McCray and Will Allen are also in the mix. It's still a position of concern. Church is coming off a torn ACL and Johnson missed all of last season with injuries.
How do they replace the pass rush of Elvis Dumervil, who is now in Baltimore?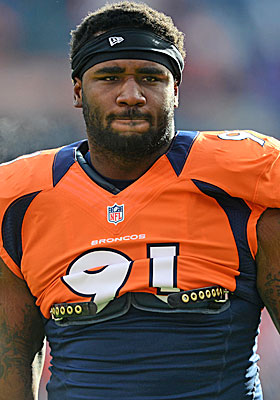 Robert Ayers
, a former first-round pick for the Broncos, will get the first shot.
Shaun Phillips
, signed as a free agent, will also be in battle. Phillips and Ayers have both played up and with their hand on the ground in their careers. So they are versatile enough.
Who plays right tackle?
The Lions lost both tackles from last season, with Jeff Backus retiring and Gosder Cherilus signing with the Colts. They plan to play Riley Reiff, their first-round pick from 2012, at left tackle. That means Jason Fox and Corey Hilliard are set to battle at right tackle. They are still considering signing a veteran.
How do they fix a defense that had problems in 2012?
The first thing they need is to get some pass-rush help for Clay Matthews. That means second-year player Nick Perry has to come up big on the other side. He flashed some last season, but was limited to six games because of injuries. They also have to get better play from their down players, which is why they drafted Datone Jones in the first round. One bit of advice will help: Don't play man against the 49ers in Week 1.
What do they do to improve the right side of the offensive line?
That side clearly was a problem in 2012. But they drafted talented tackle Brennan Williams from North Carolina and he will push Derek Newton for the starting job at right tackle. I think young guard Brandon Brooks and Ben Jones will be improved at guard in 2013 and one will start. They had some big troubles last season.
Who starts at center?
For the sake of Andrew Luck and the running game, they better hope rookie Khaled Holmes is ready to start immediately. Samson Satele really struggled in 2012, and the Colts need better play inside. I imagine Holmes will be given a real shot to take the job. He should win it.
What do they do at quarterback?
What they will do is let
Blaine Gabbert
start the season and then if he is a flop, they will draft one early next year. They feel that the help they've got for Gabbert in the draft, including second overall pick
Luke Joeckel
, will help Gabbert improve. We will see.
Is Jonathan Baldwin ready to emerge as a real No. 2 receiver opposite Dwayne Bowe?
Baldwin is big and has a lot of talent. But he is inconsistent and seems to float at times. New Chiefs coach Andy Reid even got him during an OTA this week for getting lined up too slow. The Chiefs also signed Donnie Avery from the Colts, but Baldwin has to be the guy.
Who starts at running back?
It will come down to Daniel Thomas and Lamar Miller, but I would say that Miller would be the guy. He is more explosive and has that home-run ability that teams love. Thomas doesn't have that same type of ability. Rookie Mike Gillislee is also in the mix.
Is Christian Ponder the guy or will Matt Cassel push him?
If Ponder doesn't show improvement, and throw more down the field, I would say he's in big trouble. He has to be willing to let it fly more. They've added some weapons in the passing game in Greg Jennings and Cordarrelle Patterson, so it's on him to make it happen. Cassel can't be the long-term guy, so if Ponder flops they need to draft one in 2013.
Who starts outside at receiver with Danny Amendola in the slot?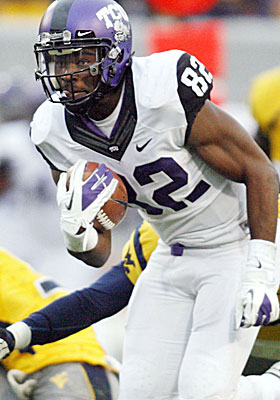 The Patriots drafted
Aaron Dobson
and
Josh Boyce
and both will be given good chances to play. Part of that is because there isn't much in front of them. Veteran
Michael Jenkins
doesn't run that well.
Donald Jones
, signed away from Buffalo, will be in the mix as well. The Patriots better hope one of those rookies can provide some speed outside.
Who plays the all-important left tackle spot for the departed Jermon Bushrod?
Charles Brown, a former second-round pick, will get the first shot, but he hasn't been what they expected since coming into the league. That could give rookie Terron Armstead a chance to take the job. He is raw, coming from Arkansas-Pine Bluff, but he is an athletic big man. Protecting the backside of Drew Brees is imperative for this team.
Who starts at middle linebacker?
It looks like it will be Dan Connor, signed as a free agent. Connor is a solid player, but he is nothing special. Could Mark Herzlich also get a shot? One thing is for sure: Linebacker is a position of concern for the Giants in a lot of ways.
Is it Mark Sanchez or Geno Smith at quarterback?
I would imagine the Jets will do everything they can to play Smith. But it's up to him to get ready. They know Sanchez is probably not the long-term answer, and this isn't a team that will compete. So they should play Smith from the start, unless he's a disaster.
Who plays quarterback?
For now, it appears Matt Flynn is the No. 1 guy. But I would think that youngsters Terrelle Pryor and Tyler Wilson, the team's fourth-round pick this year, would be given a chance to win the job. Flynn is just ordinary, so Wilson just might be the team's future.
Will it be Mike Vick, Nick Foles or Matt Barkley at quarterback?
I bet for now Vick is the guy. He would seem to be a good fit with what Chip Kelly wants to do. But what if Kelly likes Barkley and sees him as his quarterback of the future? Does he go to him early? The early word is that it's an open competition. I bet Vick starts on opening day.
Who is the No. 3 receiver?
With Mike Wallace gone, it means Emmanuel Sanders and Antonio Brown are the starters, which leaves the No 3 spot open. Veteran Jerricho Cotchery will likely battle rookie Markus Wheaton for the job. Veteran Plaxico Burress is also on the roster.
Who takes the most carries at running back?
With Steven Jackson gone to Atlanta, it looks like Daryl Richardson will get the first crack. But I would expect second-year player Isaiah Pead and rookie Zac Stacy to also push for carries. This might be a committee backfield in 2013. At least they are young.
With Melvin Ingram suffering a torn ACL this week, where do they get their pass rush from on the outside?
It might come from somebody not yet on the roster. Losing Ingram was a big hit. The other starter, Jarrett Johnson, isn't a great pass rusher. Larry English has never lived up to the expectations after being a first-round pick, but now he will start. The Chargers will look long and hard probably to add a veteran -- maybe Dwight Freeney.
Who starts at nose tackle?
They lost Isaac Sopoaga to the Eagles and Ricky Jean-Francois went to the Colts. So that leaves untested Ian Williams as the starter. Glenn Dorsey, signed away from the Chiefs, is more of a 3-4 end, but he can play some nose if needed. They do have some big-bodied younger players, but this is a big concern moving forward.
Can the signings of Cliff Avril and Michael Bennett compensate for the loss of Chris Clemons, who suffered a torn ACL in the playoffs?
Avril had a bit of a disappointing season for the Lions last year, which is why he didn't come back. Bennett is coming off his best season, but neither of these two has the explosive speed that Clemons had. Bruce Irvin, a second-year player, is also in the mix. He does have the speed off the edge.
When will newly acquired corner Darrelle Revis be ready to go?
The Bucs made a bold move to trade for Revis, but he is coming off ACL surgery. Will he be ready for opening day? The team and Revis think he can be ready, but we will see. And if so, how healthy will he be?
They spent a lot of attention on the offense this offseason, but what about a pass rush that needed help?
They are still talking to veteran John Abraham, but for now they better hope that Derrick Morgan and Kamerion Wimbley can give them more off the edge. Those two are the starting defensive ends and they combined for 12 ½ sacks. That's not good enough, which is why pass rush remains an issue.
Have they done enough to improve a secondary that struggled last season?
The addition of draft picks David Amerson (corner) and safeties Bacarri Rambo and Phillip Thomas (safety) will give defensive coordinator Jim Haslett some pieces to play with to try and improve a unit that has big problems. I really like Amerson and the Redskins might have a steal with him on the corner. They also get back Brandon Meriweather from injury. Getting pass rusher Brian Orakpo back should help the back end as well.