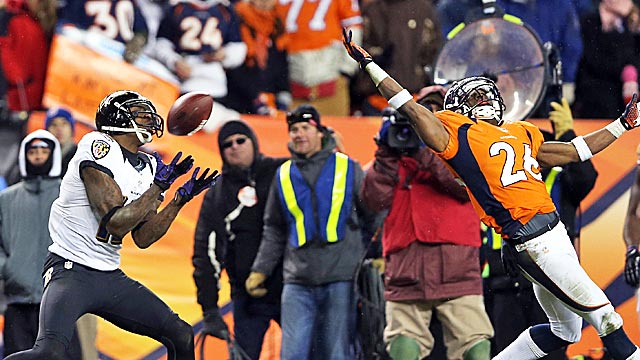 ENGLEWOOD, Colo. -- Around and around the ceiling fan blades went, never stopping, never slowing, and with each nocturnal moment Denver Broncos safety Rahim Moore spent watching them, the pain of what happened earlier kept him awake and glued to their every move, even if his mind was miles away.
He tried to sleep that night, but the pit in his stomach and the anger from what had transpired on the field earlier that day kept him awake all night.
It's hard to go to sleep as a goat.
It's even harder when an entire nation watched you misplay a ball that could have cost your team a Super Bowl chance, one that enabled the Baltimore Ravens to tie the Broncos in the closing seconds of the AFC Divisional Playoff game last January. Baltimore won that game in overtime, and then went on to win the Super Bowl.
Moore's misplay of that ball was Denver's equivalent of the Bill Buckner ground ball going through his legs for the Boston Red Sox and their fans.
Sleep? You try to sleep with that weighing on your mind.
"I had my 1-year old nephew with me that night, but even when he fell asleep I couldn't," Moore said. "I watched that ceiling fan all night."
The name Rahim Moore is now synonymous with blunders in big moments, right there with a lot of other professional athletes known for their miscues, guys who have tried to run from the shadow of failure for their entire lives. Moore's was a doozy, and, even worse, it came at the conclusion of a playoff thriller.
The Ravens trailed by seven with under a minute left and were at their own 30 facing a third down and 10. The Broncos rushed three -- a strange decision on its own -- and that allowed Flacco to step up in the pocket to fire a rifle shot to Jacoby Jones, just over the fingertips of Moore. Jones gathered in the pass and ran in for the tying touchdown with 31 seconds left in the game.
When the Ravens won it 38-35 on a field goal in overtime, it meant Moore's name would live for a long time in the nastiness of the Broncos fans.
"I was very close to getting it," Moore said. "The ball travels more through the thin air in our stadium. You have to know how to time it. I was in great position. There were certain things with my footwork that I did wrong. I needed to stay confident in what I was doing. I got too excited, I believe. I got a little too excited, and then I kind of panicked a little bit."
Truth be known, there was a lot of fault on that play. Corner Tony Carter, lined up on the left side, was too far off against Jones. He had no chance to get his hands on him, and then when Jones ran by him, Carter kind of sat down in nowhere-land, even though he should have continued down the field. That forced Moore to try to make a great play to get over and have a chance. Flacco's throw was perfect to prevent it.
Nobody around the Broncos will publicly say Carter deserved his share of the blame, but the tape tells the story. Was Moore blameless? No. A look at the tape shows him backpedaling to open the play, which was the right technique, but he turned inside for a second to look at Dennis Pitta running down the seam. That caused him to stumble when he opened back outside and hurt his angle to the ball.
Flacco also had Anquan Boldin open on the other side in the deep seam. What if he had gone there? Rahim Moore would probably just be another good, young safety on a good team rather than a player Denver fans have spent months shredding and Baltimore fans have spent months thanking.
As the offseason progressed, there was talk that the Broncos should even replace Moore, that he wasn't good enough. Those were simply knee-jerk reactions from those who don't pay attention.
"The people who are doing the talking don't know what's going on," Broncos veteran corner Champ Bailey said. "It was a big play, but there were a lot of big plays in that game. That's what people see, and that's what they remember. That's what they want to talk about. It's because they saw that one play, and they didn't care what he did before that."
What Moore did was go from a rookie who had struggles in 2011 to a playmaking safety who had range in his second season. Why would the Broncos give up on that?
"He misplayed a fly ball," Broncos coach John Fox said. "You have a lot of baseball players do that and you don't bench them. He had a phenomenal year. He made a lot of progress from his rookie year."
Here's one for you: I would take Moore over Ed Reed. Right now. The game is better than the name in this instance.
"He's a good player, but what's even more impressive is the way he's handled things this year," said John Elway, the Broncos executive vice president of football operations. "He's handled it with maturity."
That kind of play could break a man. But Moore is driven by it. The day after the loss to the Ravens he caught a red-eye flight to South Florida to begin his training. When the Broncos walked off the field Monday following their first OTA workout, he stayed behind to run some on his own.
His attitude, through it all, has remained positive. Maybe it's because he recently lost a dear cousin, one who helped raise him, the person who actually gave him the name Rahim, to a too-young death caused by alcohol.
"I've had a lot of other things happen," Moore said. "I can get through this."
It doesn't help to hear the skeptics and the jokers. I know. I made one joke myself. During a Super Bowl show, I joked that Joe Flacco should send a chunk of the new contract he was about to get to Moore.
It was funny at the time, and probably is a little bit true, but Moore isn't the only reason Denver lost and Baltimore won.
"It's one play in 60 minutes," Elway said. "One play."
Yet when Moore steps out in Denver, whether it's pulling out a credit card with his name on it to pay for something or even if somebody recognizes him, he gets some nasty comments thrown his way.
"I don't want to mention what they say," Moore said "It doesn't really matter. I've had some people lift me up. And I've had some people downplay me."
Said Bailey: "You kind of laugh at people like that. They shouldn't do that. It sucks he has to deal with that."
I asked Moore if some people have said he cost the Broncos the Super Bowl, considering they were the top seed in the AFC and the Ravens went on to win it.
"Yeah, I've heard that," he said. He then paused for a second.
"What can I say, when it's all said and done, it's true," Moore said.
The reality is that one play shouldn't define Moore. He wasn't alone at fault and there were a lot of bad plays in that game. One thing is for sure: He won't let it stop him from growing as a player.
"I am fine," he said. "In life, man, you are going to go through some things that are not always going to go the way you expect. What you have to do is overcome it. That play doesn't wreck my confidence. It doesn't make me feel bad. I still wake up with a smile on my face."
And he should. Rahim Moore is a good player who deserves better than the crap he's taken this offseason. If you think that play will break him and stop him from trying to be the best, think again.
"When I see it, it doesn't get me down," Moore said. "I look at it to see what I can do to get better. I hope to do a lot of things to make people remember me as a great player. That's what I want. I am not out here for the glitz and glamour. I am out here to be considered a great player like Champ Bailey and Ed Reed. I have to put in a lot of work. But I will do it to get there."