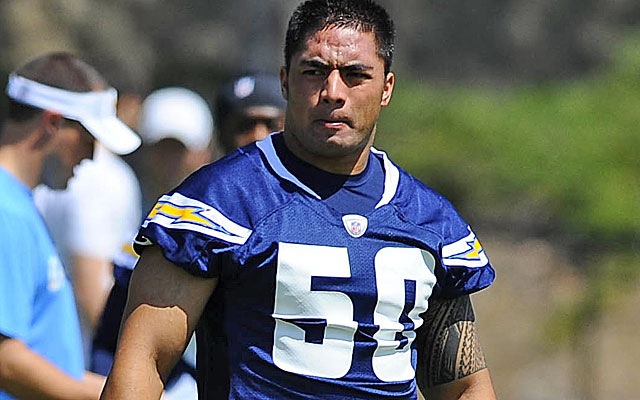 Manti Te'o is going to make it. He's going to survive this, and you know what this is. Not the BCS title game against Alabama. Not all those missed tackles. Will he survive that? We'll see when the NFL season starts.
But he's going to survive this -- the scandal, the public humiliation, the girlfriend who wasn't. He's going to survive Lennay Kekua.
The media is mad, but that's what we do in the media when we don't get our way. We stomp our feet and we poke out our lip and we pout. The San Diego Chargers won't let us talk to Manti Te'o for another three weeks?
No fair!
Congratulations, media -- we now look worse than Te'o. We don't look worse than he looked four months ago when the Lennay Kekua story broke, of course. Don't be ridiculous. Only a handful of people in the media, famous fabulists like Stephen Glass and Jayson Blair, have ever looked as bad as Manti Te'o looked in January when the story broke that the woman he had fallen in love with and then mourned after she died of leukemia, a woman from Hawaii named Lennay Kekua, wasn't from Hawaii or named Lennay Kekua or even real. She never existed. Either Te'o had been taken, or he had taken us. Either way it was a bad look for him, a real bad look, the kind of look I didn't think he'd survive.
But he has survived, and will continue to survive, and he might even thrive. After doing everything wrong for years as it related to Kekua -- falling for her, mourning for her, talking to the media about her -- Manti Te'o has done everything right. He has come across as someone who was taken, and who made mistakes after discovering the hoax, but who ultimately was a victim.
The first big step came at the NFL scouting combine in February when Te'o met the media and subjected himself to humiliating questions on live, national television. He answered them. He survived that.
Then he was drafted by San Diego, answered some more questions on a conference call that day, then met the media for more questions on May 10 on the first day of Chargers minicamp.
Then came last week, when Te'o started to distance himself from Kekua. Maxim magazine threw a party on Wednesday in Hollywood to honor its "Hot 100" list of the most beautiful women in the world. Lennay Kekua made the list -- her picture was an empty bikini, get it? -- and the magazine invited Te'o to attend.
And he did.
Laughing at himself was the perfect move for Te'o, even if the Chargers didn't like it -- or even know about it until after the fact. Chargers coach Mike McCoy declined to say what he thought about Te'o's decision to attend the Maxim party, which pretty much tells you what he thought about it.
"He's going to make certain decisions," McCoy said. "We'll keep that in-house with what we think and what we're doing with that."
The Chargers didn't keep everything in-house. They let it be known that Te'o wouldn't be speaking to the media again until the team's minicamp, June 11-13. Are they punishing Te'o? Maybe. Was this media blackout Te'o's idea? Maybe. At the moment we don't know, but let me tell you something:
The media is pissed.
Give us who we want, or we'll whine about it. We're whining in stories and on Twitter, and it's all over the place. A few examples are here in this story. Here's another pious example. And here's what my guys Pete Prisco and Will Brinson -- love them -- told me Monday on Twitter when I tweeted that I liked what the Chargers were doing with Te'o.
What we do in the media when something like this happens is we scold. We preach. We lecture whoever's denying us access that they aren't really hurting us -- they're hurting the athlete in question. The Chargers are hurting Te'o, the theory goes, by making him different from his teammates, setting him apart, bringing more attention to him than he'd get if he just faced the media.
Some of that may even be true, but I'd counter with two words:
If ever there was a guy who needed a team to shield him from the media, Tebow was the guy and the New York Jets were the team. But the Jets, being the Jets, cowed to the New York media and served up Tebow on a platter. Press conferences, media availability -- whatever we wanted, we got. And look where it got Tebow. He's off the Jets. Out of the league at the moment, and probably for good. Why? Not just because of the Jets, of course. Not just because of the media circus in New York. But because all of that conspired to turn Tebow into the most popular, most discussed, most fascinating player in the NFL. And when fans around the world are clamoring for more, more, more -- more playing time, more sound bites, more! -- from a team's backup quarterback, well, that's a disaster. Tebow's gone. He ain't coming back.
The Chargers would like for that to not happen to Te'o.
Granted, the stories are different. I mean, really different. But the essence of the story is the same: Here's a player, a young player with a lot invested in him by his team, who has a chance to make an impact. But there are other issues, off-field issues, that could distract the player or the team while also stoking the public's desire to fawn, and to gawk, and to be, frankly, cruel.
The Chargers aren't going to put Te'o, or themselves, through that. Not just yet. Not until they have to. Why rush this process? The media turned on Te'o with viciousness -- guilty, me, right here ... oh, right, and also right here -- but now we're going to turn on the Chargers for shielding Te'o from us?
Are we stupid?
Don't answer that. I think I already have.
Good luck to you, Manti Te'o. You don't owe us a damn thing.