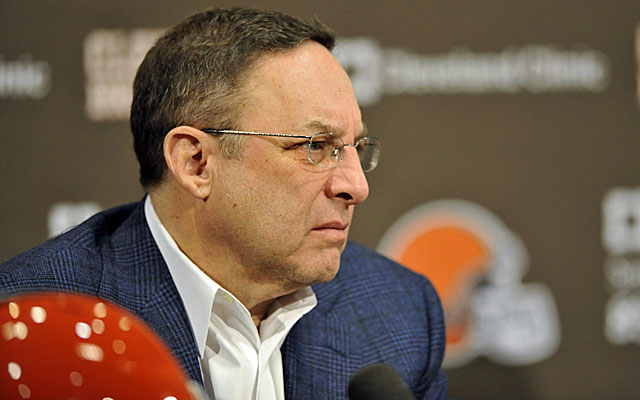 BEREA, Ohio -- Call it what you want, but the Cleveland Browns are rebuilding, and I'm not just talking about the roster. Nope, it's the team's headquarters, too, with the second-floor undergoing such extensive renovation that employees are expected to be displaced until mid-summer.
Joe Banner, the team's CEO, is one of those employees, and he's been moved to a temporary first-floor cubicle just outside the club's weight room -- which seems appropriate because Banner's the guy who oversees the heavy lifting on a project that, like others before it, works its way from the ground on up.
Only past overhauls haven't gone much of anywhere here. Since returning to the NFL in 1999, Cleveland has been through 18 starting quarterbacks, seven head coaches and two winning seasons. Nevertheless, Banner is unfazed, insisting that things can ... and will ... change "pretty quickly," and he sat down Wednesday to explain why.
Q: The Browns haven't had much success since returning to the NFL, with not enough wins and too many coaching and staff changes. Some people even think the franchise is cursed, so here's my question: What makes this so appealing to you?
Banner: "Ironically, that's the answer -- for all reasons you just mentioned. That may be crazy. That may be masochistic. But to somebody like myself and a number of people we hired here, the idea that people perceive it as so challenging -- and it is -- is the reason we want to take it on and prove it can be conquered. You have the huge embedded advantage that the marketplace just loves football and loves this team in spite of all the reasons it has not to. I know every team says this, but you can make a helluva case that these are the most resilient, loyal fans in the league. I mean, they didn't just have a losing team for awhile; they lost the team. And they're still there. So you have the most important element you need to run a football team, which gives you a chance to overcome all these other things. That's why I'm here, and with the people I brought in that was the message I sold them on and it's the message they sold others on: Just think how we'll feel five years from now."
Q: When you left Philadelphia, you said you needed another challenge. Is this what you had in mind?
Banner: "This is exactly what I had in mind ... and maybe even more. It was a hard period because you went through situations that adversely affected a lot of people's lives, but they also created opportunities for a lot of others. We revamped the whole organization -- more so, frankly, than I thought when I got here. We came in with this attitude: Are we buying a house and renovating it? Or are we buying a beautiful piece of land where you essentially have to knock (the house) down and rebuild it? After spending a little time here with Jimmy (Haslam, the team's owner) in November and December, we felt like ... you know what? ... it doesn't mean there aren't good people here, or that they've done everything wrong, but to really get this to where we it to be we probably have to knock it down and rebuild, from the foundation up."
Q: But everyone has a plan when they go in. What's yours and why do you think you can do what others before you have not?
Banner: "I said this for years in Philadelphia, but the beauty of the NFL is that there are 32 shells, and they're separated by the quality of the people you fill them with. If we fail this should be thrown in my face, but if you put together the right combination of quality people ... if you create an environment where they work together well ... you should succeed in the NFL. It's not baseball, and it's not hockey. There's nothing keeping you from being successful other than how good you are. So my answer is: If we're going to put together an organization from top to bottom and create an environment where people can express themselves and fight for what they believe in ... where the work ethic is contagious and there's a commonality of the goal ... and they're as good or better than anybody else in the league, we'll be as good as anybody. History won't matter. The only thing that will matter is from that moment forward. We have very simple goals here: 1) Winning as many games as we can, and 2) creating the most fabulous fan experience you can possibly have. Everything we do -- the type of foundation we're going to have, the type of events we're going to run in the community, the renovation of the offices upstairs ... there's going to be a completely different look and feel. Over the next couple of years, for instance, we're going to change the logo and uniforms in a way that will respect the history but will be forward looking. We're going to do a major renovation project at the stadium, too, the details of which are still to be determined. So it's going to be a completely different place."
Q: You're going to change the uniforms? How do you think that will fly with a loyal fan base?
Banner: "We promise that the helmet won't change. We promise the new look will respect the history. We're going to do a lot of focus groups. We're not going to put something out there that we haven't done a lot of research on. It's not going to be anything radical, I can guarantee that. But it will be new, forward looking and energetic. It will reflect what we want the franchise to be."
Q: I've heard talk about a 3-5-year program, but Browns fans are sick of more long-term pledges. So what should people know about what you're doing here, and how soon should they expect to have a winning franchise?
Banner: "I think it's going to be obvious so that once we get playing, they won't need to ask the question. I think they'll see improvement immediately, though nobody realistically thinks we're ready to win a Super Bowl. And, at the risk of crossing the line, there have been a lot of people here over a lot of years who talked about long-term plans, but I haven't seen anybody who actually implemented that. They've been filling needs year by year, sometimes with expensive players who aren't that good. Everybody talked about a long-term plan, but when's the last time the team traded for a future draft pick? When's the last time the team said, 'We may not have position 'X' with the best player this year because there's nobody in the marketplace who's that good, and we don't want to waste all the future cap money just so we win six games instead of five?' So there's been a lot of cheap talk about long-term plans here, and I'm not talking last year. You go back 15 years through different administrations. They all have basically been trying to win now."
Q: So, then, are you asking fans to be patient?
Banner: "No. We are not asking for a free pass this year or any year. They should expect the team to be better. They should expect the team to play hard. They should expect it to be obvious that things are different. I'm happy being held to that standard, and I'm happy having everybody held to that standard. Listen, we were one of the most active teams in free agency this year in the league. That's not a long-term three-to-five-year plan. Now we did it with players who were 26-and-27-years old, so in two or three years when we're hoping to be really good they're still going to be good players. We didn't do it with 31-or-32-year-old players who, when we begin to get good, are going to be gone. For me, it's where are you in the continuum? If you're in the relatively early stages of building a Super Bowl-caliber team it doesn't make much sense to invest in 31-and-32-year-old players. We're going to have a three-to-five-year plan that doesn't mean you have to go back to winning two games to build it. We're going to do things so that, as the team really gets good two to three years from now, we're adding to the nucleus."
Q: When I think back to what you and Andy Reid did in Philadelphia it took only two years to get things turned around. Can that happen here?
Banner: "The thing people don't remember ... and this was part of the appeal of having Mike (Lombardi, team GM, who was with Banner in Philadelphia) ... is that a chunk of that team was built on the '98 draft. We had Tra Thomas in the first round; Hugh Douglas, whom we traded our second-round pick for; (Jeremiah) Trotter in the third round; Brandon Whiting ... So you get your two starting defensive ends and your starting left tackle out of that draft. We already had Brian Dawkins, Troy Vincent and Bobby Taylor on the team, so those were the years where we began the building of the team that Andy took over and coached so well. Then we added players like the McNabbs, the Runyons and the Brian Westbrooks of the world to that core that had at least started before anybody knew something was beginning to percolate. Then we go to four straight championship games. But we had enough of a foundation by the second year (Reid) was there so that with the quality of that foundation and the quality of his coaching and the staff he put together we were capable of winning 11 games."
Q: But can that happen here?
Banner: "Yes. But turn it around? I'm differentiating between when we can be a good, highly competitive team, and when can you realistically expect to compete for the Super Bowl."
Q: I'm not talking about competing for a Super Bowl.
Banner: "We'll be a quality, competitive team pretty quickly."
Q: What do you take from that Philadelphia experience that you apply here?
Banner: "I really believe there are keys that have to drive your philosophy and your culture to win. So, for example, it started with hiring a really good coach who put together a great staff. It started with putting more emphasis on character, desire and intelligence on every player you brought into the organization. It started with an owner who was willing to spend the money for team travel to be first-class; pre-game meals to be the best they can be; getting the right trainers and medical staff and nutritional attitudes. The team itself was built around Andy's belief in throwing the ball, so we brought in players who were good in the passing game. (Former defensive coordinator) Jim Johnson believed in attacking the quarterback and making him uncomfortable. So we brought in players who fit that. We were aggressive in everything we did, and we made mistakes being too aggressive sometimes, either in player personnel or player contract or a call in a game. But we believed by being aggressive overall we were going to benefit way more than the occasional disadvantage of being aggressive. If I look at the San Francisco 49ers or the Baltimore Ravens or the Green Bay Packers ... teams I look at that are successful now and that are built on principles ... I think we're going to be practicing those same kinds of principles. They have quality coaches and staffs, players with character and they're built on this notion of attacking quarterbacks, helping your quarterback, being able to pass the ball and being able to stop the pass. I think there's an underlying foundation that all successful teams are replicating now."
Q: Speaking of Philadelphia, you had the right quarterback there in Donovan McNabb. Do you know yet if you have the right one here?
Banner: "No. We don't know. We're very hopeful. 'Chud' (coach Rob Chudzinski) and Norv (Turner, the team's offensive coordinator) are working with Brandon (Weeden) and are very encouraged. Everybody here knows the degree of success will be limited by the ability to get that right, and whether we have the answer in-house or need to find the answer. ... We're in a very optimistic and encouraged place where we sit at the moment. But we're not going to know that until we get on the field and start playing games."
Q: Tell me what it's like working for owner Jimmy Haslam, and if the federal investigation of his company, Pilot Flying J, affects how you or the team go about business.
Banner: "He gives me a degree of independence and trust, but at the same time I talk to him every day and he asks all the right questions. He's here regularly and makes us better through his insights and smarts. Frankly, he's challenging us by setting the bar high, and it's clear you better meet that bar. He's got an infectious optimism about him, so it's a perfect situation from my perspective. As for the (investigation), there's no impact other than as we've grown to know him and his family, and we care about him. It's just hard to see him go through it. But as far as the operation of the team? No impact."
Q: Five years from now what are we going to be saying about Joe Banner and the Cleveland Browns?
Banner: "Hopefully, you're not focused on Joe Banner. But I think you'll feel the Browns are where they're supposed to be. It's an iconic NFL franchise that has a rich tradition and fans that deserve success. To me, it's a three-legged stool: You have on-the-field performance; you have charity and a commitment to community; and you have the whole fan experience element of running these teams. I think people will look at this franchise and feel we're doing all of those very well."
Q: But talk about a daunting challenge. Aren't you basically trying to raise the Titanic?
Banner: "This is a big challenge. I've sold people on coming here on the basis that we have a chance to create one of the most compelling turnarounds of any sports franchise in the country. And I think that's how we're thinking about it. Some people may be intimidated by that, but we're actually excited by it."