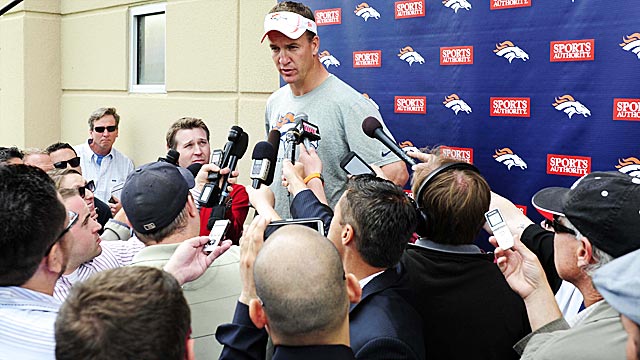 ENGLEWOOD, Colo. -- The different jersey isn't a big deal anymore. The health questions, for the most part, are subsiding.
Peyton Manning is back being an elite quarterback again.
Last summer when I came here to talk with Manning, it was a much different time. He hadn't played a meaningful NFL game since December of 2010. He was coming off neck surgery that required regeneration of a nerve just to throw the football.
The Indianapolis Colts had released him after 14 seasons, and he was trying to start the second phase of his career with the Denver Broncos.
Some thought it couldn't be done.
Manning himself wondered last June to me if he could ever be the same, with age and arm issues looming over his comeback.
As it turned out, Peyton was still Peyton.
Manning threw for 4,659 yards, 37 touchdowns and had the second-highest completion percentage of his career at 68.7-percent to lead the Broncos to the No. 1 seed in the AFC. The Broncos lost in the AFC Divisional Round to the Baltimore Ravens, another Manning playoff disappointment, but his comeback proved to many that he had good football left in that right arm and that there would be no pining for Tim Tebow.
"This time last year we weren't sure about Peyton," Broncos coach John Fox said. "We gained a lot of confidence in him as the season went along."
John Elway, who had a Hall of Fame career playing quarterback for the Broncos and now makes the football decisions for the team as executive vice president of football operations, admitted there were some doubts last summer.
"There's always a little bit of doubt, but I think I had less doubts than Peyton did," Elway said. "He had a lot going on in his head."
That's because he wasn't sure he could be close to the same player. But Manning proved that while he might not be the same guy he was in his prime in Indy, he is close. The Broncos are a legitimate Super Bowl contender again and Manning is a big reason why.
As I sat down with him on a bench this week outside the team's facility, overlooking the practice fields, it occurred to me that it was the same spot we sat down for our chat last year. Only this time, I encountered a much more confident Manning.
A year ago, he seemed a bit scared, unsure if he could be the same player. Now he knows what to expect, what he can and can't do, excited for the coming season. And he's sure glad much of the injury talk seems to be behind him.
During the course of our conversation, he touched on a variety of topics, including how he was unsettled in a Week Two loss to the Falcons last season, how he ran 10 plays for Duke during their 2011 spring practice and he even talked about when he might be ready for retirement.
Question: Now that you've played a season, can you admit now if you had doubts about your ability to do so?
Manning: "I don't see how there couldn't be. Going from, not just certainty, but you're talking about going from the highest level of certainty. Knowing everything about every single bit of the offense, every player you played with, your entire routine, what your body felt like. You turn all that upside down. Here are some new receivers. Here's a new offense. There's a different guy in your ear all the time and, oh by the way, you don't feel the same way. Your arm doesn't feel the same way. You're in a different city. To me those are all fair factors for uncertainty. The only way to get more certain is to go out there and have at it. Go through some rough patches and learn what you can do again. The only way to do that was to go against a defense in OTAs, have a training camp and play a 16-game season and see how you feel in December compared to September. It did not finish the way any of us wanted it to finish. It was gratifying doing some of the things we did while being uncomfortable and learning. From that standpoint, I was proud of the way I kind of hung in there."
Q: You were asked Monday how you felt. You gave a short answer. Are you tired of talking about your health? Are you beyond where you think people should be asking about that?
Manning: "It's two things. Nobody really wants to hear about anybody else's injuries. Or how your back feels. Whose back doesn't hurt? It's like golf. Nobody wants to hear what you shot yesterday. Just talk about the now. I really don't think anybody else wants to hear about it. At the same time, I am not going to say everything is perfect. Not agree with the question if it is asked in that way, that it was one way last year, but this year everything is fine. How I feel is between me and "The Greek" (Broncos trainer Steve Antonopulos). I feel much more comfortable than I was last year. I am stronger than I was last year. I am throwing the ball better now in May of 2013 than I did in May of 2012 -- significantly better. I got better throughout the season. I am not doing the monthly update reports anymore. I am past that."
Q: John Elway made mention of the Atlanta game, the second of the season, and how that was a game where some thought you pressed after hearing you didn't throw it down the field in the opener against Pittsburgh. Did that kind of put into focus what you could and could not do?
Manning: "The Atlanta game was such an oddball. I kind of put an asterisk by it when we studied ourselves in the offseason. Believe it or not, looking back on it, where we screwed up is that I didn't play on the road in the preseason at all. I played one series against Chicago. It was raining. Half the people left. I didn't play against Arizona at all. I don't know. Home is different than on the road. You go two years, let's call last road game December of 2010, got oh-for-11, it's almost two years. I did not feel comfortable in that game. Up until middle of the second quarter and we were down 21-0. I made some decisions that just were not good. So I had this huge asterisk by it. At no point at any other time of the season did I have that feeling. I played in Atlanta a number of times. It wasn't my first time in Atlanta. You kind of say 15 years, you've done it before. I wasn't ready for it. I am not sure the preseason would have gotten me ready, but I should have played. I remember telling Coach Fox, I apologize that I didn't not feel good. We really could have won that game had I not spotted them 21 points. I think throughout the whole season I learned what I could do. It's the triple adjustment. It's new team. It's being 37-years old. And it's coming off an injury. What exactly is the reason for why I couldn't tell you. It's the combination."
Q: Knowing you, you watched that Atlanta tape a ton to try to figure out what was wrong that night after throwing three picks in the first half alone?
Manning: "It was hard to put my finger on it. Not saying I was nervous or whatever. I just didn't feel good. My advice to the next quarterback that misses an entire year is to understand there is a little difference going out on the road again. You miss that. When you're hurt, you do not feel like you are part of it."
Q: After that game, you seemed to excel. Did you learn something that night?
Manning: "I learned a little more. I probably tried to make sure I was making better decisions, not forcing things. Some of the throws I made I had no business making. Trying to make late throws across the middle that I got away with before. You kind of say I have to save that one for another time."
Q: So say the same throw you could have made at 27, just not that night?
Manning: "Maybe still shouldn't have tried it, but maybe get away with it then. There is a lot of that. I know a lot more about what I can do and how I am physically than I did last year."
Q: I don't know if you saw it, but NFL.com had a story this week with your picture talking about your playoff failure and that your window is closing. Thoughts?
Manning: "I guess I am glad that I have "a" postseason record. I don't defend it. I don't argue it. Each game in the postseason has its own identity. I can go through every game and take something our team would have done better or I would have done better here. It is what it is. As far as the window, every year you're playing in a window. I don't think anybody playing today, whether me at 37 or a 26-year-old, is looking toward 2015. In 2012, I thought we had a good team. And we didn't do it. I've been playing with the feeling that this is a unique window since I was 24 or 25."
Q: Was the loss to the Ravens worse because of what you personally went through to get there?
Manning: "It was. I don't think you ever get over a game like that. I really liked our team. It was amazing to me how we formed a really good bond in a short time. We got along. We did things together. We had fun working together. I had this feeling it could be it. And all of sudden it stops. That's football. I don't think because we did what we did last year we'll do it this year. You have to go do it all over again. It's starting all over again."
Q: You still love the game?
Manning: "I still enjoy working at it. It is different. I love driving home after practice to be with (wife) Ashley and the kids. It's fun. There have been huge changes in my life. Marvin Harrison had a great quote when he said you play the games for free. They're paying you to practice. Anybody would enjoy playing the game. It's who enjoys the work. That's what gets guys at the end. They can't stand the meetings. They don't like going over there and lifting. I've heard guys say it. They couldn't take it anymore. Maybe it will hit me someday, but I still like it. Whenever I stop enjoying that, that's when I will have to say it's time to get out."
Q: You think you will play until you are 40?
Manning: "I really don't know. I take it one year at a time. My contract is really four one-year deals. I wanted to be fair to the Broncos. I don't feel like I've put them in any type of a bind and I could go out there and play freely. If I can still go out there and perform and be effective, and still enjoy doing it, I will do it. I would like to think I will be a guy who knows when it's time to stop. I don't want to be a guy who hung on and hung on. I do not have a goal in mind of a year or a statistic. People might think I am lying, staying to break this. The most important thing is whether I can still play. The biggest thing for me last year was that I wanted to be the player the team thinks it is getting. That was an incredibly driving factor for me. I did not want to let them down, and have them say, 'what have we just done?' That's enough to keep you going. I am not sure I ever will be the same. I am a different player now. I am a different body with a different team. I wanted to be the best player in this second chapter that I can be. You want to be the player they think they are getting. But so many things health wise were unknown. There was no protocol. You have an ACL, protocol. High-ankle sprain, there is protocol. Nerve injury to a quarterback's throwing arm? We wrote it last year. I am telling you it's got some wacky chapters in there of some different things we tried. You have every guru coming to you telling you, 'give me three days with you and I will fix you.' Talk about being disappointed on the third day when nothing changed. That was my fault thinking they could fix me in three days."
Q: You had all these guys trying to offer help?
Manning: "We'd get 100 calls and we cut it down. If there was a guy out there who could have fixed me, and we didn't call him, that's on us. I wanted to try and weed through some of the traps."
Q: So you were going to do whatever it took to try and get back out there?
Manning: "The most gratifying thing about last year was that I worked as hard as I possibly could. It could have ended poorly. I went to Duke and (Blue Devils coach David) Cutcliffe was unbelievable creating game-like conditions with corners and a secondary. You can play pickup basketball, but you can't really re-create football. I did 10 plays of spring practice with Duke. The coaches left -- which makes it legal. I was in 10 plays. These guys are like, 'oh my God, look who's in the huddle with us?' I did as much as I could possibly do. There was still that unknown. Ashley and I talked about it a lot that I did not want to let them down. The improvements I made during those private throwing sessions were big. I did not want people to see me. I was not me."
Q: Could you even throw it to that wall (10 yards away) over there?
Manning: "I first threw it with (Tennessee teammate and Colorado Rockies player) Todd Helton in June of 2011. He wanted me to come and use their facilities during the lockout to have some privacy. You're hurt and you don't want people watching you. They're talking about you. 'Hey, he has a 5-pound dumbbell.' You are sensitive to it. So I went out threw with him. The first ball just nose-dived. I couldn't grip it. I lost my awareness of my arm in space. Where it was. Talk about a freaking-out feeling. So the first ball nose-dives. He thinks I am kidding. I was throwing passes where I am looking at you and the ball went over there (he points 4 yards to my right). Finally having that surgery September of 2011 and I stopped throwing. I got my motion back. Maybe it was a time thing."
Q: It had to be so weird that the motion you had since you were a kid was one that was foreign to you.
Manning: "It's an awful, awful feeling. Throwing to him, and the ball goes over there. The biggest change I had was that for so often when I threw a pass I was shocked, shocked, it didn't go exactly where I put it. I couldn't believe it didn't hit him in the inside numbers. When I started throwing I was surprised it came off well. Cutcliffe told me to stop watching myself throw because I could get mentally scarred. That was the best thing I did. I didn't want to talk about those things a lot, but now that I got past them you do want to take a little time to reflect on where you are now. Am I better than where I was last year? Absolutely."
Q: It's one of the most bizarre injuries ever, and the fact that it happened to a high-profile quarterback on his way to Canton makes it even more compelling, don't you think?
Manning: "You are kind of on your own through this. John Lynch told me he had a similar injury. Well, he's a safety. He can still knock the crap out of somebody with one arm. I think it was too late for me to move to safety. My high-school coach Tony Reginelli was kind of famous for "Reggie-isms" kind of like "Yogi-isms." He always said if you want to be a good quarterback, when sprinting left you want to be amphibious and throw left-handed. I told him, 'you mean ambidextrous, coach?' If I had listened to coach Reg, and could be amphibious now and throw left-handed, it wouldn't' be so hard."
Q: Did you ever pay attention to the noise last season after the first two games when people questioned whether you could ever be the same?
Manning: "More than ever, you had to block it out. There were so many opinions. Somebody asked me about someone saying my career was over and whether that motivated me. No, I didn't hear it. I didn't know who was saying what. I had to block it out. There was somebody who said I couldn't throw left. I thought maybe he knew something I didn't know."
Q: Who said that?
Manning: "I think it's the new GM of the Browns (Mike Lombardi, who was then working for The NFL Network). If I don't know the answers, how did they already know the answers? I actually threw left a lot better than I did right at that time. I understand people will form their opinions -- and still do. It felt good to get out there and play and show I could still do it and improve each week. Hopefully I will be even better this year."