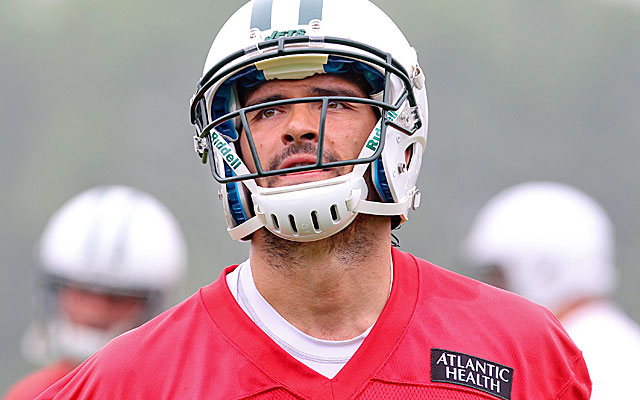 Again, just recently, the topic of an 18-game season arose. It just won't go away. It may never go away.
"(The options) are all on the table," NFL Commissioner Roger Goodell said this week. "As I have said before, I think the structure of the season is something that we consistently reevaluate. I have been quite open about (indicating that) we have to address the quality of the preseason. I hear from fans consistently that they want to make every NFL event more valuable. They see the preseason as being less valuable to them because they don't see the best players and the games do not count. We have to address that, whether we are looking at 18 (regular-season games) and two (preseason games) or 16-and-two and expanded playoffs. They are all on the table and things we are going to evaluate."
A union source said the league continues to privately push hard the idea of an 18-game season. The union, at this point, is taking a cautious approach, but they're not saying no. The money could be too juicy.
So this offseason, a terrible idea will still percolate and be discussed, analyzed and maybe even begin to take steps needed to make it a reality.
Of all the issues during this NFL offseason, none is more interesting -- and idiotic -- as what seems to be the inevitable move to an 18-game regular season.
Everyone will make money. The owners will be able to stack their stock dividends as high as the clouds. Players will make a great deal of cash. Fans will be happy because we'll have more football. Media, too. It all sounds great except for:
This.
Those three letters -- CTE -- are why adding more games is not only a bad idea but a potentially dangerous one.
The NFL says there's no proof that adding extra games increases health risks. Scientists believe the CTE brain disease can be caused not solely by massive hits but by many little ones.
Adding games will, you know, cause more hits to the head. It's pretty simple.
As long as everyone understands what they'd be doing if and when the NFL goes to 18 games. So let's be clear. The owners might be putting their players at risk to gain more profits. The players would be putting their brains at risk for more profits. We'd all watch for more enjoyment.
Just so we're clear.
Here are nine other moves that do need to happen this offseason:
The 49ers need to find a Crabtree replacement
Michael Crabtree's torn Achilles' tendon, and subsequent surgery, is a big hit to the NFC champs. The 49ers, I'm told, haven't contacted Randy Moss (yet), who left the organization on good terms. If it's not Moss, the team will have to find someone who can at least come close to Crabtree's production.
Both Crabtree the player, as well the general perception of him, have changed. There was a time when Crabtree wasn't a very good player, and no one would have cared if he ripped a hole in the space-time continuum, let alone his Achilles. That's changed as Crabtree developed chemistry with quarterback Colin Kaepernick. Last year Kaepernick targeted Crabtree, according to an ESPN statistic, 27 times on third down and 13 times in the red zone. That was more than three times as much as the next receiver.
If the 49ers can't find someone who stretches the field like Crabtree it could change the entire dynamic of that offense. And no, Anquan Boldin is not that guy.
The Giants are a first-class organization and their general manager, Jerry Reese, might be the best in football at what he does. Because the Giants have been so successful at reintegrating parts, the way a starship replicates an engine, doing so with great ease, the organization might believe it can win without Cruz.
They have Eli Manning, so there's no question he's the key component, and this isn't to say Cruz is without kinks in his game or is Jerry Rice. But he's pretty good and he provides a speed threat the Giants need. He also takes pressure off Hakeem Nicks.
The Giants own the rights to Cruz and he isn't going anywhere immediately. But now is the time to lock him up long-term.
Washington must reevaluate RG3 use
Robert Griffin III's daddy is now chirping. Pops says have Griffin throw more.
And dad is right, but there's a problem. Griffin can be a pocket passer but what makes him a great threat is that he's a great runner. So what should Washington do? What dad says. Run him less. Not a lot less but moderately so. Protect him and also protect Griffin from himself.
Get HGH deal done
It's complicated but doable. Getting a deal finished would further deter PED cheats in the NFL. It would also send a signal that the union and NFL can reach an agreement on a big issue. More on that later.
This from a Jets player, who asked not to be identified: "Everyone on the team likes Mark personally but there's a general feeling among some of the players that maybe it's time to give someone else a chance." The player went on to say that he estimates that 80-90 percent of the team feels the same way he does.
However many players it is, none of them could be blamed for wanting Sanchez to move on. In recent seasons, he's been an utter disaster. It is, in fact, only fair to let Sanchez go, so Sanchez can find a fresh start.
In a Wednesday session of Jets OTAs, Sanchez threw three picks in 11 pass attempts. Coach Rex Ryan called the interceptions "disappointing" and "unacceptable." Two words that Jets fans often use when describing Sanchez -- when you remove the expletives.
Packers need to study read-option
Super Bowl hopefuls like the Green Bay Packers need to study the read-option like their football lives depend on it, 'cause, they kinda' do. The Packers are again my Super Bowl pick and I was close last year until the 49ers dropped something like 95 on them in the playoffs. In the first quarter. Yep, Colin Kaepernick just scored again.
The NFC is brimming with read-option offenses the way SoHo is with artists. If the Packers do make it back to the Super Bowl this year or within the next few they'll have to conquer that offense. They can't rely on Aaron Rodgers outscoring the opposition for them.
Carroll needs to take control of players
Pete Carroll has his work cut out for him with getting his Seahawks in line. Self-explanatory. Massive Adderall use, drunk drivers. The only thing missing is a rock and roll band.
Goodell, DeMaurice Smith need to improve relationship
I don't have high hopes this will occur but it would be nice. The distrust is extreme, but the NFL would benefit if the two were able to trust each other.
Everyone needs to take Jay-Z seriously
This will be the offseason of Jay-Z. It will be remembered, years from now, as the offseason when Jay-Z began his march to becoming the greatest sports agency in the world. I said it.