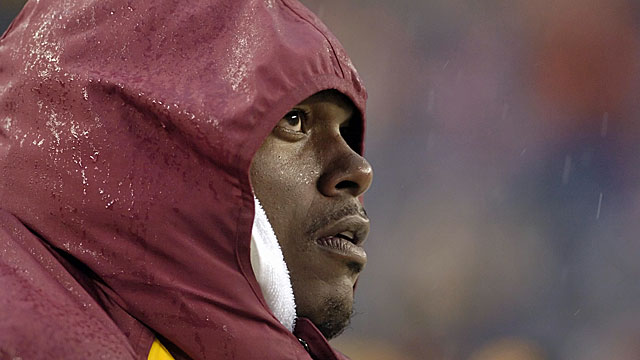 LaVar Arrington spent six seasons in the NFL. He was a ferocious, intelligent and dedicated player. Then it all ended. His career was over. The suddenness of it was almost overwhelming.
"I wasn't exactly sure what I was going to do with my life when football ended," he said. "Making that transition was brutal. I was genuinely depressed."
Keith Elias was an All-American at Princeton and running back for the New York Giants, Indianapolis Colts and in the now defunct XFL. His transition out of football was equally rough.
"When it's all over," he said, "you look around and wonder, 'What do I do now?' "
Arrington would find his calling. He's now one of the best sports talk radio hosts in the nation. Elias would become a motivational speaker. They made the transition, but many former players are still struggling to do the same.
Arrington, Elias and a group of players -- all of whom once played in the NFL -- are part of the NFL's transition program. The former players in the program undergo extensive training and become certified to assist in the areas of mental and behavioral health. In many ways, this is one of the more important assistance programs football has ever developed.
And it's growing. Why does the NFL continue to invest heavily in this particular program? Here's why: Several current and former players say the issue of post-career depression in players is far worse than generally known. These players also say thoughts of suicide in both current and former players is higher than most people know.
Just recently, two members of the transition team literally saved a former player's life. The player simply couldn't make the adjustment from football to being retired.
"I've already experienced that with a couple of former players," Elias said. "I've talked to more than a few guys at the end of their rope."
And he helped talk them back to a better place.
"I've had [NFL] friends lose their jobs, get cut and they're out of football," one current player said, "and they go into shock. They don't know what to do. The money and attention are gone. The next thing is they're thinking of ending their lives or ending the lives of loved ones around them."
A number of former players have committed suicide, including superstar linebacker Junior Seau. It's difficult to determine how much brain trauma from playing in the sport may be a part of players' struggles here, but there's little question the transition is difficult for some players regardless of the root causes.
"I tell people leaving the NFL is like going from Oz back to Kansas," Elias said. "The result is a loss of purpose. You lose your identity."
Arrington echoed the sentiment.
"People don't understand that most players don't make tens of millions," he said, "and most have no idea what they're going to do after football. They struggle. They get depressed. They think about ending their life because to them their life no longer has purpose."
That's the mantra, Arrington said: "Don't throw your life away. Let's talk. I'm here. A bunch of former players are here, ready to help."
"The reason why some of these tragedies happen the way they happen is because the walls close in on guys and guys feel like they're alone," Arrington added. "I'm not saying every guy can be reached, but there are resources out there. I'll come get you. I'll drive you to the hospital. There's no need for a player to throw his life away."
Just this month a group devoted to the program finished their training. These new transition coaches include Elias, Irving Fryar (New England), Freddie Scott (Baltimore and Indianapolis), Garry Cobb (Detroit, Philadelphia, Dallas), Donovan Darius (Jacksonville), Tony Stewart (Philadelphia, Cincinnati, Oakland), Hall of Famer Mike Haynes (New England, Oakland), James Thrash (Philadelphia, Washington) and Dwight Hollier (Miami, Indianapolis).
The program is run by Troy Vincent, the former All-Pro cornerback who's now the league's vice president of player engagement.
The NFL has become so invested in improving the transition methodology, it's even considering how to improve the process of training camp cut-downs. For decades, teams have released players in training camp through one infamous approach -- a designated guy, often called "the Turk," informs a player he had to meet with the head coach. The player was cut. The player got up and left. That was it.
The NFL might take a different approach and standardize it across football, so when a player is cut in camp, for example, he is offered a myriad of services, including counseling, and informed of exactly what benefits are available to him.
"We look at our players from a total wellness standpoint," NFL commissioner Roger Goodell said. "It is not just their physical wellness; it is also their mental wellness. What can we do to try to make sure we are helping our players make the transitions through life [successfully] and to make sure they are getting the type of help they need at any point?
"The cut-down process, as an example. How do we make the process more dignified? It is in some cases the last experience a player has with a team or any team in the NFL. We have to do a better job of doing that in a humane way and a way that will make sure they understand the perspective we have for them and the pride we have in what they have accomplished. We have to make sure they understand what they will be experiencing once they separate from an NFL team and make sure they have the services that are available to them, which we provide and we think can be incredibly valuable to them."
Notice the words Goodell stressed: humane and dignified.
To non-players, this may seem silly. Everyday people get fired and there's nothing humane about it. But to the NFL, emotional issues that develop much later in life might begin with that moment of getting released, either at training camp or later in players' careers.
How traumatic can the experience be? Charlie Casserly, the former general manager of Washington, told NFL.com that once, when a quarterback was cut, he was so distraught that he refused to leave the building. The police were eventually called to get him out.
Gregg Steinberg, a Tennessee-based sports psychologist whose clients include professional football players, told USA Today that the Kubler-Ross theory applies to players crossing into retirement. The theory is about the five stages of grief, which include denial, negotiation, anger, depression and acceptance.
Steinberg explains that the problem for many is they get stuck in the stages.
And stuck is where the NFL's transition team comes in.
"For me, it comes down to this," Arrington said, "if we save just one life, it's all worth it."