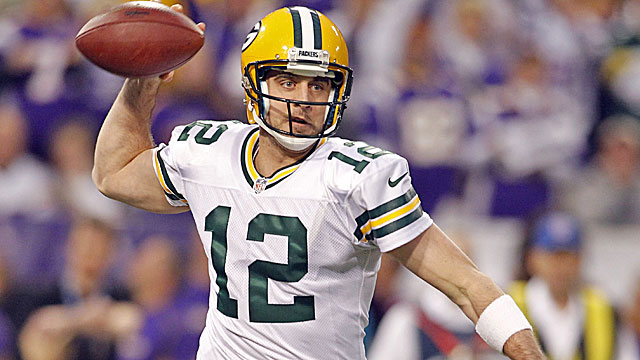 You can have your read-option offenses, your fullbacks, middle linebackers and run-support safeties.
That's nice complementary stuff for any team, but the key to winning in the current NFL, with all the rules aimed at making this an "air" league, is having talent at the four spots needed to build a Super contender.
Naturally, it starts with the quarterback, who I believe is now 70 percent of the game.
Then it's the guys who knock the quarterbacks down, the guys who keep those pass rushers off the quarterback and the corners who knock down the quarterbacks' passes.
See the pattern?
That has been my belief for a long time, something I call the "Four-Pronged Approach" to winning football. If a team has a great quarterback, it can help ease the hurt of not having stars at the other spots.
But if a team has a great passer and a great pass rusher, coupled with good talent sprinkled around those two players, watch out.
As I've done for years here, I am using my four-pronged approach to rate each of the 32 teams. Each of the four categories has players ranked 1-32, one per team, and the player ranked first gets 32 points down to one point for the player ranked last.
There is a catch. The quarterback spot gets double the points since passers are so key to winning -- now more than ever.
So Green Bay's Aaron Rodgers, in the top spot, gets 32 points times two for 64, whereas the top pass rusher, top left tackle and top corner only get 32.
The top team, by far, was the Denver Broncos with 154 points. They earned that big number with top-five players in each of the four categories. The Cowboys were second with 125 points, followed by Green Bay at 124, San Francisco at 112 and the Giants at 111.
Whether this will decide the Super Bowl winner is debatable. What it will show is the teams that have a real chance.
Team totals
1. Denver Broncos: 154
2. Dallas Cowboys: 125
3. Green Bay Packers: 124
4. San Francisco 49ers: 112
5. New York Giants: 111
6. Seattle Seahawks: 110
7. Houston Texans: 107
8. Atlanta Falcons: 103
9. Baltimore Ravens: 98
10. Chicago Bears: 94
11. New England Patriots: 92
12. Cincinnati Bengals: 91
13. (tie) Carolina Panthers, Indianapolis Colts: 86
15. Washington Redskins: 85
16. Kansas City Chiefs: 81
17. Arizona Cardinals: 79
18. Pittsburgh Steelers: 76
19. St. Louis Rams: 74
20. Cleveland Browns: 73
21. (tie) New Orleans Saints, Tampa Bay Buccaneers: 71
23. (tie) San Diego Chargers, New York Jets: 64
25. (tie) Miami Dolphins, Tennessee Titans: 60
27. (tie) Buffalo Bills, Minnesota Vikings: 55
29. (tie) Detroit Lions, Philadelphia Eagles: 51
31. Oakland Raiders: 46
32. Jacksonville Jaguars: 31
Quarterbacks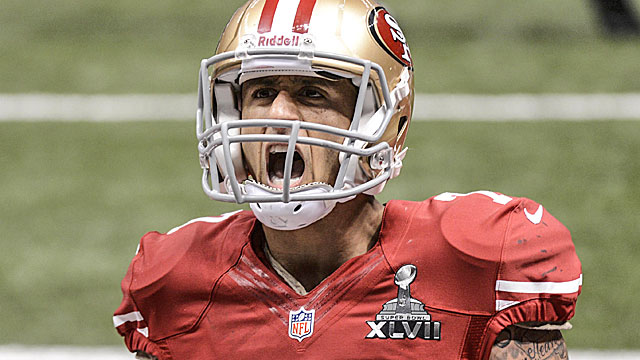 1. Aaron Rodgers, Green Bay Packers
2. Peyton Manning, Denver Broncos
3. Tom Brady, New England Patriots
4. Drew Brees, New Orleans Saints
6. Eli Manning, New York Giants
7. Ben Roethlisberger, Pittsburgh Steelers
8. Joe Flacco, Baltimore Ravens
10. Cam Newton, Carolina Panthers
11. Andrew Luck, Indianapolis Colts
12. Colin Kaepernick, San Francisco 49ers
13. Russell Wilson, Seattle Seahawks
14. Robert Griffin III, Washington Redskins
15. Philip Rivers, San Diego Chargers
16. Matthew Stafford, Detroit Lions
17. Jay Cutler, Chicago Bears
18. Carson Palmer, Arizona Cardinals
19. Matt Schaub, Houston Texans
20. Andy Dalton, Cincinnati Bengals
21. Michael Vick, Philadelphia Eagles
22. Josh Freeman, Tampa Bay Buccaneers
23. Sam Bradford, St. Louis Rams
24. Alex Smith, Kansas City Chiefs
25. Ryan Tannehill, Miami Dolphins
26. Mark Sanchez/Geno Smith, New York Jets
27. Jake Locker, Tennessee Titans
28. Matt Flynn, Oakland Raiders
29. Christian Ponder, Minnesota Vikings
30. Brandon Weeden, Cleveland Browns
31. Blaine Gabbert, Jacksonville Jaguars
32. Kevin Kolb/EJ Manuel, Buffalo Bills
Pass rushers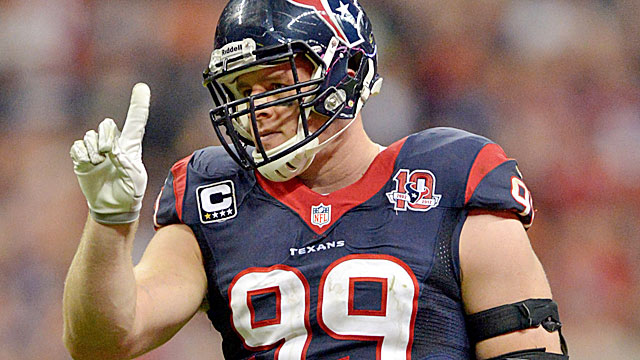 1. J.J. Watt, DE, Houston Texans
2. Von Miller, OLB, Denver Broncos
3. DeMarcus Ware, OLB, Dallas Cowboys
4. Cameron Wake, DE, Miami Dolphins
5. Clay Matthews, OLB, Green Bay Packers
6. Aldon Smith, OLB, San Francisco 49ers
7. Jason Pierre-Paul, DE, New York Giants
8. Julius Peppers, DE, Chicago Bears
9. Robert Mathis, DE, Indianapolis Colts
10. Michael Johnson, DE, Cincinnati Bengals
11. Mario Williams, DE, Buffalo Bills
12. Terrell Suggs, OLB, Baltimore Ravens
13. Jared Allen, DE, Minnesota Vikings
14. Justin Houston, OLB, Kansas City Chiefs
15. Charles Johnson, DE, Carolina Panthers
16. Brian Orakpo, OLB, Washington Redskins
17. Chris Long, DE, St. Louis Rams
18. LaMarr Woodley, OLB, Pittsburgh Steelers
19. Chandler Jones, DE, New England Patriots
20. Dwight Freeney, OLB, San Diego Chargers
21. Cliff Avril, DE, Seattle Seahawks
22. Sam Acho, OLB, Arizona Cardinals
23. Osi Umenyiora, DE, Atlanta Falcons
24. Paul Kruger, OLB, Cleveland Browns
25. Ezekiel Ansah, DE, Detroit Lions
26. Victor Butler, OLB, New Orleans Saints
27. Quinton Coples, OLB, New York Jets
28. Connor Barwin, OLB, Philadelphia Eagles
29. Adrian Clayborn, DE, Tampa Bay Buccaneers
30. Derrick Morgan, DE, Tennessee Titans
31. Jason Babin, DE, Jacksonville Jaguars
32. Lamarr Houston, DE, Oakland Raiders
Corners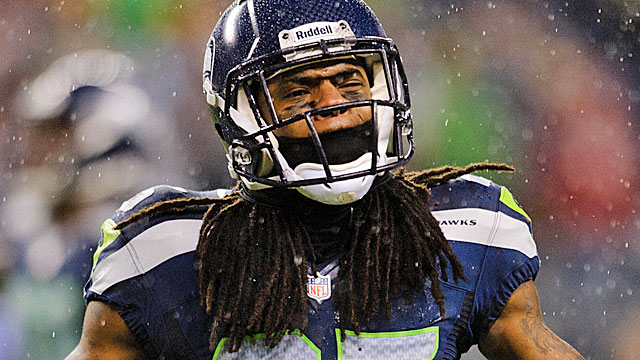 1. Richard Sherman, Seattle Seahawks
2. Patrick Peterson, Arizona Cardinals
3. Champ Bailey, Denver Broncos
4. Darrelle Revis, Tampa Bay Buccaneers
5. Joe Haden, Cleveland Browns
6. Antonio Cromartie, New York Jets
7. Charles Tillman, Chicago Bears
8. Brandon Flowers, Kansas City Chiefs
9. Asante Samuel, Atlanta Falcons
10. Jason McCourty, Tennessee Titans
11. Brandon Carr, Dallas Cowboys
12. Stephon Gilmore, Buffalo Bills
13. Tramon Williams, Green Bay Packers
14. Leon Hall, Cincinnati Bengals
15. Lardarius Webb, Baltimore Ravens
16. Cortland Finnegan, St. Louis Rams
17. Prince Amukamara, New York Giants
18. Johnathan Joseph, Houston Texans
19. Carlos Rogers, San Francisco 49ers
20. Derek Cox, San Diego Chargers
21. Vontae Davis, Indianapolis Colts
22. Brent Grimes, Miami Dolphins
23. Aqib Talib, New England Patriots
24. Chris Cook, Minnesota Vikings
25. Carey Williams, Philadelphia Eagles
26. Mike Jenkins, Oakland Raiders
27. Chris Houston, Detroit Lions
28. Jabari Greer, New Orleans Saints
29. Ike Taylor, Pittsburgh Steelers
30. DeAngelo Hall, Washington Redskins
31. Josh Norman, Carolina Panthers
32. Dwayne Gratz, Jacksonville Jaguars
Left tackles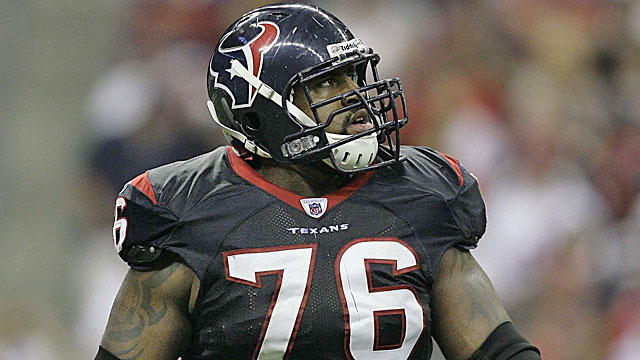 1. Duane Brown, Houston Texans
3. Joe Thomas, Cleveland Browns
4. Joe Staley, San Francisco 49ers
5. Jared Veldheer, Oakland Raiders
6. Trent Williams, Washington Redskins
7. Russell Okung, Seattle Seahawks
8. Tyron Smith, Dallas Cowboys
9. Eugene Monroe, Jacksonville Jaguars
10. Andrew Whitworth, Cincinnati Bengals
11. Michael Roos, Tennessee Titans
12. Jake Long, St. Louis Rams
13. Jordan Gross, Carolina Panthers
14. Branden Albert, Kansas City Chiefs
15. Matt Kalil, Minnesota Vikings
16. D'Brickashaw Ferguson, New York Jets
17. Donald Penn, Tampa Bay Buccaneers
18. William Beatty, New York Giants
19. Jason Peters, Philadelphia Eagles
20. Sam Baker, Atlanta Falcons
21. Bryan Bulaga, Green Bay Packers
22. Jermon Bushrod, Chicago Bears
23. Cordy Glenn, Buffalo Bills
24. Bryant McKinnie, Baltimore Ravens
25. Nate Solder, New England Patriots
26. Levi Brown, Arizona Cardinals
27. Anthony Castonzo, Indianapolis Colts
28. Marcus Gilbert, Pittsburgh Steelers
29. Jonathan Martin, Miami Dolphins
30. Riley Reiff, Detroit Lions
31. Max Starks, San Diego Chargers