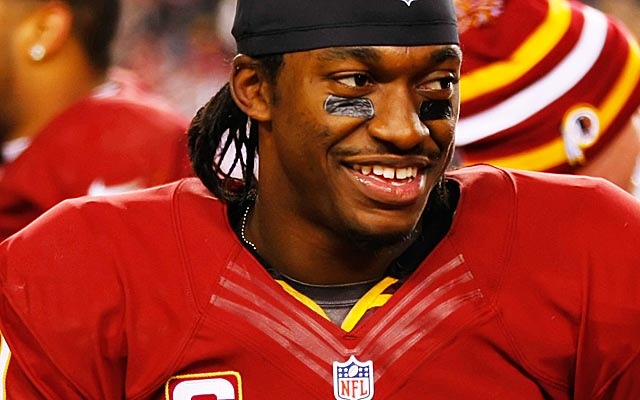 The public deconstruction of Robert Griffin III -- an almost hourly pursuit now via Twitter and various outposts of the Internet -- needs to stop. When we reach the point where even his sharing a photo as the honorary grand marshal at a Memorial Day parade in Washington becomes politicized, and a subject for Twitter-scorn, it's time to recognize we have a problem.
And the problem isn't this 23-year-old kid.
Sure, he's not absolutely perfect. None of us are. Yes, there may have been a minor misstep or two this offseason. He's occasionally fallible. But if his greatest faux pas is tweeting a photo of himself strewn across a bevy of boxes containing wedding gifts from fans -- in a league where appearances on a police blotter can be routine -- then I dare say this is someone hardwired to actually handle this toxic level of celebrity better than most. And, I'll say it again, he's (barely) 23. And he also happens to be bearing a burden of racial and social crosshairs merely for the fact that he happens to be a wildly successful, baby-faced African-American quarterbacking in the nation's capital who has natural charm, radiates with crossover potential and isn't satisfied with allowing people to put him into a box or define his brand. He's become a rock star, simply by being himself, after only one NFL season, and all of this makes him a unique target. But in our culture of instant analysis, it's all quickly gone too far when it comes to what's thrown at RG3.
Don't get me wrong, he's plenty tough and thick-skinned enough. He understands the bargain that criticism comes with fame, and I'm sure he can take it. But it doesn't make it right, doesn't make the haste with which people casually throw around racist and degrading comments any less damaging to our cultural discourse. Nor does it change the fact this is by all accounts a very good kid still finding his way through professional life and doing so while a bizarre confluence of events spiral around him, largely not of his own creation.
"It's depressing to me," former Redskins quarterback Donovan McNabb said. "It goes beyond the quarterback position -- to have people dislike the kid already and he didn't really even do anything? It's depressing. This is a different arena he's in -- I lived it myself -- where some people are going to dislike you because of your skin color, where they're looking for reasons to come at you, and then you have all these people, [coach Mike] Shanahan, Dr. [James] Andrews, his father, saying things and this kid is caught up in the middle of it."
Doug Williams, the first African-American quarterback to win the Super Bowl, who happened to do so with the Redskins a generation ago, can't help but root for the youngster, and shakes his head at the various tempests swirling around RG3.
"He is what you call an innocent bystander," Williams said. "He's doing his job. Here is a kid drafted with the second pick of the whole draft and he went out and proved he was ready to be the first or second pick in the draft. What more could he do? He did it all on the field and off the field. "That's the killer part of it. From a character standpoint, there's no doubt he is a good kid. He's full of character and he's proven that. But he's on a bigger stage than Baylor now, and he played so well last year that he's created this monster now. There's a lot of people out there who want to be like him and who are influenced by him, and, unfortunately, a lot of people who will want to tear him down."
Things started getting surreal back in December, when Rob Parker, a failed columnist long a stranger to expressing meaningful insight, called Griffin, whose fiancée is white, "a corn-ball brother," on ESPN (ending Parker's tenure there). Immediately I flashed back to Rush Limbaugh's rant, also on ESPN, years ago about the media and its alleged coddling of McNabb, but sadly things were only getting started for Griffin.
His coaches seemed perfectly willing to put Griffin's already battered body on the line with designed runs and dangerous play calling out in space, he took kill shots all season. Then came the choruses ripping Griffin for not sliding enough -- um, he's a rookie, he's trying to win over teammates and be a leader of men and selling out to make a play is part of why he's already achieved so much. Over time, that mindset can change, and he admits he's working on it, but blaming the kid midway through his rookie season is crazy. Then, when Griffin rushed back from injury to clinch the playoffs in Week 17 while clearly hobbled, we got public sparring between esteemed surgeon Andrews and Shanahan over the murky details concerning how and why Griffin was allowed back on the field in the first place. (Oh, and the Redskins also got slapped on the wrist early in the season when they failed to announce that a clearly concussed Griffin had in fact been concussed. And Shanahan, that's Coach Shanahan, not Dr. Shanahan, pulled out the term "mild concussion," as well, not that anyone was trying to make it seem like the kid could be right back out on the field ASAP. Alas, virtually all of the "controversy" surrounding this young man is actually the byproduct of words or actions of those around him).
Griffin offered a cryptic offseason tweet about political correctness, and suddenly everyone was a political wonk trying to discern its meeting, and the very brushback at the quarterback post-tweet may have proved his point. "It's almost like you really cannot have an opinion today," Williams said.
Then the Washington Post published Griffin's wedding registry and, to the surprise of no one who has spent any time around rabid Redskins fans, the entire registry is quickly snapped up by the public. Now, Griffin never uttered a word about it, didn't put the registry links out on Twitter, yet somehow this was all his fault that non-millionaires were gladly, willingly and eagerly sending him salt and pepper shakers? I can see why some might object to the subsequent photo he posted in front of the boxes, but even then the venom seems disproportionate to the deed.
"Somewhere along the line, the guy should be able to joke a little," said Williams, who likened fans' purchasing the gifts to fans covertly picking up the check for a star athlete they spot at a restaurant. "Everything can't be as serious as people would like it to be, and again, he does have a life. Football will consume most of it, but somewhere along the line there has to be a little fun in there for him. If everything is straight-laced always from a business standpoint, for him, that can be a miserable life."
Griffin's father, a military man and a very strong figure in his life, was the latest to stir things up last week by making comments about the Redskins' staff needing to better protect his son, saying he would have pulled the quarterback from their playoff defeat when they went ahead, 14-0 (instead he played until his knee gave out). Do I blame the parent for saying what he believed? Not at all?
Should he have said it publicly? Probably doesn't help much by doing so, though it does serve to put Shanahan on notice to some degree, which I actually don't mind. But can RG3 be held accountable for any of those comments? Nope. If anything the fine people at CAA, handling his marketing and off-field interests, might want to step up their game when it comes to Team Griffin.
And also last week, the Redskins -- who botched handling his varied injuries and may be hell-bent on doing the same with his return from surgery -- allowed the cameras to roll while Griffin took part in OTAs, which only adds more intrigue and buzz to what should be a recovery and rehab with a more private bent, especially in awkward phases like this. Instead, it's more fodder for sports talk and all-sports networks to analyze and breakdown all things RG3, feeding an out-of-control beast at a time when less should be more.
"Why would you do that to your quarterback?" one former prominent passer opined to me. "You can see he's still not really trusting his back leg, he's not really pushing off. Why the hell would the Redskins have him out there while they're filming that? You can't keep him on the sidelines until they stop rolling?"
So, if you really want to wag your finger at a kid who grew up in a military home, born in Japan, moving around the USA, graduating high school early at 17, a three-sport star, the class president, a stellar student ranked seventh in his class, who overcame an ACL injury and graduated Baylor in three years while making regular appearances on the Dean's List, and won the Heisman and lifted a moribund franchise single-handedly and saved a coach who was staring at an some uncomfortable conversations with his owner back when the Redskins stood at 3-6 (with Shanahan mumbling in post-game press conferences about already preparing for 2013) then go ahead, I suppose.
But to me Griffin seems to embody so much about what we say we love about America, just perhaps not in the neat little package some desire. "It's sad to say, but he is an easy target," McNabb said. "It's easy for people to go in on him with the way he carries himself and the way he talks. Unfortunately, it is similar in that way to me. We both grew up with good parents, military families, that taught us how to carry ourselves, and speak well. We got our education. He's an educated brother who can play this game called football and people come at him sideways and talk so much about his athletic ability and speed. How about we talk about how smart he is? How about we talk about the kind of kid he seems to be?
"We want to focus so much on athletic ability and his looks; let's talk about how smart he is. He graduated in three years from Baylor and had a chance to go to Stanford and play for Jim Harbaugh and chose Baylor and got his degree and won the Heisman and put up great numbers in college, went on to ball out his senior year. They said he wasn't accurate and he went out and completed 68 percent of his passes as a rookie. Come on, man."
When Griffin met the media for the first time since his surgery -- last week at OTAs -- he typically exuded a maturity and calmness beyond his years. He praised his coaches, he took responsibility for having to learn when to slide and head for the sidelines, he explained of his father's comments: "I do not have a leash on my parents. They're my parents, guys. And I love my Dad."
On his gift-registry controversy, he said, "criticism, stuff like that, I just have to move on and not worry about it." Williams said Griffin and LeBron James are far and away the two greatest rookies in any sport in terms of how they handle themselves with the media, and the kid seems like he will keep smiling no matter what.
McNabb, who lived through his share of controversies born not of his own doing, and who also played for Shanahan not that long ago, said he tried to connect with Griffin last summer, to try to prepare him for some of what he would see and hear, but they never got together. Now, with the maelstrom growing, McNabb has a simple message for Griffin, and one I'd tend to agree with.
Stay away from the cameras if possible (even if the Redskins want to parade you out in front of season ticket holders), try to rehab out of the limelight to curtail expectations and give yourself room to breathe. Enjoy this time before your upcoming wedding and let the furor subside.
"It's time to take a step back, refocus on what you're doing," McNabb said. "Be there with your team and rehab at the facility, but don't do it in front of the camera. Get ready to take that next step, because it's not an easy step. Focus on that, and don't do anything to draw attention to whether you're going to play or not Week 1. I want to see this kid be able to expand and keep growing and try to take the league over."
Williams has had a few conversations with Griffin. They chatted by phone three days before the draft last spring, when Griffin was out at dinner with Shanahan and Redskins exec Bruce Allen, who used to work with Williams in Tampa, and Allen called Williams after the meal. Griffin and Williams talked again right after he was drafted and finally met in person this offseason at an autograph signing near Redskins Park.
Williams knew Griffin was a becoming a cultural beacon in Washington, but was still astonished by the sheer size of the line of people waiting to meet him. Even then, there were critics (Griffin took flack for doing the signing during his rehab -- "so he's supposed to rehab the knee 24 hours a day?" Williams said), but the pioneer told the young buck to just keep on being himself, and try to savor each step along this journey.
"It was good for me to see him, because I've been there," said Williams, now the head coach at Grambling. "But to see all the things that are going on with him and how big this thing has become and all the people who are attracted to this guy because of the way he has carried himself, you're not talking about some jackass here. And all he did was play and everybody else makes a big to do about what he's doing and what should be doing and what he shouldn't be doing.
"With social media today, man, there is so much scrutiny now compared to yesteryear. It ain't even close. So when we met, we shook hands, hugged each other and he said, 'I've finally got a face to go with the voice.' And I told him to hang in there, keep doing what he's doing, and don't look back. Just do what you do."