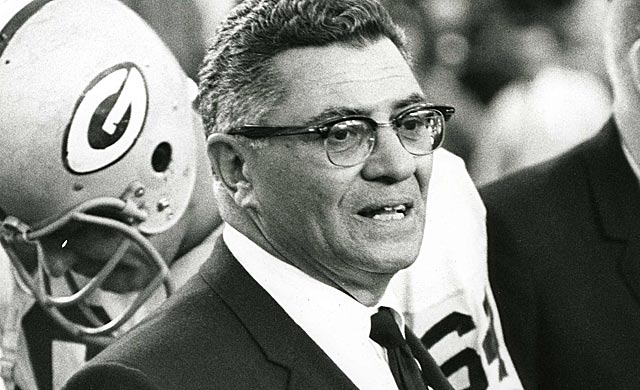 It's extremely rare that the football world celebrates the 100th birthday of a dead man but that's how important, remarkable, vital, historic and downright gorgeous the life and legacy of Vince Lombardi was.
He was born June 11, 1913 and his 100th birthday is being celebrated even now -- with Lombardi, the party starts early.
While Paul Brown, to me, was the greatest head coach to walk the planet in any sport, Lombardi is the single, greatest football persona. No other figure -- not a Jim Brown or Joe Montana or Bill Walsh -- comes close.
In honor of Lombardi's 100th, CBSSports.com is ranking the best coach from each decade of NFL existence. This is how you honor Lombardi on his birthday -- assemble the greatest coaching minds in history around the table and have a long chat.
One of my guides for this adventure is Ernie Accorsi, the former Giants general manager, who now works with the NFL. Accorsi won a Super Bowl with New York and made the trade that brought Eli Manning to the Giants. He is also probably the best football historian alive.
A key thing to remember about this list. It's the greatest coach of each decade -- not personnel man or innovator -- but greatest coach (although the line admittedly is sometimes blurred). This is strictly about Xs and Os.
If you look at this list, what we're trying to get is a seal here, and a seal here, and try to run this list in the alley .
1920s: Curly Lambeau
Before the Miami Dolphins went undefeated, before Lombardi's Packers won three straight championships, Lambeau's Packers did both. While Lambeau's teams won titles not by playoffs but by having best record what he did is still impressive. His 1929 team went 12-0-1 and absolutely destroyed most opponents. Other teams went undefeated in that era but Lambeau would go on to win two more consecutive titles.
The Rest: There were other great coaches of the NFL's early years but this decade is one of the few where one name stands above others.
1930s: George Halas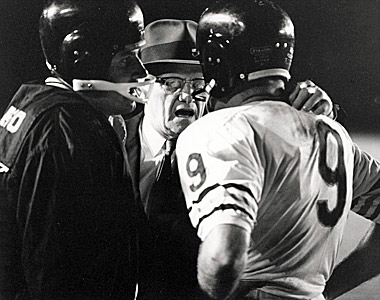 He was a player, owner and coach but it was as a coach where his tactical smarts elevated him above others. He invented the T-formation -- then a revolutionary offense. His coaching started the arc of the modern realm of the sport.
The Rest: Lambeau. Won four championships in the 1930s.
1940s: Paul Brown
Ernie Accorsi on the decade: "You might give some thought to Greasy Neale of the Eagles for the 1940s. Three straight championship games, winning back to back in 1948-49. But you could also consider Paul Brown. Four straight titles in the All American Football Conference. The old time writers, now all gone, will tell you that the AAFC was very close to the NFL, as proven by the Browns destroying the NFL champion Eagles in the 1950 opener."
Brown gets the advantage because of that last fact -- his teams were as good as the NFL's. They were that good because Brown was that good. He won four AAFC titles in the 1940s.
The Rest: Neale. He won two titles in 1948 and 1949. Those teams were the only ones to win consecutive championships by shutting out their opponents.
1950s: Paul Brown
Jim Brown, the best running back of all time, to me several years ago, speaking of Paul Brown: "He was stubborn, dedicated to the way he did things, but he was brilliant."
Brown and Brown butted heads with the coach eventually getting fired by Art Modell. But he'd still win three championships in the 1950s and was twice named coach of the year.
The Rest: There is no rest from this decade -- Paul Brown was a cut above.
1960s: Vince Lombardi
He won titles in 1961, 1962, 1965, 1966, and 1967. Only Paul Brown -- to me -- beats this type of sheer dominance. This quote from the great NFL Films, which chronicled Lombardi's achievements so wonderfully, is perfect: "Lombardi, a certain magic still lingers in the very name. It speaks of duels in the snow and cold November mud. Lombardi believed in the old-fashioned virtues -- which were stamped all over his teams: hard work, second effort, loyalty and love. His genius was that he was able to inspire so many players to grasp these ideals. This man stood for everything that was solid and successful in American sports. He remains for many the very heart of pro football, pumping hard right now."
The Rest: Sid Gillman -- a true strategist who re-engineered the passing game.
Hank Stram -- Brain was so vast he didn't have an offensive or defensive coordinator for a chunk of his coaching career. He also created the moving pocket.
1970s: Don Shula
In the training camp following a brutal loss to the Dallas Cowboys in Super Bowl VI, Shula stood before his team, and said the Dolphins were going to win every game. He didn't mean it rhetorically. He was specific. It was a goal of Shula's and a way for the team to redeem itself after the Super Bowl loss. They would go on to become the sole undefeated team -- regular season and playoffs -- in the modern history of the sport. What the Dolphins did has lasted for 40 years and could possibly last another 40. Or longer.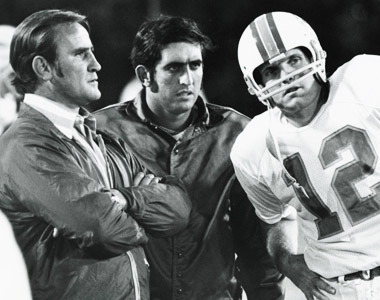 The criticism of the Dolphins' undefeated year is that their schedule was soft and it was. Shula still won those games and he won a chunk of them with 38-year-old Earl Morrall at quarterback. Shula was an excellent tactician, and unlike Chuck Noll, didn't have a bevy of stars.
Says Accorsi, who disagrees: "I would pick Noll for the 1970s. He had nine Hall of Famers, but part of the reason they were Hall of Famers was him -- 4-0 in Super Bowls is tough to top. It's a close call."
The Rest: Noll -- Steelers fans will rain hellfire down upon this list, and some of that is fair, but my overriding factor in Shula over Noll is the undefeated season. Plus, Shula beat Noll in the 1972 title game in Pittsburgh.
Tom Landry -- Could easily be first. Invented the 4-3 defense, which is still used today. Got the most out of his players with an ultra-cold demeanor.
Bud Grant -- Starting in 1973, he'd go to three Super Bowls in four years.
1980s: Joe Gibbs
Another controversial choice, but Gibbs won three Super Bowls with three different quarterbacks -- Joe Theismann (1982), Doug Williams (1987) and Mark Rypien (1992). If you count that for a significant portion of the 1987 season, Gibbs also started Jay Schroeder, well, he may have actually had four quarterbacks for three Super Bowl seasons.
Not sure if people understand how difficult that is. Because in many ways, what Gibbs did was the very definition of coaching, and there are only one or two others who could have pulled the same trick. Theismann was solid, Williams was good, Rypien was OK and Schroeder was OK. None of them was Joe Montana. Gibbs took average or great talent and made it spectacular. Having Montana and Jerry Rice is a massive cushion Gibbs never enjoyed.
Gibbs' final Super Bowl team had only two Pro Bowlers on defense. Gibbs is also one of the few names on this entire list that was never paired with a Hall of Fame quarterback.
Accorsi makes several smart counterpoints.
"I would give Walsh the edge over Gibbs in a photo finish," he said. "Neither one had a lot of Hall of Famers, but I think Walsh was a brilliant mind who was also a great general manager. Gibbs' case is helped by winning three Super Bowls with three good (not great) quarterbacks and Walsh had Montana. However, he drafted Montana when others passed and I think Montana needed Walsh to become as great as he did. Also, two of Gibbs' titles were in (strike-) shortened seasons."
The Rest: Walsh -- Was as great transforming the defensive side of the ball as he was the offensive side.
Bill Parcells -- Shula and Parcells were the two best motivators in history.
Mike Ditka -- Coached maybe the single greatest team of all time.
1990s: Jimmy Johnson
Only six coaches in NFL history have coached consecutive Super Bowl winners: Bill Belichick, Noll, Lombardi, Shula, Mike Shanahan and Johnson. Though Johnson's best assets were drafting players, he's never been given his full due as a tactician.
I can hear the backlash now: He took advantage of the idiot Minnesota Vikings who handed the Cowboys all those draft picks for Herschel Walker. Lots of picks, sure, but Johnson turned those picks into good players and then he, you know, coached them.
The Rest: Shanahan -- won 62 percent of his regular-season games and two Super Bowls.
Marv Levy -- Four Super Bowl appearances but more than anything was able to control one of the more outspoken locker rooms in NFL history. Doing that made a difference with what he was able to do on the field which was win a lot of games despite losing in the Super Bowls.
2000s: Bill Belichick
Let's get this out of the way: Spygate did not help the New England Patriots win Super Bowls. It just didn't. It doesn't matter if they haven't won a Super Bowl since. That's not evidence.
There simply wasn't a better coach in the decade, particularly as a tactician. Five AFC titles and three Super Bowl wins in the decade. The only coach to win three Super Bowls in a four-year span. He was 16-0 in 2007.
Most of all, he outcoached his opponent. Out-thought him. Out-hustled him. I remember one AFC head coach telling me once the only coach he ever feared was Belichick. That fear was well earned.
The Rest: Tony Dungy -- A defensive genius.
Bill Cowher -- Smart in tactics and had a 7-3 postseason record for the decade.
Andy Reid -- One of the great models of coaching consistency in the 2000s.
Jeff Fisher -- Won with Vince Young and Kerry Collins.
2010s: Tom Coughlin
This one is easy -- he twice beat the best coach in the game today, Belichick, in Super Bowls. He adapted his hard-ass style more to the modern athlete. The result has been one of the unexpected and pleasant surprises of the decade.
The Rest: Sean Payton -- He's one of the best offensive minds in football.
Mike Tomlin -- Could end up being the best of this decade.
Belichick -- Still a constant force.
John Harbaugh -- Smarter tactician than most know.
Jim Harbaugh -- The coaching change to Colin Kaepernick was truly smart. Not many thought it would work. Harbaugh has been to a title game and Super Bowl in his young career.