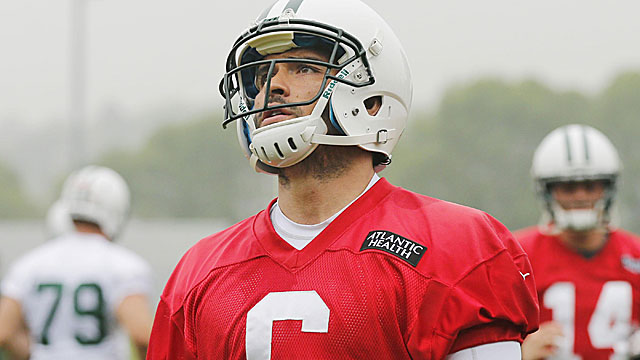 As I began poring over basically every contract in the NFL, a few things leaped out at me. As I compared player value and salaries by position -- an annual exercise of mine this time of year -- it became clear that teams that have drafted well, especially in the new CBA, still have some absolute steals on their hands (think the 49ers with Colin Kaepernick and nearly their entire offensive line; Bengals with guys like A.J. Green). And it also becomes clear that soon enough they will have to spend massive bucks to retain that core.
In terms of bloated contracts, on the opposite side of NFL economics, as much as I tried not to focus on teams that went hog wild in free agency this offseason in compiling these lists, I still was left a bit jarred by the Colts' and Dolphins' spending splurges. When you break down just how much Miami is paying many of its vast 2013 free agent haul, it gets startling. It's hard to call anyone a bust before he has even played a game in his new uniform, but still, man, it's going to take an awful lot for guys like Mike Wallace, Dannell Ellerbe and Philip Wheeler to live up to the generous contracts the Dolphins bestowed upon them.
Oh, and Jets fans, my apologies. The reckless spending of the former regime there continues to cast a pall over the franchise, though, new GM John Idzik will be able to extricate himself out of most of this mess by 2014.
It's obvious that the new CBA has been a major coup for the owners, especially when it comes to entry level pay. With rookies unable to even think about renegotiating their deals for three years -- and their compensation already greatly curtailed by the relative slotting system in place now -- teams are basically stealing the prime of many of their best players at an absolutely stunning rate. The difficult thing was not finding guys on the all-under-paid list, but figuring out whom to leave off (especially quarterbacks, wide receivers and pass rushers).
And, to that point, in years past there would be an overflow of overpaid players from recent drafts -- first-round picks being compensated in the top 10 at their position who had failed to make any positive movement thus far in their NFL careers. Consider that a problem solved for owners now as well, and, when you strip down the guaranteed money language even on most of the biggest free agent deals signed this past offseason, you end up with by-and-large true commitments of only one to three years for most of the players, which isn't exactly long-term security even at the deeper end of the free agent spectrum.
Below is a look at some of the worst contracts that jumped out at me. In a league of more than 1,000 players, I am sure there is a strong case that could be made for other candidates on either side of the ledger, but these were some of the deals that leaped out at me for being too bad not to mention. In the case of the veterans making big coin, several of them only recently got paid, so you won't see most of them going anywhere for at least a few years given the contract structure, though they are certainly on the bubble now. Here's my list of the NFL's worst deals:
Quarterbacks
Mark Sanchez -- New York Jets ($8.8M in cash in 2013; $12.9M in cap): We all know the story by now: Jets management tried to create cap room and prop up Sanchez's sagging confidence and boost him for the arrival of Tebow Time in New York by rewarding the struggling quarterback with a fat contract extension. The deal came complete with some of the worst guaranteed-money contract language ever written (at least from a team's perspective). It made Sanchez un-cut-able and virtually un-trade-able. He could end up being the highest-paid backup in NFL history, earning more in an average-per-year sense than Tom Brady, Matt Ryan and Matthew Stafford (though that will change soon enough when Stafford and Ryan get new deals).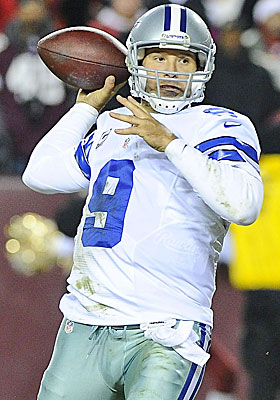 Tony Romo -- Dallas Cowboys ($26.5M in cash in 2013; $11.8M in cap):
The polarizing figure has long been the apple of Jerry Jones' eye, which is all that really matters in Big D. Romo's new deal this offseason nets him more than $25 million in year one of the deal, and puts the long-time playoff sufferer (and someone known for his big-game failures in general) up among the very elite among passers. Romo will average $18 million per year in this deal, fifth-most in the NFL. Given how his December and January numbers don't nearly match those from autumn, and given all the pressure that comes with being the QB in Big D, this fat new deal only ratcheted up the expectations. I don't see him as a top-five QB, not even close. But thanks to the next guy on this list, Romo was going to end up getting north of $15 million.
Matt Schaub -- Houston Texans ($7.3M cash; $10.8M cap): Staying in the state of Texas, Schaub's 2013 numbers don't look too crazy, but when you factor in he received a $17 million signing bonus at the start of the 2012 season in this new deal, and will have pocketed $29.7 million in the first two years of that deal, well his $15.5 million average/year in his new deal is more than guys like Big Ben and Philip Rivers and puts him right on the heels of Eli Manning, who has two rings as you well know. It's Super Bowl or bust for the Texans and possibly Schaub, too, as the Texans can walk away from him after this season with virtually no real cap or financial ramifications.
Offensive linemen
Eugene Amano, C -- Tennessee Titans ($3.9M cash; $6M cap): Overall, I didn't see too many egregious contracts at this position group, and there has been a market re-correction it seems. Amano was signed to an extension in 2010 thinking he would anchor the interior of their line. But they have ended up making big investments at guard, anyway, and he's fighting for a place with the unit with several options at center and still out of OTAs with knee issues. It would not be surprising if he's gone by the start of the season.
Jason Peters, T -- Philadelphia Eagles ($10M cash; $10.5 cap): When he is healthy, Peters is the highest-paid tackle in the league for good reason ... but he hasn't been healthy in quite some time coming off consecutive ruptures of his Achilles, and the Eagles spent a lot of time researching tackles in free agency and the draft for good reason. If he can play near top level, then no one will say boo about his contract and if he doesn't, with a new coaching staff running things with the Eagles, then his future may not be long there.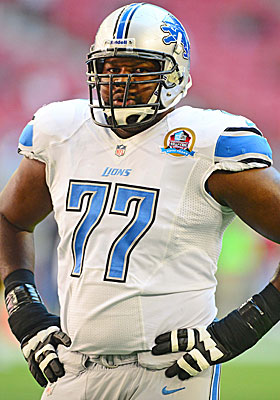 Gosder Cherilus, T -- Indianapolis Colts ($15.5M cash; $3.9M cap):
God bless agent Adam Heller, one of the truly good guys in this business and someone who hit an absolute home run for his client here. The Colts were throwing around money like mad this offseason and Cherilus, a relatively nondescript solid starter, is suddenly the highest-paid right tackle in the NFL. This is one of those new contracts that I tried to avoid for the purposes of this list, but when you start parsing through the highest-paid tackles in the NFL, it's too rich to omit -- especially in a right tackle market where guys like
Tyson Clabo
have to sign late in free agency on the cheap.
D'Brickashaw Ferguson, T -- New York Jets ($8M cash; $5.6M cap): The Jets extended Ferguson expecting he would be the best player on an elite offensive line, but he and the unit have sagged since and Ferguson is the third-highest paid left tackle in the league at $10 million per year after his renegotiation in April. He received $6.4 million in a signing bonus, lowering his cap figure, but is still making considerably more per year than, say, cross-town tackle Will Beatty of the Giants.
Tight ends
Marcedes Lewis -- Jacksonville Jaguars ($4.4M cash; $5.8M cap): Lewis has done close to nothing since signing his hefty deal in 2011. Not that the Jags have had an ideal quarterback situation, but the lack of production from Lewis has been stunning, and some thought he would be part of this year's contract purge. Lewis's average of $8.8 million per season on this deal trails only Tony Gonzalez, Jermichael Finley, Jared Cook, Antonio Gates, Vernon Davis, Aaron Hernandez and Rob Gronkowski among all NFL tight ends, and, well, one of these things is not like the others.
Anthony Fasano -- Kansas City Chiefs ($5.8M cash; $2.4 cap): The Dolphins' offense needed major help and they were tossing around millions like candy, and, well they didn't think Fasano had anything to offer, and he hasn't done much lately. But the Chiefs were quick to snap him up. Maybe Andy Reid knows something the rest of the league doesn't, but this free-agent signing had a lot of people scratching their heads in March.
Running backs
Jonathan Stewart -- Carolina Panthers ($3.2M cash; $3M cap): Stewart looked like about the fourth-best option in this crowded backfield in 2012, and even after redoing his deal to stay, this figure still seems bloated. De'Angelo Williams (another strong candidate for this list) remains with the Panthers, Cam Newton is becoming the best rushing quarterback perhaps in NFL history, and fullback Mike Tolbert sees a lot of the ball around the goal line, with seven touchdowns himself. In an era where running backs have been largely devalued, and none were taken in the first round this spring, that's a lot of money for a role player at this position.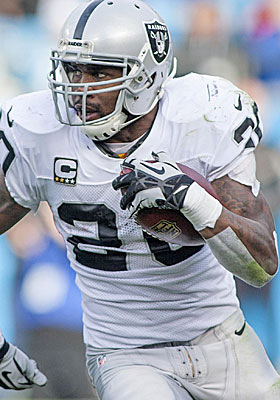 Darren McFadden -- Oakland Raiders ($5.9M cash; $9.7M cap):
Perhaps McFadden will be a better fit in the new offense there because he was a non-factor in the zone scheme implemented last season. His injury woes are well chronicled and it seems like a long time ago he was making a case for a rushing title. In the final year of his rookie contract, and, again, with running backs by and large a value play around the league, you have to wonder if he's back with the Raiders in 2014, and what exactly the free-agent market would look like for him.
Wide Receivers
Mike Wallace -- Miami Dolphins ($12M cash; $3.3M cap): Yes, he has yet to catch a pass from Ryan Tannehill, but I can't help but wonder if the Dolphins will get bang for their buck here, and be able to exploit his speed. Wallace faltered badly last year with a new contract on the line after holding out of camp, yet still became the fourth highest-paid player in the league at his position. We'll see how that works out, but he is not nearly as complete as the guys in his pay grade, and the Steelers generally have a good idea when it's time to let a guy go, particularly a wide receiver like ...
Santonio Holmes -- New York Jets ($7.8M cash; $9M cap): Another gift from former GM Mike Tannenbaum, the malcontent again was battling injuries last season, offered little production yet still was among the higher-paid receivers in the league. The language in his deal, like that of Sanchez, prevented Idzik from jettisoning him, but it's hard to imagine he will be around in 2014. From an average-per-year perspective, Holmes is making similar money to Roddy White. That's where any comparisons between the two would end.
Cornerbacks
Champ Bailey -- Denver Broncos ($10.8M cash; $10.8M cap): Bailey has held up well at an advanced age, but if anyone believes he is the second-best corner in the league (much less his team), they're nuts. I'm surprised the Broncos didn't try to play around with his deal (only Darrelle Revis, at $16 million a year, makes more), and Bailey enters this season coming off a playoff game in which the Ravens tested, and exploited, him mercilessly. He is a sure-fire Hall of Famer and maybe the best corner of his era ... but you can't pay on past performance and projecting Bailey to play like he did five years ago is a risky proposition.
Antonio Cromartie -- New York Jets ($9.5M cash; $6.5M cap): Cromartie stepped up last year with Revis injured, but consistency has long been his issue and the pressure will be on to be a true No. 1 corner given how he is being paid. This is another case where the Jets were trapped by a prior deal and limited in what they could do. With a $5 million roster bonus looming in 2014, this is yet another case where 2013 could be it in New York for a well-paid veteran.
Carlos Rogers -- San Francisco 49ers ($5.9M cash; $7.3M cap): It wasn't that long ago that Rogers was on the all-bargain team, but he hasn't been as productive since signing a new deal a few years back. There is some debate over his place in the secondary with other corners emerging and we'll see if Rogers can rediscover the form that made him such a standout in his first season with the 49ers.
Safeties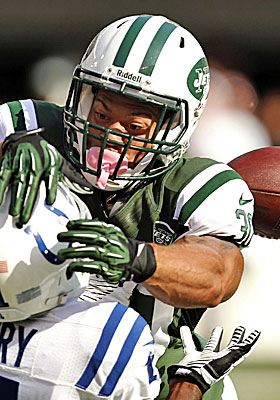 LaRon Landry -- Indianapolis Colts ($11M cash; $5.8M cap):
Yes. That's $11 million cash for Landry, a budget signing by the Jets in 2012, just for the 2013 season. For someone who has had such injury issues, and hasn't lived up to his draft billing, that's a ton of coin. Heck, it's a lot of money for any defensive back in the NFL, period, and history would indicate Landry's body might break down again. That's a very risky signing in my opinion.
Troy Polamalu -- Pittsburgh Steelers ($7.5M cash; $10.2 cap): The oft-injured former playmaker hasn't been the same guy for years but he's the highest-paid strong safety in the league. His $10.5 million-per-year average salary is $2 million more than anyone else at his position. It's been a long time since we've seen Polamalu's best and, with the Steelers defense in transition, this could well be his last year there.
Defensive ends
Mario Williams -- Buffalo ($15M cash; $12.4M cap): There were all kinds of warning signs when the Bills made this record signing in 2012, including how long it took Williams to finally put pen to paper. And that was before his mysterious injuries from 2012, his awful start to the season and now his off-field concerns regarding his ex-fiancée and her allegations. By the end of 2013, Williams will have already pocketed $40 million from Buffalo and Bills fans better pray this doesn't become a Haynesworth-ian bust, with the region's entire focus on Williams entering what had better be a big second season with the Bills.
Ryan Pickett -- Green Bay Packers ($6.2M cash; $6.7M cap): Pickett has been underrated for a long time, but having now been switched more into a nose tackle role -- which suits him -- he isn't as explosive in the backfield and is more of a space eater, allowing younger defensive linemen like B.J. Raji to move around. He's making similar money to Justin Tuck, and with Raji in line for a new deal and the Packers notoriously frugal and Pickett now 33, it will be interesting to see how this plays out, as the Packers have drafted several defensive linemen recently. Can Pickett keep it up for another season taking as many snaps as he generally does?
Defensive tackles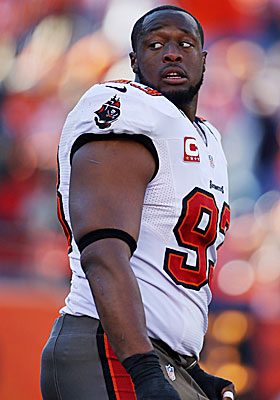 Gerald McCoy -- Tampa Bay Buccaneers ($8.3M cash; $11M cap):
Only Haloti Ngata
and
Ndamukong Suh
make more than him at this position, but McCoy has been unable to stay on the field with injuries and he needs to put that behind him. McCoy has flashed at times but given how high he was picked and how much he's being paid as one of the last bonus babies of the old CBA, he needs a breakout season. Suh, who is set to make $12.15 million himself, needs to maintain his highest level of play as well to justify his salary.
Jay Ratliff -- Dallas Cowboys ($5M cash; $4.1M cap): Ratliff's production has fallen off since he signed his deal and he had a very troubling DUI. And now he needs to find a way to fit into a new defense. His average of $8 million a season puts him among the very elite defensive tackles in the game but you don't expect to hear a guy making that kind of money if entering a prove-it season, and with the Cowboys spending so much time studying defensive tackles in this draft, that's never a good sign for the struggling incumbent.
Linebackers
David Harris -- New York Jets ($11M cash; $13M cap): Another case of chronic Jets overspending, Harris is a nice linebacker but not an elite one and he hasn't been for a little while now after absorbing so much abuse. Particularly with inside linebackers being devalued, this is crazy money. Again, contract language with guarantees limited what the Jets could do here. Harris is making more money than young stars like Daryl Washington and James Laurinaitis, even though he renegotiated in 2011 and they have been paid since then.
Dannell Ellerbe -- Miami Dolphins ($8M cash; $2.4M cap): Ellerbe had a breakthrough season with the Ravens, but they had some concerns about him off the field, how he would respond to making major money, and they never offered more than $4.5 million a year -- and they know him best. Miami is paying him $7 million a year. So do you trust Ozzie Newsome's valuation of a player he has had on his team since he entered the league, or Jeff Ireland? Ellerbe is being paid like an elite linebacker -- we'll see if he can be a 16-game-a-year guy.
Philip Wheeler -- Miami Dolphins ($8M cash; $2.4 cap): A year ago, Wheeler signed a one-year deal with Oakland, having left the Colts. It included a $700,000 base salary and a maximum compensation of $1 million. A year later he absolutely broke the bank as Ireland tried to reinvent his linebacking group. Sure, he's a nice player and all, but, again, he's being paid big money at what has become more of a bargain position. The combined money doled out to Wheeler and Ellerbe amounts to a very significant investment that would require very real results to justify.