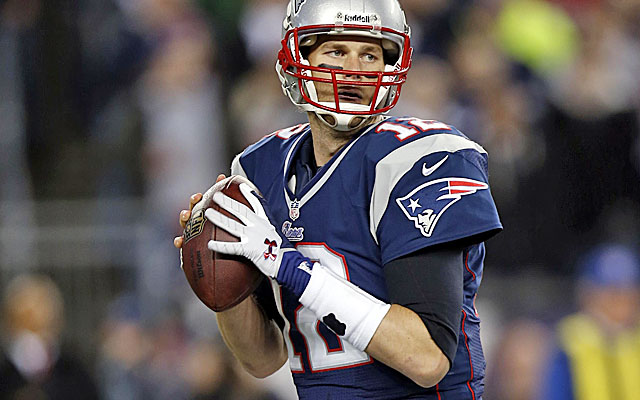 As I began poring over basically every contract in the NFL, a few things leaped out at me. As I compared player value and salaries by position -- an annual exercise of mine this time of year -- it became clear that teams that have drafted well, especially in the new CBA, still have some absolute steals on their hands (think the 49ers with Colin Kaepernick and nearly their entire offensive line; Bengals with guys like A.J. Green). And it also becomes clear that soon enough they will have to spend massive bucks to retain that core.
It's obvious that the new CBA has been a major coup for the owners, especially when it comes to entry level pay. With rookies unable to even think about renegotiating their deals for three years -- and their compensation already greatly curtailed by the relative slotting system in place now -- teams are basically stealing the prime of many of their best players at an absolutely stunning rate. The difficult thing was not finding guys on the all-under-paid list, but figuring out whom to leave off (especially quarterbacks, wide receivers and pass rushers).
And, to that point, in years past there would be an overflow of overpaid players from recent drafts -- first-round picks being compensated in the top 10 at their position who had failed to make any positive movement thus far in their NFL careers. Consider that a problem solved for owners now as well, and, when you strip down the guaranteed money language even on most of the biggest free agent deals signed this past offseason, you end up with by-and-large true commitments of only one to three years for most of the players, which isn't exactly long-term security even at the deeper end of the free agent spectrum.
So, below is a look at some of the contracts that jumped out at me for their great value. In a league of more than 1,000 players, I am sure there is a strong case that could be made for other candidates on either side of the ledger, but these were some of the deals that leaped out at me. Many of the guys on the all-bargain team will end up getting paid soon enough (I tried to make that list a little more restricted to guys making a few million or less). Here's my list of the NFL's best bargains:
Quarterbacks
Tom Brady -- New England Patriots ($31M cash; $13.8M cap): OK, so $31 million in the first year of a redone deal is a lot of money, but for arguably the best quarterback of all time, it's still a steal when you consider he will earn just $26 million, total, over the final four years of this deal. On an average-per-year basis, Brady makes $9 million, which puts him 15th among all quarterbacks. Let that set in.
Colin Kaepernick -- San Francisco 49ers ($840,000 cash; $1.4 cap): I know he hasn't played a full season yet, but this kid could have won the Super Bowl in his first year under center and has some absolutely amazing talent, and freakish ability. It's ridiculous that this kid is making roughly the same money in 2013 as Rex Grossman, who at best would be the Redskins' third quarterback, or Josh Johnson, trying to catch on with the Bengals. Had David Gerrard managed to make the Jets roster, he'd be making more than Kaepernick.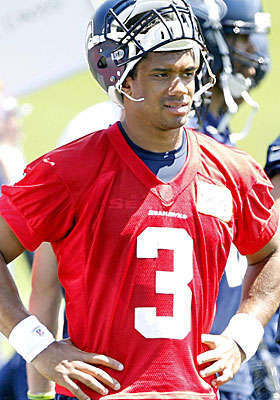 Russell Wilson -- Seattle Seahawks ($526,000 cash; $681,000 cap):
Had a rookie year for the ages, can beat teams in many different ways and is only going to get better now with more weapons around him. Absolute steal, and as a third-round pick he is going to be trapped making this kind of money through 2015.
Cam Newton -- Carolina Panthers ($2.4M cash; $6M cap); Robert Griffin III -- Washington ($1.4M cash; $4.8M cap); Andrew Luck -- Indianapolis ($1.4M cash; $5M cap): I've combined all three of these guys -- all of them a top-two overall pick or higher in the past two drafts before 2013, because all look like true franchise quarterbacks, all have set some sort of rookie quarterback record or another, and all will be stuck playing for this through 2013. Newton, who is entering his third year, will be the first test case for the new CBA when it comes to extensions and options.
Offensive Linemen
Andrew Whitworth, T -- Cincinnati Bengals ($4.8M cash; $6.8M cap): He just signed his extension in 2011, but is already outplaying it, again, and with right tackles like Cherilus pulling down $7 million a year, Whitworth remains a bargain at $6 million a year.
Joe Staley, T -- San Francisco 49ers ($2.8M cash; $2.8M cap): Staley has been a lynchpin on what may be the best offensive line in the NFL, and the deal he signed back in 2009 looks better and better each year. He remains in his prime and, signed through 2017, he makes $8.6 million total between 2014-2015. If his play begins to slip by then, the 49ers can get out easy, and if not they won't have to break the bank to keep him.
Alex Boone, G -- San Francisco 49ers ($1.6M cash; $1.9 cap); Mike Iupati, G -- San Francisco ($1.3M cash; $2.6M cap): I'm grouping the interior of the 49ers' offensive line together for obvious reasons. Iupati is stuck on his rookie deal, and Boone, with some of his off-field struggles from early in his career behind him, was locked up in a new deal in 2011, with, again, a great proactive approach from the 49ers. Having Boone at such a bargain will help when they have to re-do deals for others (and the 49ers already got right tackle Anthony Davis re-signed to a team-friendly deal).
Running backs
C.J. Spiller -- Buffalo Bills ($1.5M cash; $3.7 million, cap): Spiller is a game-breaker, who just hasn't seen enough of the ball. When he does, great things happen. No doubt he will feature heavily in new coach Doug Marone's offense, and even if he merely continues to do what he has, this is a tremendous bargain for the Bills.
Jamaal Charles -- Kansas City Chiefs ($3M cash; $4.3M cap): Similar story here. Too few touches, and explosive plays when the ball is in his hands. Andy Reid's offense should be a perfect fit, and there should be plenty of receptions for him as well. When you consider that Maurice Jones-Drew, coming off a season lost to injuries and not as in his prime as these two, is set to make $5 million this season, you see what a steal these two are.
Wide receivers
This list could be massive, so I am not going to go into detail on guys like Hakeem Nicks, at $2.7 million, or Victor Cruz, playing on an RFA tag at $2.9 million, because there are dudes who can't crack $2 million, and there are too many candidates, so I'm going to be a little picky.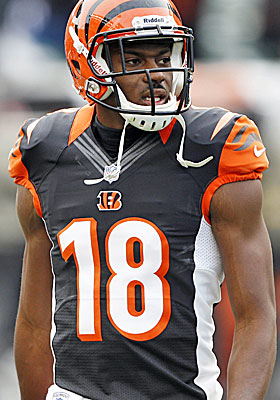 A.J. Green -- Cincinnati Bengals ($2.2M cash; $5.4M cap):
He is right there in terms of production with guys like
Calvin Johnson
and
Larry Fitzgerald
, but those cats are making $16M a year. Green has one more year to play out on his rookie deal before he enters that stratosphere, and he really must enter that stratosphere. He's that good.
Dez Bryant -- Dallas Cowboys ($1.8M cash; $2.9M cap): He started putting it all together last season, found consistency, seemed like he was ready to mature off the field and has all kinds of ability. He has emerged as the top weapon on the Cowboys. Could be primed for a monster season, though must also put nagging injuries behind him.
Randall Cobb -- Green Bay Packers ($666,000 cash; $875,000 cap): There is a reason the Packers took a hard line with Greg Jennings and were willing to let him walk. Cobb is progressing so well, like Jennings and Jordy Nelson and Donald Driver before him, and Aaron Rodgers is leading the bandwagon that Cobb is ready to join the very top echelon of wideouts. Regardless, he's already far outperforming his rookie compensation.
Eric Decker -- Denver Broncos ($1.3M cash; $1.5 cap): Decker looked good even catching balls from Tebow -- or chasing down the many errant efforts -- and he is exploding with Peyton Manning now spreading the ball around. In the final year of his deal, Decker is yet another receiver who will be getting paid soon enough.
Torrey Smith -- Baltimore Ravens ($683,000 cash; $924,000 cap): With Anquan Boldin gone, there is no doubt that Smith is now the top option in Baltimore's pass offense and he has continued to become a more complete receiver with each year in the league. He immediately provided the option of speed and the home run ball, and look for his blossoming to continue with Joe Flacco also just entering his prime.
Tight end
Jimmy Graham -- New Orleans Saints ($1.3M cash; $1.5M cap): Graham can do things so few can, and he is the prototypical athlete at this position all teams are seeking now in the age of two-tight end sets and spread formations. Graham should be ready to put up huge numbers with Sean Payton back overseeing things and, in the final year of his deal, is ready to keep up his rise. Forty-three tight ends make more than Graham's average of $825,000 per year, including the likes of Alex Smith and Bear Pascoe. Chew on that one.
Cornerbacks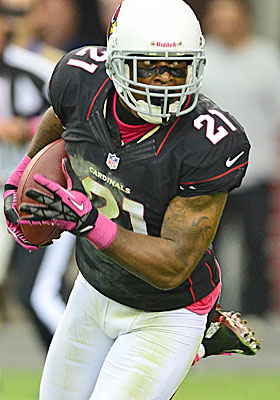 Patrick Peterson -- Arizona Cardinals ($2M cash; $5M cap):
Peterson can do it all, on defense and special teams, and is a dynamic force who changes the way teams play offense. He is a big reason why the Cards have become so successful on that side of the ball and when the top corners are making north of $10 million per year, Peterson's worth is significant.
Richard Sherman -- Seattle Seahawks ($555,000 cash; $601,000 cap); Brandon Browner -- Seattle ($55,000 cash; $555,000 cap): Sherman may have had the Adderall rap and he may talk too much for the liking of some, but hell if he doesn't shut people down on Sundays. He can be plenty physical and, signed through 2014 on his rookie deal, will be getting paid in the next 12 months or so, I'm sure. In the meantime, he's a steal. Browner is considered by many to be the better of the two, and keeps a decidedly lower profile. No matter how you slice it, this is the best production-per-dollar spent of any secondary in the NFL, by a wide margin.
Vontae Davis -- Indianapolis Colts ($1.9M cash; $1.9M cap): When the Colts acquired him, smartly, from Miami, they kept him on his rookie deal. Davis has the size and ability to continue his growth, and in the meantime is a vital part of a Colts team that reached the playoffs last year due in large part to its young talent.
Safeties
Earl Thomas -- Seattle Seahawks ($2.2M cash; $2.9M cap): The Seahawks know how to draft some defensive backs, don't they? At some point all of these guys will be making big money, so they have to prepare for that reality (thus far, only safety Kam Chancellor has). Thomas is a ball hawk with great range and he looks like a perennial Pro Bowler.
Michael Huff -- Baltimore Ravens ($2.4M cash; $1.4M cap): It often pays to wait out the start of free agency, and this looks like another prime reason why for a Ravens team that was cap-strapped this offseason. Huff should be able to do some of what Ed Reed has done in the past, only at less than half of what Reed will get from the Texans this season. Huff was making $8 million per year on his former deal with the Raiders and has plenty of talent.
Defensive ends
Jason Pierre-Paul -- New York Giants ($1.3M cash; $2.8M cap): No doubt JPP has freak-of-nature ability and teams are trying to draft his body type like crazy. For good reason. But there aren't too many guys like this walking around and it won't be long before Pierre-Paul is being paid like the best pass rushers in the game (especially with Osi Umenyiora finally gone). In the meantime, the Giants enjoy the savings.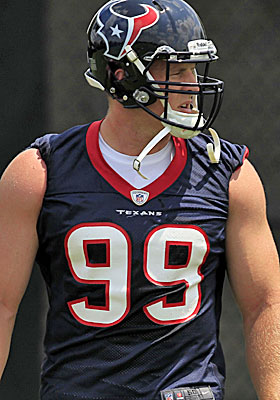 J.J. Watt -- Houston Texans ($1.4M cash; $3.1M cap):
Watt looks like someone who will be in the Defensive Player of the Year conversation for quite some time. He swats down passes, eats up tackles and tears through quarterbacks. With plenty of young talent around him, that won't subside soon. And with guys like
Mario Williams
and
Connor Barwin
no longer there, the Texans know they won't have Watt this cheap for too much longer, but he can't get a penny more in 2013 as he enters his third season.
Carlos Dunlap -- Cincinnati Bengals ($1.2M cash; $1.5M cap): Dunlap doesn't get the attention of other young sack masters, but when he is healthy his presence is massive for the Bengals defense and making an average of $750,000 a year, that puts him among guys like Jarius Wynn and Ron Brace in terms of compensation.
Defensive tackles
Geno Atkins -- Cincinnati Bengals ($1.4M cash; $1.5M cap): Good thing the Bengals are sitting on massive gobs of cap space again, because pretty soon teams are going to have to spend up to 89 percent of the cap, and the Bengals will be lavishing the bulk of it on extensions for their own players. Atkins might be the most dominant interior defensive lineman in the game right now. Atkins is entering the fourth and final year on his rookie deal, and won't be paid like a fourth rounder much longer. His average-per-year is pretty much the same as Ravens bust Terrence Cody, which shows just what a bargain Atkins is.
Domata Peko -- Cincinnati Bengals ($4.1M cash; $5.1M cap): Peko signed his most recent deal in 2008, and is outplaying this one as well. He helps form what many believe is the best defensive tackle pairing in the NFL, but is making less money than guys like Barry Coffield. He is currently signed through 2014.
Linebackers
Von Miller -- Denver Broncos ($2.3M cash; $5.7M cap): Miller has been a game-changer since entering the league and has been one of the most productive players in that regard of all-time through his first two seasons. Bad news for him is that, again, he won't be getting paid until at least another year. But with Elvis Dumervil off the books, the stage is set for Miller to be much richer come this time next year.
Aldon Smith -- San Francisco 49ers ($1.7M cash; $3.9M cap): Smith is pretty much in the same boat as Miller. Both terrorize quarterbacks. Smith has had some off-field concerns, and his play waned last season as injuries mounted on him and teammate Justin Smith, but if nothing else Smith can help you dominate third down, and he's set to make just $2.4 million in 2014, the final year of his deal.
Brian Cushing -- Houston Texans ($3.1M cash; $4.6M cap): Few inside linebackers are as productive as Cushing, and though he has missed a lot of time due to suspension and injuries, the Texans are a decidedly better unit with him at present and his loss caught up to them as last season wore on. In the final year of his deal, barring a major injury blow, he's headed for the franchise tag as a worst case scenario.
Luke Kuechly -- Carolina Panthers ($961,000 cash; $2.9M cap): I didn't want to put too many second-year players on this list, but given the dearth of impact inside linebackers these days, and this kid's tackling-machine numbers as a rookie, he's earned his way on it. He looks like the leader of the Panthers defense and their on-field brain for years to come ... and it will be years before he is paid like anything close to it.