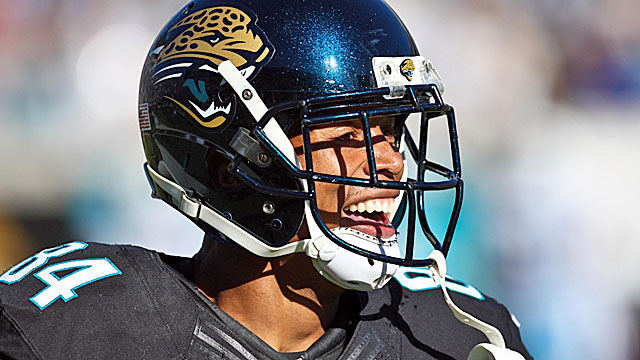 JACKSONVILLE, Fla. -- As Jacksonville Jaguars receiver Cecil Shorts walked off the team's practice field Tuesday, another day of practice in the heat behind him, a team public relations representative asked him if he would stop to do an interview on the field.
"You care if we do it after I work some more?" Shorts asked.
That's who Shorts is as a player: A hard-working young receiver who has added seven pounds to this frame and is ready to show he has Pro Bowl ability.
When I told Shorts he was the headliner on my list of 20 players who I think will have their breakout seasons, he seemed surprised.
But as I talked with him, I sensed a player who believed he should be on the list.
"I want to be one of the elite receivers in this game," Shorts said. "It's going to take a lot of work to get there. I know that."
As a rookie in 2011, Shorts had to deal with hearing the bust word. A fourth-round pick out of Mount Union College, he had two catches in his first season. But he worked to get better between his first and second year and he flashed in camp.
Yet when the season opened, he was on the bench. Why? Some of the team's coaches had no idea. In fact, some went to head coach Mike Mularkey and told him he needed to play Shorts, according to a team source.
Shorts got spot duty early in that second season, but ended up starting by Week 7 when injuries hit the receiving group. He finished with 55 catches for 979 yards and seven touchdowns. The most impressive number was his 17.8 yards per catch average.
It was a late-season concussion -- his second of the year -- that kept him from getting to a 1,000 yards. He missed the team's finale and the shot at 1,000 yards but says he's been cleared of any problems a long time ago.
As he readies for his third season, learning his third offense in three years, Shorts is poised for a big season. With Justin Blackmon suspended for the first four games, Shorts should get off to a good start.
His weight is up from 195 pounds to 202 pounds, and you can see the extra strength helping on the practice field.
"I'm thicker, right?' he said.
Yes, but why?
"I wanted to get stronger to be able to get off the press and be more powerful," Shorts said. "When I watch film, guys like A.J. Green, Michael Crabtree, Calvin Johnson and Larry Fitzgerald, they all explode off the ball. Getting of the jam and being able to shed is important. You have to be strong to hold your own. I feel stronger. I feel more explosive."
When the team took 11 days off recently, Shorts didn't. He spent his time at the facility working with the rookies, who didn't get the time off. Later this summer, he will head to Minneapolis to work out with Larry Fitzgerald, whose workouts are legendary for being tough. Shorts trained with Fitzgerald, and some others, last summer.
"Fitzgerald is the ideal pro," Shorts said. "He's an extremely hard worker, extremely humble. He's the professional of all professionals. He gets it. You can see why he's one of the best. I want to work to get there."
By this time next year, he will be a lot closer to that goal. The Jaguars will be more of an uptempo offense under new coordinator Jedd Fisch and that means more action in the passing game for a team that was way too run heavy last season.
If quarterback Blaine Gabbert can take the proper steps -- and he looked better Tuesday than he had at times in the past -- Shorts should get that 1,000 yards in 2013. For all the fantasy players out there, Shorts had some advice about whether they should draft him.
"If you want to win your league, you should," he said.
Spoken like a true receiver.
Now here's the rest of the players I think will have breakout seasons in 2013.
Lamar Miller, RB, Miami Dolphins: He has that home-run ability you like in running backs. As a rookie in 2012, he ran for 250 yards, but he averaged 4.9 per carry. That's telling.
Dennis Pitta, TE, Baltimore Ravens: Pitta really came on in the Ravens' postseason run. With Anquan Boldin gone, look for him to be used even more as a slot receiver. He will have an 80-catch season.
Stephon Gilmore, CB, Buffalo Bills: I love big, physical corners who can play man coverage. He started 16 games as a rookie and showed off some impressive cover skills at times. He needs to be more consistent, but watch out when he gets there.
Kevin Zeitler, G, Cincinnati Bengals: He started as a rookie and showed some impressive skills. He probably needs to get a little bigger, which will come as he matures. But he is a feisty battler inside.
Josh Gordon, WR, Cleveland Browns: Gordon is big, strong and can run. He had 50 catches as a rookie, but 31 in the final seven games. He also averaged 16.1 per catch for a team that wasn't great throwing it in 2012.
Derek Wolfe, DT, Denver Broncos: The Broncos players were raving about Wolfe when I was out there this month. He has added weight after a solid rookie season and should be a bigger part of their defense. He had six sacks as a rookie in 2012.
Coby Fleener, TE, Indianapolis Colts: Injuries limited his time as a rookie in 2012. But watch out for him this season. He and Dwayne Allen should put up big numbers as a tight end combo.
Jon Asamoah, G, Kansas City Chiefs: Big, strong, powerful guards sometimes take a little while to get playing at a high level. Asamoah is ready to take that step. He has started 31 games the past two years and will be playing next to No. 1 overall pick Eric Fisher in 2013.
Harrison Smith, S, Minnesota Vikings: He was an impressive rookie in 2012, showing the range needed to play the position in the current NFL. He is a big-play safety who will improve as he learns to read things better. This kid has a chance to be the next special safety in the NFL.
Chandler Jones, DE, New England Patriots: I am always on the lookout for the next great pass rusher and Jones might be it. He flashed it at times last year as a rookie, but injuries slowed him late in the season. If he can stay healthy, he has a chance for 12-14 sacks.
Kelechi Osemele, G, Baltimore Ravens: He struggled early as a rookie playing right tackle. But when the Ravens moved him inside to left guard he was a mauler who was good in the run game and in pass protection. He is a big, powerful man who has the look of Carl Nicks, the Tampa Bay Pro Bowl guard.
Prince Amukamara, CB, New York Giants: This former first-round pick started to play like it in 2012. He has good man cover skills and seems ready to take the next step to a potential Pro Bowl spot. He has to stay away from the injuries that have plagued him.
Michael Brockers, DT, St. Louis Rams: Jeff Fisher had Albert Haynesworth in Tennessee and this kid has a chance to be even better. As a rookie, he flashed big time on tape, showing power and quickness while recording four sacks. I would be shocked if it isn't double digits in 2013.
Rob Housler, TE, Arizona Cardinals: I thought he would have more of an impact last season when he caught 45 passes. But he had games with eight and seven catches in the second half of the season. New coach Bruce Arians loves to use the tight end.
Fletcher Cox, DT, Philadelphia Eagles: He had 5 1/2 sacks as a rookie, but four of those came in the final eight games. He was impressive in the second half of the season. The Eagles will use more 3-4 fronts this year, which means he will likely play more end. Wherever he plays, he will be a force.
Muhammad Wilkerson, DE, New York Jets: He actually played at a Pro Bowl level in 2012, but watch out in 2013. He might be the league's next great down lineman. He is big, strong and quick.
Lavonte David, LB, Tampa Bay Buccaneers: He is on my top-100 list, and I loved him coming out of Nebraska, so it shouldn't be a surprise to see him on this list. He is a run-and-chase linebacker who can play the pass and the run. That's a must nowadays.
Casey Hayward, CB, Green Bay Packers: He played mostly as a nickel corner as a rookie, but he also got seven starts because of injuries. He had six picks and didn't give up a touchdown pass.
Randall Cobb, WR, Green Bay Packers: Aaron Rodgers recently talked about how he expects Cobb to be a big-time star this season. I agree. He had 80 catches last season, but I expect him to do a lot more with Greg Jennings gone. He is also an explosive return man.