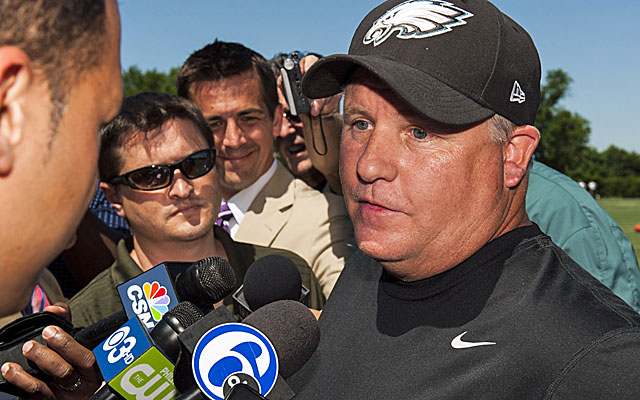 Chip Kelly is shaking up the Philadelphia Eagles. He is making the veterans feel insecure. No one feels safe. Not even Pro Bowlers. Wide receiver DeSean Jackson ran reps with the third team. The third team. Mike Vick doesn't know where he stands. On the last day of the team's spring practices on Thursday, it was Nick Foles who ran with the first team, not Vick.
"It's tough," Vick told the media on Thursday. "I have to continue to be a professional and put my feelings and emotions to the side, and just continue to compete. But it's hard. I would be lying if I said it wasn't. But that's just what I have to deal with, and I'm going to keep dealing with it until I see otherwise."
Now, there will be fans who love this. They will absolutely adore Kelly. They love the notion of a coach smacking around a bunch of whiny millionaire athletes -- their beliefs, not mine.
But there is a danger here. Kelly had better be careful because coaches better than him have tried this, and coaches better than him have failed.
Kelly is putting himself inside a tight box. If he doesn't win quickly, the doubts will arrive fast, coming from inside the locker room that won't forget how he demoted players in OTAs.
The NFL is littered with the burned-out carcasses of the motivators and the game-changers and the new minds. Steve Spurrier left the Florida Gators for Washington and is now a cautionary tale. Nick Saban is quite possibly the best defensive mind that college football has ever seen, and he couldn't make it in Miami. Bobby Petrino was so humiliated in Atlanta after leaving Lousiville for the Falcons job, he informed Falcons players he was quitting via a four-sentence note left in their lockers.
Of course, there have been college coaches who have succeeded, like Jim Harbaugh in San Francisco, but look at how he entered the league. He didn't immediately and publicly humilate players. Harbaugh perfectly straddled that line between doing things his way while also understanding how the NFL works. Maybe because he was a player in it for so long. Once players trusted him, he made bolder moves, like benching Alex Smith.
Jason Taylor was with Miami when Saban coached the Dolphins. Taylor has nothing but good things to say about Saban. "One of the smartest people I've ever been around," Taylor said.
Taylor also believes the biggest reason that Saban failed in Miami was because the organization passed on picking up Drew Brees when he became a free agent.
Yet Taylor, now an analyst for ESPN, acknowledges that Saban's hard-charging style irritated some players in the locker room. These are my words, but my belief is that the irritation never subsided and intensified when the losing started.
"Nick wasn't for everybody," said Taylor in an interview. "There were some guys who didn't like how he did things. His practices were too long for the NFL. We got too beat up. But he was still very intelligent. He did things his way, and that was how things were going to be done."
Taylor added that he and Saban "had some intense and personal conversations" when he coached the Dolphins.
Saban had NFL coaching experience as an assistant, but it's different when you run the show.
Taylor said that, in Philadelphia, if Kelly wins, all of these things will be forgotten. "Winning cures everything," he said. "If you're a jerk of a coach, it can cure that. If you're Nick Saban or Chip Kelly, you do try to establish yourself. If there's a player with an overblown sense of entitlement, you have to make a strong move to establish your system."
Kelly is trying to do that now with all of his players. He had better win.
And quick.