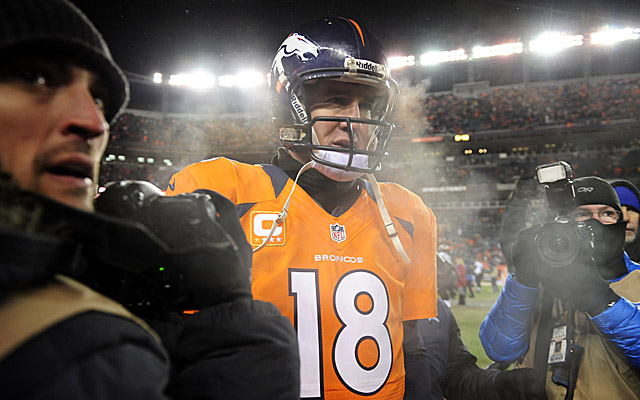 June is always a time to reflect and speculate when it comes to the NFL. I was recently asked who I like for the conference championship games and the Super Bowl this season.
It's a little early for an answer, but why not. It's a question that is pure speculation and almost impossible to be answered before summer camp visits with all the teams, a look at the final rosters, consideration for all the medical issues that may pop up between now and late January and, of course, the schedule.
Nonetheless I decided to go out on a limb and pick my four teams in the conference championship games and the inevitable winners of those two games as well as the eventual winner of the 2014 Super Bowl. It is tongue-in-cheek at this point, but this is how I feel today.
I looked at the Las Vegas odds after I arrived at my final four teams and I did not wind up with the predominant favorite to win the Super Bowl. In fact, I didn't conclude that the June favorite (San Francisco) would even make it to the conference championship in the NFC.
Many people may have at least one of my final four teams, but the odds on my final four teams are 7-1, 12-1, 17-1, and 25-1. The two teams projected by me to get to Met Life Stadium in New Jersey for the Super Bowl are 12-1 and 25-1. Not bad odds if you like that sort of thing. Right now my two selections are fifth and eight by the odds makers, which isn't a big upset, but I feel good about the selections.
At the NFC Championship, which I forecast being played in Green Bay, the Packers play the Atlanta Falcons and defeat them 30-27. Aaron Rodgers will lead the Packers to a 12-4 record and the No. 1 seed in the NFC with a better running game than in recent years, an improved offensive line and a Dom Capers-led defense that should return to the form they had in their 2011 Super Bowl run.
Getting home field would be critical for the Packers. Green Bay is 29-5 in their last 34 home games, averaging 31 points a game and they get the Falcons at home during the regular season.
I like Atlanta to make the title game with all their firepower in the passing game and the addition of Steven Jackson in the backfield. But I don't like Atlanta to make it to the Super Bowl. The Falcons are 19-14 on the road since 2009, averaging 23 points a game. In Matt Ryan's five seasons the Falcons have played one game in sub-40 degree weather. Green Bay will use the January home field weather to their advantage.
In the AFC a lot of people like the Denver Broncos to get to the AFC championship game and I'm one of them. Peyton Manning has trained his talented young receivers and is ready to build on the 13-3 record from 2012. The loss of DE/LB Elvis Dummervil is an issue, but they can overcome it with Shaun Phillips and his 24 sacks in his last 40 games.
Peyton is 3-2 all-time vs. the team I believe he will face in the championship game, and he averages 38 pass plays a game against this opponent. The team looking to knock off the Broncos should not be the Patriots or Ravens but rather the Pittsburgh Steelers.
Pittsburgh is coming off an 8-8 season and someone mistakenly ranked Ben Roethlisberger 67th on the NFL top 100 list. Bill Cowher warned me that the poor top-100 ranking will motivate Big Ben this season. He was also quick to point out that Roethlisberger was on his way to a great season before being injured.
If the Broncos don't get to Roethlisberger at least three times to sack him they'll be in trouble. Big Ben is 54-14 when sacked two times or less. On the other hand, Big Ben played his last playoff game in Denver and lost to a Tim Tebow-led Bronco team when he completed just 55 percent of his passes, throwing one TD and getting sacked five times.
Based on last year when Manning threw 25 touchdown passes in nine home games to just five interceptions, coupled with him getting Wes Welker this season, the Steelers would have to come into Denver with the hopes of scoring at least 30 points. Denver averaged 32.7 points a home game last year.
So, for early June with every right to change my mind later in the NFL season, I see the Broncos facing off against the Packers in what could be the first Super Bowl in the snow. Both of these team should have 'snow' experience heading into the game.
If Atlanta wants to get to the big game, signing Richard Seymour and re-signing John Abraham would help. If the Steelers want to upset the Broncos, they will need sack Manning at least three times (Denver was 2-3 when Manning was sacked three times last year), force him to fumble (Denver was 1-2 when Manning lost a fumble) and hold the Broncos to 25 or less points (Denver was 1-3 in those situations).
Finally, if I am right about the final four teams, rookie running backs are probably going to play a big role in each team's success. Montee Ball (Denver), Eddie Lacy and Jonathan Franklin (Green Bay) and LeVeon Bell (Pittsburgh) should all help improve the running game for their new teams.
The only team not counting on a rookie running back is Atlanta, which signed Steven Jackson in free agency. The 2013 Super Bowl winner looks like Denver, but something tells me Mr.Rodgers finds a way. I'm sure I will hear from all the 49ers, Seahawks and Ravens fans, but please don't take a June prediction too seriously.