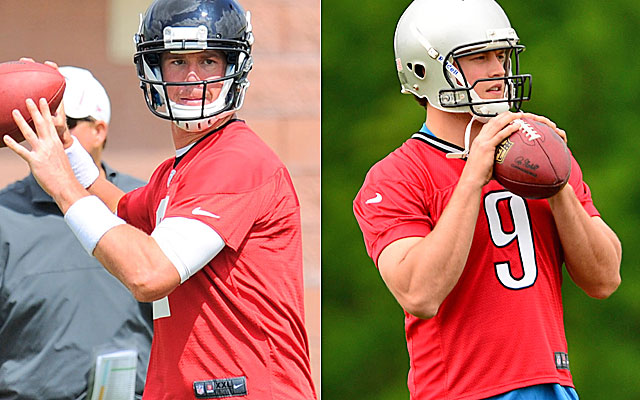 The NFL transactions have finally slowed down, and, alas, June tends to be the least-eventful month on the league's calendar, with a lull before camps open.
But there still will be plenty of business to get done, and, as always, there is no shortage of players in line to get a hefty new deal. Generally, there is a flurry of extensions completed during training camp, quite often right before the season begins and into the first few weeks of the regular season. This year will be no different.
After pointing out some of the biggest bargains and most bloated contracts in the NFL last week, I'm focusing attention on players who could very well land new contracts within the next 12 months (or, basically, before the start of the 2014 season). Some of these guys will end up with fat new contracts before this season kicks off. Some will have their timetable derailed by injuries or ineffectiveness, and some will end up hitting the market as free agents next spring if the right deal from their current team does not emerge.
My list of biggest bargains included a host of stars to emerge from the 2011 draft class, and I'm not including guys from that draft year here. All of these players must complete the 2013 season before their teams can even begin extension talks, anyway, per the CBA, so there is no chance to strike a deal in-season. That means that Cam Newton, Colin Kaepernick, A.J. Green, Von Miller, Patrick Peterson, J.J. Watt, Demaryius Thomas, Aldon Smith, Richard Sherman, Maurice Pouncey, Cecil Shorts, Brooks Reed, Muhammad Wilkerson, Torrey Smith, to name a few, do not apply for these purposes.
I am also not including players currently on the franchise tag, and their current teams have until July 15 to complete deals with them, otherwise they must play out 2013 on their current franchise tenders. And, I'm looking for guys generally under the age of 30 when it comes to this list as well.
Quarterbacks
Matt Ryan, Atlanta Falcons: Ryan is set to make $10M in the final year of his rookie deal and the Falcons are not hiding their desire to get him locked up before this season begins. His agents would love to get Ryan slotted between Joe Flacco and Aaron Rodgers as the second highest-paid passer in the NFL, in the $21 million -a-year range. Most would be pretty surprised if this isn't wrapped up by September.
Matthew Stafford, Detroit Lions: Stafford's $20 million cap hit in 2013 is cumbersome, and talks have been ongoing, but could end up tabled until after this season. Stafford is set to make $11M in 2014, with a $19 million cap hit, which isn't ideal but might be manageable if need be.
Jay Cutler, Chicago Bears: GM Phil Emery seems content to let this play out, with Cutler set to make $9M this season and the franchise tag always available for 2014. With a new coach and system in place, this will be a big year for all parties. Should Cutler get off to a hot start, look for his contract status to become quite the in-season hot button issue. Few franchise QBs play the lame-duck year game, but is Cutler a franchise QB?
Running back
C.J. Spiller, Buffalo Bills: One would expect him to be a big part of the new offense, and though his ability to earn $11.2M in incentives in 2014 mitigates the need to do something now, Spiller's days of making $1.6M, like he is in 2013, seem numbered. The other guys at this position have generally been paid relatively recently.
Wide receivers
Hakeem Nicks and Victor Cruz, New York Giants: Nicks is set to make $2.7M in 2013, in the final year of his deal. Cruz will make $2.9M on a restricted free agent tender. You have to figure at least one of them gets paid by New York, but which one, and when? New York can play them off each other and threaten with the franchise tag as well.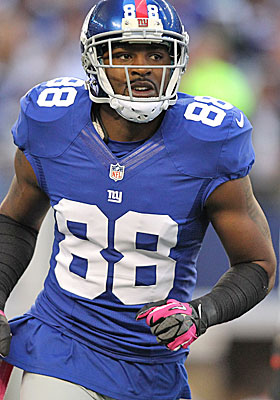 Michael Crabtree, San Francisco 49ers:
Crabtree's recent Achilles tear complicates matters in more ways than one. It basically ends any chance he had of reaching Pro Bowl incentives or voiding his 2014 contract, so he's set to make $5M this season and $4M next year. It also delays his next payday, though by this time next year dollars could be in hand.
Dez Bryant, Dallas Cowboys: Bryant makes $1.8M this season and is set to make $2M in 2014, but Jerry Jones won't wait that long. If Dez can stay out of trouble this offseason and into the season, big bucks will be waiting in Big D. Miles Austin could be off the books by 2014 and few take care of their own like Jones.
Eric Decker, Denver Broncos: He'll make only $1.3M in the final year of his rookie deal and with Thomas also in line for an extension, doing something in the coming months for Decker makes sense. Peyton Manning tends to get his receivers paid.
Tight ends
Dennis Pitta, Baltimore Ravens: Joe Flacco's favorite target will make about $2M this season on his RFA tender, but the Ravens know he's worth much more. Pitta is another potential franchise tag guy a year from now but Baltimore will try to get something done more long-term first.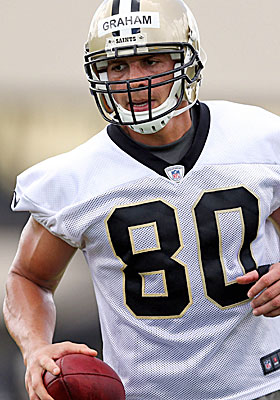 Jimmy Graham, New Orleans Saints:
An absolute steal at $1.3M and, again, if nothing else a prime candidate to get a franchise tag. The 2013 tight end tag was a modest $6 million.
Offensive linemen
Maurkice Pouncey, C, Pittsburgh Steelers: Immediately became one of the best at what he does as a rookie, but makes only $1.1M this season and is set to make $2.4M in 2014 (not including a $3.7M roster bonus) in the final year of his deal. Steelers are generally proactive about getting those types of extensions before a player enters the final year of his contact.
Alex Mack, C, Cleveland Browns: The Browns have precious little they can count on offensively, and Mack is a stud who has played with suspects guards often in his career. He makes $3.8M this season and the price tags for interior offensive linemen have gone up in recent years. The Browns know they must secure his services into the future.
Eric Wood, C, Buffalo Bills: Enters the final year of his rookie deal making $2.3M, and the Bills can't afford to let their high draft picks continue to turn into someone else's highly paid free agents, especially on the offensive line since they just drafted a quarterback in the first round.
Mike Iupati, G, San Francisco 49ers: This mauler fits their offensive style perfectly and should be the next of San Francisco's stud offensive linemen to get paid. He makes $1.3M this season and is scheduled to make $2M in 2014, with up $3.2M in escalators in that year, the final of his rookie deal.
Eugene Monroe, T, Jacksonville Jaguars: The former first-round pick has been solid with little talent around him, but drafting left tackle Luke Joeckel second overall complicates things in terms of his future with the club. Monroe makes $4M this season in the final year of his deal and would obviously want to be paid like a left tackle moving forward and not a right tackle. No talks have taken place, but the Jags also are hardly in a position to be letting talent walk away. Could they franchise him in 2014 in hopes of a trade (like the Chiefs with Branden Albert this season)? Could they somehow work out a deal before then? It's worth mentioning this contract situation even if an extension isn't the ultimate solution.
Michael Oher, T, Baltimore Ravens: They tried Oher on the left side several times, but it's clear that he no longer belongs on The Blind Side. He should be a highly-paid right tackle, though the sides were not close when comparing projected figures a year ago. He will make $3.8M this season and the Ravens have rarely let top draft picks walk.
Defensive backs
Earl Thomas, S, Seattle Seahawks: I'm trying not to double dip too much from last week's list, but Thomas is one who cannot be avoided. The Pro Bowler makes $2.2M this season and is scheduled to make $3.9M in 2014, the final year of his deal, with $4M available in escalators. The Seahawks figuring out how, and when, to pay all of their young defensive backs won't be easy, but it's the kind of problem teams want to have.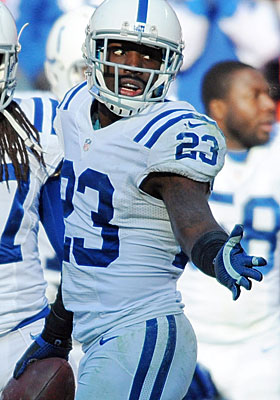 Vontae Davis, CB, Indianapolis Colts:
Indy is trying to rebuild its defense, Davis was acquired for a reason and if he avoids off-field issues, he'll be making much more than the $1.9M left for 2013 on his rookie contract. He has first-round talent and skill set, and the Colts need corners.
Corey Graham, CB, Baltimore Ravens: Emerged as a key factor in their Super Bowl season and if he beats out former first-round pick Jimmy Smith for a starting spot, Graham won't be making $2.1M for long. With Cary Williams gone in free agency and Lardarius Webb coming off a second ACL tear, Graham is a vital part of this defense.
Linebackers
Brian Cushing, Houston Texans: Houston is a different team when he is healthy and playing, though injuries and suspensions have taken a toll. Set to make $3.1M in the final year of his deal, the Texans have been proactive about keeping their very best young players. However, they also have J.J. Watt and Brooks Reed in line for extensions following the 2013 season. Cushing could get franchised, perhaps. How rapidly he gets back to pre-injury form will be a key factor here, as well.
Sean Lee, Dallas Cowboys: He looked to be one of the very best inside linebackers in the league before losing last season to surgery. Dallas has long been desperate for leaders, and this kid looks like someone who should be commanding their locker room for a long time. The injury could bump talks back some, but at $630,000 Lee is due for a big raise.
Sean Weatherspoon, Atlanta Falcons: Weatherspoon makes plays all over the field and the Falcons are in Super-Bowl or bust mode now. He makes $1M this season and is set to make $1.4M in 2014 (with $3.5M with escalators) and looks like the face of that Atlanta defense for years to come.
Pat Angerer, Indianapolis Colts: Making just $630,000 in the final year of his deal, Angerer has been an anchor and a tackling machine of a defense that made strides a year ago. Having doled out some pretty hefty contracts in free agency, emerging Colts will be awaiting how much is reinvested internally. He'd be a good candidate to start with.
Brian Orakpo, Washington Redskins: Injuries have been an issue, but when healthy he's flashed like an impact pass rusher. The Redskins, getting out of two years of salary cap penalties, are primed to spend into the future. Locking up Orakpo will be a logical move as he comes back from pectoral surgery. Orakpo makes $3.7M in 2013, the last year of his rookie deal.
Defensive linemen
B.J. Raji, DT, Green Bay Packers: With Green Bay already taking care of Aaron Rodgers and Clay Matthews this offseason, there is no rush to do anything with Raji. But should he play at anything near his 2011 form in 2013, then he is the offseason priority, and with age a factor on their defensive line, keeping Raji beyond 2013 (when he makes $4.7M) is highly likely.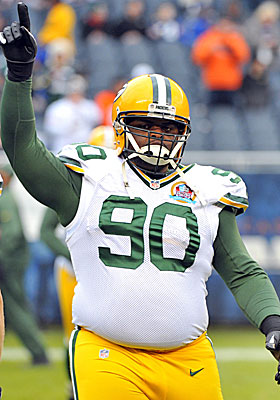 Geno Atkins, DT, Cincinnati Bengals:
If nothing else, he is a cinch to get franchised, though he deserves to be paid like the Haloti Ngatas of the world right now. He's a dominating presence set to make $1.4M this season. He'd be a massively coveted free agent.
Justin Smith, DT, San Francisco 49ers: I'm making an exception for my age restrictions here, because even in his 12th year, this guy is a demon, he's the heart of the 49ers defense and nothing short of a Super Bowl will suffice there any longer. Smith makes $8M this season and I suspect these sides could work out a short-term extension to keep him there longer.
Justin Tuck and Jason Pierre-Paul, DEs, New York Giants: Tuck recently turned 30, but with Osi Umenyiora gone and Pierre-Paul now dealing with his very-recent back surgery, the Giants have another interesting situation to navigate here. Keeping both of these ends, and keeping them healthy, would certainly be ideal, as having the two-pronged edge presence has been a primary reason the team won multiple Super Bowls recently. Pierre-Paul makes $1.3M this season and will make $2.2M in 2014, the final year of his deal (with $3.4M available in escalators).
Carlos Dunlap, DE, Cincinnati Bengals: Dunlap is a rising young pass rusher who is making just $1.2M this season and is one of a growing group of Bengals in line to get paid much closer to his worth. It would make a lot of sense for Mike Brown to try to get Dunlap and Atkins done as soon as possible, with AJ Green and Andy Dalton quite possibly very high on his to-do list come 2014.
Greg Hardy, DE, Carolina Panthers: The team has had some serious cap issues and poor contracts to wade through, but after posting 11 sacks last season, Hardy may be poised to parlay that breakout season into big bucks. He is due just $1.4M this season and plays opposite of Charles Johnson, who received huge money to stay in Carolina a few years back.