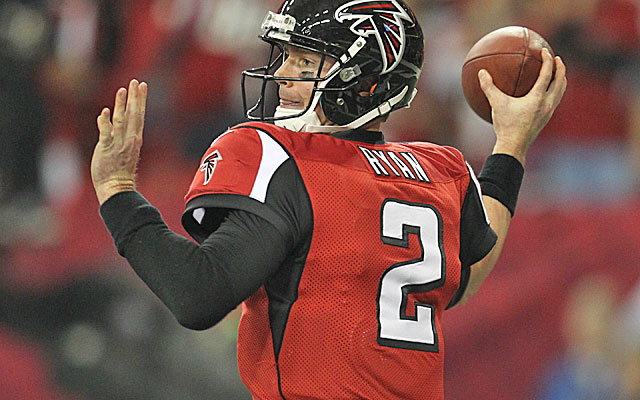 FLOWERY BRANCH, Ga. -- As Matt Ryan worked the projection system in the darkened Atlanta Falcons' quarterback room here at the team facility, looking to find the start of his team's fourth-quarter drive from the NFC Championship Game that I came here to break down with him, he offered me some advice.
"Before we get started, I want to say that the game wasn't won or lost on this drive," Ryan said. "We had opportunities earlier. I will pull up three plays from earlier that changed the game. We talk about three or five plays that determine the outcome. It wasn't just that last drive."
What? I am here to dissect a quarterback being 10 yards from going to his first Super Bowl, 10 yards from his taking that playoff-failure label that hangs on him and slamming it to the ground with authority, and he wants to talk about plays from earlier in the game?
Sixty minutes from a Super Bowl isn't quite as sexy as being 10 yards from it, but Ryan insisted.
"Before the fourth quarter even started, we had a bunch of plays that we didn't make, plays we made mistakes on that put us in that position," Ryan said. "Three of them stand out."
I came here to dissect his Falcons' final drive against the San Francisco 49ers in the NFC Championship Game. It ended on a fourth-down incompletion with under two minutes left that sent San Francisco, a 28-24 winner, to the Super Bowl and the Falcons wondering what could have been. But first, Ryan wanted to study those three failed plays and their specific situations.
To help study each of those plays, I will offer some pictures and Ryan will provide the narrative to help make what happened more vivid -- even if Ryan and the Falcons might not want it that way.
Play No. 1.
Situation: The Falcons lead 7-0 and face a third-and-4 at the San Francisco 17 with 3:53 left in the first quarter.
Outcome: Ryan throws an incomplete pass to Jacquizz Rodgers and the Falcons settle for a field goal and a 10-0 lead, rather than a 14-0 lead.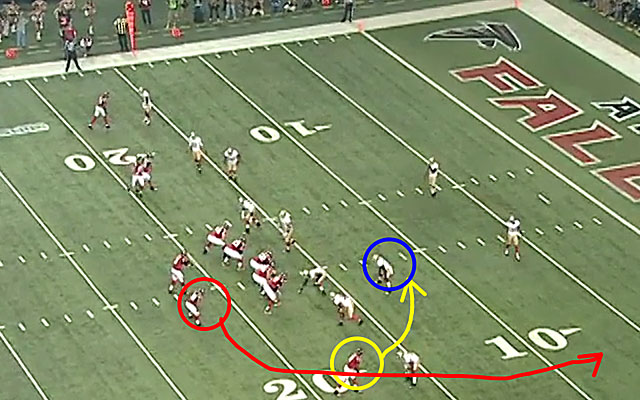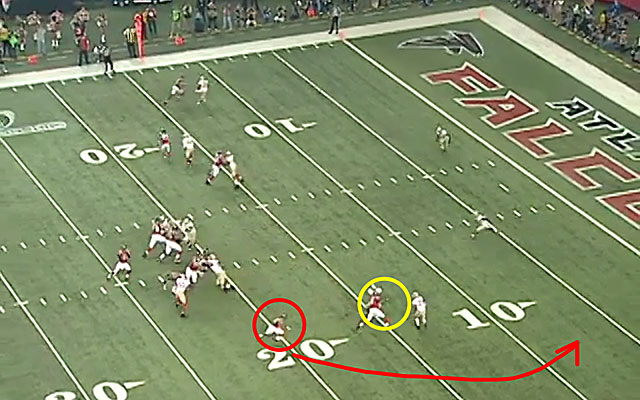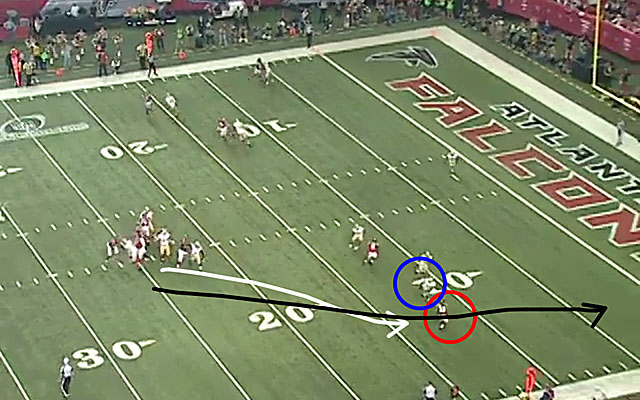 Ryan's take: "We call for a wheel route with Quizz [Rodgers]. The protection is called right and we get the look we expect. We have our guy on the linebacker. But I throw the back-shoulder throw, when I should have thrown it over the top. Sitting here six years in, something as small as that is the difference between winning the Super Bowl and losing in the NFC Championship Game. We hit it over the top and he walks in. And then we're kicking a field goal at the end of the game. Nothing else changes and we play it out the exact same way and we kick to win [in the fourth]."
Play No. 2
Situation: The Falcons lead 24-21 and face a second-and-10 at the 49ers' 47 with 8:00 left in the third quarter.
Outcome: Falcons receiver Roddy White slips and Ryan's pass is picked off by 49ers nickel corner Chris Culliver.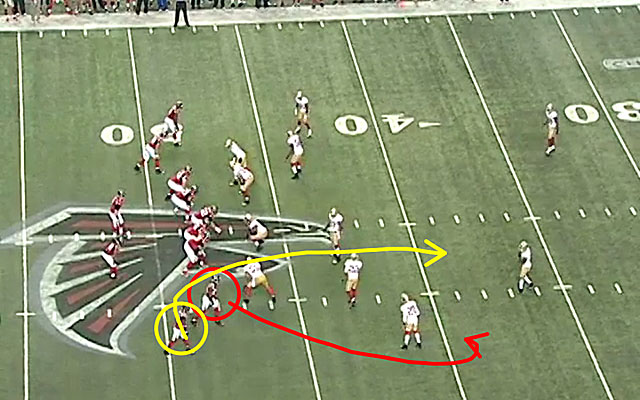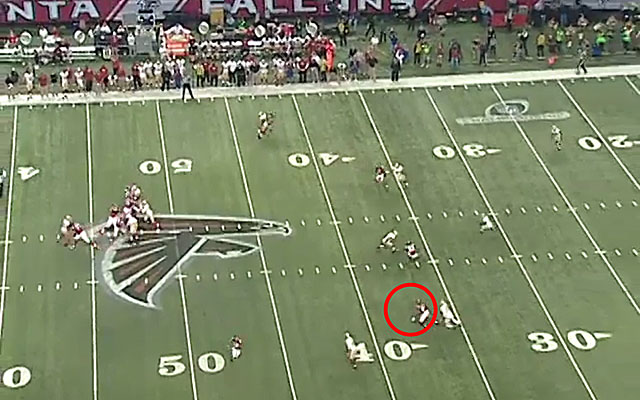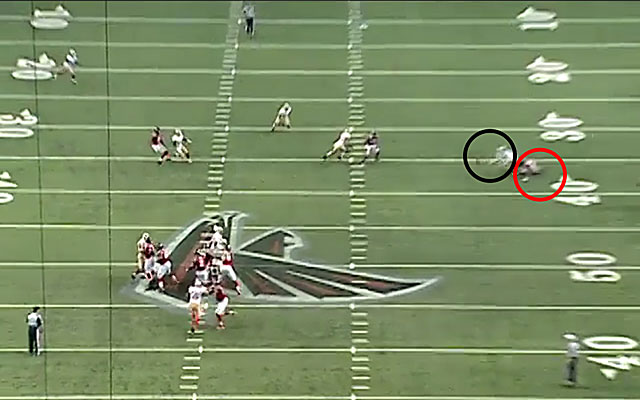 Ryan's take: "We get the perfect look for our flat-hook. The guy [Harry Douglas in yellow circle] is clearing out inside and this guy (Culliver) is pulling outside. We're running down and hooking [White in red circle] on him. Rod didn't slip on one of these routes the entire year. He's one of the best in the league running this route. It's just second-and-10, plus side of the 50, and they haven't stopped us yet. We're moving the ball. There's another three points."
Play No. 3
Situation: The Falcons lead 24-21 and face a second-and-9 at the San Francisco 28 with just more than a minute left in the third quarter.
Outcome: Ryan fumbles the shotgun snap and San Francisco's Aldon Smith recovers. The play is designed to be a throw to Tony Gonzalez, who was open. But as you can see from the pictures, the 49ers sent their two inside linebackers on a blitz and Ryan peeked to see the one coming from his left and dropped the snap.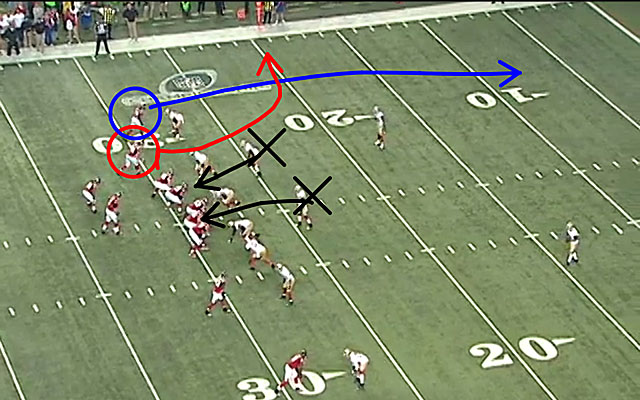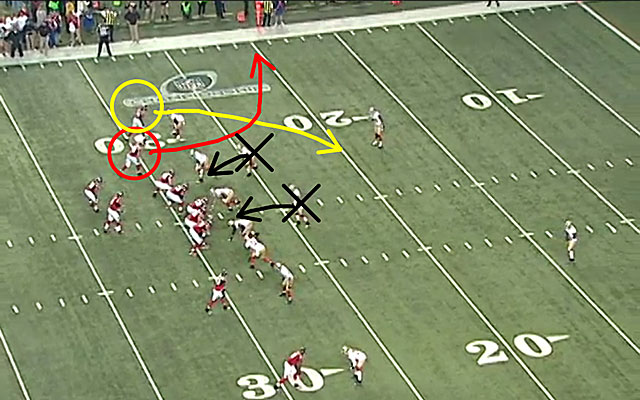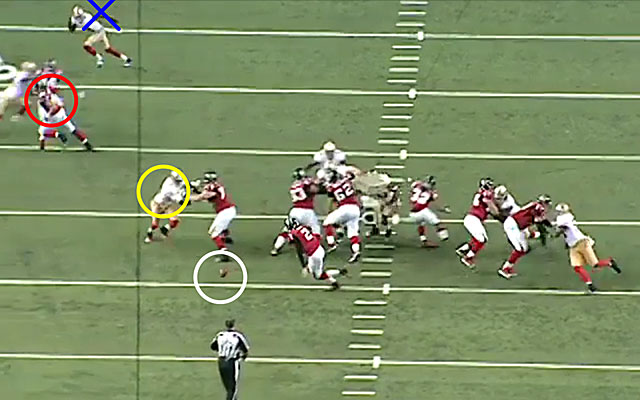 Ryan's take: "I'm hot off of one here [points to black X -- Patrick Willis] on the right side of the 49ers' defense. I am peeking out just to make sure that other one is not coming. You do it every time. They end up coming. And it's just peeking right there [Ryan puts the pointer on himself on the big screen in front of us.] The play is designed to go here [Tony Gonzalez in red circle]. At worst, we're at the 20. It's 24-21 at the end of the third quarter. We're either going up 31-21 or 27-21. Either way, nothing changes, and we're kicking a field goal to win it at the end. So we had three opportunities to put up potentially 21 more points or nine more points. This happens in every game. So before that last drive starts, there's a bunch of plays before that that we should have made. So we don't make those plays, and we are where we are, and have to make something happen on that last drive."
Finally, we get to that last drive. All quarterbacks dream of having the ball in the fourth quarter with a chance to get to the Super Bowl. That's what made talking to Ryan -- one of the league's most understanding quarterbacks as it relates to the media -- about that drive so interesting to me.
Ten yards from a Super Bowl is big stuff.
It's even more so when you consider that Ryan suffered a separated left shoulder on one of the last plays of the drive. He made two throws on third and fourth down with his arm dangling.
Ryan wouldn't use that as an excuse, but as somebody who has studied the tape closely, and who has talked to many people in the Falcons organization, the shoulder was an issue on the final two plays. I told Ryan it was obviously impacting what he could do.
He'd have none of it.
"It's part of the game," he said.
That fourth-quarter drive started with 8:23 left in the game. Not panic time, but with the clock winding down and a trip to the Super Bowl on the line it was a tense time for many, but Ryan said in the huddle it wasn't that way.
"You're in normal game-plan mode with no hurry-up," Ryan said. "We were in that situation, game on the line in the fourth quarter and we're behind a bunch, so that was no different than any other situation."
The Falcons started at their own 20 after a touchback. They started the drive with a completion for 9 yards to White to get them going. Then it was a run by Jacquizz Rodgers for 2 yards and a first down, followed by an incomplete pass, two completions for a first down at the 42, and then a Ryan scramble for 3 yards -- "That's a big run for me," he said -- followed by a 5-yard completion to Julio Jones. That set up a huge third-and-2 from midfield with 4:21 left in the game.
The next play was one that many Falcons fans and players will remember for a long time. It was the perfect call at the perfect time and the quarterback executed it to perfection, trusting his reads and hours in the film room to make the right call, the right throw and hit a big play. Only it wasn't as big as it should have been. The completion went for 22 yards, but it could have easily been a touchdown as Douglas fell down and also lost the ball in the lights as he did. It gave the Falcons a first down, but it could have been six.
The key to the play was the film study Ryan and offensive coordinator Dirk Koetter put in before the game. They saw that the 49ers ran a look that showed two-deep safeties on third and 2-to-5 yards all the time, but they never played two-man on any of those plays. So when Ryan came to the line of scrimmage and saw both safeties deep, he knew something was up. He was right.
What he saw was that safety Dashon Goldson wasn't in a two-deep spot but was playing a disguised coverage known as "One-robber." Goldson (black X) in the pictures below ran hard to the middle of the field at the snap to try and put a double on Tony Gonzalez coming across from the other side. The idea being that Goldson would sneak down and surprise Ryan. It made sense. After all, the Falcons did have tendencies to go to Gonzalez in those types of situations. But the Falcons knew something was up. So they called the wheel route to Douglas. For it to succeed there couldn't be two-deep, and both corners on the two top receivers had to be in press-man. They were, which allowed Douglas (red circle) to run outside the pick of Julio Jones to get wide open.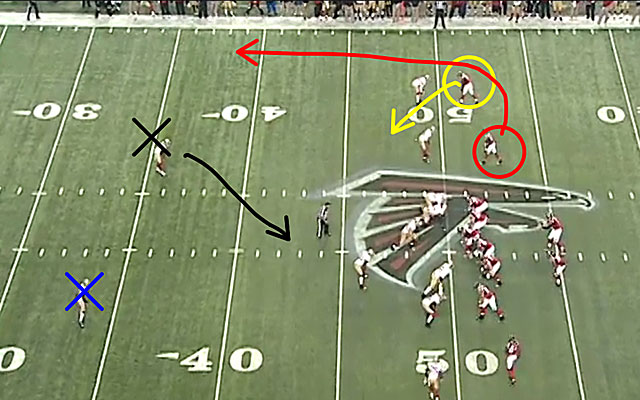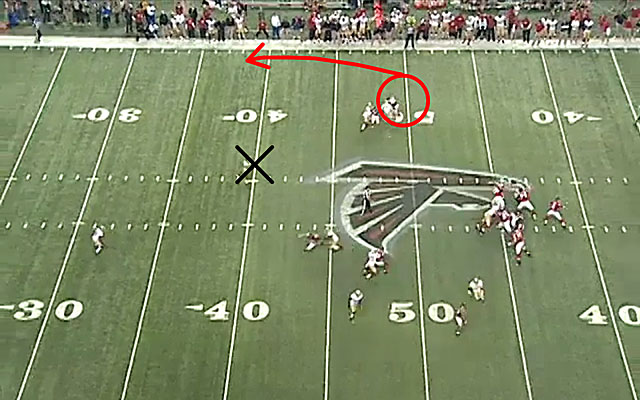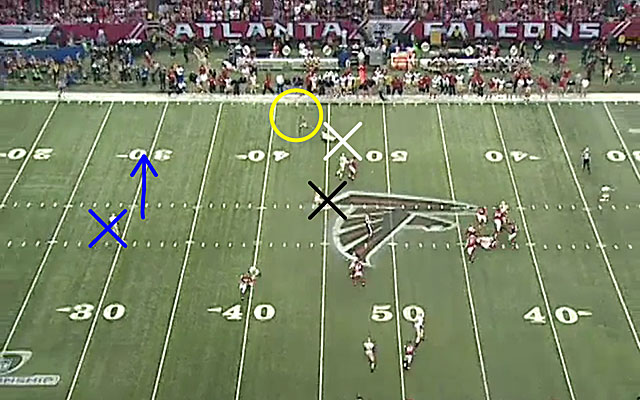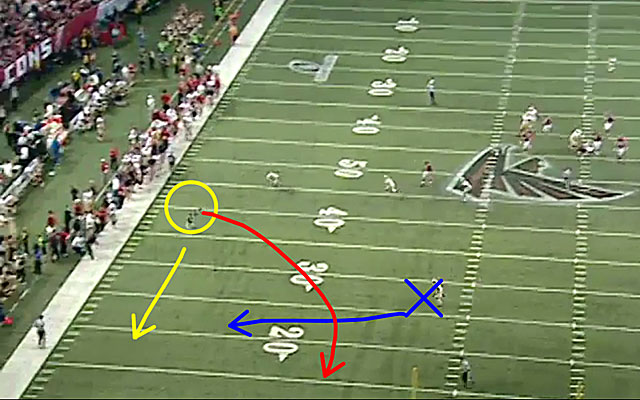 Ryan's take: "We need both of the corners double-bumped and the safety can't be playing two-deep. And we got it. It's no good if they play two-man. But we played the percentages here. They didn't play it against this third-and-short at all. That's where I am a different player now than I was in year one or two. Back then I would have thought it was two-man. But we had it dialed up the way we wanted it. Third-and-short they think we're going to Tony. That's a good guess because we did it a lot. But we had a great call at the right time. It was set up from all our work."
Ryan jumped up to show how the team prepares during the week. On one side of the room was a wall covered by an eraser board with a smaller board also up front next to the projection screen.
He said on the big wall the team would put all the plays for no huddle, first and second down and other stuff. But it was the smaller wall that got him excited. "This is our third-and-2-5 stuff," he said. "This is where that came from. We knew they wouldn't play two-man in that situation."
The play had touchdown written all over it. If Douglas stays up, all he has to do is make safety Donte Whitner (blue X) miss the tackle and it was a touchdown.
"That's another one of those plays," Ryan said. "Maybe we score. Regardless we're still in a great spot. That would have been a tough tackle to make coming from that side."
That put the Falcons in business with a first down at the 28. A run for 9 yards by Rodgers and a 3-yard completion to Douglas -- a TD was prevented by a great tackle by Goldson -- and the Falcons had a first-and-10 at the 49ers' 16 with 2:23 left.
On first down, the Falcons ran Rodgers for a yard. They ran because the 49ers safeties were playing way off, and the check at the line was to a weak-side zone run. The 49ers won up front, but even so Rodgers had a big lane on the backside if he could have gotten there. He didn't. Gain of 1. I thought this was a momentum killer, but Ryan said the two-deep safeties dictated the check to the run.
That's where it went bad for Ryan and the Falcons. On second-and-9 from the 15, Ryan took the shot that did in his shoulder. The play call was a design option route to running back Jason Snelling out of the backfield. But the 49ers did something the Falcons didn't expect. They had outside linebacker Aldon Smith hit Snelling as he tried to sneak out of the backfield. That slowed the route. You can see this from the pictures below. If Snelling (red circle) can get out clean, he has Willis on an option route and a lot of room inside. But the delay caused Ryan to hold the ball, and it allowed Ahmad Brooks to hit him and come down on top of him as he released to Snelling for a 5-yard gain.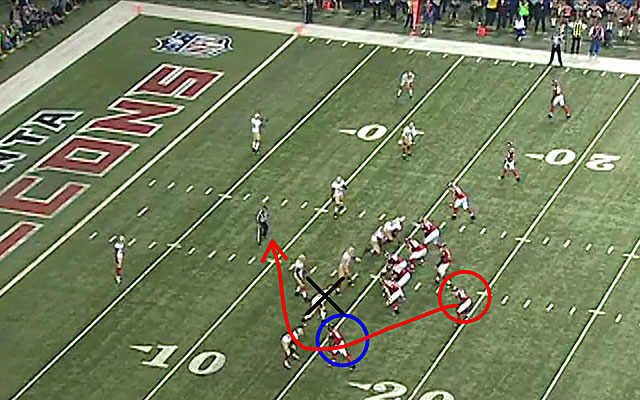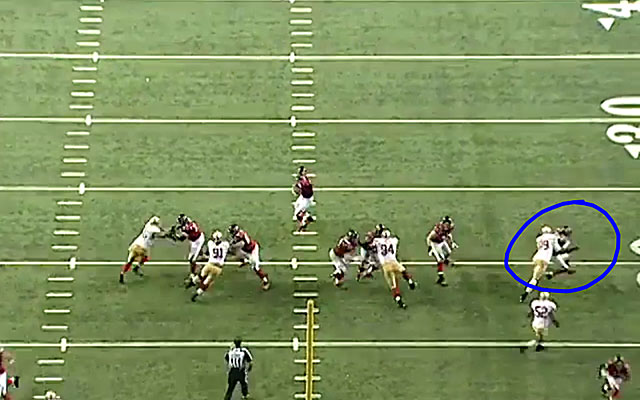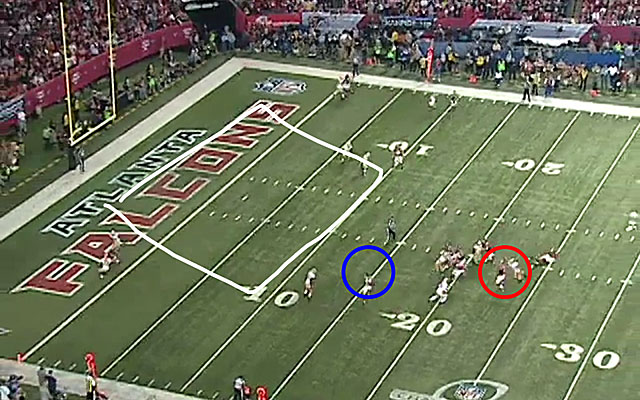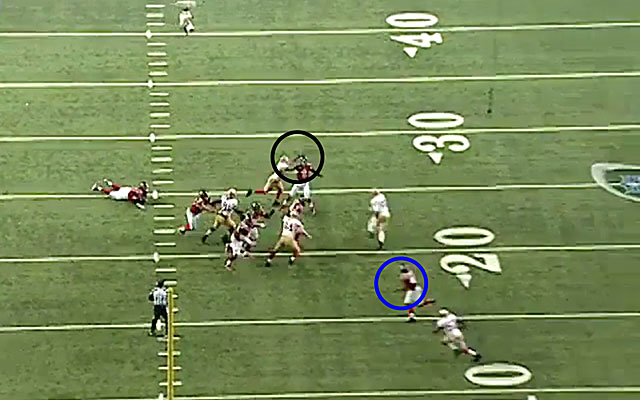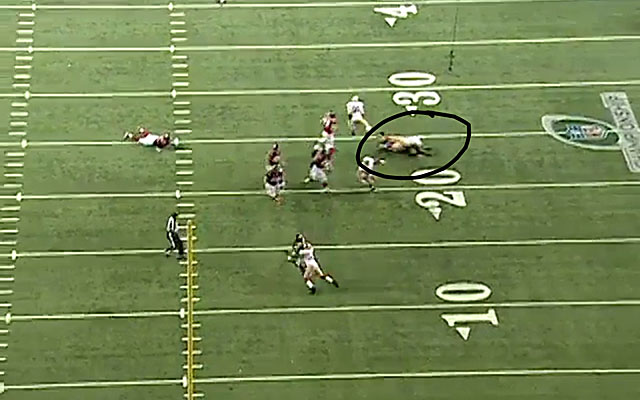 Ryan's take: "It was a good call on their part to bang the back as he came out. If he has a free release, he has an option route against their worst cover guy. We're just late getting him out. Looking at the void, I kept thinking, 'get there, get there.' Where the heck is he? I was waiting for him. Having played a long time, I could feel the rush coming instead of seeing it. He hit me and when I went down it was exposed and it drove my shoulder down. It popped right out. I'm going, "you have to be ----ing kidding me. This is the worst time. It hurt bad."
There were two more downs and 10 yards to go. Ryan wasn't about to sit down. Not now.
"He had a shoulder injury that in normal circumstances probably would have taken him out of the game," Koetter said. "Matt was in a lot of pain the last two plays, but it was impossible for me to know exactly how tough it was since Matt would never let on."
On third down, with his shoulder feeling like it had knives digging into it, the Falcons called for a short pass to the right to White. It was an easy throw on a play the Falcons used a lot.
But the play calls for Ryan to throw it on his fourth step. He threw this one on his sixth. Brooks knocked the pass down and it never got to an open White (red circle below).
There was some talk that Ryan could have thrown to a wide open Gonzalez (yellow circle), a play the Falcons did run successfully in practice, but Ryan said he took the safer approach.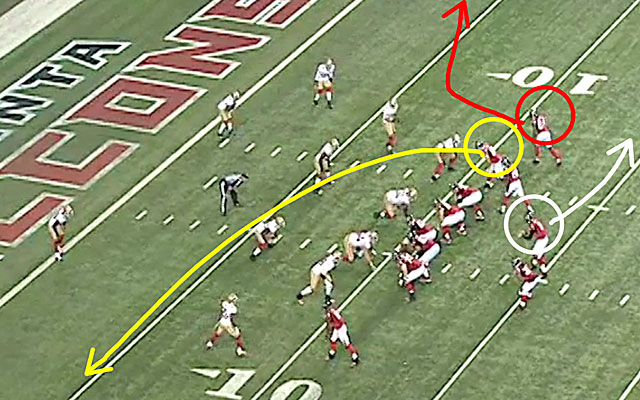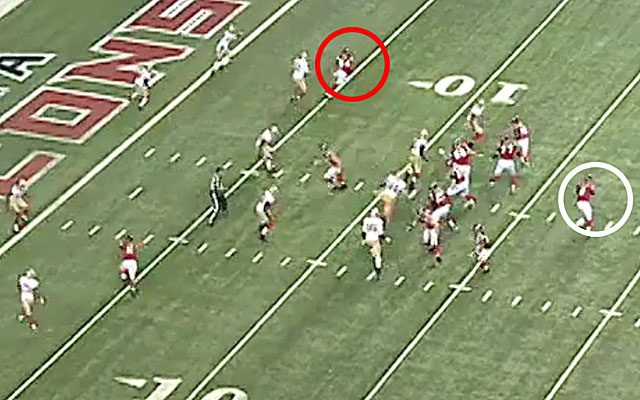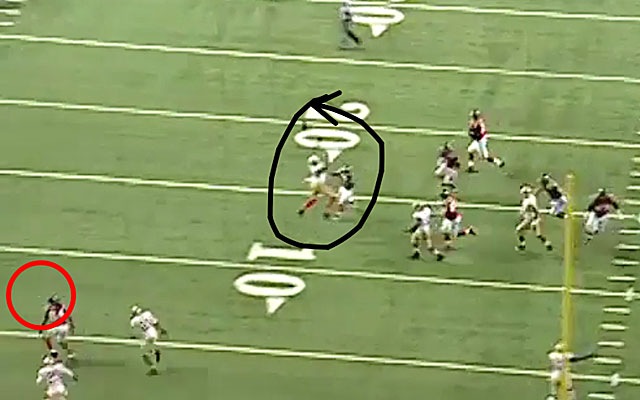 Ryan's take: "It should be a completion at four or six steps. He's open. I didn't realize I threw it at six until after the game. I could have put my foot in the ground and thrown it backside to Tony. But to me this was the first read. That's a green-light one. We always talk about how we can't pass up a profit. That's a profit. You can't go from one to three if one is there. And it is. When you are coaching, there's always a gray area. When you're playing, your ass is on the line you need concrete rules to go by. The grass is always greener after the game. You could have done this. Well, I have this information at the snap, not the ability to rewind it back and analyze it. I have 10 seconds at the line of scrimmage to decide where this thing is going and 2½ seconds to pull the trigger. Roddy's open. I have to throw it. We've hit that play a lot for touchdowns as he dives to the pylon. We run it every day in practice. I just should have made the throw on two fewer steps."
Now it was fourth-and-4 from the 10. A trip to the Super Bowl hung on this play. The play call was for White to run an option route from the slot on the right. But the 49ers doubled both him and Gonzalez. The Falcons had the wrong play called. Ryan had nowhere to go with the football. Koetter admitted that it wasn't a good play to run.
As you can see from the pictures below White (red circle) is bracketed by NaVorro Bowman and Whitner (blue Xs) and Gonzalez is doubled by corner Tarell Brown and Goldson. That double on Gonzalez essentially eliminated him at the snap, Ryan said, even if he did get open because the 49ers played it poorly. But it was a quick throw, so Ryan couldn't come off to that side anyway. The play was going to White. The problem is he had no option. When he ran inside, Bowman was there to take him on. If he optioned out, Whitner was there. So White tried to cross the field, got bumped by Bowman, and the ball fell incomplete. The 49ers were going to the Super Bowl.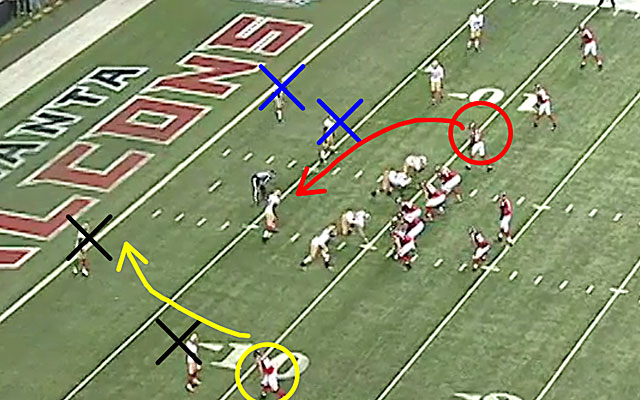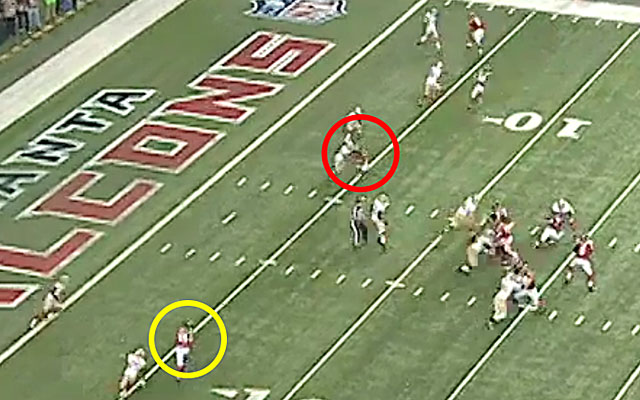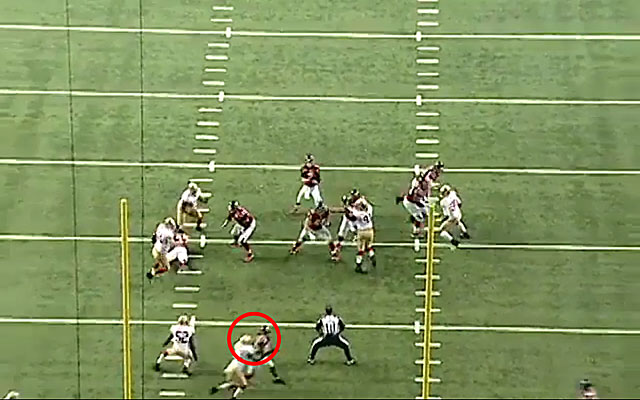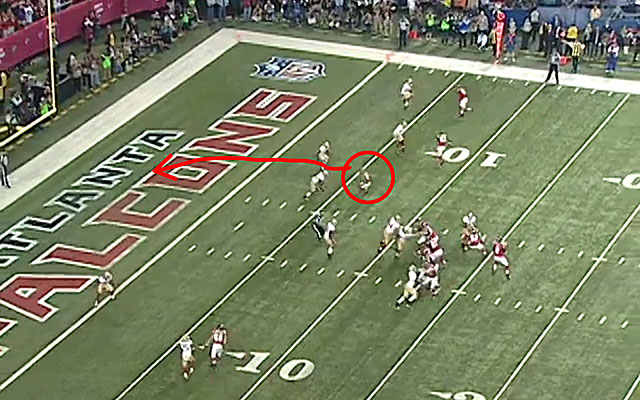 Ryan's take: "Tony was running a slant route and they had a triangle around him. He's done. Eliminated before the snap. They played bracket coverage on those two. I have to give them credit. They had a better call than we did. They were doubling both the players they needed to double in that situation. There was no other option but to go to Roddy. It was our quick game. It wasn't a full-field read, where I take five-step drops and keep climbing the pocket. It was quick. And they made a good call."
Koetter said the call that would have worked was to run White through the two defenders to the end line (last picture above). The Falcons have used that play in the past with success, but Koetter was thinking first down in that spot, not touchdown.
"He catches it right at the C and we're on the podium," Ryan said. "But you don't get do-overs."
Ryan left the field 10 yards from his Super Bowl, knowing all too well that the Falcons left plays on the field.
"In a way, I was shocked we didn't score there at the end," Ryan said. "We had done it so many times before. We were facing one of the best defenses, if not the best defense, and I still thought we would go down and score. We just didn't get it done."
The story ended there. But what if the Falcons had scored? Would Ryan have played in the Super Bowl? The Falcons say he had four-week injury. There was only two weeks between the title game and the Super Bowl.
"Knowing myself, I think I would have played," Ryan said. "I would have done everything to play in that game. Yeah, I would have played."
What about the four-week timetable?
"That's four weeks to 100-percent," Ryan said. "Get about halfway there and you have to go."
And if he had played, and taken a hit on the shoulder?
"I wouldn't be practicing in OTAs today," Ryan said laughing. "I'd be taking my time getting it right."
As it is, he's working his butt off -- a new $100-million contract soon to come -- trying to get back to where he was last January, and then a few steps more.
Ten yards away from a Super Bowl is not what you want highlighting your quarterback resume --- even if, as he says, it really came down to a lot more than that.