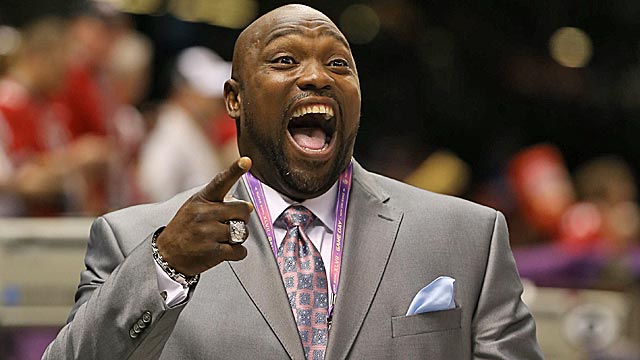 It wasn't enough for Warren Sapp to beat Michael Strahan into the Hall of Fame. Both were on the ballot this year. Only one made it into Canton. It wasn't Michael Strahan.
But that's not enough for Sapp. He lays down every night and rises every morning as an immortal, a member of the Pro Football Hall of Fame, but apparently his life has a void that he tries to fill by trashing the guy he beat to Canton.
What's that all about, Warren Sapp? You already won. So why be a loser?
I'm asking the same thing of Serena Williams, who has dominated Maria Sharapova for eight years. They have played 13 times since 2005. Serena has won all 13 of them, most recently June 8 in the French Open final. That was Serena's 16th major title, fourth in the open era, and she's far from done. Sharapova is a tremendous talent herself, winner of four majors, but she's no Serena -- and Serena knows it.
But that's not enough for Serena Williams, who trashes one of the women she thrashes on the court. What's that all about? You already won. So why be a loser?
While I'm at it, I'll ask the same thing of boxer Adrien Broner, who beat Paulie Malignaggi on Saturday for Malignaggi's WBA welterweight belt and did it in Malignaggi's hometown of Brooklyn. Athletic conquests get no more visceral, especially after all the trash talk from both sides leading up to the fight. Malignaggi didn't take the high road before the fight, but make no mistake: Broner was the instigator and the escalator, the one who bragged about dating Malignaggi's ex-girlfriend and even put her on speaker phone during a pre-fight press conference.
But all of that wasn't enough for Adrien Broner. After the fight -- right there in the ring, in front of 11,461 people at Barclays Center -- Broner told the Brooklyn crowd, "I left with his belt and his girl."
Adrien Broner: Big winner. Bigger loser.
So I ask everyone: Why isn't winning enough? What's with the stupid stuff afterward? The examples I've given, the bigger picture what I'm talking about, isn't the same thing as an NFL player scoring a touchdown and spiking the ball or dunking it over the crossbar or pulling out a Sharpie and pretending to autograph the damn thing. That's celebration, self-centered as it may be, but it isn't cruel.
That's what bothers me about Sapp, Serena and Broner -- the cruelty. The piling on. Being ahead by three touchdowns and trying an onsides kick. Winning has been accomplished, so now the goal is abject humiliation.
Winning wasn't enough for Warren Sapp. He wanted to elevate the Hall of Fame candidacy of Simeon Rice, which is a fine and noble thing to do, but he chose the most dishonorable way to do it, by knocking down Michael Strahan.
Sapp and Strahan have a history, see. A history of Sapp's creation. He didn't like the way Strahan set the single-season record for sacks on that infamous play in 2001 when unprotected Packers quarterback Brett Favre took a dive. Sapp has ripped Strahan several times for Favre's dive, as if that was Strahan's fault.
Now this. Last week Sapp talked up his buddy Rice's Hall of Fame candidacy by talking down the candidacy of Michael Strahan: "When they were putting the label on him as a bust, they put B-U-S. 'OK, let's transition him on the other side and see if he can play in his fourth year.' They put him at right end and he couldn't do it [against the left tackle], so they moved him to the weak guy."
In my business we tell people -- as people have told me -- "only swing up." In other words, defend yourself against anyone that attacks, but if you're going to go on the offensive for whatever (stupid) reason, don't swing at a guy at a smaller paper, or a smaller website, and so on. Picking on someone like that? It's not tough. It's pathetic.
That's Hall of Famer Warren Sapp, picking on a Hall of Fame hopeful Michael Strahan. It's pathetic.
And it's Serena Williams, picking on a player who hasn't beaten her in eight years. She mocked Sharapova's personality, of all things, saying Sharapova is "so boring" and that she's "still not going to be invited to the cool parties."
Still not going to be invited to the cool parties?
Who talks like that? Other than silly high school kids, I mean.
Ah ... you know what? I think I've stumbled onto something here. This is why people such as Sapp and Serena -- and Adrien Broner -- do what they do and say what they say, stealing defeat from the jaws of victory by being unnecessarily cruel. Because they're juvenile. Being that good, that historically incredibly inimitably good, comes with a price: You never get to grow up. You don't have to. The people around you, the lemmings who surround you, will laugh at your juvenile humor and nod at your juvenile wisdom because they're as pathetic, Sapp and Serena and Broner, as you are.
So maybe some rare honesty will help: Grow up, you three. And the same goes for the rest of you out there, athletes or writers or lawyers or whoever you are. Defend yourself if necessary, but if you're going to go on the attack, only swing up. If there's nobody above you, guess what? You've won.
So shut up, loser.