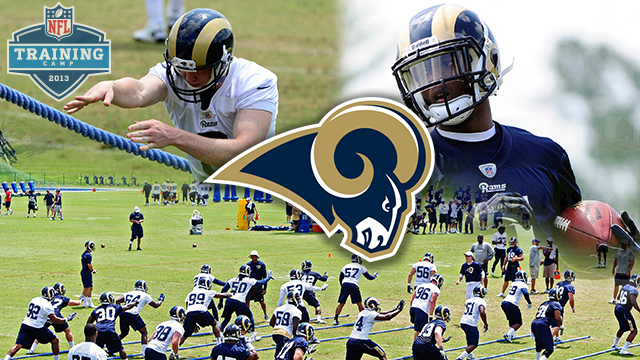 The St. Louis Rams are supposed to be a year away from challenging Seattle and San Francisco in the NFC West, but don't be surprised if the timetable changes.
Of course, a lot that depends on the development of quarterback Sam Bradford, and he's the beneficiary of key offseason moves that delivered him playmakers the club has been missing since ... well, since the days of "The Greatest Show on Turf."
These Rams aren't the Greatest Show Anywhere, but they're good enough that they had the division's best record a year ago and didn't lose to San Francisco. These Rams are better, which means these Rams could start squeezing the top a year ahead of schedule.
Don't be surprised if they do.
Key changes
Roster additions: TE Jared Cook; T Jake Long; S Matt Giordano.
Roster departures: RB Steve Jackson; WR Danny Amendola; T Wayne Hunter; S Quintin Mikell; DL Trevor Laws; LB Rocky McIntosh; G Robert Turner; WR Steve Smith; S Craig Dahl; WR Brandon Gibson.
Staff changes: Tim Walton becomes the new defensive coordinator. Walton, whom Jeff Fisher tried to hire a year before, comes in from Detroit -- which is perfect because it means the Jim Schwartz/Jeff Fisher/Tennessee connection remains intact. The team last year played without a coordinator after Gregg Williams was suspended in Bountygate, but Williams' son, linebackers coach Blake Williams, stepped in to serve as De facto coordinator. When he was fired after the season, the Rams first appeared to be in line to hire Rob Ryan, but that didn't work out and this did -- with Walton making the jump from secondary coach to coordinator.
Position battles
The departure of Steven Jackson means running back is wide open, with three inexperienced vets and one rookie competing for jobs. Daryl Richardson is the favorite, mostly because he's the only guy with a resume. As Jackson's understudy last season, he ran for 475 yards, averaged 4.8 yards per carry and demonstrated big-play capability. Isaiah Pead could push him, and the Rams would like that. But he was a huge disappointment as a rookie, with only 10 carries. That's not what the Rams were expecting from their second-round pick, nor is this: Pead must serve a one-game suspension for violating the league's substance abuse policy. Nevertheless, look for him to compete with rookie Zac Stacy and journeyman Terrance Ganaway for carries in what could be a crowded, running-back-by-committee approach.
Undrafted rookie Bennie Cunningham is the longshot here, but let's be real: Given the makeup, anything's possible. The same goes for left guard where the Rams don't have an incumbent. Chris Williams, the former first-round draft pick of Chicago, is the favorite, but he could get squeezed by Shelley Smith, claimed off waivers from Houston. If neither works out, look for rookie Barrett Jones to get in the mix. I know, he's a center, but the guy can play guard -- and he may, once he recovers from his Lisfranc injury.
There's no incumbent at safety, either, where Quintin Mikell and Craig Dahl are both gone. Darian Stewart should man one position, but the guy barely played a year ago because of injuries and was in Fisher's doghouse. Then, of course, he was a starter in 2011. Rookie T.J. McDonald -- the son of former NFL star Tim McDonald -- will be in the mix, but so will free- agent acquisition Matt Giordano.
New schemes
The Rams have the same playbook, same terminology and same coordinator on offense. Nevertheless, expect them to shake things up. For the first time in years they have playmakers to surround quarterback Sam Bradford, and with so much speed and quickness there they should spread the field more, operate more out of the shotgun and try the no-huddle -- all of which Bradford does best. In short, St. Louis wants to be more explosive, and they have the people to get there. I know it's contrary to what Fisher has done with his teams, but there is so much speed here -- even including tight end Jared Cook -- that it makes sense to take advantage of what they have.
Even though there's a new coordinator on defense, don't look for much to change. It's basically the Tennessee Titans' defense Fisher brought with him, with input from former Tennessee assistants Dave McGinnis and Chuck Cecil. The Rams return seven linemen to a defense that tied for the league lead in sacks, so there's no need to fool with formulas. If there's a change, it's a small one, with the Rams going to left and right outside linebackers instead of weakside and strongside backers. They're undersized and aggressive at the positions, with Jo-Lonn Dunbar and rookie Alec Ogletree at their best when playing in space. Which means ... uh-huh, that pressure should be applied by a familiar source: The front four.
Bubble watch
The Rams don't have a lot of depth, so there's really no one of consequence in danger of getting cut.
Unheard-of-guy to watch
Safety Rodney McLeod. Undrafted a year ago, he looked good in spring workouts and could be a factor if Stewart is hurt again. In fact, some believe the undersized safety will be a key contributor and could wind up starting -- again, depending on what happens with Stewart.
Biggest concerns
Depth is one issue. There just isn't much of it. Then there's the offensive line. It's either feast or famine with these guys. If the five starters stay healthy, the Rams could have one of the league's best units -- with Jake Long, Harvey Dahl, Scott Wells and Rodger Saffold protecting Bradford. One problem: None of them played 16 games last year. The Rams are expecting a lot from their offensive line, but there's danger with age -- and of the Rams' three players 30 or older, two are on the offensive line.
The concern at running back isn't so much that there's not much experience; it's that there's not much experience picking up blitzes. If there's one thing overlooked about Steven Jackson's game it's how effective he was on blitz-pickups. Most of the backs the Rams audition are smaller than Jackson, and no one can be certain how effective they'll be in the passing game -- not so much as receivers but as blockers.
Something to prove
It has to be Sam Bradford. He's in his fourth year, and it's not exactly make-or-break time. But it is time for him to move to the next level. With the additions the Rams made on offense, some of the excuses for his inconsistent play are gone. If nothing else, this could be a defining year for Bradford, with the quarterback returning the same coordinator and outfitted with valuable outside weapons for the first time in his pro career.