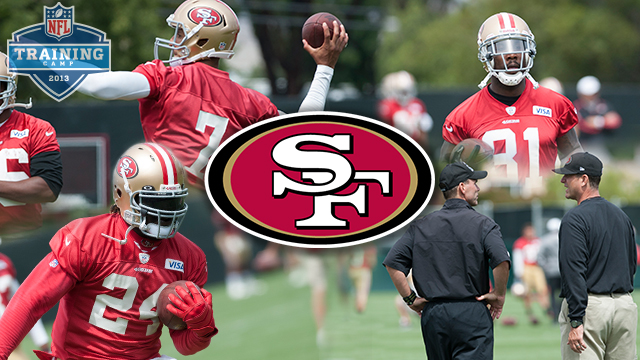 The San Francisco 49ers aren't just one of the best teams in the NFC. They're one of the best teams anywhere.
In two years under Jim Harbaugh, they've been to two conference championship games, one Super Bowl and were within five yards of a sixth Lombardi Trophy. They have a raft of talent, a coach who can't lose and a reason for wanting to be just a little bit better.
They believe they were the best team a year ago.
Of course, they're going to have to prove it all over again -- only this time with Colin Kaepernick as their starter entering camp, without Michael Crabtree and with a defense that no longer is a slam-dunk to stonewall anyone.
Key changes
Roster additions: G Adam Snyder; CB Nnamdi Asomugha; WR Anquan Boldin; S Craig Dahl; DT Glenn Dorsey; PK Phil Dawson; QB Colt McCoy; LB Dan Skuta.
Roster departures: S Dashon Goldson; TE Delanie Walker; QB Alex Smith; DT Isaac Sopoaga; DT Ricky Jean Francois; WR Randy Moss; PK David Akers; LB Tavares Gooden; LB Clark Haggans.
Staff changes: Former head coach and defensive coordinator Eric Mangini joins the 49ers as an offensive consultant, and I know what you're thinking: Huh? Well, the move makes sense. Mangini's job is to study opposing defenses, pass the information on to offensive assistants and tell them how and where those defenses are vulnerable. My guess: If this works, you'll see others making similar hires.
Position battles
With the departure of Dashon Goldson, there's a Help Wanted sign at starting safety. Rookie Eric Reid is the favorite to win the job, mostly because the 49ers traded up to draft him -- and they would like nothing better. But first things first, and first he must beat out veteran Craig Dahl.
The loss of Michael Crabtree means there's a void at wide receiver, with Anquan Boldin the most likely to move in there. Boldin is by far the 49ers' best receiver now. With his expected move to this position, the question is: Who becomes the other wideout? The 49ers would like it to be A.J. Jenkins, but he's a work in progress.
Then there's the defensive line, where the 49ers lost veteran tackles Isaac Sopoaga and Ricky Jean Francois. The obvious question: Who replaces them? The most logical response is Ian Williams -- mostly because he has the size to do it. If for some reason he doesn't make it, the 49ers' next option may be newcomer Glenn Dorsey, but he's undersized for the position, as Kansas City found out.
New schemes
It's possible the 49ers may go more to the read-option and Pistol than they did last year, if for no other reason than this: They suit the talents of Kaepernick. OK, so that's a good reason. It's not a lock, but it does make sense. Kaepernick is the focal point of the offense, and the 49ers won't put him in uncomfortable situations or schemes.
Bubble watch
Asomugha may be back in the Bay Area, where he starred with the Raiders, but there's no guarantee he makes the team. Still, the guy looked good in practices, and the 49ers got him on the cheap after he bombed out in Philadelphia. Running back Anthony Dixon, who seems to be on the bubble every year, is another possibility ... but he probably makes it again primarily because draft pick Marcus Lattimore won't be ready for some time. Nevertheless, if Jewel Hampton or a fullback emerges, Dixon could leave. It's not likely, but it is possible. Linebacker Parys Haralson, who took a pay cut in the offseason, is another possibility, mostly because the 49ers have a glut of young pass rushers. Cam Johnson is beginning to make an impact, and the 49ers have high hopes for rookie Corey Lemonier. Haralson is solid, and he's a veteran -- so the 49ers know what they have. That should help, though the 49ers like the potential they have in their young players.
Unheard-of-guy to watch
Wide receiver Ricardo Lockette is buried on the depth chart, but the guy has talent. He's fast, tying for the third fastest time at the 2011 NFL combine and winning the Division II 200-meter sprint at Fort Valley State (2008), and he's big, checking in at 6-2, 211 pounds. So he's everything you want physically. Plus, he roomed with Kaepernick, so the two know each other well. He and A.J. Jenkins are guys to watch at wide receiver. If Jenkins doesn't wash out, the 49ers could look to Lockette as their downfield threat. But first he must learn the offense and be more consistent catching the football.
Biggest concerns
Finding a replacement for Michael Crabtree. Crabtree was Colin Kaepernick's favorite receiver, with Kaepernick targeting him 94 times in his 10 starts. Well, now he's gone for at least six months, and he takes with him 85 catches, 1105 yards and nine TDs ... as well as one security blanket for his quarterback. The auditions for a successor have begun, with Anquan Boldin, A.J. Jenkins and Quinton Patton first in line, and tight end Vernon Davis not too far removed. Yes, that Vernon Davis . He worked out with wide receivers during the 49ers' June mini-camp, and he and Kaepernick seemed to find a connection they'd been missing during most of last season.
There's also a question about the defense and where it goes next. The 49ers were one of the league's best through the first 14 games of last year. Then Justin Smith and Aldon Smith were hurt, and the defense sprung leaks -- suddenly allowing almost twice as many points per game. The secondary is older, just lost Goldson and still has Carlos Rogers as a nickel back -- most of which isn't good. They have new faces on the defensive line, too, and people wonder how they fit in with the vets. Mostly, they wonder how good this defense is. The consensus seems to be it's not the unit we watched most of last year and that there's a shift from defense to offense with the 49ers. If so, it wouldn't be the first time.
Something to prove
There are cornerbacks Tarell Brown and Chris Culliver, and then there's incoming safety Eric Reid. But the guy with the most to prove is wide receiver A.J. Jenkins. The 49ers spent a first-round draft pick on him a year ago, and he didn't do squat. Now that Crabtree is sidelined an estimated six months, there's an opportunity for Jenkins to prove the 49ers were right to take him. So will he? More important, can he? It would make this season easier on Kaepernick and offensive coordinator Greg Roman.