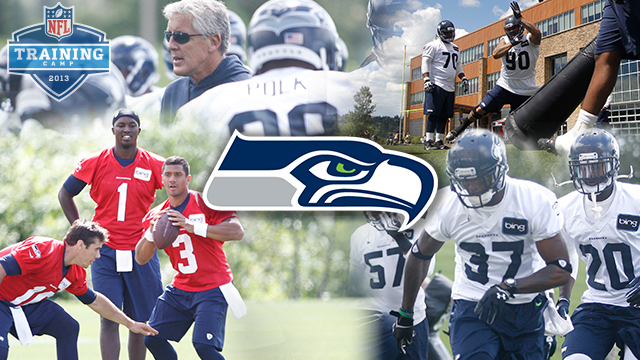 Some people will tell you there's only one team in the NFC capable of beating San Francisco, and it's not Atlanta. It's the
Seattle Seahawks
.
They buried the 49ers late last year and were on target to meet them in the conference championship game -- until, that is, Atlanta got in the way.
The Falcons are loaded this season, but so is Seattle ... if, that is, Russell Wilson continues to play as he did as a rookie. There's no reason he shouldn't. As the season wore on last year the Seahawks turned more of their offense over to him ... and he responded.
So has his ballclub. The Seahawks made big offseason moves to close the gap between them and San Francisco and to make sure that this time neither Atlanta nor the 49ers keep them from getting to the top.
Key changes
Roster additions: WR Percy Harvin, QB Tarvaris Jackson, De Cliff Avril, DE Michael Bennett, QB Brady Quinn, DT Tony McDaniel, CB Antoine Winfield.
Roster subtractions: QB Matt Flynn, WR Deon Butler, DT Alan Branch, LB Leroy Hill, WR Ben Obomanu, CB Marcus Trufant, KR Leon Washington, DT Jason Jones..
Staff changes: When defensive coordinator Gus Bradley left to become head coach of the Jacksonville Jaguars, the Seahawks wasted no time reaching out to Dan Quinn, defensive coordinator for the University of Florida. Quinn's defenses finished in the Top 10 nationally in his only two years there and were a reason Florida was in the mix for the national championship game through the last weekend of the regular season. Not only did the Gators rank second in fewest touchdown passes allowed; they surrendered an average of 2.98 yards per rush -- sixth best in the nation. That's good, but this is better: Quinn has a familiarity with the Seahawks and what coach Pete Carroll wants. He was an assistant here before leaving to take the Florida job.
One of Quinn's first moves was to hire Travis Jones, former assistant defensive line coach at New Orleans, as his defensive line coach. Jones replaces Todd Wash, who left for Jacksonville to join Gus Bradley.
Position battles
Brady Quinn is the backup to Russell Wilson, right? Not so fast. The Seahawks moved a little too quickly to bring back Tarvaris Jackson after the completion of their mandatory mini-camp, and that should tell you something: Yep, they want competition at the position, and Jackson's history in Seattle should make him the favorite.
Right guard should be a showdown between John Moffitt and J.R. Sweezy. Moffitt has been the starter here, so you'd think he has the edge. But he also has a history of injuries, which opened the door for Sweezy, a converted defensive lineman who, at times, rotated with Moffitt last season. Sweezy started the last few games last season and was solid. He's young, and the Seahawks like his fitness level and effort, which means they like him, period. He gains the early edge.
Outside linebacker Bruce Irvin moves to the strong side, where he competes with Malcolm Smith, while K.J. Wright moves from the strong side to the weak. Anyway, Irvin will be on the field for third downs, so that doesn't change. What could is his overall time on the field, but that should be determined by his face-off with Smith.
New scheme
Quinn takes over one of the league's premier defenses, and, as long as Carroll is in charge, there should be no big changes. First of all, Quinn has been here before. He was Seattle's defensive line coach 2009-10. Second, it's Carroll's defense, with his coordinators running it. If there is a difference it might be that Quinn blitzes more than his predecessor, Gus Bradley. He was more conservative, preferring to play coverage, while Quinn seems more likely to gamble.
Bubble watch
You can start with fullback Michael Robinson. The Seahawks spent a sixth-round pick on Spencer Ware and are trying him at fullback -- which is your first clue. With Robinson scheduled to pull down $2.5 million this year, Seattle might look to replace him. Guard Paul McQuistan is another possibility. He's due to make $3.3 million, and while he's penciled in as the starting left guard all plans are on hold until the Seahawks how comfortable they feel with James Carpenter after he missed time last season with a knee injury.
Unheard-of-guy to watch
Take your pick: Luke Willson or Sean McGrath. They're both backup tight ends, and they're front and center now that Anthony McCoy -- the previous No. 2 -- is out with a torn Achilles. McGrath is the more intriguing of the two. He's an undrafted rookie free agent who made it on the active roster late last year and looked good in OTAs.
Biggest concerns
Frankly, it's not so much Bruce Irvin's four-game suspension for PEDs that's the issue; it's whether he can play strong-side linebacker. It's a gamble, and Carroll knows it. He also knows that the suspension will affect the learning curve. "But that preseason will be hugely important for him," he said. No kidding. Concern going to be Aaron Curry part II.
Backup tight end Anthony McCoy is lost for the season, which means rookie Luke Willson and second-year pro Sean McGrath audition for a seat behind starter Zach Miller. Carroll said he liked the progress of McGrath, mentioning him as one player who "jumps out" at mini-camp, but that was June. Stay tuned.
Something to prove
Make it defensive lineman Red Bryant. The Seahawks re-signed him last year to a big contract, then he went out and struggled. No one is sure why, but they are sure that plantar fasciitis probably had something to do with. Bryant tried to play through the painful injury but lacked his usual explosiveness. That, in turn, had an impact on the Seahawks' run defense, which fell off the second half of the season.