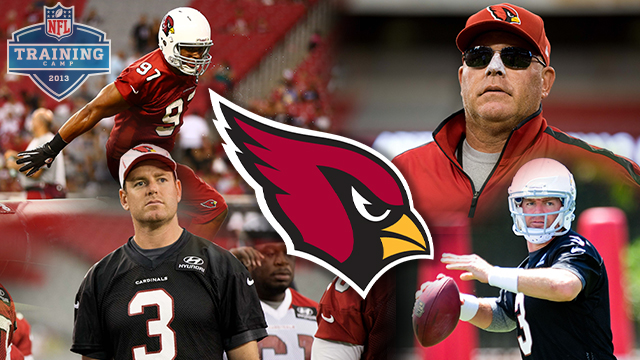 The
Arizona Cardinals
think they finally found the quarterback they've been missing since
Kurt Warner
, and that's great. But this isn't: They still have to survive in the NFC West.
Arizona is the consensus last-place choice in a division dominated by two playoff teams and a St. Louis club ready for takeoff.
It's not that the Cards don't have talent. They just added Carson Palmer to play catch with Larry Fitzgerald. It's that they don't have enough of it.
Maybe that's why hiring coach Bruce Arians made so much sense. He did the improbable a year ago, helping to turn a 2-14 Indianapolis doormat into an 11-5 miracle under extreme circumstances, and he'll have to perform magic here. Arizona is not a bad football team. It's just good enough to push the top of this division.
Key changes
Roster additions: QB Carson Palmer, RB Rashard Mendenhall, LB Karlos Dansby, S Yeremiah Bell, CB Antoine Cason, LB Lorenzo Alexander, DT Frostee Rucker, DE Matt Shaughnessy, QB Drew Stanton, CB Javier Arenas.
Roster departures: QB Kevin Kolb, CB Greg Toler, RB Beanie Wells, WR Early Doucet, S Adrian Wilson, CB William Gay, RB LaRod Stephens-Howling, LB Paris Lenon, LB Quentin Groves, DT Nick Eason, DE Vonnie Holliday, QB John Skelton, FB Anthony Sherman, S Kerry Rhodes.
Staff changes: Let's start at the top. Steve Keim replaces Rod Graves as the team's GM and made an immediate impact by acing the draft -- starting with the choice of guard Jonathan Cooper. Now let's work our way down. The head coach is new, with Bruce Arians replacing Ken Whisenhunt, and his entire staff is new, with a couple of exceptions. Freddie Kitchens moves from coaching tight ends to coaching quarterbacks, and Ryan Slowik, who coached outside linebackers a year ago, takes over the defensive backs. Otherwise, it's an entirely new crew, with the exception of the strength-and-conditioning group, though it's not entirely young. Included are 77-year old Tom Pratt and 74-year-old Tom Moore, both assistant coaches.
Position battles
Jerraud Powers was signed to take over as Patrick Peterson's partner at cornerback, but he'll have competition from Antoine Cason. The Cards made the offseason play for Powers first, so it figures that he probably has the inside track. Plus, they signed Cason to only a one-year deal. But Powers has a hard time avoiding injuries, and Cason is determined. This one bears watching.
The inside linebacker position is unsettled because of a four-game suspension to Daryl Washington. The Cards signed Karlos Dansby to play there while Washington is gone, which is great. But what happens when Washington returns? They'll have a decision to make. They already have Jasper Brinkley at one inside spot, and he's not going anywhere. The question is: How does this all come together when Washington returns?
New schemes
The Cards talk about getting more physical within the division, but let's be honest: With Arians in charge, they're bound to throw more -- more specifically, throw more downfield. Not only do they believe they have the people in Palmer, Fitzgerald and Michael Floyd to put a vertical game together, but they believe they have the pass protection to do it, too -- especially after the second-half performance of Bobby Massie last season. What they don't have is a fullback, and no surprise there. Arians didn't have one in Indianapolis, either, which tells you a little about how much Arizona might run. So that's one change. Floyd's promotion to the first team is one change, with Arians hopeful he makes more and better use of him. Then there's the tight end. The plan is to incorporate that position more in the passing attack, with the Cards high on Rob Housler. With Housler's talents, it makes sense.
Defensively, they will stay with the 3-4, but new coordinator Todd Bowles likes to play a scheme that more closely resembles a Wade Phillips production than what the Cards ran last season. Under former coordinator Ray Horton, the front three was asked to play two-gap, read-and-react football. Bowles wants to cut them loose more and get to the backfield, though for the last few days of spring practices, players were in all-out blitzes and attacking off angles as they did under Horton. Skeptics are right to question how a changed defense worked. It was the only thing that went right for the Cards last season. Nevertheless, Bowles is hoping his scheme makes Darnell Dockett a factor again, and that's a huge issue. He faded last season, and the Cards faded with him. Now, they're hoping he finds himself and emerges as something close to what Houston has in J.J. Watt.
Bubble watch
The Cards weren't happy with defensive tackle Dan Williams when he gained weight in the offseason. But he's since lost it and vows to report to training camp at 315 pounds. Still, that doesn't change things. He could be in for a challenge. The Cards picked up Frostee Rucker as insurance at the position, and second-year pro David Carter -- a grinder who can play nose tackle or defensive end -- could be in the mix. Bottom line: It's time for Williams to respond with a decent year.
Darnell Dockett's not on the bubble, but he is under the microscope. He's coming off a horrible year, one where -- after the first month -- he had no impact. Dockett turned 32 this year, so there's that obvious question: Was it the scheme, or is he starting to lose it? We won't have long to find out.
Unheard-of-guy to watch
Tight end Rob Housler. He's someone who can run and catch, much like, say, Rob Gronkowski in New England. He has unusual speed for the position, which should create matchup problems for opponents, but he still needs to work on his blocking.
Biggest concerns
Let's start with the offensive line. When you allow a league-high 58 sacks that's something a new coach will want to fix -- which is why the Cards used their first pick on Cooper. Nevertheless, tackle Bobby Massie made a remarkable recovery last season, producing a stellar second-half after a forgettable first, and Levi Brown returns after a season off because of injury. So the Cards could have the pieces up front to help produce respectable passing game, but please don't pass the word to cynics. They've heard it before.
Then there's the Cardinals' rushing attack. It almost always was among the league's bottom feeders, finishing dead last in 2012. They've talked about developing a power running game, but they're shaky at the position. Rashard Mendenhall is the lead back, but he's coming off of an injury-plagued season, and Ryan Williams spent most of his two years in the league on the sidelines recovering from something. Maybe rookies Stepfan Taylor and Andre Ellington can help out, but I don't blame Arizona fans if they're skeptical.
The passing attack should be improved if only because Palmer is a huge leap forward from what the Cards rolled out a year ago, but depth at wide receiver should be a concern. Beyond Fitzgerald, Floyd and Andre Roberts there's not much.
Something to prove
This one's easy. It's Palmer. Critics say he's finished, and the Raiders all but admitted it by giving the guy away. So it's up to him to prove he can do what he hasn't the past three years -- namely, win and become part of the solution instead of part of the problem. Of course, Dockett deserves mention here, too, but the Cards go nowhere if Palmer isn't fixed. So that's where you start.