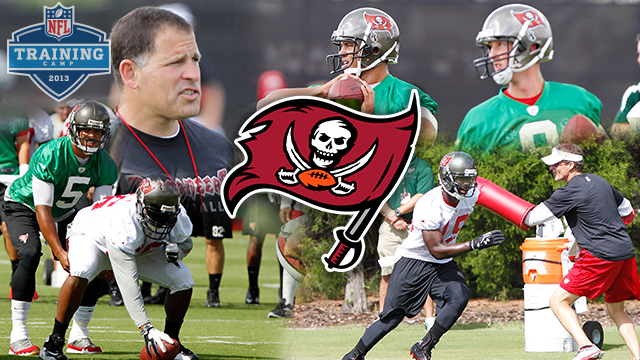 When Greg Schiano took over as coach of the Bucs last year, he instilled a culture of discipline and structure, something that was badly needed. But a young coach who has the rules and discipline he has must be careful that he doesn't continue to push too much. He might need to lax some of the things he did last year, even if he seems to have this team headed in the right direction.
The big issue now is quarterback Josh Freeman. He threw for team highs in touchdowns and yards last season, but he and Schiano don't exactly have a warm, fuzzy relationship. The team has not signed Freeman to a new deal, even though he's in the final year of his contract, which is telling. Freeman could be on a one-and-done year, especially with Mike Glennon being drafted in the third round.
Key changes
The Bucs spent big in free agency in 2012, but their big addition this year was a trade to land corner Darrelle Revis from the Jets. It's a risky move since Revis is coming off an ACL injury, but if he is healthy the Bucs will have a top-level secondary, especially with the free-agent addition of safety Dashon Goldson from San Francisco. But coming off an ACL, thinking Revis will simply be the same -- which was the best cover player in the league -- is just an assumption.
The Bucs also traded to get former first-round pick Gabe Carimi for their offensive line. He will add some depth.
One major staff change is John McNulty coming over as quarterbacks coach from Arizona. Schiano wanted to hire McNulty as offensive coordinator when he took the job, but the Cardinals declined his request to leave last year. So when the Arizona staff was fired, Schiano brought him in as quarterbacks coach. But there are some who think that could mean trouble for current offensive coordinator Mike Sullivan down the road. Is McNulty the next coordinator?
Position battles
Roy Miller was a big part of the Bucs' top-rated run defense in 2012, but he is now in Jacksonville. That means a battle to start will be waged by fourth-round pick Akeem Spence, Gary Gibson and Derek Landri. My gut is that Spence will find the way to win that job.
The battle for the strong-side linebacker spot will be fought by a handful of players including Dekoda Watson, Adam Hayward, Jonathan Casillas and Najee Goode. Quincy Black, who was the starter there, had to retire for medical reasons. Goode is a player who can run, which the Bucs love.
Bubble watch
Myron Lewis, a fourth-year corner from Vanderbilt, who looks the part but never has played to the expectations, could be the odd-man out in the secondary with the addition of Revis and Banks.
Unheard of Guy to Watch
Get to know Spence. He has a chance to be a special player. I was shocked that he lasted until the fourth round. Playing next to Gerald McCoy, he should get a lot of single blocks. Spence could be this draft's Geno Atkins. High praise for sure, but he is talented.
Biggest concerns
Who provides the pass rush is a common theme in the NFC South. But the Bucs have two young defensive ends in Adrian Clayborn and Da'Quan Bowers. They just have to keep them on the field. Clayborn is coming off an ACL injury. His health will be guy to this team improving on defense.
Another key is the growth of Freeman. I think he has the talent to be a quality NFL starter for a long time. But he is not Schiano's guy. And sometimes coaches like their own guy. This is a huge season for Freeman.
Who plays tight end? Is it Luke Stocker or Tom Crabtree, who signed as a free agent from Green Bay? Neither is a great down-the-field threat, which will hurt the Tampa Bay offense. Dallas Clark gave them more in the passing game last season.
Something to prove
It's no doubt it's Freeman. He was the team's first-round pick in 2009 and has some good moments, but the inconsistency has impacted how the team feels about him. If he struggles early, it could go downhill quickly. Schiano has already said that Glennon is a guy he likes a lot.