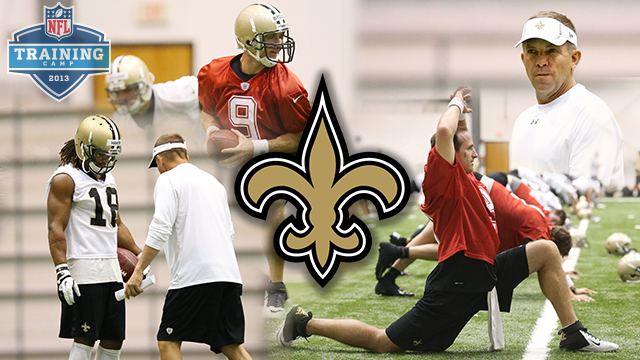 The Saints have their coach back. After a year banished by the league for his role in "Bountygate," Sean Payton is back on the sidelines.
He just might be the biggest acquisition in the NFL this year. Payton is the NFL's best play-caller, an aggressive, cocky coach who isn't afraid to take chances. Without him last year, the Saints seemed rudderless. Now Payton is back, refreshed and ready to get back to trying to win a Super Bowl.
Key changes
The defense will be different as well. Rob Ryan takes over for Steve Spagnuolo and will implement a 3-4 style, and a defense with a swagger. The only problem is that Ryan's defense requires good pass rushers off the edge and there is none that stand out on the Saints roster. Payton and Ryan will certainly amp up the attitude on the field, and at the team facility. That should help get them back to competing for the division title.
The Saints will still be a pass-first team with Drew Brees running the show, and most of the principles are back on offense. They do need to replace left tackle Jermon Bushrod.
The defense will have a lot of new faces starting, including free agent corner Keenan Lewis and rookie first-round pick Kenny Vaccaro at safety. The secondary really struggled in 2012, so those two could play huge roles.
Position battles
With Bushrod gone, the left tackle job will come down to Charles Brown and rookie Terron Armstead and former first-round pick Jason Smith. Brown has been somewhat of a disappointment since being a second-round pick three years ago and Armstead is from tiny Arkansas-Pine Bluff. Smith has impressed in his work with the team. He busted out for the Rams as a high first-round pick, but he has some ability.
Vaccaro will get on the field somewhere. So does he beat out Malcolm Jenkins or Roman Harper? My guess is that it will be Harper, who struggles in coverage. In Jenkins and Vaccaro, the Saints would have two rangy safeties.
Veterans Jonathan Vilma and David Hawthorne are expected to battle for one inside linebacker spot. Both battled injuries last season and Vilma had to deal with the fallout from his role in Bountygate.
New schemes
The change to the 3-4 will make for a much more aggressive approach to playing defense. Ryan has sometimes over-complicated things, which can put his defenders in some bad positions. But the Saints play with the lead a lot, which could play right into his aggressive style. Look for more attacking with linebackers and secondary people on blitzes.
Bubble watch
Even though both Will Smith and Harper took pay cuts, they are by no means assured a spot on the roster. They have to show something in camp. They aren't the type of players who go from starter to bench player. They would likely go from starter to getting cut.
Unheard-of-guy to watch
Second-year defensive tackle/end Akiem Hicks flashed some talent as a raw rookie in 2012. He has good size and is a powerful man who should play a huge role in the Saints trying to improve their run defense.
Biggest concern
It has to be the pass rush. Ryan's defense is keyed by the outside rushers and the Saints have already lost Victor Butler, who was expected to be a big part of the pass rush, to a season-ending knee injury suffered in OTAs. That means Junior Galette and Martez Wilson have to come up big as pass rushers.
Left tackle is also a big concern, no matter who starts. But the thing with Brees is that he is one of the best at feeling the pressure, so that will help whoever starts.
Something to prove
It's Payton. He has to show that the year off was good for him. He has changed his body and seems to be a changed man. He has to show that the year off is a good thing, and not something that will hurt the team.