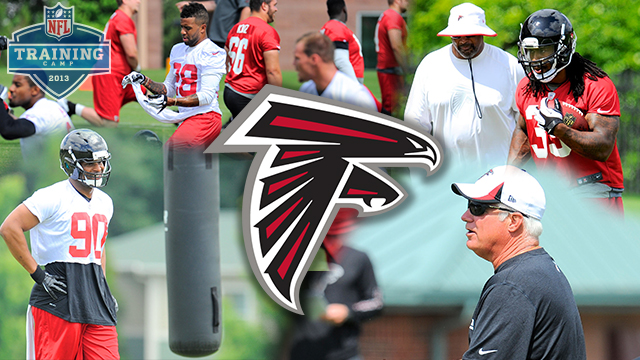 The Falcons were 10 yards away from a
Super Bowl
last year, but couldn't get it done in the NFC Championship Game late against San Francisco. But coach
Mike Smith
and quarterback
Matt Ryan
won their first playoff games with the organization to help ease some of the pressure.
The Falcons were the top seed in the NFC, only to lose at home when they blew a big lead against the 49ers.
Key changes
The big change on offense will come with Steven Jackson coming over as a free agent running back to take over for the plodding Michael Turner. The Falcons are excited about Jackson's ability to amp up the running game and be more of a factor in the passing game than Turner was last season. The only other big changes on offense are on the offensive line. Right tackle Tyson Clabo was released, which means second-year player Lamar Holmes or Mike Johnson will step in and start. Holmes is a big, athletic player who has the tools. If he wins the job, Johnson could push Garrett Reynolds at right guard.
Second-year player Peter Konz moves from right guard to center to take over for veteran Todd McClure, who retired. Tight end Tony Gonzalez also said he was retiring after the 2012 season, but he was talked into returning for one more run. The defense, which was improved under first-year coordinator Mike Nolan last season, has replaced defensive end John Abraham with Osi Umenyiora, a signing from the Giants. Umenyiora had just four sacks last season, so he has to be better. First-round corner Desmond Trufant is expected to be an immediate starter, and they need better play from that spot this season. This is still a talented roster, one capable of pushing for a title again.
Position battles
The right side of the offensive line will be a camp battle all the way through. During offseason work, it was Johnson at right tackle and Reynolds at right guard. But I get the impression the Falcons would love to see Holmes win the right tackle job since Johnson is more of a guard.
The nickel corner job will likely be a battle between third-round pick Robert Alford and veteran Robert McClain, who played well in 2012. Alford has a ton of athletic ability, and flashed it during OTAs and minicamp, and the Falcons would love to get on the field. McClain is a fighter who won't go down easily.
The fourth and fifth defensive ends will be a camp battle all summer long. There are a lot of bodies in the mix, and the Falcons hope one or two can emerge as pass-rush threats.
New schemes
Don't expect a lot of change on either side of the ball. The offense, under coordinator Dirk Koetter, was much more aggressive in 2012 than in years past. Koetter likes throwing down the field, which plays to the strength of the team with Matt Ryan and his weapons. Jackson should help the passing game on early downs. He will get most of his action in the passing game, which is a change for that spot. On defense, Nolan is as creative a coordinator as there is in the league. He had to scheme up a lot of things to compensate for some iffy spots on defense. One thing he has to concentrate on more this year is the read-option. The Falcons play a lot of read-option teams in 2013. Also look for more 3-4 looks at times.
Bubble watch
Veteran corner Dominique Franks could be in trouble with the drafting of Trufant and Alford in the third round. Franks has also helped in the return game, but he didn't offer much. For the most part, this is an easy roster to figure out and not a lot of veterans will be in trouble come August.
Unheard-of-guy to watch
The Falcons let Abraham walk in part because they like second-year player Jonathan Massaquoi. He is a pass rusher from Troy who they think can have an impact on passing downs. He isn't big at 265 pounds, but he has good speed off the edge. He is expected to be in the rotation.
Biggest concerns
Even with the signing of Umenyiora and the drafting of two more defensive ends, the pass rush remains the biggest concern. How do they get to the quarterback on a consistent basis with their down four? Nolan loves to blitz, but he also was forced to do more of it than he would have liked last season. That led to some blown coverage in the two playoff games. They had particular trouble with the tight ends. The linebackers have to be better in coverage.
Something to prove
It's Umenyiora. He had double-digit sacks in 2010, but hasn't come close to that type of play the past two seasons. He has to give the Falcons something off the edge. If he can't get it going, the Falcons will have problems defending the pass. The Falcons have loved his work this offseason. He was the first guy in the workout room most days.
The Falcons were 10 yards from a Super Bowl, but you'd never know it by the preseason hype. Don't sleep on this team. They are talented and they have a quarterback who can get them to a Super Bowl. It all depends on the defense. Can it take an even bigger step forward?