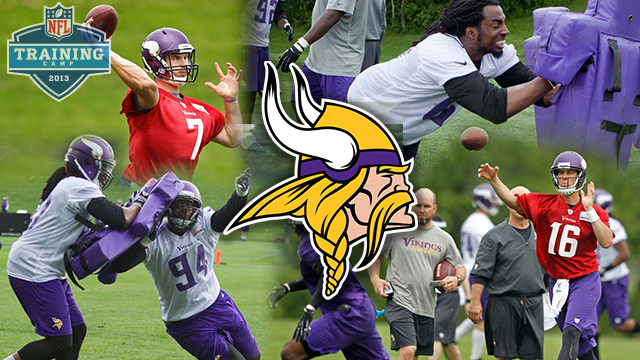 Minnesota surprised much of the NFL world by making the playoffs last season, and coach Leslie Frazier hoisted himself off the hot seat by leading the Vikings to a 10-6 record.
Depending on how quarterback Christian Ponder plays, Minnesota could have the chance to battle with Green Bay for the NFC North title or the Vikings could fall back into the basement. If the latter happens, we might not see Frazier or Ponder around for much longer.
Key changes
Minnesota surprised most observers by scratching out a 10-win season in 2012 and taking one of the wild card playoff spots in the progress. But that roster looks a little different than the one the Vikings will showcase in 2013.
Perhaps the biggest loss to the team was when the Vikings traded receiver Percy Harvin to the Seahawks for multiple draft picks. A big talent loss for sure, but it might be a relief (at least, somewhat) for a Minnesota squad that had to put up with a player who clearly was unhappy with his Vikings contract. Still, no matter. Harvin won't be an easy player to replace, but Minnesota certainly tried in signing another top-notch receiver.
The Packers' loss was the Vikings' gain when it comes to receiver Greg Jennings. After he turned down a reported $10 million per year before the 2012 season, Jennings only played half the season because of multiple injuries. Instead of re-signing with Green Bay, the Vikings offered him a $9 million-per-year deal that he accepted. We're not sure how much the nearly 30-year-old Jennings has left, and if Jennings continues to fall off, Christian Ponder had better hope Minnesota's 2013 first-round pick, receiver Cordarrelle Patterson, makes a huge impact immediately.
Following the news that the team signed former Chiefs starter Matt Cassel to back up Ponder, Minnesota took Joe Webb out of the quarterback rotation and made him a full-time receiver. But this way, if Ponder can't play -- and he missed five games in 2011 -- the team has a legitimate quarterback in Cassel who's proven he can win games, albeit not in a while, in this league.
During free agency, the Vikings did a nice job of keeping tackle Phil Loadholt, fullback Jerome Felton and receiver Jerome Simpson, but Minnesota let go of Antoine Winfield. And it appears the Vikings screwed up the chance to keep the still-quality cornerback. All because they didn't feel he was worth his $7.5 million salary and because they thought they might convince him to re-sign at a lower price. The problem was that Winfield was so upset with the move that instead, he signed a deal with Seattle and upgraded what was already one of the top secondaries in the league. Without Winfield, Minnesota signed former Lions cornerback Jacob Lacey.
Position battles
Middle linebacker is the most important job that seems open for competition. Minnesota signed former Packers linebacker Desmond Bishop, who will probably have the best chance to earn the starting role. The Vikings have also said that Bishop could play at one of the outside linebacker spots. But if Bishop sticks in the middle, he might have to compete with Audie Cole and Erin Henderson -- who reportedly has bulked up his weight in order to make the move from weakside linebacker.
And actually, the weakside spot is open as well. If Bishop doesn't work there, look for Marvin Mitchell to compete with Gerald Hodges and Tyrone McKenzie for that job. For the nose tackle position, Letroy Guion, last year's starter, will have to hold off Fred Evans to keep his spot.
Bubble watch
You have to wonder what the Vikings want to do with backup running back Toby Gerhart. He's entering a contract year, but he's also coming off the worst season of his career. Minnesota likes his pass protection, but at this point, he's nothing more than a third-down back who averaged 3.4 yards per carry last season. There have been reports speculating that Gerhart could be used as trade bait once training camps open, but the problem with that from Minnesota's perspective is that if Adrian Peterson leaves with an injury, there are no other proven commodities at running back. Gerhart's mediocrity might simply be a better option than the unknown.
Veterans in jeopardy
For now, all indications are that defensive tackle Kevin Williams will keep his starting job for the 2013 season. But there's a reason Minnesota took Sharrif Floyd in the first round of the draft, and it's likely not to play a backup role to Williams, who will be 34 by the time his contract expires at the end of 2013. It's also possible that the team could move Williams to nose tackle if Floyd proves impossible to keep off the field. One thing to remember: Williams still can play, as evidenced by his No. 9 defensive tackle ranking last season by Pro Football Focus. Either way, it's not difficult to forecast that Williams' time in Minnesota is limited.
Left guard Charlie Johnson, who already had to restructure his contract in the offseason after his disappointing 2012 season, could face a release if he can't win that starting job.
Unheard-of-guy to watch
Josh Robinson will attempt to replace the cornerback that Pro Football Focus ranked No. 1 last season, Antoine Winfield. And if that's not enough, Robinson, who will be asked to play the slot cornerback spot, has never done so before. "This is all new to me," he told reporters during the offseason. "... I really don't have any game-time experience with it. I think it's something I'll learn eventually. We'll see." Sounds pretty confident, eh? The bad news: When quarterbacks threw at Robinson's receiver last year, their rating was 106.5.
Biggest concerns
While many see young quarterbacks like Blaine Gabbert as being unworthy of a starting job, Christian Ponder -- who, like Gabbert in Jacksonville and Jake Locker in Tennessee, is entering his third year in the league after being drafted in the first round -- has more job stability. Though Ponder certainly hasn't been great, he helped lead Minnesota to the postseason last year and certainly made improvements from his rookie season. But if the Vikings don't play well in 2013, there have been reports that his job will be in trouble, especially with Matt Cassel as his backup.
And if Cassel does eventually take over Ponder's job, Minnesota will have plenty of questions at that position moving into the future. If it's not Ponder, the Vikings might have to head back into the draft to find their next franchise signal-caller. Ponder isn't a concern yet, but he hasn't made those kinds of questions go away, either.
Something to prove
While watching Jared Allen play last season, you had to wonder if you were seeing the decline of one of the best defensive ends of the past half-decade. After recording a total of 44.5 sacks from 2007-09, Allen has failed to crack the 12-sack mark in two of the past three years. Of course, you could say, "hey dude, he had 22 sacks in 2011!" and you'd be absolutely right. But in 2012, he seemed to disappear for long stretches of time.
Plus, he's coming off an offseason of knee and shoulder surgeries, though neither is supposed to threaten the beginning of the regular season. Allen managed 12 sacks with a torn labrum last season, but you have to believe that his advancing age won't help keep him healthy. Allen hasn't been asked to take a paycut, but he said if the Vikings mentioned it, he would refuse to do so. The fact this is even a topic might motivate Allen as he enters the 10th year of his career.