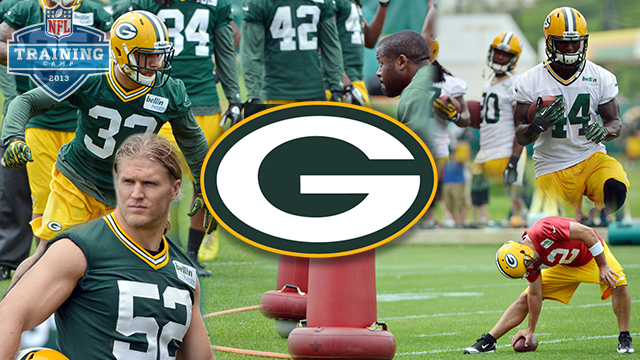 Green Bay had a down year last year -- at least, from the Packers' perspective, anyway -- after going 11-5 and getting bounced in the second round of the playoffs for the second straight season.
But when Aaron Rodgers is leading your team and you have a strong core returning on defense, you have to like your chances to compete for another Super Bowl.
And Green Bay will be one of the favorites in the NFC again this year, because of Rodgers, because of defenders like Clay Matthews and because with coach Mike McCarthy the Packers have made the playoffs in five of the past six years.
Key changes
A year after sporting a spiffy 15-1 record but losing in the division playoffs to the eventual Super Bowl champion Giants, the Packers weren't nearly as good last year, going 11-5 and losing again in the second round of the playoffs to the 49ers. But here's the good news: The Packers still are one of the most talented teams in the NFC, and in 2013, they'll bring back the core of their roster.
The biggest change on offense came from the Packers inability to come to an agreement with receiver Greg Jennings, who instead signed with the NFC North rival Vikings. While Jennings wanted No. 1 receiver money, it's unclear whether he's actual worth that price, particularly since he missed half of last season with groin and abdomen injuries. Even without Jennings, Green Bay still should be fine at receiver with Jordy Nelson, Randall Cobb and James Jones -- in fact, Jones thinks all of them could break the 1,000-yard receiving mark this year. Jennings could come back to haunt the Packers in 2013, but I don't think that's likely.
Meanwhile, receiver Donald Driver retired from the game, and running back Cedric Benson, who started all five games last year he played before he was lost for the season with a foot injury, wasn't re-signed in free agency. Center Jeff Saturday, who somehow made the Pro Bowl in his final season despite a slipshod performance, retired as well.
The team's biggest loss on defense was the release of Charles Woodson, who eventually signed a one-year deal with the Raiders. And while the team will miss the soon-to-be 37-year-old from a veteran leadership standpoint, the truth is he only played seven games last year after breaking his collarbone. With a young solid secondary in Green Bay, there simply was no room for Woodson any longer (and apparently most of the league agreed -- there wasn't much interest in Woodson after his release).
Position battles
Most of the roster should stay the same as last year, though there will be a competition for spots in the secondary (can cornerback Casey Hayward, a rookie sensation from last year, win a starting role?) and for the place-kicker spot that was much-maligned last season -- last year's kicker, Mason Crosby, might be in some trouble if he doesn't impress in the preseason.
But one of the biggest battles entering training camp will be for the spot that the Packers hope never to use. That, of course, is for the right to back up quarterback Aaron Rodgers. The last two years, the No. 2 quarterback has been Graham Harrell, and he actually participated in four games in 2012. But the Packers also want to give him some competition, and now that 2012 seventh-round pick BJ Coleman spent a year on the Green Bay practice squad, those two will fight it out to see who will get the call if Rodgers has to miss games. For now, Harrell probably is the favorite to win the No. 2 spot, but if Coleman has a good training camp and Harrell doesn't, that could change.
New schemes
This isn't necessarily a new scheme, but an important part of the Packers offense will undergo drastic change: In effect, the offensive line should look completely different this season. That's because the line, as it was configured last year, allowed 51 sacks (the second-worst mark in the league). You might not remember this because of what happened in the final seconds of the wildest game of last season, but the Green Bay offensive line actually allowed the Seahawks to record eight sacks against Aaron Rodgers. In the first half.
Thus, coaches are moving right tackle Bryan Bulaga back to the position he played in college on the left side, replacing Marshall Newhouse. Josh Sitton, formerly the right guard, also has been switched to the left side to try to replicate the chemistry he had with Bulaga, and coach Mike McCarthy clearly wants his two best offensive linemen protecting Rodgers' blind side. Meanwhile, Evan Dietrich-Smith takes over for Saturday at center; TJ Lang, last year's left guard will play right guard now; and Derek Sherrod will battle Newhouse to see who starts at right tackle.
Bubble watch
Since the Packers selected him in the fifth round of the 2010 draft, Newhouse has struggled at left tackle. According to Pro Football Focus, which ranked him the 54th-best tackle in the league last year and dead last at No. 76 in 2011, Newhouse has managed to allow a total of 16 sacks in his first two years in the league. That's obviously not good, and that, of course, is why the coaching staff is moving the well-regarded Bulaga to the left side.
Newhouse will get the chance to start on the right side, but he's going to have some major competition. Sherrod, the team's first-round draft pick in 2011, is still rehabbing from a bad leg injury he suffered in December of that year and which caused him to miss the entire 2012 season. But if Sherrod is healthy and playing well, Newhouse will be in trouble. And don't forget about Don Barclay, who also will try to win that starting right tackle job.
Veterans in jeopardy
Kicker Mason Crosby has had a fine six-year career, as evidenced by the fact he's finished in the top-five in league scoring on three occasions, including an NFL-best 141 points during his rookie season. But how could anybody have trusted Crosby last year, after he posted a league-worst 63.6 field goal percentage? With the exception of the coaching staff, which stuck with Crosby throughout the season and into the playoffs, it doesn't seem like anybody.
Yet, Green Bay has kept him around for now. But that doesn't mean the Packers are going to sit idly and give him back his job automatically, even if special teams coach Shawn Slocum is on record saying that Crosby has worked through his technical problems. Instead, the team will watch to see if Giorgio Tavecchio can kick Crosby out of a job. It'll be the first time Crosby has competed for his job since the 2007 year, and there's a real danger that Crosby might not make the regular-season squad.
Unheard-of-guy to watch
After accumulating just 79 tackles during his first three years in the league, linebacker Brad Jones recorded 77 of them last season, though he wasn't a full-time starter at the middle linebacker spot. But here's how much Green Bay believes in Jones. The Packers released Desmond Bishop -- who missed all of last season with a ruptured hamstring but who started all 13 games he played in 2011 while recording 115 tackles -- to give Jones the job. Even Bishop agreed with that decision, saying, "It's a smart thing to do. It's understandable."
Biggest concerns
It's still the running game. Last year's free agent signee, Cedric Benson, was limited only to five games before a foot injury ended his season, and the highest rushing total on the team was Alex Green's 464 yards (Rodgers rushed for 259 yards, and when you learn that was the second-highest total on the squad, you know how subpar that running attack really was). As a result, the Packers drafted Alabama running back Eddie Lacy in the second round, the first time the team had taken a running back that high since Brandon Jackson in 2007.
But that selection doesn't necessarily make the team's problems evaporate. Lacy fell to the second round, because there were questions about his work ethic, a lack of speed and only one season as the Crimson Tide's No. 1 back. If Lacy doesn't perform well early on, he could lose playing time to Johnathan Franklin, who was taken only two rounds after Lacy, or a healthier Green -- who ended minicamp as the top running back on the depth chart.
Is the running game completely imperative in order for Green Bay to have success? No. The last time the Packers won the Super Bowl, the team's leading rusher was Brandon Jackson with 703 yards (and again, Rodgers ranked second on the squad). But it sure would be nice.
Something to prove
Jermichael Finley: Throughout his five-year career, Finley has been a frustrating figure. He is so darn talented, and he oftentimes showcases his abilities (eight touchdown catches in 2011, a career-best 61 catches in 2012), but he drops the ball too much and he hasn't cracked the elite level of tight ends in which players like Rob Gronkowski and Tony Gonzalez reside. Basically, he hasn't earned the trust of the franchise, which thought hard about whether it wanted to bring him back in 2013. Finley will be an unrestricted free agent after this season, and if he wants to get paid like an elite tight end -- if that is, in fact, what he is -- he'll need to have the best season of his career this year.