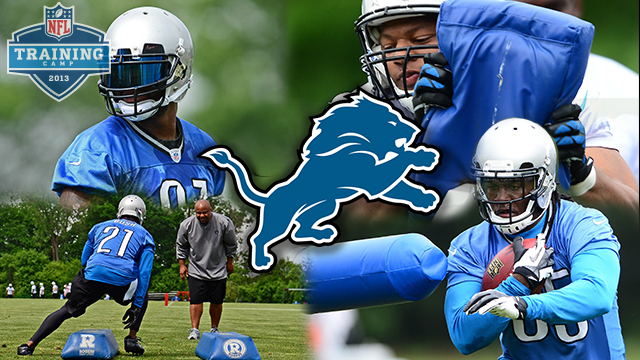 Under coach Jim Schwartz, the Lions seem like an annual pick to break out of their latest decade-long malaise, and they sort of did it in 2011, going 10-6 and making the playoffs. Which made 2012 ever so much more disappointing when they slopped out a 4-12 mark.
Detroit enters this season with many question marks. The Lions SHOULD be good; they have the talent to compete for the division title. But they just haven't been for most of the Schwartz era, and that's obviously a problem for the team and for his long-term job prospects.
Key changes
With the uncertainly surrounding Jahvid Best's career -- he still hasn't been cleared from the concussions he suffered in 2011 -- and with Mikel LeShoure's past legal troubles, Detroit added running back Reggie Bush, who surprisingly didn't get much interest after leaving Miami. Bush is coming off the two best years of his career, and if he can get to 1,000 yards rushing, it'd be the first time in Stafford's career he'd have such a solid run attack (and Bush would be the first Lions player to do so since Kevin Jones in 2004). Stafford would have to like that versatility, especially since the team threw a league-record 740 times last year.
The Lions lost right tackle Gosder Cherilus to the Colts, but overall, that's not a terrible thing for Detroit, considering Indianapolis gave Cherilus an expensive contract. The team also will be without receiver Titus Young, who was a problem child since joining the team and has been arrested four times since Detroit released him. It's unfortunate for both sides, because Young really could have been a talent for Detroit.
The biggest loss for Detroit, though, is defensive end Cliff Avril, who played under the franchise tag last season and departed for Seattle afterward. But the Lions picked up defensive end Israel Idonije -- who surprisingly languished in the free agent market after leaving the Bears -- and signed Jason Jones. Both of those transactions seem like good moves and really add depth to what is still one of the best defensive lines in the league. Kicker Jason Hanson, who played for the Lions since 1992, retired, and proving they still enjoy employing older kickers, the Lions signed 38-year-old David Akers.
Position battles
With Cherilus moving west to Indianapolis, Jason Fox has the edge to land the starting right tackle spot, but he will be challenged by Corey Hilliard. Fox has been in the league for three years, but he's only participated in five games, due to a cornucopia of injuries suffered and because he was behind Cherilus and the now-retired Jeff Backus on the tackle depth chart. But for the first time in his career, Fox isn't rehabbing an injury in the offseason, and the team likes his size, strength and technique. Hilliard has only made five starts in six years. He'll have to have a strong training camp in order to beat out Fox.
While cornerback Chris Houston started most of the 2012 season as the left cornerback -- and had a solid year while doing so -- the right side of the secondary wasn't nearly as stable as Bill Bentley, Jacob Lacey and Jonte Green each started at least four games. Obviously, the Lions would prefer to have one effective starter for the entire season on the right side, so Bentley will compete against second-round pick Darius Slay and Ronald Bartell for that No. 2 cornerback job. Slay is the favorite entering training camp, but don't count out Bentley, a 2012 third-round pick who sustained a shoulder injury last year, quite yet.
New schemes
While the Eagles had success with their Wide 9 defensive scheme in 2011, that defense -- led by then-coordinator Juan Castillo and defensive line coach Jim Washburn -- collapsed last year and helped lead to Andy Reid's dismissal as head coach. The Lions ran a similar look, and last season ranked 27th in points allowed and 20th in sacks recorded (the Eagles, for what it's worth, finished 29th and 25th). And while there had been talk that we would see less of the Wide 9 look in Detroit heading into 2012, Detroit then hired Washburn this offseason as a defensive assistant. So, perhaps we'll see more Wide 9 instead of less, especially since first-round pick Ezekiel Ansah likely will get the chance to line up wide to rush the quarterback.
Schwartz, it appears, might double-down on the philosophy that ultimately helped sink Reid. And with Schwartz probably on the hot seat following a 4-12 finish last year, you have to wonder if a reliance on the Wide 9 scheme will get a head coach fired for the second straight season.
Bubble watch
Clearly, Matthew Stafford likes throwing to his tight ends. Last season, he combined to complete 101 passes to Brandon Pettigrew and Tony Scheffler, but Scheffler is a potential candidate for release. Tim Twentyman, who covers the Lions for the team website, believes Pettigrew and seventh-round draft pick Michael Williams, known for his blocking, are likely to take two of the three tight end spots in Detroit. That means Scheffler and undrafted rookie Joseph Fauria would battle for that final job. Unless Scheffler is that much better, Detroit might just take a chance on Fauria, especially since it'd save more than $2 million by releasing Scheffler.
Unheard-of-guy to watch
If you've heard of Ashlee Palmer, many congrats to you. For you clearly have studied up on your Lions special teams players, and you clearly understand how his performance there earned him a two-year extension in the offseason. Now, though, Palmer is looking to make an even bigger impact as a starting strongside linebacker in replacing Justin Durant, who's moved on to the Cowboys. He'll have to beat out Tahir Whitehead and Travis Lewis for the job, but at this point, it appears to be Palmer's spot to lose.
Biggest concerns
For 12 seasons, Jeff Backus provided solid, steady play at the left tackle position, but after his decision to retire, the entire look of the offensive line will change. And the experience the team loses should be a cause for concern for a unit that actually protected Stafford pretty well last year. The biggest question mark is Riley Reiff, who moves from right tackle to left but has been criticized for his short arms and mediocre athleticism. Third-round draft pick Larry Warford likely will take the starting right guard job vacated by Stephen Peterman, now with the Jets, while Hilliard and Fox will battle for right tackle. Overall, with the exception of center Dominic Raiola and left guard Rob Sims, the offensive line will be inexperienced, and that's probably not such a great thing for Stafford.
Something to prove
In the last two years, safety Louis Delmas has missed a total of 13 games, and though he created interest in the free agent market this offseason -- he talked with the Rams and 49ers (and gave this great quote: "The Lions are cheating on me. They're going to the club every damn night and staying out late [at] night, trying to come back home to daddy") -- he eventually re-signed with Detroit. One of the reasons Detroit allowed him to test the market was because he still isn't healthy. He didn't participate in OTAs because he's still recovering from an August knee surgery, and his health going into training camp will be a major storyline for this team. But the talented Delmas needs to prove he can return to form. He's only making a base salary of $715,000 this year (with $1.75 million in per-game bonuses), but next season, when again he'll be in a contract year, he's scheduled to make $6 million. If Delmas' health is still an issue, it's highly doubtful Detroit or anybody else will be interested in paying him that much.