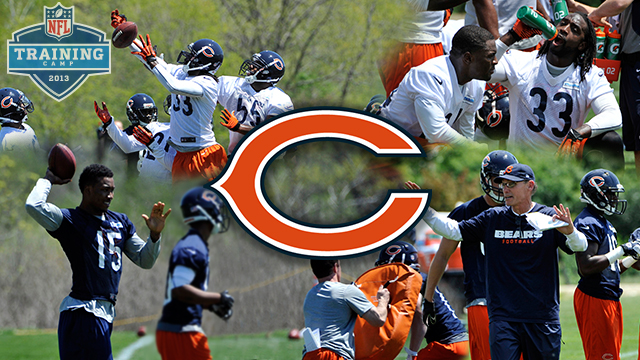 We can argue about whether Lovie Smith deserved to be fired after putting together an 81-63 record during the past nine years, but in reality, he's gone and Marc Trestman is the new coach in town.
The offense will be opened up, and future jobs will be on the line, including that of a certain starting quarterback. Even if this team finishes in fourth place in this division -- and that's no sure bet -- the squad still has talent and could beat out anybody else in the NFC North.
Key changes
After nine seasons of Lovie Smith, who had a pretty decent run during his time in Chicago and who actually went 10-6 last season, the Bears ultimately fired him and brought in Montreal Alouettes head coach Marc Trestman. Previously, he had been the offensive coordinator in Cleveland, San Francisco, Arizona and Oakland. Clearly ownership felt the need to make the offense more explosive -- the team actually hasn't employed a consistently solid offense since Mike Ditka's last season in 1993 -- and Trestman worked wonders with quarterback Anthony Calvillo in Montreal and Rich Gannon in Oakland a decade ago. Helping him along will be solid coordinator choices in Aaron Kromer on offense and Mel Tucker on defense.
Already, changes have been made to help Cutler. Upgrading a shoddy offensive line that continually gets Cutler beaten up (the team was No. 8 in sacks allowed last year, No. 5 in 2011 and No. 1 in 2010), the Bears signed former Saints left tackle Jermon Bushrod, former Jets left guard Matt Slauson and former Giants tight end Martellus Bennett. All three should help in their starting roles immediately -- especially Bushrod and Slauson, who will be charged with protecting Cutler's blind side better than tackle J'Marcus Webb and guard Chilo Rachal did last year.
The team lost the heart of its defense for the past decade with the decision not to re-sign linebacker Brian Urlacher (he subsequently retired). Former Broncos linebacker DJ Williams will compete for the middle linebacker position, and playing next to him as a strong-side linebacker should be James Anderson, who was signed this offseason after the Panthers released him. Chicago signed former Saints defensive tackle Sedrick Ellis, the No. 7 overall pick in 2008 who will likely back up Stephen Paea. The Bears also let go of defensive end Israel Idonije, even though he was coming off a solid season (he eventually signed with Detroit).
Position battles
One of the most important positions to solidify is the one Urlacher has vacated -- that of middle linebacker. In the offseason, the Bears picked up DJ Williams, who had been cut by Denver after a couple disappointing seasons. But then Chicago drafted Jon Bostic in the second round, and it appears as though Bostic and Williams will fight it out for the right to lead the defense. Williams was suspended for a total of nine games last year, and though Bostic has good versatility and probably could play anywhere in the linebacker corps, look for him to most likely beat out Williams for the job. If that's the case, Williams could have a chance to compete with James Anderson for the starting strong-side linebacker spot.
New schemes
After the Bears didn't surpass expectations with pass-happy Mike Martz as the offensive coordinator, Lovie Smith last year turned the offense over to the more-conservative Mike Tice. Now that the attempt has failed, Trestman and Kromer will create a new West Coast-style offense that will rely heavily on the passing game, using receivers and tight ends at different spots all over the field in an attempt to create mismatches. Martellus Bennett should benefit from this scheme, while running back Matt Forte likely will get more chances to catch balls coming out of the backfield while he's put more into motion. So far, it sounds like Trestman has become a big fan of Forte.
Trestman is lucky to have the versatile and sturdy Brandon Marshall as the team's No. 1 receiver, but 2012 second-round pick Alshon Jeffery should begin to make a name for himself as the No. 2 receiver.
Also, look for Chicago to run some read option as well. No matter that it's become trendy in the NFL in the past year, Trestman used that formation in Canada as well.
Bubble watch
Devin Hester's time in Chicago, it appears, is close to being over. And it seems as though there's a chance he might not make the 53-man roster. Consider that the Bears have no plans -- and no interest -- in returning Hester to the receiver corps. That means that Hester only will be working on special teams. Though Hester is one of the best returners of all time, he'll turn 31 in October and it might make sense for Chicago to use Eric Weems, who made the Pro Bowl as a special-teamer during the 2010 season and will contribute as a receiver, in his place. Hester has said that he wants to play two or three more years, but he also said during the offseason that he wouldn't mind "a fresh start." That fresh start might include the chance to play as a gunner on punt coverage, just so Hester could bring a little more versatility to the team. Otherwise, his chances of sticking around long-term are not very high.
Unheard-of-guy to watch
While Khaseem Greene wasn't selected until the fourth round of the 2013 draft, it sounds like the former Rutgers standout could be Lance Briggs' eventual replacement as the starting weak-side linebacker. Briggs, who will turn 33 in November, continues to play at fairly high level (though 2012 snapped a streak of seven seasons of Pro Bowl bids), and playing behind him likely will yield mostly special teams appearances for Green. But if Briggs gets hurt, it'll be interesting to see what kind of talent Greene can bring to the defense.
Biggest concerns
Looking at their depth chart, it's clear to see that the Bears, in theory at least, have improved much of their roster from last season. The linebackers might be a bit concerning because Chicago either will play with guys who are too inexperienced, on the downside of their careers or who simply aren't that good. But a solid defensive line and secondary should make up for that.
If I'm the Bears, my biggest worry is the lack of a backup quarterback. We saw the effects of that two years ago when Chicago was in line for a playoff berth after posting a 7-3 record to open the season. Then, Cutler got hurt, and the combination of Caleb Hanie and Josh McCown simply weren't good enough to help the team follow through (the Bears went 1-5 down the stretch). Jason Campbell was a solid backup last year, though he only needed to make one start, but now that he's signed with the Browns, the Bears have McCown and Matt Blanchard on the roster. If Cutler gets significantly hurt again, Chicago likely will have no chance at the postseason.
Something to prove
Jay Cutler is in the final year of his contract and the team wants to see how he performs in Trestman's offense. Cutler has been solid, but he also has the talent to be one of the best quarterbacks in the league. The fact he isn't is only partially his fault (see above when we discuss how his offensive line has been a frenemy to him the past three years). But at the same time, Cutler will have more help on offense than ever before, including first-round pick Kyle Long at right guard. If he continues his decent, but not spectacular career in the same fashion -- and Trestman talked this offseason about his mechanical inconsistency -- it wouldn't be surprising to see Cutler move on after this season. If he wants to stay in Chicago (and sign another huge contract), Cutler will have to play better than he ever has before.