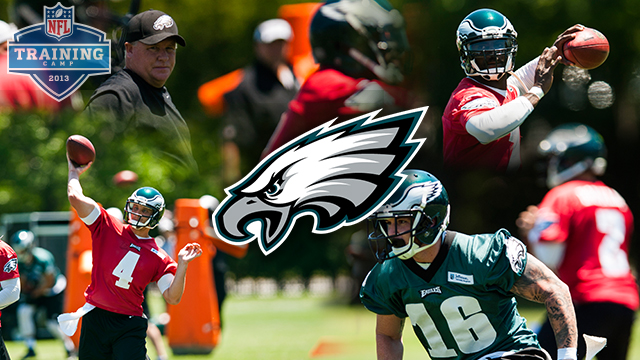 If the Eagles can find a decent quarterback (and that's a big if), and if they can keep that quarterback healthy (if it's
Mike Vick
, that's a huge if), and if Chip Kelly's offense can work (gigantic if) then the player who could have a monster year is wide receiver
DeSean Jackson
.
There continues to be talk that Jackson has a chip on his shoulder and this offseason he's worked as hard as ever. Jackson is still an intimidating weapon and if there's a miracle, and Kelly can reproduce a reasonable facsimile of his college offense, Jackson could be the one to benefit the most.
Key changes
For the first time since 1999, Andy Reid will not be coaching the Eagles. Think about that for a moment. This is a landmark year for the organization and it is also potentially a chaotic one. Chip Kelly is the coach now and he promises a more up-tempo style of offense. But many a college coach has promised to transform the NFL with their college-y ideas and many have failed. See: Spurrier, Steve, among others.
Kelly does inherit a team with talent. The cupboard, despite Philadelphia's dismal record last year, is not bare. LeSean McCoy missed four games last year but still had 1,213 total yards and five scores. What Kelly will have to do is patch an offensive line that was constantly injured last season. The quarterback situation is a mess. It's basically an open competition that Mike Vick will likely win but even if he does, Vick doesn't stay healthy. Fourth-round pick Matt Barkley will see playing time, maybe a significant amount.
The most interesting thing to watch will be Kelly. He wants to run 80 to 100 plays a game, which will never consistently happen. For the past 30 years, the average number of offensive NFL plays has been in the 60s. The Patriots last season once ran 92. That was considered Haley's comet territory. To run that many plays weekly is impossible and would lead to Kelly's offense being physically battered. There wouldn't be enough players to finish a season.
Position battles
The quarterback spot. That's the biggest. There are players on the Eagles who believe that Kelly will do everything in his power to name Barkley the starter.
New schemes
For all of its alleged fast pace and openness, Kelly will utilize two (and sometimes three) tight ends to shore up a shaky offensive line. It's yet another attempt by a team to duplicate the Rob Gronkowski/Aaron Hernandez tight end tandem that was the best in football until injuries and homicide charges destroyed it.
All indications are that the team will switch from a 4-3 to a 3-4. Philadelphia wants to do on defense what the Eagles will try on offense -- keep the game up-tempo and the team in attack mode.
Bubble watch
Tight end Clay Harbor spent time this offseason practicing at outside linebacker. Jason Avant, a wide receiver, practiced several times in the secondary. When the new coach puts a player at a different position, well, that does not bode well for the future of those players.
Unheard-of-guy to watch
Isaac Sopoaga was a crucial free-agent pickup because he's a ferocious run stopper.
Biggest concerns
Where to begin? Can Vick stay healthy? Can the offensive line? Can DeSean Jackson?
Most of all, will Kelly's schemes hold up?
Something to prove
This is for certain: Around the league, few coaches think Kelly will succeed. Coaches are a highly cynical bunch. They think the daily rigors of the sport will beat Kelly's schemes into oblivion and he'll be chased back to college. It will be up to Kelly to prove them wrong.