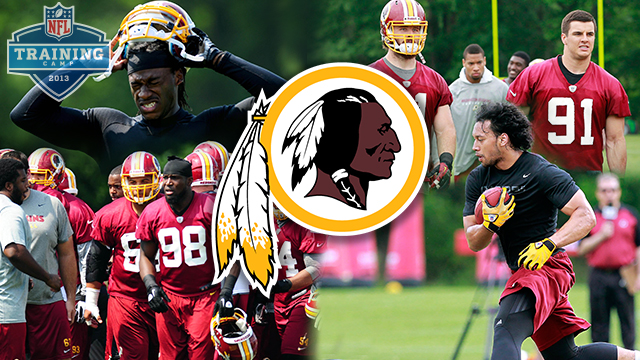 Is this Washington's year?
It might be. My belief: Robert Griffin III will return to football at an almost normal level. I don't think we'll see much of a difference at all.
If that does happen Washington is primed to make a surprise run similar to what Seattle did. The NFC East isn't dominant. Washington's defense could be better than people think and maybe keep them close in games against potential playoff foes like Green Bay or San Francisco.
Yes, it could happen. This could be Washington's year.
Key changes
Washington had no salary cap room this offseason and didn't sign one truly big free agent. Not one. But the Redskins did something else perhaps more important. They kept almost all of their own players from leaving for other teams.
This is a monumental thing because what has mostly changed within this organization from past years under owner Dan Snyder is that the team is drafting and collecting top talent once again. The raw talent on this team is becoming on par with other top organizations. Washington no longer drafts stupidly or chases 65-year-old free agents.
Washington didn't have a first-round pick in this past draft, but some of their choices could still have a significant impact on the season. Second-rounder David Amerson is 6-1, 205 pounds and runs a 4.3 40. He likely won't crack the starting lineup early, but there's a solid chance he will see significant playing time.
The team will be helped even more with its third-round pick, tight end Jordan Reed. Reed is one of these new types of players at the position -- speedy with the athleticism of a wideout.
Washington can pair Reed with Fred Davis and give teams matchup nightmares. If Washington does what a handful of others teams do and sometimes use two tights and two backs, well, that could pose a highly formidable offense.
Position battles
This is one of the few teams in football where the key positions are set. There won't be great many battles. It's one of the things that makes this team so formidable this season. They can spend camp fine-tuning instead of working in wholesale changes.
New schemes
The change in offense will come with Robert Griffin III. By all indications, not only is his knee healing well, it's also healing quickly. If he won't be at 100 percent by the start of the season, he will be damn close.
What the Washington coaches will do is not change how Griffin plays but slightly alter it. He'll pass more and that part of his game is sometimes forgotten. Griffin is an excellent passer because he can be highly accurate.
The coaches want Griffin to be more like Aaron Rodgers. Use that athletic ability to shift in the pocket.
Don't misunderstand. There will still be lots of read-option. They will use it more to fool opponents and then throw deep downfield than run it and cross their fingers, hoping he doesn't get hurt again.
Bubble watch
No key veterans are in jeopardy or on the bubble, but there is one to watch and that's linebacker London Fletcher. This is just an appreciation of the fact he's spent 16 years in the NFL at a horribly violent position. This will probably be his last year.
Unheard-of-guy to watch
Defensive back E.J. Biggers, a seventh round pick in Tampa who signed with Washington as a free agent, could provide some critical depth for the team.
Biggest concerns
The secondary. It's shaky, to say the least. What the team wants to see is more steady production from DeAngelo Hall. He's the key. If he can make extra plays from the slot, the secondary could improve dramatically.
Something to prove
Griffin wants to prove that he can be as good as he was last season. He knows there is doubt. He has expressed to teammates, I'm told, that he wants to be another example of how a player can come back and be the same after knee surgery. He wants to be, he has said privately, another Adrian Peterson. Can he do it?
Yeah, he can do it.