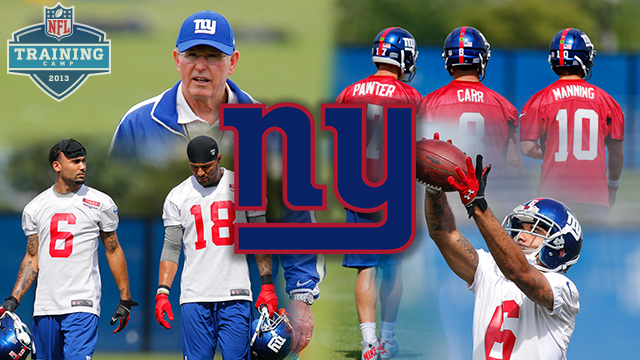 The Giants offense will be solid. It was so banged up last year the odds of that happening a second straight year are slim. The odds of
Eli Manning
not making the playoffs are slim. He's too good.
The greater question is the defense. It's also solid but if you talk to people around the sport the concern remains Jason Pierre-Paul's surgically repaired back. The feeling about Pierre-Paul, despite a down year last season, is that he's one of the great defensive weapons in football. Players like Mathias Kiwanuka are fine but they're not JPP.
Key changes
Last season for the Giants was, many believe in football, more of an anomaly than a predictor of things to come. The Giants went 3-5 in the second half of the year mostly because of injuries to key players like Hakeem Nicks. The Giants at times looked slow and old (even though they're not). The organization, in many ways, is the NFC equivalent of the Baltimore Ravens. Both general managers are at the top of their games, and don't mind releasing key veterans for slightly unproven talent. Giants general manager Jerry Reese may be the best at building team chemistry.
This season will be a true test of those skills. They dumped Ahmad Bradshaw and went with David Wilson. Wilson has playing experience but Bradshaw was one of the most underrated runners in the sport. Injuries kept him from being consistently great. They also have Andre Brown at the position. Where the Giants will prosper greatly, once again, is the interior of the defensive line. The signing of 305-pound defensive end Cullen Jenkins joins a line that is terrific at stopping the run. The pass rush is perhaps another story.
There likely won't be drama at the wide receiver position for camp. Nicks will show and Victor Cruz signed his restricted free tender so he'll be there. That receiving tandem remains one of the top ones in football when healthy.
One scout believes quarterback Eli Manning, with healthy receivers, and an explosive Wilson, will be this year's league MVP. If that happened the Giants would be back in the playoffs.
Position battles
The Giants drafted quarterback Ryan Nassib out of Syracuse. If Nassib shows even a modicum of ability, he'll beat out David Carr.
The Giants also drafted Juston Pugh and it's possible he could beat out David Diehl at right tackle (though my money is on Diehl).
New schemes
The Giants won't change a thing on either side of the ball. There's a feeling in the organization that injuries were the main problem last season, not scheme. It's possible the Giants run the ball more but they always go into camp saying that and then they turn the offense over to Manning. And why not.
Bubble watch
Diehl is a player to watch here. So is Carr. While Giants management has shown the propensity to go with younger and healthier stars, Coughlin usually sticks with reliable veterans as much as possible once camp and the season begins. This is a team where you simply won't see a great many veteran players shown the door.
Unheard-of-guy to watch
It may be difficult to call a guy who had an appearance in Jackass 3D unknown, but to many kicker Josh Brown isn't a household name yet he will play a key part in the team's season. Lawrence Tynes hit overtime kicks to get the Giants to a Super Bowl. He was released and Brown was signed. The Giants believe Brown gives them a little more distance on field-goal tries.
Biggest concerns
Nicks once possessed blazing speed but there are signs that he's slowing. If Nicks can't be, well, Nicks then it changes the entire dynamic of the passing game. Nicks draws so many double teams it opens up everything else for the offense.
Something to prove
It's Justin Tuck. He had four sacks last year and there's a loud undercurrent in football that he's basically done. While it's silly to doubt a consummate professional like Tuck, there is no question opposing coaches and scouts think he's in a free fall.
If there is one team that's engaged its cloaking device this offseason, and gone so far under the radar while teams like Seattle, Washington and San Francisco have gotten all of the press, it's the Giants. And that's exactly where they want to be.