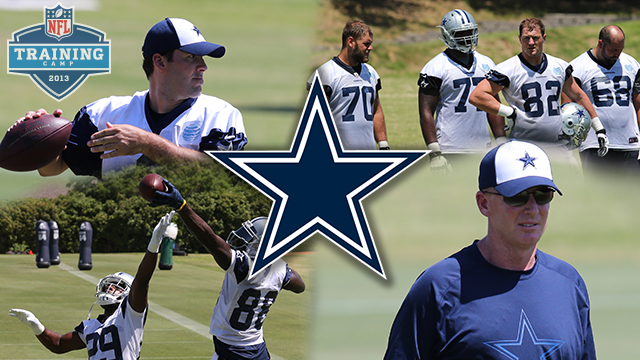 This year will be one of the most significant seasons in recent team history. It's clear that owner Jerry Jones continues to be less patient and increasingly irritated with the team's mediocrity. They haven't played in a
Super Bowl
since 1996 and Jones continues to hear the reason the team won was because of ex-coach Jimmy Johnson.
So Jones will not wait much longer for results from this coaching regime. One thing about the Cowboys' upcoming season is pretty clear: If Jason Garrett doesn't make the playoffs, he'll likely be fired. Players know this. The coaches know this. And that increases the pressure on everyone.
Key changes
The problem with the Cowboys is that while they've made some solid changes to the roster -- changes that in theory should help Dallas considerably -- one needed change wasn't made: Jerry Jones still owns the team.
Jerry Jones sometimes -- check that, a lot of times -- interferes with the normal functions of the coaching staff. That one change, Jones ceasing to interfere, is why the Cowboys may still fail to advance deep into the playoffs.
Jones stripped Garrett of play-calling, duties Garrett held since 2007. Garrett was actually struggling with those duties. Jones is the owner and it's within his rights. It's how it was done. And Jones basically told the media before Garrett did.
The unusual aspect of Jones' actions cannot be overstated. Ask almost anyone in coaching or personnel around the sport and they will say this type of situation is untenable. They will also say Jones is the biggest reason the Cowboys have just one playoff victory in the 2000s.
So expect another interesting year in Dallas. Tony Romo, coming off a fat new contract extension, will have maybe more pressure than ever.
Yet there is the possibility that a myriad of changes could save everyone's behind. The biggest come on defense. Coordinator Rob Ryan was fired and with him went his 3-4 defense. In comes Monte Kiffin and his 4-3.
The offense could still be formidable. Wide receiver Dez Bryant no longer quits on his routes and Miles Austin, when healthy, is still a top receiver. Romo does choke with almost sun-up and sun-down regularity, but he is also highly effective and dangerous. If somehow he can cut down on the turnovers, Dallas would be a playoff team every year -- despite Jones' meddling.
Position battles
There is one of great significance and it's at right tackle between Jermey Parnell and Doug Free. Free recently took a 50 percent paycut of his base salary. During OTAs, both players split time at the position. Since Romo spent so much time running for his life last season, the Cowboys better get this decision right.
New schemes
The switch to the 4-3 should greatly benefit the Cowboys but, more importantly, the switch to Kiffin will. Ryan was an egomaniac who wanted his scheme to be the star. Kiffin is all about the players. He's freed them up from the technicalities and basically just told them: go get the quarterback. Go stop the run. Just ... go.
One other thing to look for in Dallas this season: Kiffin's defenses almost always lead the NFL in forcing turnovers.
Bubble watch
There truly is only one person on the bubble in Dallas and that's the head coach. Another year without making the postseason and Garrett is gone.
Unheard-of-guy to watch
Dwayne Harris returned punts about halfway through last season and showed such promise that it would not be a shock if he became a household name this year -- both as a special teams player and at wide receiver.
Biggest concerns
Handling the pressure. It is amazing when you compare the Cowboys to their biggest division rival, the Giants, how one team handles pressure versus the other. The Giants, most of the time, come up big. The Cowboys, most of the time, come up microscopic. What could change that is Kiffin. His calm demeanor tends to infect an entire franchise.
Something to prove
Again, it's Romo. It's always Romo. In some ways, it's unfair. But still, it's Romo. The $100 million contract only increases the weight on his shoulder pads even more.