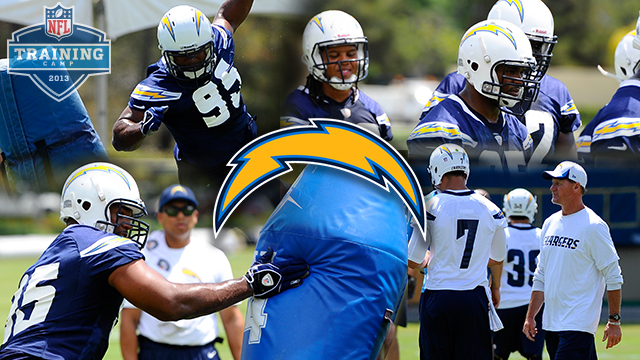 At long last, the Chargers underwent a regime change. A.J. Smith guided the ship well for many years and Norv Turner came close to pushing San Diego over the top, but ultimately the results of the last few years were nothing short of underwhelming. Enter Tom Telesco and Mike McCoy, a dynamic pairing of GM and coach that could flip the Chargers back to respectability in rather short fashion.
But make no mistake: just because this is the Chargers, it doesn't mean the team is supremely laden with talent. For whatever reason, the stereotype of San Diego over the past few years generally involves the word "underachieving." The reality is, especially on offense, the talent left the building.
Key changes
Philip Rivers' decline has been the subject of much scrutiny over the last few years, but you don't have to look hard to figure out why the once elite quarterback struggled: veterans like Vincent Jackson, Darren Sproles, LaDainian Tomlinson, Michael Turner, Marcus McNeill, Louis Vasquez and Kris Dielman are all gone.
Core groups can't last forever, but Smith's inability to replenish the talent pool (hello Buster Davis, Ryan Mathews and Robert Meachem, to name a few) led to the evaporation of Rivers protection and weapons, save for Antonio Gates, who's aged the whole time as well.
Fortunately the new boss folk wisely invested in trying to help out Rivers, bringing in Max Starks from free agency and drafting D.J. Fluker out of Alabama in the first round. Whether Fluker ends up moving guard is irrelevant, because Rivers just needed help after a barely passable group managed to rank dead last in Football Outsiders Adjusted Sack Rate (it essentially gauges pass protection) during the 2012 season.
The Bolts also added a pair of potential stars in the second and third rounds. I'm on record as hating the Manti Te'o selection in the second, primarily because Terron Armstead and Menelik Watson were on the board. But the Notre Dame linebacker's drawing rave reviews from minicamp; while pre-padded practices are too early to decide whether someone can succeed, I'm willing to acquiesce that McCoy and Telesco are smart people and could end up being right. Time will tell.
The Keenan Allen selection in the third has me much more excited. With Danario Alexander, Gates, Malcom Floyd and Allen, Rivers could have a restocked shelf. Danny Woodhead could end up being a stupendous addition in the dump-off game and might see some starts if (when?) Mathews gets hurt. Ken Whisenhunt signing on as offensive coordinator won't be anything but good for Rivers' game either. If he and McCoy can't fix the former NC State standout, it might be time for the two groups to move on.
Defensively, the Chargers made some savvy moves too. The addition of Dwight Freeney was almost in direct response to the torn ACL suffered by Melvin Ingram in OTAs. Freeney can play in the 3-4 and the 4-3, and while he's older, he flashed plenty last year. If the Chargers are right about their moves on Freeney, Te'o, free-agent signee Jarrett Johnson and incumbent Donald Butler could form a nice linebacking corps. Derek Cox is a steal at cornerback ... if he can stay healthy. John Pagano sticking around should result in some nice continuity for this unit, but it's a group that needs to hit on acquisitions or it could be trouble.
Position battles
Wide receiver's pretty, um, wide open: if Vincent Brown gets healthy or Allen comes on strong or Meachem ever manages to do what the Chargers are paying him to do, they could challenge Floyd for one of the starting spots. DX should be locked as the No. 1 as long as he's healthy -- Alexander's play late last season was spectacular.
Offensive line could be interesting. If Jeromey Clary and Chad Rinehart are indeed the answer at guard, then it makes no sense to move Fluker. But his versatility could certainly help.
I'm sure the Chargers would love for Larry English to realize his potential and challenge someone on the defensive side of the ball, but it's a pretty good bet that he ends up becoming a backup again this season.
Scheme changes
As similar as things are on the defensive end with Pagano retained, they'll be completely different on the offensive end with McCoy and Whisenhunt running things. Whisenhunt has had great offenses in Pittsburgh and in Arizona before and McCoy made his name with his malleability in Denver, flipping effortlessly from Kyle Orton to Tim Tebow and then to Peyton Manning. Expect a concept-based passing offense in San Diego ( think Erhardt-Perkins but without the same complexity as the Patriots run) with a zone-read rushing attack.
McCoy's fortunate in that he'll once again fire up a new offensive scheme with a talented, cerebral, veteran quarterback already under center. Expect him to adjust to Rivers' strengths and weaknesses.
"Football's always football," McCoy said last May. "We laugh about that, because it's not that complicated. Every Monday, we call it 'Thievery Night,' you look at the touchdowns and explosive plays, see that stuff week-to-week, and see who's doing what, and take what you can. Football's still football. Everyone's running the same plays, and it's a matter of some running one concept more than another team is. It all boils down to the same thing."
Bubble watch
It's going to be fascinating to see how the Chargers handle three distinct groups: the receivers, the offensive line and the linebackers. With a major injury already occurring to Ingram, they obviously understand the importance of depth at that position, particularly in a 3-4, blitz-heavy defense. But how many roster spots will they really have once they try to create depth at receiver and offensive line, two positions that obviously are very much in flux for this roster. It seems crazy that Meachem wouldn't make the team (he will), but how much depth at wide receiver is worth sacrificing for depth at offensive line. All told the Chargers brought in nine (9!) new offensive lineman to try to revamp their biggest weakness from 2012: King Dunlap, Starks, Fluker, Chad Rinehart, Rich Ohrnberger, Colin Baxter, Brandyn Dombrowski, Michael Harris, Randy Richards and Nick Becton won't all stick around.
Properly managing the depth at these various positions will tell us a lot about how the Chargers really feel towards their new acquisitions.
Unheard-of-guy to watch
Who is Chad Rinehart, you ask? Great question. He's a converted guard with just 21 starts over the last four years (14 at guard the last two years for Buffalo) but he could be a big-time addition for the Chargers, who also brought along his former offensive line coach from the Bills in Joe D'Alessandris. If Rinehart can step in and start -- and the Chargers sure think he can -- and fill the hole created by the departure of Louis Vasquez, it'll be a monster addition for the Bolts.
Biggest concerns
The Chargers have addressed some issues this offseason by beefing up the offensive line and improving the weapons for Rivers. But those are still the two biggest concerns: healthy play from the offensive line and a semblance of pass protection in 2013 will drastically change the way that Rivers is able to play under center. With time in the pocket, he won't feel like he's forced to make a play happen and he's a good bet to cut down on the slew of turnovers that plagued him the last two years.
Something to prove
Two guys are a no-brainer here for me. There's obviously Rivers, who's coming off a pair of seasons in which he had a combined 59 turnovers. That is ... a lot. He needs this new coaching staff to get him back on track and convince folks that he can be an elite quarterback again, even at the age of 31. Rivers won't be a free agent until 2016 technically, but 2013 very much feels like a make-or-break year for him in San Diego. And Mathews, drafted to replace LdT, has never lived up to expectations. He's got two more years left on his rookie contract and it's not like Woodhead is going to straight-up replace him. But if Mathews can't step up his game and avoid injury as he has in the past few years, it's hard to imagine him lasting forever in San Diego either.