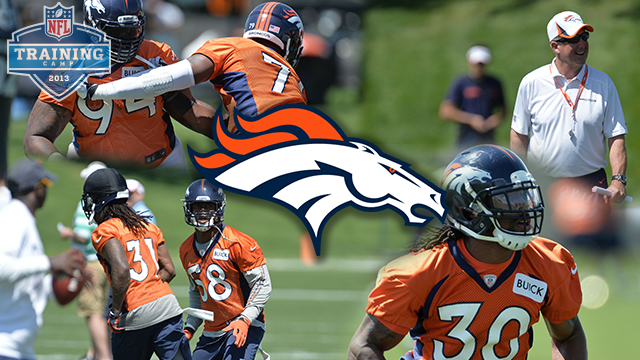 Tim Who?
Peyton Manning's
re-emergence as an elite quarterback made Broncos fans forget all about 2011's miraculous run as Denver finished tied with the Falcons for the best record in the NFL at 13-3, closing out the year on a whopping 11-game winning streak.
Only some blown coverage of Jacoby Jones by Denver's secondary puts the kibosh on an otherwise outstanding season. The Broncos won't be satisfied with anything less than a Super Bowl in 2013 and after an impressive offseason it's tough to blame them.
The one blemish on John Elway's mark since that ill-fated night against the Ravens is the fax machine goof that resulted in Elvis Dumervil leaving for Baltimore. (Hey, guess who's coming to town in Week 1!) Clearly Denver would prefer having him on the roster instead of lining up against them.
Key changes
The additions Elway made were impressive. Snaring Wes Welker from the Patriots might be my favorite offseason move in the entire NFL, if only for the multiple levels of drama it presents. Welker might not put up numbers the way he did in New England, but he's a big upgrade over Brandon Stokley and gives Denver what might be the best wide receiver corps in the NFL with Demaryius Thomas and Eric Decker outside. The Broncos also landed Louis Vasquez from division rival San Diego; acquiring a Chargers offensive lineman isn't ideal, but Vasquez was the best player on a very bad offensive line.
Joel Dreessen makes the depth chart at tight end deeper and while the Broncos dumped Willis McGahee, they did boost the running back depth chart by selecting Montee Ball out of Wisconsin in the draft. Ball, Ronnie Hillman and Knowshon Moreno form an interesting group.
Defensively the Broncos clearly attacked the line: additions of Sylvester Williams via the draft and Terrance Knighton via free agency should do wonders to free up Denver's pass rushers and improve their ability at the point of attack. Dominique Rodgers-Cromartie on a one-year deal just seems like a fantastic investment with little chance of backfiring too badly.
The only coaching change the Broncos saw was the departure of Mike McCoy to the Chargers. Adam Gase, just 34 years old, will take his place and has promoted the idea of having the team "play as fast as possible." Gase, who is younger than his quarterback, will obviously have plenty of say in what goes on with the Broncos attack and I'd expect them to play up-tempo. That's what worked last year and it's what works with Manning under center. But Denver's more or less running what Manning wants them to, and there's nothing really wrong with that.
Position battles
The offense is more or less set. Dreessen and Jacob Tamme could battle for the No. 1 tight end spot, but Manning's been on record as saying that Tamme is the fulcrum of Denver's offense. (He uses the defense's positioning against Tamme to diagnose coverage) Hillman, Ball and Moreno are likely to battle for a while to see who gets the most carries -- my early money is on Hillman nabbing the job, with Ball coming on strong and eventually taking most of the carries. Despite his strong close to last season, Knowshon doesn't seem well-liked by this coaching staff.
The linebacking corps should see a battle in the middle -- Nate Irving, Joe Mays, Steven Johnson and Stewart Bradley are the best candidates for the mike gig.
Bubble watch
McGahee was the biggest name on the chopping block, and he's already been chopped. There are rumors the Broncos dumped him because of injuries, but it's still got to be a bit concerning to head into camp with the lack of experience they have at running back. John Fox won't be scared to carry a few running backs, but with Lance Ball, Moreno, Hillman and Montee Ball on board, we could see someone dumped here.
Unheard-of-guy to watch
The real story of Broncos middle linebacker Nate Irving dates back to his college days, when he overcame a slew of injuries suffered during a life-threatening car accident that cost him the 2009 season and managed to return back to the NC State lineup. Irving's going to get the first crack at winning the middle linebacker job in Denver, and I think you'll see him produce in a big way. Irving's a tackling machine with lateral speed and the ability to lay down devastating hits. Middle linebackers are becoming less and less important in today's passing game, but they're still necessary and Irving could provide a nice prototype for what the modern-day mike could look like. I expect a big year from him.
Biggest concerns
There's little to worry about on the offensive end, save for Manning remaining healthy for another season. And in that vein, it's worth wondering how well the group of Hillman/Ball/Moreno can pass protect for the Broncos quarterback. Running backs are almost more important for their pass-blocking ability in a Manning-run system than they are for their rushing ability. I like this group's ability to catch passes and run draws but there's some concern about the pass blocking at the NFL level.
Defensively, the loss of Dumervil could show up in a big way. Williams, Pot Roast, Derek Wolfe and Robert Ayers form an alright defensive line, but they're certainly not the most proven or studly group out there. Will the absence of Doom mean more double teams for Von Miller? Almost certainly the linebacker, who played at a DPOY level last year, will see more protection shifted his way without Dumervil on one side of the ball.
The secondary's going to be a big concern until they shake off the memories of the loss against Baltimore. Champ Bailey, Chris Harris, Dominique Rodgers-Cromartie, Rahim Moore and Mike Adams can be a very effective group -- they weren't bad until late in the season when the lights were brightest. Seeing how they bounce back from the postseason will be fascinating.
Something to prove
Welker could fit here, what with the drama surrounding his departure from New England. But the secondary makes more sense, and, more specifically, Moore and Bailey. Moore made the critical error that allowed Joe Flacco and the Ravens to advance, while Bailey was exposed in the playoffs. I think both players are fine -- Bailey's age is certainly a factor but he was strong for most of 2012 -- but they're going to have the world watching when they line up against Baltimore's receivers to kick off 2013.