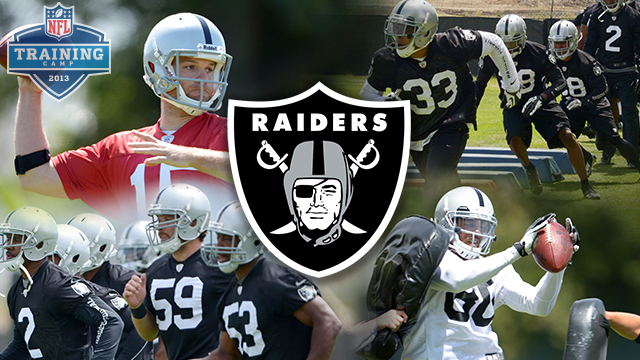 Into the crevasse.
That was the only approach Reggie McKenzie could take when he was put in charge of the Raiders, a wholesale disaster of a football team in 2011 when he took over. Unfortunately for McKenzie, that aspect of the team hasn't changed a bit. The Raiders are still awful and, for my money, are in a dogfight with the Jaguars in the Clown for Clowney Sweepstakes.
That's just what happens when you look at your roster, realize that it's full of bloated contracts for mediocre talent and set the whole thing on fire. This upcoming season shouldn't be about hope for Raiders fans, unless you're hopeful they get the No. 1 overall pick and can lock down Jadeveon Clowney or Teddy Bridgewater.
Not everything is awful, however. The Raiders had a first-round pick for the first time under McKenzie this year. And they used it on D.J. Hayden, a cornerback with heart issues; how he performs could weigh heavily on the GM's future. There's talent on the offensive line, what with Jared Veldheer having developed into one of the better (and more underrated) left tackles in the game. Darren McFadden is an All-World running back when he's in the right system and healthy. The former should occur in the power scheme Oakland plans to implement this year. The latter is about as likely as the sun hitting the sleep timer one day.
Key changes
There are reasons for excitement this year. But the heavy roster purge makes it difficult to truly get excited: Oakland dumped or let walk wideout Darrius Heyward-Bey, safety Michael Huff, linebacker Philip Wheeler, defensive lineman Desmond Bryant, defensive lineman Dave Tollefson, tight end Brandon Myers, punter Shane Lechler, defensive tackle Richard Seymour, cornerback Shawntae Spencer and linebacker Rolando McClain. (I think that's mostly everyone; all told the Raiders will have $32 million of dead money on their roster in 2013.)
Then there's the trade of Carson Palmer to the Cardinals: after giving up a first- and second-round pick for Palmer during the 2010 season, Oakland was forced to peddle the unhappy quarterback for peanuts this offseason. Lament the lack of talent in that group all you want, but the team was heavily invested in those players and ripping apart the roster never makes winning any easier.
The additions don't exactly add up: Matt Flynn is in at quarterback as is rookie Tyler Wilson. Saving the day is a big ask from that duo. Nick Roach, Jason Hunter, Vance Walker, Pat Sims, Mike Jenkins and Charles Woodson -- who, mind you, was drafted in 1998 -- are the pick-ups in free agency who will hope to patch together some decent defensive games.
Greg Olsen replaces Greg Knapp as offensive coordinator, a move that should help the offense -- the zone-running attack Knapp (almost inexplicably) implemented didn't do McFadden any favors. While Olsen was in charge of the Rams offense in 2006 and 2007, former St. Louis running back Steven Jackson had two of his best seasons ever, including a 1,528-yard year in 2006. Buccaneers fans will remember the sudden emergence of LeGarrette Blount as a 1,000-yard back during a strong year for Tampa Bay.
Position battles
Quarterback's the most intriguing spot: Flynn's the De facto starter because of, um, experience? Flynn's two career starts lead all four of the Raiders quarterbacks in career starts. (Think about that: Oakland has more quarterbacks -- four -- than those quarterbacks have career starts -- three. What could possibly go wrong?) But it wouldn't be that surprising if Terrelle Pryor or Wilson or, heck, even Matt McGloin managed to win the job. Flynn seems the safest, Pryor is the best bet to have a funky offense fashioned around him, Wilson has the most upside, and McGloin can't be ruled out because of everyone else on the depth chart. At least there's this: the last time Flynn was beat out in training camp by a rookie named Wilson it worked out really well for everyone involved. Except Flynn anyway.
Rookie Menelik Watson, who's raw but has a world of upside, is an interesting spot to try and win a tackle position on the right side against free-agent addition Khalif Barnes.
Tight end, with Richard Gordon, David Ausberry and Nick Kasa currently topping the depth chart, is wide open. So is cornerback -- Hayden, Tracy Porter, Jenkins and Joselio Hanson could end up in any kind of combination on the field for Oakland.
New schemes
Olsen's addition will mean an entirely different offense. McFadden's been meh in the zone-read scheme during his career in the NFL and he's been impressive in the power-run scheme. If he stays healthy, it could be a nice season. If Olsen's smart, he'll keep things flexible for the quarterbacks -- neither one is talented enough to warrant rigidly locking down a system.
Bubble watch
How about who's *not* on the bubble for the roster? McKenzie made it abundantly clear with his slew of chopping-block moves this offseason no one is above reproach when it comes to slicing, dicing and remaking the roster. That being said, a bad roster also provides an advantage for veterans and lower-name players to end up making the team. Connor Vernon's a talented possession receiver from Duke who might underwhelm with athleticism but will end up being a quality NFL player; not finding a way to get him on the roster would be a mistake, especially with a large, underwhelming group of wideouts that includes Denarius Moore, Jacoby Ford, Rod Streater (sleeper much?), Juron Criner and Josh Cribbs ahead of him.
Unheard-of-guy to watch
Gonna throw out Vernon again here: he's the ACC's all-time leader in receptions, he blossomed at Duke (particularly when David Cutcliffe took over) and I have a hard time believing he won't contribute in a meaningful way to an NFL roster at some point in his career. Maybe I'm wrong and Vernon never amounts to much, but a guy with his statistical pedigree, work ethic and football smarts doesn't just fall by the wayside.
Wilson's another guy to watch too -- it might be overblown at this point (it is July after all) to discuss how he looks in minicamps versus Flynn and the other quarterbacks. But the Raiders aren't exactly a modicum of stability right now. Wilson can come out, look good and steal the starting job from Flynn this year. When it comes to having a young, rebuilt team like this, nothing inspires quite like a successful rookie quarterback. And while Wilson's stats dipped precipitously in his final year at Arkansas, he'd lost Bobby Petrino, most of his wideouts and he was getting pummeled every time he dropped back. It wasn't that long ago he was a top prospect.
Biggest concerns
Ummmm, everything? If you're not worried about this Raiders team, you're doing it wrong. And that leads me to the biggest concern for Oakland -- a lack of patience in the rebuild job. I don't *know* that McKenzie is the guy for the job, but I think he's rebuilding the only way he could have and that's by setting everything on fire and suffering through a few tough years. Teams can rebuild on the fly in the NFL, but doing it after dealing away a No. 1 pick for Palmer is infinitely more difficult than your normal situation. Hayden and Watson not working out, or Flynn and an inexperienced group of quarterbacks absolutely flopping (even though they didn't cost much for the most part) or the Raiders simply not winning any games could lead to owner Mark Davis, recently of a literal PR nightmare, getting antsy with his trigger finger.
Other than that, the Raiders have an aging and/or inexperienced defense, no star power, a new offensive scheme, one prominent skill position player who is consistently suffering injuries and a roster pretty much bereft of talent. So no big deal really.
Something to prove
McFadden really stands out from the perspective that he's entering a contract year and has only eclipsed the 1,000-yard mark rushing once in his career. In 2010 he ran for 1,157 yards (and seven touchdowns) while playing (and starting) in 13 games, the most of his career. It'll be a tall task to repeat that impressive season, even with a new blocking system in place. McFadden averaged just 3.3 yards per carry last year and doesn't exactly have the stoutest offensive line to help him out in Oakland, Veldheer's presence aside. Producing at a high clip for a full season would equate to some big money in free agency but it's hard to imagine anyone being willing to trust McFadden for a full season right now.