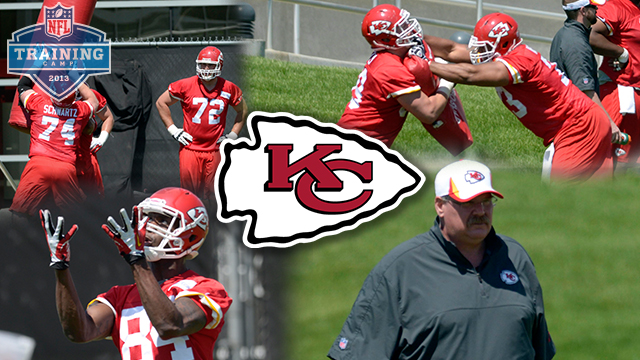 Few NFL organizations underwent a facelift the way the Chiefs did this offseason. Andy Reid wasn't unemployed long, getting the boot from Philadelphia and quickly landing in a favorable situation in KC, replacing Romeo Crennel and the last vestiges of an old coaching staff's regime (Crennel worked under Todd Haley, who was fired the year before).
The change was necessary. GM Scott Pioli had fallen out of favor with the fans and management after whiffing on Cassel as the savior under center. Crennel motivated as an interim in 2011, but flopped out last year. A team that some people -- no joke -- picked to win the AFC West was the worst team in football.
There wasn't any semblance of offense, aside from the frustration of not properly using Jamaal Charles. The Cassell-Brady Quinn rotation at quarterbacks was a train wreck that helped the Chiefs score more than 20 points just four teams all year. Blech.
The talent on the defensive side of the ball continues to impress (Justin Houston was a rare bright spot as he emerged last season), but Reid didn't take long to put his meaty fingerprints all over the organization.
Key changes
Pioli was shipped out of town and replaced by Reid's buddy John Dorsey. Incumbent Matt Cassel never stood a chance; he was given the boot and Reid made the bold move of trading for Alex Smith, whom he's apparently coveted since Smith was slinging passes in college at Utah. It sounds like Reid's got some read-option tricks on his sleeve; the idea of Jamaal Charles and Alex running out of the pistol is enticing regardless of how you feel about these new formations.
The defense got Smith'd up too, with Dolphins cornerback Sean Smith -- one of the more talented players in free agency -- coming to KC on a deal (three years, $16.5 million) that looks quite favorable for the Chiefs after a market never really formulated for cornerbacks. A secondary of Brandon Flowers, Smith, Eric Berry and Kendrick Lewis looks pretty formidable at this stage. Don't sleep on the additions of Mike DeVito and Geoff Schwartz along the defensive and offensive lines, respectively.
Reid also managed to make a slew of moves that kept the Chiefs' surprisingly talented core (when you consider they won two games last year anyway) together. Dwayne Bowe was given a new contract before he could hit the open market, freeing up the franchise tag for left tackle Branden Albert.
And there was, of course, the No. 1 overall pick in the 2013 NFL Draft. For the first time in his coaching career, Reid drafted an offensive lineman with a pick in the top 15. With Albert in camp, Fisher's a good bet to start on the right side of the line. Having a right tackle as the cornerstone of your first draft is weird, but it makes sense for this team's roster construction. Having an Andrew Luck or Robert Griffin III sitting atop the draft would've been ideal, naturally. But in lieu of that, Reid's built a roster that can compete right away in a division that, while not up for grabs thanks to Peyton Manning, isn't as stout as some other spots.
Position battles
The Chiefs are so odd for a two-win team. They've got the majority of their starters locked down and have a talented roster built already. Smith's the starter at quarterback, obviously, but seeing how things shake out with his possible backups could be interesting. Chase Daniel received a hefty contract in free agency to be a backup, Ricky Stanzi just never gets a chance and Tyler Bray's one of the more perplexing draftees in the 2013 class.
Knile Davis is an absolute burner who claims he's faster than Charles. He won't steal the starting job but it wouldn't be stunning if Reid let him steal some carries.
Anthony Fasano was signed as a free agent despite the presence of Tony Moeaki and could certainly challenge for the starting job. Moeaki was impressive as a rookie in 2010 but hasn't been the same since suffering a major injury in his sophomore campaign.
The biggest question mark, by far, is at wide receiver. Bowe's the unquestioned No. 1 on this roster but things get dicey after the former LSU star, especially with KC letting another of Pioli's free-agent busts, Steve Breaston, walk. Jon Baldwin was a first-round pick and he's got the talent, but is he mature enough to handle that sort of roll? Reid hasn't sounded entirely confident. Dexter McCluster's the football version of a "'tweener," not really fitting as anything more than a slot receiver for this unit. How Reid uses him will be fun to watch, but he's not the best man to challenge for the No. 2 spot. That honor goes to Donnie Avery, who had a strong season with the Colts in 2012 before signing with KC this offseason. If Avery beats out Baldwin, it's bad news bears for the youngster.
New schemes
A whole new coaching staff means a whole new scheme and the Chiefs should welcome change in this instance. Say what you want about Reid's failings in Philly during the latter stages of his run there, but the man knows what he's doing on offense. Smith will be the triggerman for Reid's west-coast, high-volume passing game. The style of play should fit Smith, who's excellent at short and intermediate throws, can put up a high completion number to pair with a low interception digit. Smith's accuracy down the field should be a concern, but Bowe probably won't care since he's finally catching passes from the first real quarterback of his pro career. Charles could flourish in Reid's system, the same way that Brian Westbrook and LeSean McCoy did with the Eagles. He's a similar-style back who excels in the passing game. Fisher's presence doesn't just beef up the line, but it provides some insurance with Albert's wonky back and, most importantly, brings some athleticism to the line. He'll be superb in the screen game for Reid and the Chiefs.
Defensively, Reid's wisely sticking with the 3-4. Though he could've opted to change things up, KC's personnel fits that scheme to well to make it worth busting up the defense at this point in time. Half the guys in the front seven -- Tyson Jackson, Dontari Poe, Derrick Johnson, Tamba Hali and Houston -- were big-time investments for that scheme. A switch now wouldn't be logical.
Bubble watch
Speaking of all those early-round picks, it's important to remember that new regime means no more loyalty for the old boss' picks. We saw that first hand this offseason as Reid let one of Pioli's previous early picks, Glenn Dorsey, bounce for San Francisco. Dorsey didn't work out well and it wasn't shocking to see him leave, but it's a reminder to guys like Jackson, Poe and anyone else who was previously locked in because of their draft status that
Unheard-of-guy to watch
Does Travis Kelce count here? More and more people are aware of third-round picks these days, and Kelce's off-field issues have drawn him some unwelcome notoriety. But on the field, he's a potential talent goldmine at a position where the Chiefs aren't completely set. Seriously, watch his highlights and you'll quickly understand exactly why Reid invested a third in this kid. His issues are personal stuff and injuries -- a year-long suspension and a hernia problem in 2012 sunk his stock. He can run block, make all the catches tight ends need to make, has a world of upside and can stretch the field while taking attention away from Bowe.
Biggest concerns
For everyone in this division, the biggest concern is having to play Peyton Manning twice -- the Broncos put everyone else in the AFC West at a distinct disadvantage when it comes to trying to win their division. Specifically to the Chiefs, however, the primary concern I see is Alex Smith continuing to resurrect his career and doing so away from the magical quarterback fixing umbrella that is Jim Harbaugh. Smith was headed straight for a non-Cantonized bust when Harbs took over in San Francisco, and the QB Whisperer's presence drastically changed the way Smith looked on the field. Andy Reid can get a lot out of quarterbacks, but assuming that Smith will magically solve the Chiefs issues at quarterback is a big leap of faith. They also need to find Smith weapons and doing so will obviously help him improve his game, but this season likely hinges on the performance of the former No. 1 overall pick, now on his second stop and umpteenth offensive coordinator.
Something to prove
Tyson Jackson and Dontari Poe aren't the same age but they do share many characteristics. Namely, they were drafted by Scott Pioli's regime and they haven't lived up to expectations quite yet. Poe's only played one year, of course, while Jackson is heading into his fifth season. Stepping up their game from "middling defensive lineman drafted in the top half of the first round during the NFL Draft" to "high draft picks worthy of being cornerstone pieces of defense" is critical for them if they want to hang around KC and justify their selections.
Smith fits here too, and it wouldn't be fair to not include Reid as well. He left Philadelphia somewhat in disgrace, with a magnificent run coming to a sputtering end. If he can flip the Chiefs around in quick fashion -- and I believe that he can -- it'll do wonders toward resorting his reputation as one of the top coaches in the league. And it'll do even more for Chiefs fans who've pined for success in recent years ... and never really got it.