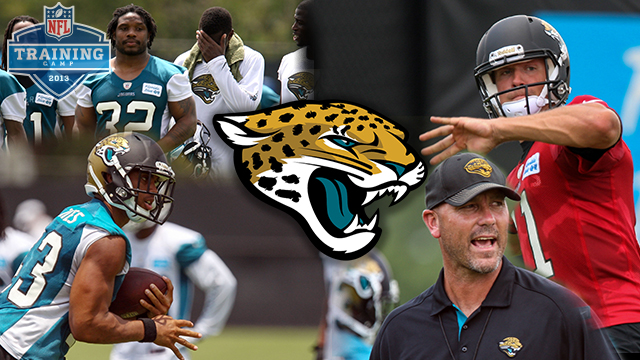 Coach Mike Mularkey lasted one season in Jacksonville, going 2-14, the worst record in team history. Owner Shahid Khan wants to make the
Jaguars
relevant again and unlike some of his counterparts, he's happy to hire the football people to see that vision through. New general manager David Caldwell and new coach Gus Bradley have been tasked with revitalizing a franchise that came into the league in 1995 and then proceeded to make the playoffs four straight years from 1996-1999, including two AFC Championship Game appearances. In the 13 years since: Two trips to the playoffs and nine seasons of sub-.500 football.
One thing those early Jags teams had that the current version doesn't: A franchise quarterback. Jacksonville drafted Blaine Gabbert 10th overall in 2011 but the results have been mostly disappointing. Like his AFC South counterpart in Tennessee, Jake Locker, the 2013 season will be a make-or-break one for Gabbert.
To be fair, Gabbert had little help; the Jaguars were last in the league in scoring last season, managing 15.9 points per game. And according to FootballOutsiders.com's metrics, the unit was just as bad throwing the ball (28th) as it was at running it (27th). It didn't help that running back Maurice Jones-Drew was sidelined for the final 10 games with a foot injury, the wide receivers struggled to get open, or that the offensive line and Gabbert combined to allow 50 sacks.
Key changes
The Jaguars selected Luke Joeckel with the second overall pick in April's draft and he will begin the season at right tackle. The team cut ties with wide receiver Laurent Robinson after one disappointing season, but signed former Browns wideout Mohamed Massaquoi, who has plenty of big-play ability but was plagued by injuries during his four years in Cleveland.
The team added running back Justin Forsett while MJD recovers from his Lisfranc injury, and drafted jack-of-all-trades Denard Robinson in April. For an idea of how the Jaguars plan to use him, consider this: Robinson was listed on the team's official depth chart as OW, a nod to Robinson describing himself as an "offensive weapon" leading up to the draft. He attends meetings with the running backs, but the expectation is that he'll see time at wide receiver and returner, too. Caldwell has said previously that the plan is to get Robinson 10-15 touches a game.
On defense, linebacker Daryl Smith is now with the Ravens, although he missed all but two games last season with a groin injury. The unit added cornerbacks Alan Ball, formerly of Dallas, as well as veteran Marcus Trufant, the Seahawks' former first-round pick. The team also addressed the secondary through the draft. Second-rounder Jonathan Cyprien will be the starting strong safety, replacing Dawan Landry. Third-round cornerback Dwayne Gratz, who has drawn comparisons to 49ers CB Carlos Rogers, could also find himself in the starting lineup.
The addition of former Titans Sen'Derrick Marks allows the Jaguars to move Tyson Alualu from defensive tackle to defensive end, and Roy Miller arrives from Tampa Bay where he was known for his ability to wreak havoc for opposing interior offensive linemen.
Position battles
Former Bears outside linebacker Geno Hayes could line up next to Paul Posluszny and Russell Allen. But Hayes will have to battle second-year player Julian Stanford for that right. Stanford was signed as an undrafted free agent out of Wagner in 2012 with eye-dropping measurables (including a 4.51 40 time).
Ball signed with the Jaguars for the chance to start, after starting just three games in Dallas the past two seasons. With Derek Cox, Aaron Ross and Rashean Mathis no longer with the team, the path to the top of the depth chart is wide open. It appears that Gratz will be penciled in on one side while Ball and Trufant will compete for the other job. "I just wanted an opportunity," Ball said in June. "There's a new system being built, and I think it's going to be special. I want to be a part of it."
New schemes
New offensive coordinator Jedd Fisch is installing a zone-blocking scheme. Fisch spent a year in Denver, where the scheme was popularized by offensive line coach Alex Gibbs and then-coach Mike Shanahan, who had a knack for turning any back into a 1,000-yard rusher.
Bradley, who was the defensive coordinator in Seattle before replacing Mularkey, will keep the Jaguars' 4-3 defensive front. "We'll have some basic philosophies that we're going to incorporate scheme-wise," Jags defensive coordinator Bob Babich told the team's website back in January. "There are going to be a lot of different things we'll look at. We're going to look to play fast, and we want to get better every day."
Bubble watch
Cornerback Mike Harris' roster spot appeared in doubt after the team drafted three cornerbacks in April. But Harris showed well during offseason workouts and is currently listed as the backup behind Gratz. Trufant could also be on the wrong side of the roster bubble should he struggle with injuries, something that has plagued him during his career. Center Brad Meester returns for his 14th season, but if Mike Brewster impresses in training camp, there's a slim chance the team could choose to cut ties with Meester.
Unheard-of-guy to watch
Ace Sanders or Dwayne Gratz, take your pick. Sanders is only 5-feet-7, 175 pounds, but he's an explosive returner. A year ago, the Jags used a third-round pick on punter Bryan Anger and took some flak for it. (At the time, we joked that if the argument for taking Anger was that he changed field position, there are other ways to do that: draft players that help the offense get first downs.) Or, in the case of Sanders, draft someone who can change field position and have the Jags' offense take the field immediately afterward.
Gratz, meanwhile, arrived in Jacksonville after an under-the-radar career in UConn, playing in Blidi Wreh-Wilson's shadow (Wilson was drafted in the third round by the Titans). He's a physical corner with good hands, and he could make an immediate impact next to another rookie, strong safety Jonathan Cyprien.
Biggest concern
Blaine Gabbert. The NFL is a passing league woefully short of quality passers. Gabbert enters his third season with some pedestrian numbers. In 25 career games, he has completed 53.8 percent of his passes for 3,876 yards, 21 touchdowns and 17 interceptions. He has also been sacked 62 times. But it's not as bad as it looks, at least according to GM David Caldwell, who said that the Jaguars' research showed that when Gabbert had at least 2.6 seconds to throw he was in the top third of NFL quarterbacks. When he had less than 2.6 seconds to throw, the Jaguars' O-line gave up the third-most sacks in the league. The good news is that MJD will hopefully return to full health and lessen Gabbert's burden, wide receiver Justin Blackmon will be in his second season, and wide receiver Cecil Shorts will remain one of the NFL's great secrets.
Something to prove
In nine starts last season, Shorts caught 55 passes for 979 yards and seven touchdowns on one of the league's most inept offenses. The 2011 fourth-round pick out of Mount Union College had just two catches his rookie season, but unlike some players who arrive in the league with first-round pedigrees, Shorts has a chip on his shoulder.
"I want to be one of the elite receivers in this game," he told CBSSports.com's Pete Prisco in early June. "It's going to take a lot of work to get there. I know that."
Shorts has used the offseason to get stronger because having the world's best hands means little if he can't get off the line of scrimmage.
"When I watch film, guys like A.J. Green, Michael Crabtree, Calvin Johnson and Larry Fitzgerald, they all explode off the ball," he said. "Getting off the jam and being able to shed is important. You have to be strong to hold your own. I feel stronger. I feel more explosive."