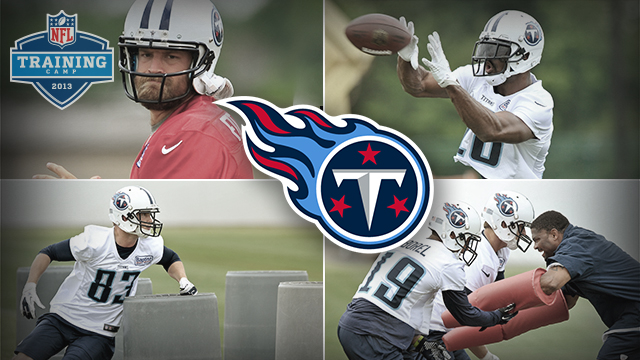 The
Tennessee Titans
haven't made the playoffs since 2008. The following two seasons -- Jeff Fisher's last two with the club -- the Titans were 8-8 and 6-10.
Mike Munchak
was hired in 2011 and won a respectable nine games his first season. By 2012, the team had slipped to 6-10 and it's reasonable to think that Munchak won't be back in Tennessee in 2014 if things don't improve.
The organization still has questions about quarterback Jake Locker, the eighth-overall pick in the 2011 NFL Draft, but he will begin the season under center with a new cast of characters around him. The hope: Locker -- and by extension running back Chris Johnson and the rest of the offense -- will become much more consistent. Last season, this group averaged 20.6 points per game, which ranked 23rd in the league. It was equal-opportunity ineptitude. The passing game ranked 29th in efficiency, according to FootballOutsiders.com's metrics, while the running game was 26th.
Put another way: There's a lot of room for improvement.
Key changes
The Titans used their No. 10 pick in the 2013 NFL Draft to beef up the offensive line, taking Alabama right guard Chance Warmack, who will immediately move into the starting lineup. Andy Levitre, formerly of the Bills and signed this offseason, will play left guard, and former 49ers tight end Delanie Walker will replace Jared Cook (who signed with the Rams) at tight end.
Running back Shonn Greene was added to spell Johnson, and should nothing go as planned, Ryan Fitzpatrick would replace Locker after the organization opted not to re-sign veteran backup Matt Hasselbeck (now with the Colts).
The Titans also bolstered their wide receiver corps. A year after using a first-round pick on Kendall Wright (who led the team with 64 receptions as a rookie), they selected Tennessee's Justin Hunter in Round 2 this April. At 6-4, 195, there are questions about his consistency and physicality, but he can make an immediate impact in the red zone, a huge problem for this offense a season ago.
To bolster a defense that allowed a league-worst 29.4 points per game last season, the Titans signed safeties Bernard Pollard (formerly of the Ravens) and George Wilson (formerly of the Bills). Up front, Sammie Lee Hill was signed away from the Lions to play defensive tackle.
Draft picks CB Blidi Wreh-Wilson, OLB Zaviar Gooden and DE Lavar Edwards will all use training camp to push for playing time. Quality depth is welcome on a defense where actually stopping people didn't appear to be a priority a season ago. Also brought on board to help: Gregg Williams, suspended for the 2012 season for his involvement in the Saints bounty scandal. He's officially listed as the senior assistant/defense, although Williams, who was Fisher's defensive coordinator at one time, will be working closely with current defensive coordinator Jerry Gray.
Position battles
Wide receiver Nate Washington may be the grizzled veteran of the group, but he might not be atop the depth chart by the time the season starts. He'll face competition from a young group that includes Wright and Hunter. There are also questions about Kenny Britt and his otherworldly talent. The problem: The Titans never know which Britt will (or won't) show up.
At cornerback, Wreh-Wilson, a rangy athletic player from UConn, could push for playing time, although he had been working inside during minicamp.
Marc Mariani, who was lost for the 2012 season after breaking his leg in a preseason game, will have to fend off Darius Reynaud as the team's return specialist.
New schemes
So what's changing? Everything, to hear Wright tell it. When asked in June what was different about the Titans' offense, the second-year wideout said, "It's just a new playbook. There's nothing left over from last year."
Offensive coordinator Dowell Loggains, who replaced Chris Palmer during last season, has hinted at what the new-look scheme will look like. "We are going to be a run, play-action team first, but we're still going to drop back and throw the football."
This is good news for Chris Johnson, who insists every offseason that he wants more touches. And it could be good news for Locker, too; the offense won't be built around his ability to wing the ball all over the yard, but instead, his skills at managing an offense that features (a hopefully revitalized) CJ2K.
Bubble watch
With the addition of Hill and Antonio Johnson to beef up the defensive line, Karl Klug, who led the team in sacks in 2011, could be playing for his job.
Unheard-of-guy to watch
Blidi Wreh-Wilson may only be unheard of because he's a rookie who's been with the team since late April. But at 6-1, 195 pounds, he looks like an NFL cornerback. Whether he plays like one will be answered in the coming months but the Titans may have gotten a steal. Wilson, who was drafted in the third round, was considered a first- or second-round talent dating back to his senior season at UConn. He's a smart player who doesn't rely solely on this athleticism, and he can immediately match up with tight ends and bigger receivers.
Biggest concerns
While the defense was among the worst in the league in 2012, general manager Russ Webster spent the offseason stocking the roster with playmakers. The same holds for offense, too. The wild card to all this coming together: quarterback Jake Locker. It's officially his job to lose and it appears the entire organization has rallied behind him. But for the Titans to improve, Locker has to make better decisions. He completed just 56 percent of his passes last season, tossing 10 touchdowns against 11 interceptions. He was also sacked 25 times. The sack totals should decrease because of an improved offensive line and hopefully a more effective play-action running game. But ultimately, if Tennessee is going make the postseason, it'll come down to Locker.
Put another way: Three teams in 2012 qualified for the playoffs after going 6-10 the year before: the Colts, Redskins and Vikings. Two of those teams came into franchise quarterbacks, while the other had a stifling defense and the galaxy's best running back.
Something to prove
Chris Johnson is the reflexive answer here, but the reality is that CJ2K rushed for 1,243 yards last season, averaging 4.5 yards per carry. The bigger question heading into the season: Kenny Britt. Upside: He's avoided the legal issues that plagued him last offseason. Downside: He's never had more than 45 receptions in a season, and that came in 2012 when he also averaged a career-low 13.1 yards per catch. Britt's now entering the final year of his rookie deal and has endured three knee surgeries, including an ACL injury that limited him to just three games and 17 receptions in 2011.
"I'm going to be the receiver I was two years ago," Britt said in June, referring to the 2010 season when he had 42 receptions for 775 yards and nine touchdowns. "And I'm probably going to be even better than that because I've focused more on football than I ever have in my life the last few months."